The Novo Brazil Brewing Company brand is expanding rapidly throughout San Diego County, especially in the South Bay.
So far, the pairing of Brazilian-inspired beer (and food) in Southern California seems to be working quite well.
Tiago Carneiro serves as company owner and Hugo Thomaz as director of operations of the award-winning brewery.
The company started smaller with tap rooms but is now in the process of expanding to full-service restaurants at multiple locations.
It's a dream that first blossomed in South County.
The brand's brewery and headquarters are located at 900 Lane Ave, suite 100, in Eastlake. It first opened in 2015 and offers a tap room open to the public.
Hours are Sunday through Thursday from noon to 10 p.m., Friday and Saturday from noon to 11 p.m. Call (619) 869-4272, ext. 1.
The company's slogan is "Brewed in California, inspired by Brazil." That pretty much sums up its slant on the growing craft beer lifestyle. There are fun accents, aromas, colors and unique flavors to be tasted from this brewery.
The Eastlake location serves up a variety of beers, kombuchas and hard seltzers, all with a Brazilian soul. A food truck is available on site with both indoor and outdoor seating options.
The company's other locations are in Ocean Beach, National City and Chula Vista (Otay Ranch mall) with a soon-to-be presence in Imperial Beach.
The Novo Brazil taproom in National City opened last October in the new Market on Eighth food hall, a 9,000-square-foot public market with 12 vendors, two retail outlets and an adjoining 2,000-square-foot beer garden.
Placed amid the diverse array of Indonesian and Thai eating options, the Novo Brazil space features more than 20 taps of beer, kombucha and hard seltzer. Operating hours are 11:30 a.m. to 10 p.m. Monday through Sunday.
Market on Eighth is located at 41 E. Eighth Street in National City. Call (619) 869-4274 for information.
An existing tasting room, Nova Easy Kombucha, opened in Ocean Beach in October 2020. It is located at 4845 Newport Ave., San Diego.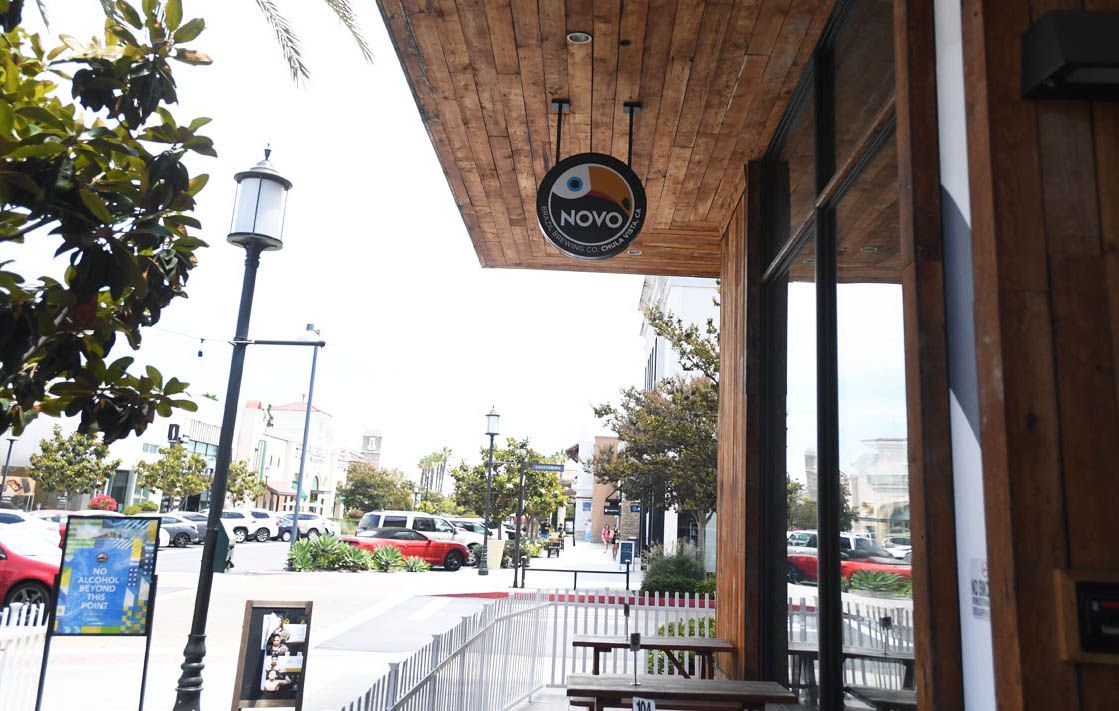 Southern exposure
Located at Otay Ranch mall in south Chula Vista, the expansive Novo Brazil Otay Ranch 12,000-square-foot family- and pet-friendly space serves as a combination bar, restaurant and brewery with more than 60 taps of beer, kombuchas and hard seltzers available along with a full-service restaurant.
The menu is a fusion of the best American, Brazilian and Mexican cuisine from Southern California.
Nova Brazil Otay Ranch opened in November 2019. As the calendar flipped over to the new year, the coronavirus pandemic hit to put a damper on the festivities.
"We were opening outside, then inside and a mix of outside and inside," Novo Brazil Otay Ranch general manager Leonardo Bauer said. "We were able to make it through with the community's support."
Things are going much, much better now.
"We are well accepted in this community," he said. "We have great local support."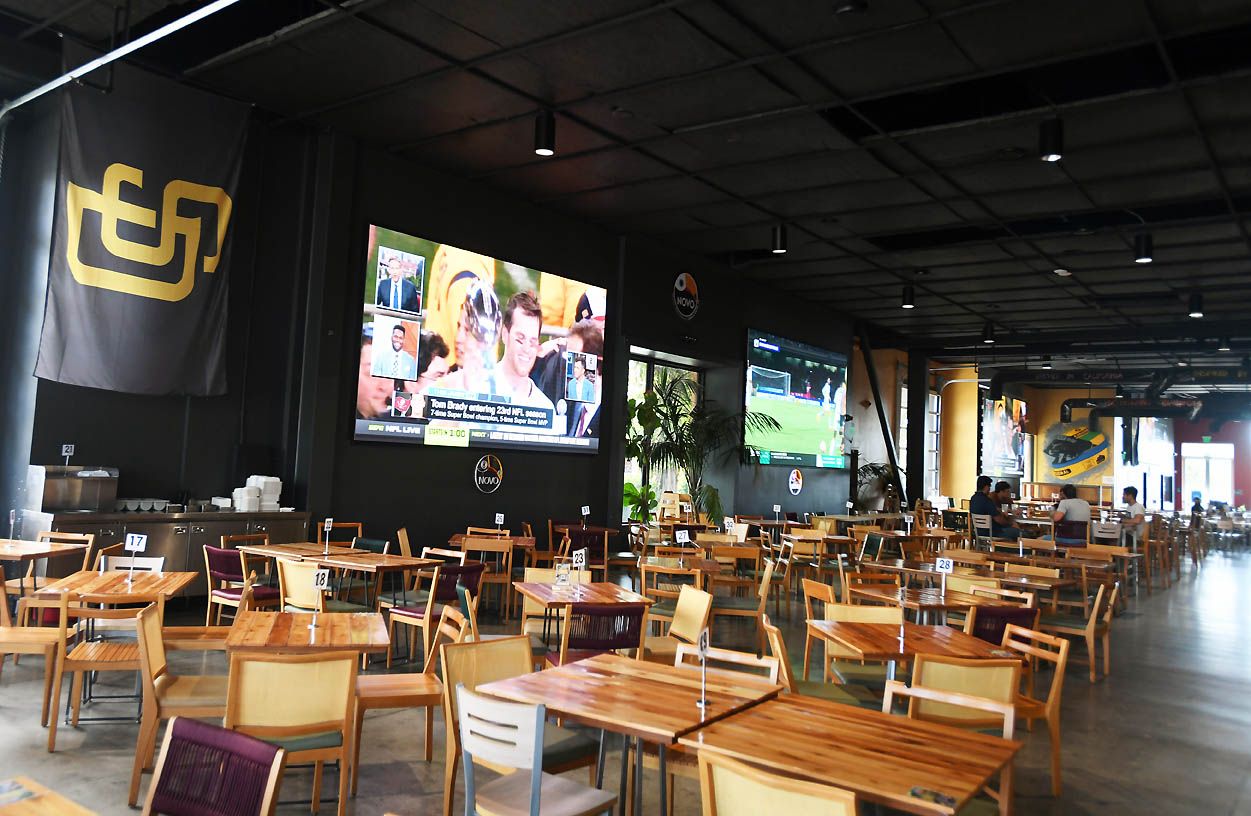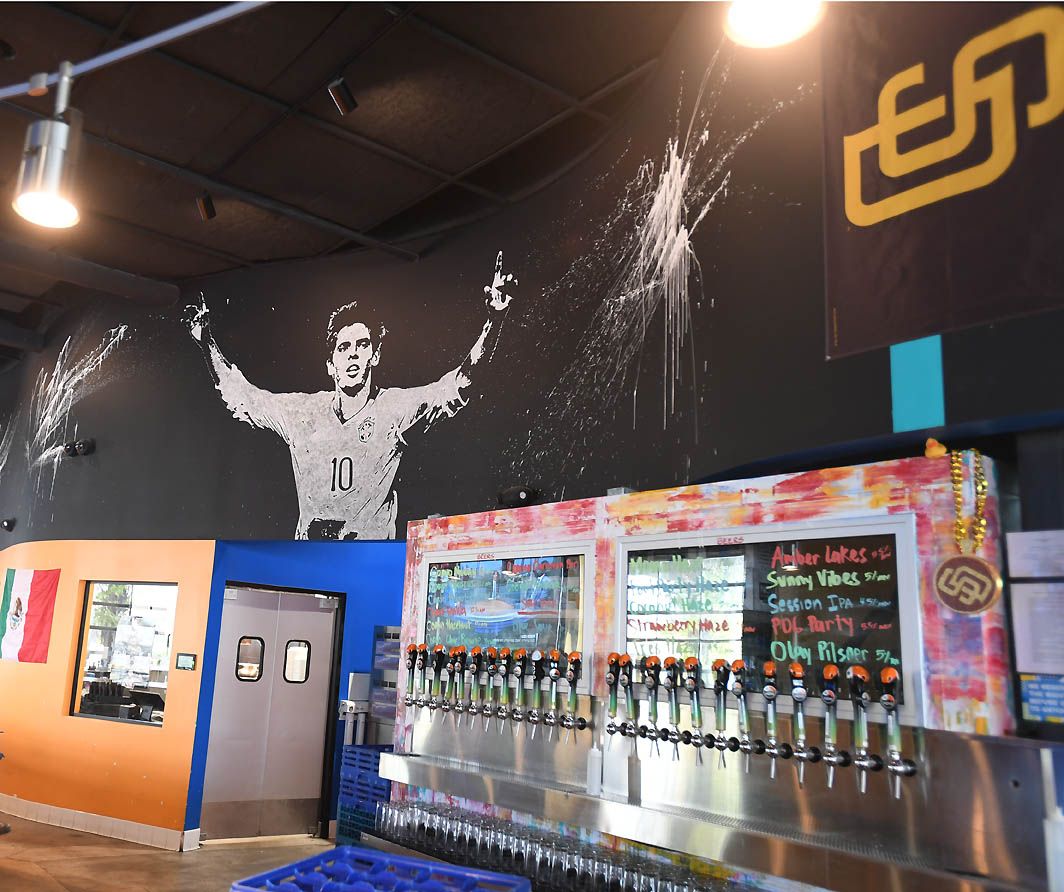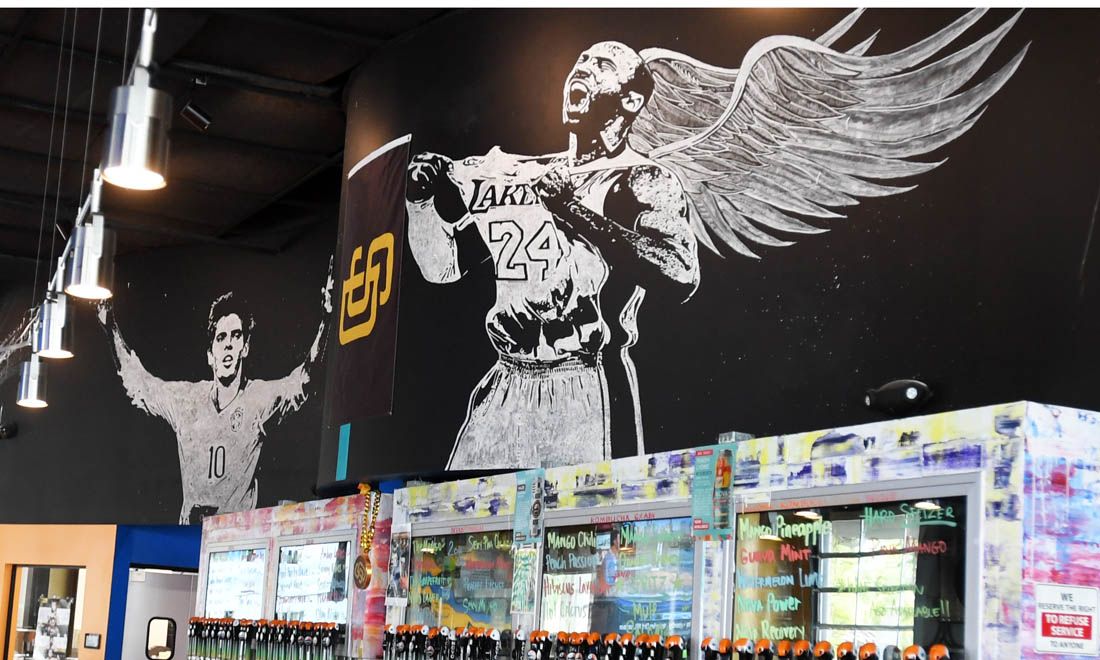 With twin 12 x 14-foot television monitors, sporting events at the venue obviously draw a crowd.
"If there's a game on, Padres, Lakers, SDSU, the NFL, Chargers or Raiders, the whole restaurant will be full," Bauer said.
The building can accommodate large groups for special gatherings, up to 300 individuals. Sports teams, teacher associations and alumni groups from nearby Mater Dei Catholic, Olympian, Eastlake, Otay Ranch and High Tech High Chula Vista high schools, as well as Southwestern College, have already taken advantage of the space and hospitality.
The interior has a lot to take in with sports art splashed on the walls, an expansive tap and bar area, table seating and even a merchandise area.
There are certainly new flavors to be discovered at Novo Brazil Otay Ranch.
The Novo burger is the top seller on the menu. Served on a brioche bun, it's a tasty combination of meat, bacon, sauteed onions, pickles, lettuce and cheddar cheese with jalapeño sauce.
The bacon is pre-cooked and oven roasted. The jalapeño sauce is lightly spiced but still with the taste of the pepper.
The burger comes with tasty fries.
"People say it's the best burger in town, the best burger in San Diego, the best burger they've ever tasted," Bauer said. "It's a homemade patty with in-house seasoning, 81/19 fat content."
Other popular items include the steak and fries and chicken wings.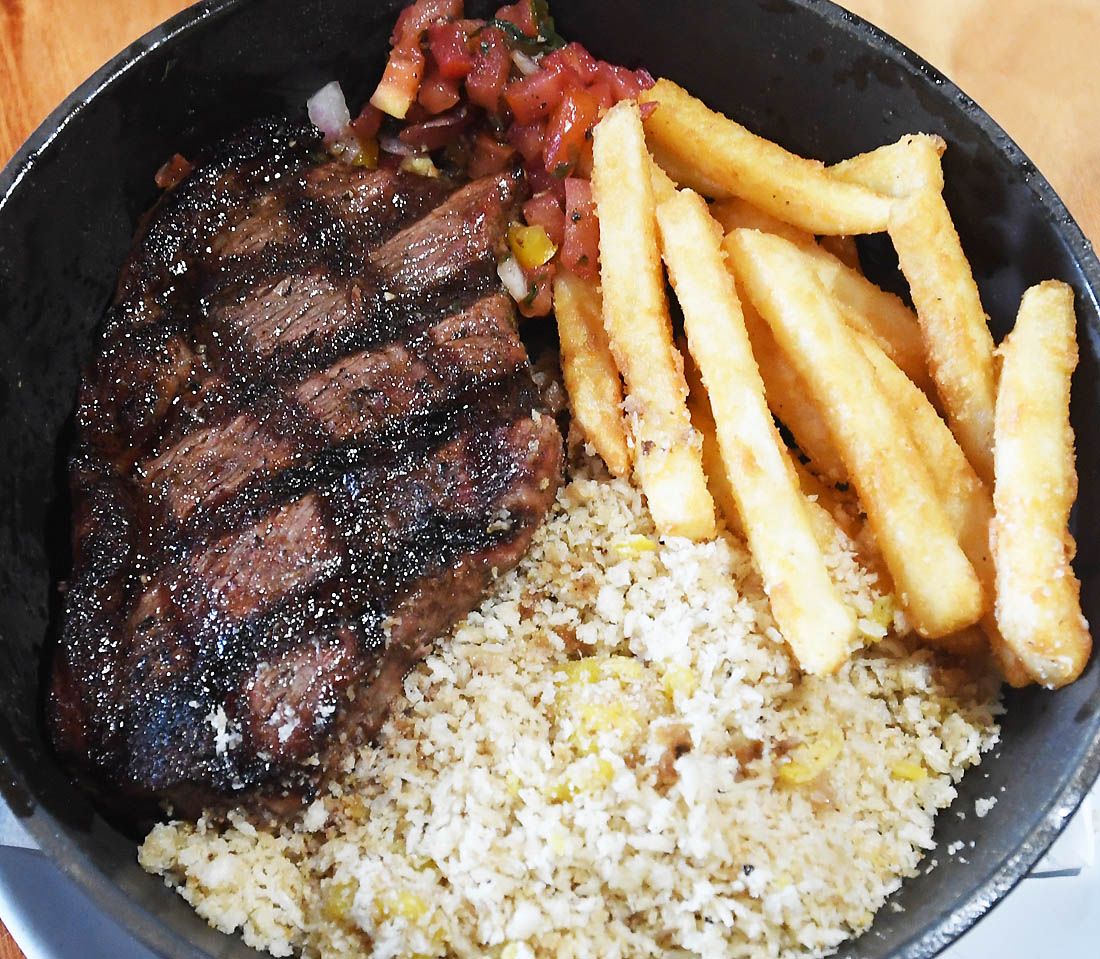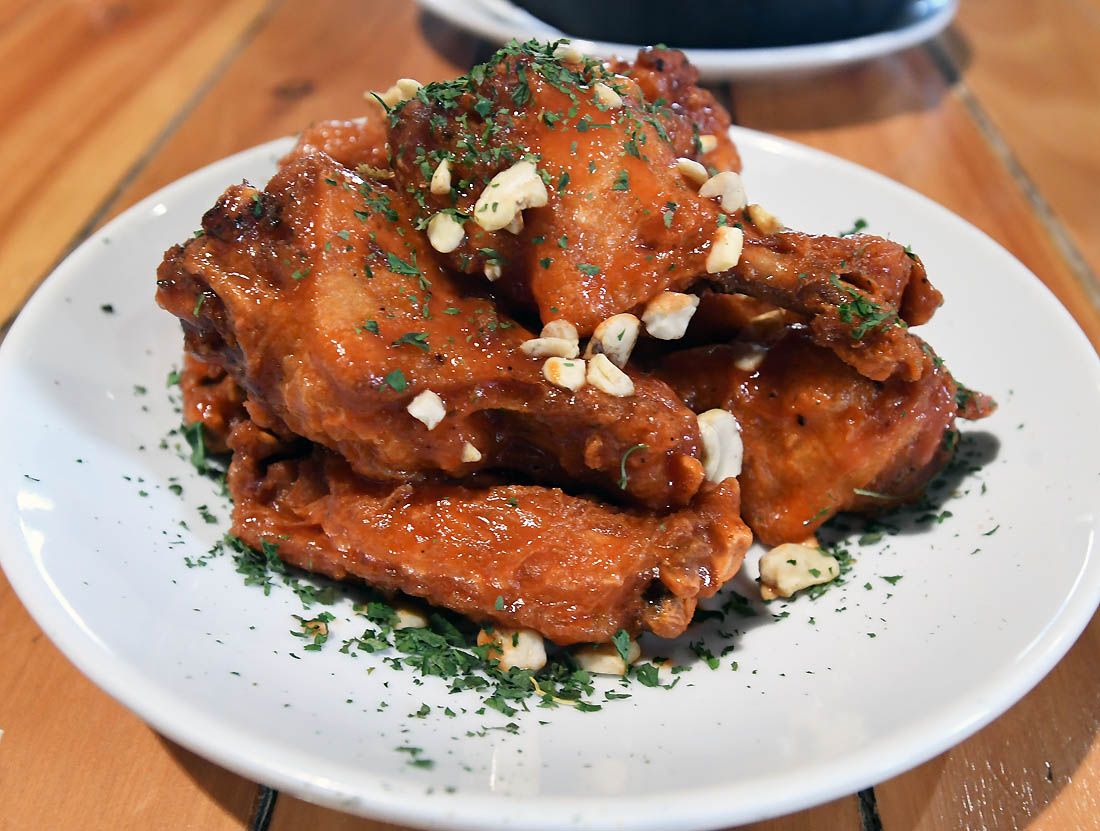 The 8 oz. picanha (prime sirloin) is served with egg bread crumbs, pico de Gallo and regular or yucca fries.
The authentic way to eat the steak entree is to slice the steak, keeping the border of fat, and dip it into the crumbs, though many diners prefer to trim the fat first.
The wings are meaty and tender. They come naked but also with a selection of rubs. The buffalo wings were tangy but not overly spiced. The cashew topping adds a bit of exotic (and tasty) flair.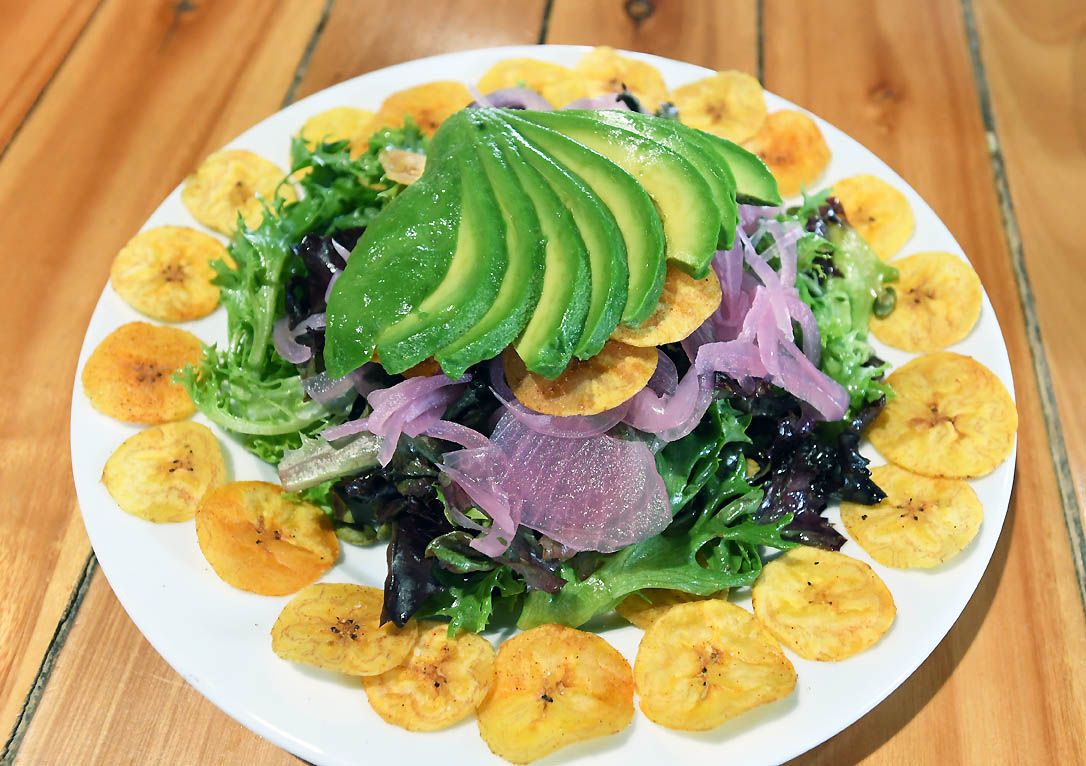 For healthy dining options, the avocado salad might seem simple but it's not. There are multiple layers of taste sensation between the spring mix, sliced avocado, pumpkin seeds, red onion and plantain chips. Protein options include steak, salmon and chicken but just by itself is quite refreshing. The caipirinha dressing tops off the stack superbly.
The overall presentation of the dish is outstanding.
The Brazilian empanadas are popular appetizer items as are the coxinha (chicken croquettes), bacon and cheddar croquettes and ham and cheese croquettes.
Burgers and sandwiches are $17-19. Main course items range from $17 (salads) to $38 (14 oz. ribeye steak). Appetizers start at $9.
The Kombucha non-alcoholic drinks add a bit of color to the food, highlighted by the guava mint, mango pineapple and watermelon lime.
"There's a flavor for everybody," Bauer said.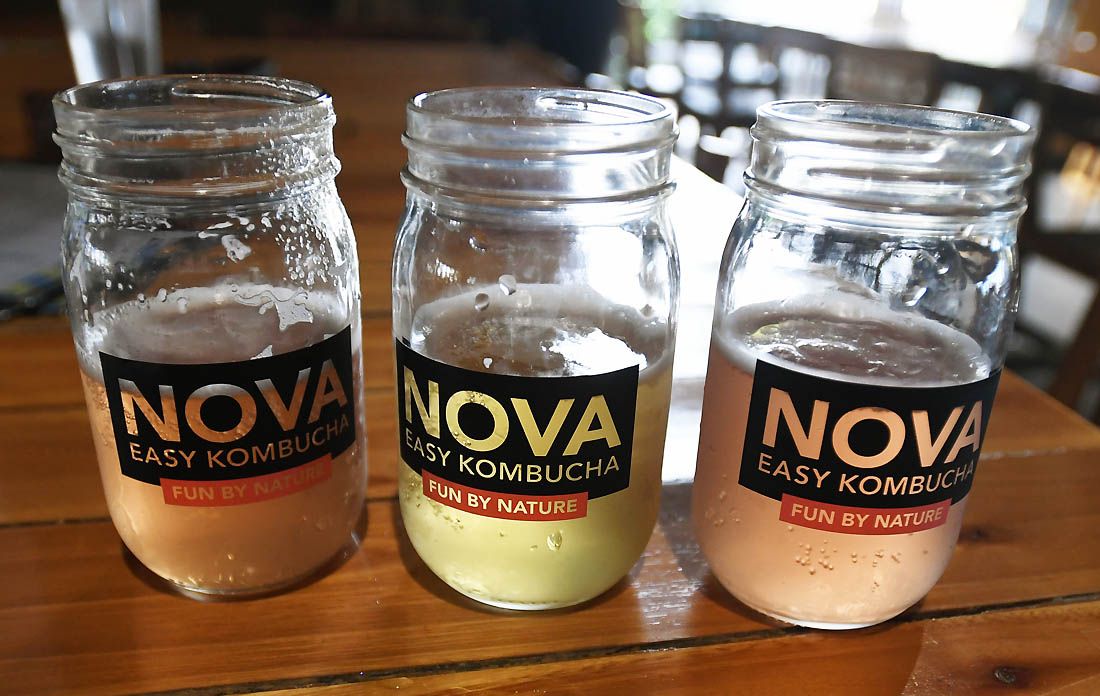 Specialty drinks include the cucumber mint smash with crushed ice, very refreshing,
The Chula Pilsner (five percent alcohol) had been the best seller among beers but Bauer said the Novo lager (four percent alcohol) has since become the new best-seller.
Higher-content alcoholic beers are also popular.
All are brewed in Chula Vista.
Whiskey, vodka, gin, cognac, tequila, champagne and wine are also sold here along with a selection of liquors.
Happy hour is 4-6 p.m.
California Spritz beer cocktails are in the process of being rolled out.
In fact, the Novo Brazil Summer Party is taking place Saturday, Aug. 6, from 2-10 p.m. at the company's Lane Avenue brewery to celebrate the launch of this new beer cocktail line.
Brazilian artist Rommel Music will be providing the entertainment and gold medal-winning U.S. Paralympian Jerome Avery will be on hand to visit with guests.
Food will be available for purchase and complimentary samples of California Spritz will be given out to those 21 and older.
Operating hours at the Otay Ranch location are noon to 10 p.m. Monday through Wednesday, noon to 11 p.m. on Thursday, noon to midnight on Friday, 11:30 a.m. to midnight on Saturday and 10 a.m. to 8 p.m. on Sunday.
For more information, contact (858) 294-3175, visit the website at www.novobrew.com or email contact@novobrew.com.
A slightly smaller (8,000 square-foot) full-service restaurant is scheduled to open in Imperial Beach this October. The new establishment is in the soon-to-open Bikeway Village, adjacent to the Bayshore Bikeway, and will face the southern portion of San Diego Bay with an impressive view northward of harbor lights and the San Diego-Coronado bridge.