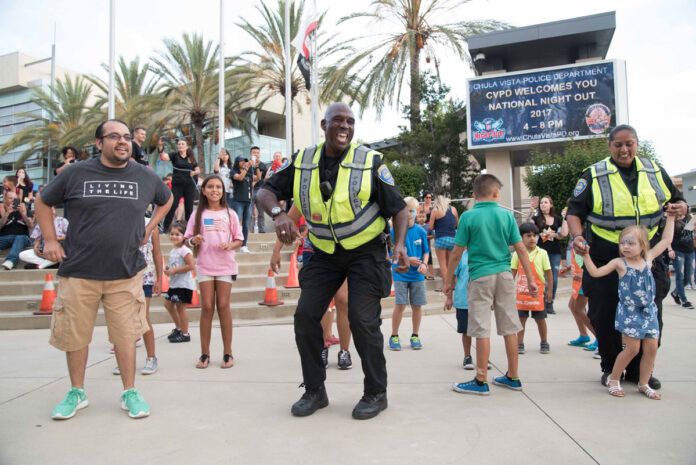 Chula Vista Police Department is participating in National Night Out on Aug. 2, from 4-8 p.m. This informative, family-fun event will be held at the CVPD at 315 Fourth Ave. and includes tours of the station, a Jaws of Life demonstration, Home Depot Children's workshop, a kid's zone, crime prevention information, and the opportunity to meet S.W.A.T. and Mobile Field Force team members and more.
CVPD Lt. Henry Martin oversees the Community Policing Unit which falls under its new Community Engagement Division. Martin said National Night Out is a nationwide event that most police departments are encouraged to participate in.
"It is the night that we turn our lights on to fight crime, get the community together and involved with the local police departments to form that relationship to try combat crime anyway that we can through neighborhood awareness, the promotion of our various programs, our Neighborhood Watch program, and other different programs we have with the community to inform them about what is going on in their community, and for them to provide us with any information about suspicious activity going on within their residential areas as well as our business areas," he said.
Martin said CVPD Chief of Police Roxana Kennedy described it best at a morning briefing as the CVPD's version of a block party.
"We will have various booths set up at the police department courtyard with various units at the department to showcase what they do so that people can come in and see what the police department is all about, what we do, how we investigate crime, how we go out and try to be proactive to prevent crime from happening, how we provide the community with various types of assistance through the different programs we offer" he said.
"Getting people signed up for programs like our Digital Alert programs throughout the state and county so they can get alerts for real-time information depending on what is going on."
Martin said the event is also a fun time, with a dunk tank this year, a picture booth with various types of police uniforms.
"Some of the shirts say, 'Chief for a Day.' Kids come in, put the shirts on, try different types of helmets and headgear that we normally wear in our day-to-day activities. We have a police motorcycle on display where people can sit on the motorcycle and take pictures and get their selfies for their social media posts to get the word out. Basically, create an interaction between police officers and the community that is not our typical interactions where we are out for some type of enforcement action, or investigation. It is an educational, but fun time. So, the community can come out and see us as normal human beings as residents, neighbors, friends."
Martin said the "biggest kick" is the police department tours where people can go in and see the dispatch center, crime lab, patrol cars, and the different types of vehicles the department operates.
"It is a fun time for everybody. It is educational. And it builds some bonds and relationships to reenforce the community support that we currently enjoy."
Martins said the department has not been able to participate in National Night Out since the pandemic began so they are hoping for a good turnout and getting this annual event going again, because it is a lot of fun for the police department to hold these community events.
The National City Police Department is hosting this year's annual National Night Out Against Crime event on Aug. 2 from 5-9 p.m. in Kimball Park.
NCPD will have several interactive displays available to the community this year including a Special Weapons and Tactics equipment display, police vehicles and motorcycles, a K-9 demonstration, and more.
National City Fire Department will host a simulated demonstration on how they use special equipment to extract people from a badly damaged vehicle in an emergency situation.
Attendees will have the opportunity to send an NCPD officer into a dunk tank with a well-timed pitch and firefighters with National City Fire Department will be grilling free hamburgers and hotdogs for the first 500 residents on hand.
Kimball Park is located at 1200 D Ave. There is no cost to attend.
Staff writer Jessica Brodkin Webb contributed to this story.