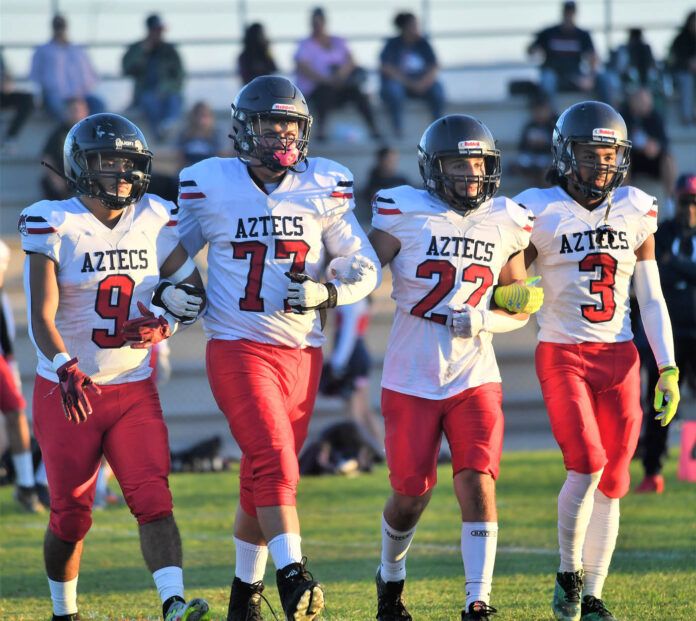 South County is well represented in the soon-to-unfold San Diego Section football playoffs with eight teams qualifying in 11-man play and one additional team in the eight-man field.
First-round play kicks off this Friday in most divisions, followed by quarterfinal-round play and semifinal-round play leading up to the respective divisional championship games.
San Diego State's new Snapdragon Stadium will serve as the finals site for the Open Division while Southwestern College will host the Division I and Division III finals. Escondido High School will host the Division II, Division IV, Division V and 8-Man championship games.
Honor roll
Metro-Mesa League champion Mater Dei Catholic (6-4) received the No. 3 seed in the section's Division I field while the Metro-South Bay League champion Montgomery Aztecs (8-2) received the No. 4 seed in the Division IV field and will also have a bye in this year's opening round of the playoffs.
Mar Vista, the runner-up team in the Metro-Pacific League, is seeded fifth in Division V while Eastlake (Division I), Hilltop (Division IV) and Castle Park (Division V) are all seeded eighth in their respective divisions.
Other playoff qualifiers include Metro-Pacific League champion Chula Vista (11th seed in Division IV) and Otay Ranch (12th seed in Division II).
Ocean League champion Victory Christian Academy received the No. 1 seed in the 8-Man playoffs.
Mater Dei Catholic, which also saw its record suffer because of early season strong scheduling, is playing its best football as the postseason dawns with a six-game winning streak and 281-0 shutout streak.
The Crusaders received 242 passing yards and two touchdowns from senior quarterback Dominic Nankil – both to senior Jerry McClure (four catches, 151 yards) — in posting their sixth consecutive shutout win –49-0 at Eastlake on Oct. 27 – to officially gift wrap this year's Metro-Mesa League championship. ]
Mater Dei Catholic racked up 587 total offensive yards in the contest, including 365 passing yards.
Senior Chris Snyder (four carries, 25 yards) had two rushing touchdowns while junior Anthony McMillian led the Crusaders overall with 115 rushing yards on 12 carries.
McClure had one 76-yard catch-and-carry while senior Surhaz Buncom had five catches for 86 yards and two touchdowns.
Senior Tre Edwards keyed the defense with nine tackles. McMillian and senior Kenyon Lepisi each had one sack while senior Anthony Lopez had one interception.
The Crusaders will host the winner of Friday's first-round clash between sixth-seeded La Costa Canyon (6-4) and 11th-seeded Steele Canyon (2-8) in the quarterfinals.
On the season, Nankil has established himself as one of the section's top quarterbacks with his accurate arm and scrambling ability. He will stay local by attending the University of San Diego.
Steele Canyon defeated the host Grossmont Foothillers, 31-10, last Friday to generagte some momentum into the playoffs after navigating through an eight-game losing streak while playing one of the section's most demanding schedules.
Senior Major Givens set a new school career rushing record after rushing for 454 yards and three touchdowns on 31 carries in the game. He scored on runs of two, 70 and 79 yards as the Cougars amassed 575 rushing yards.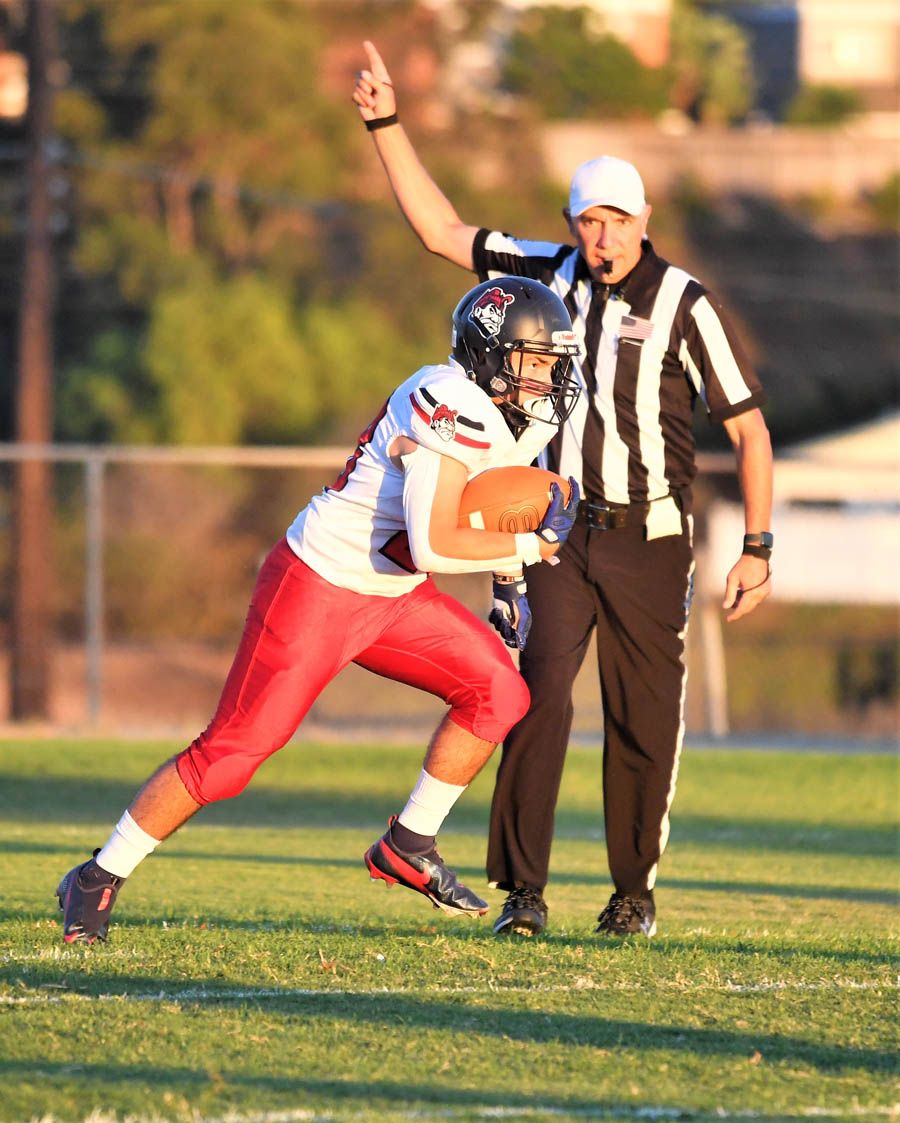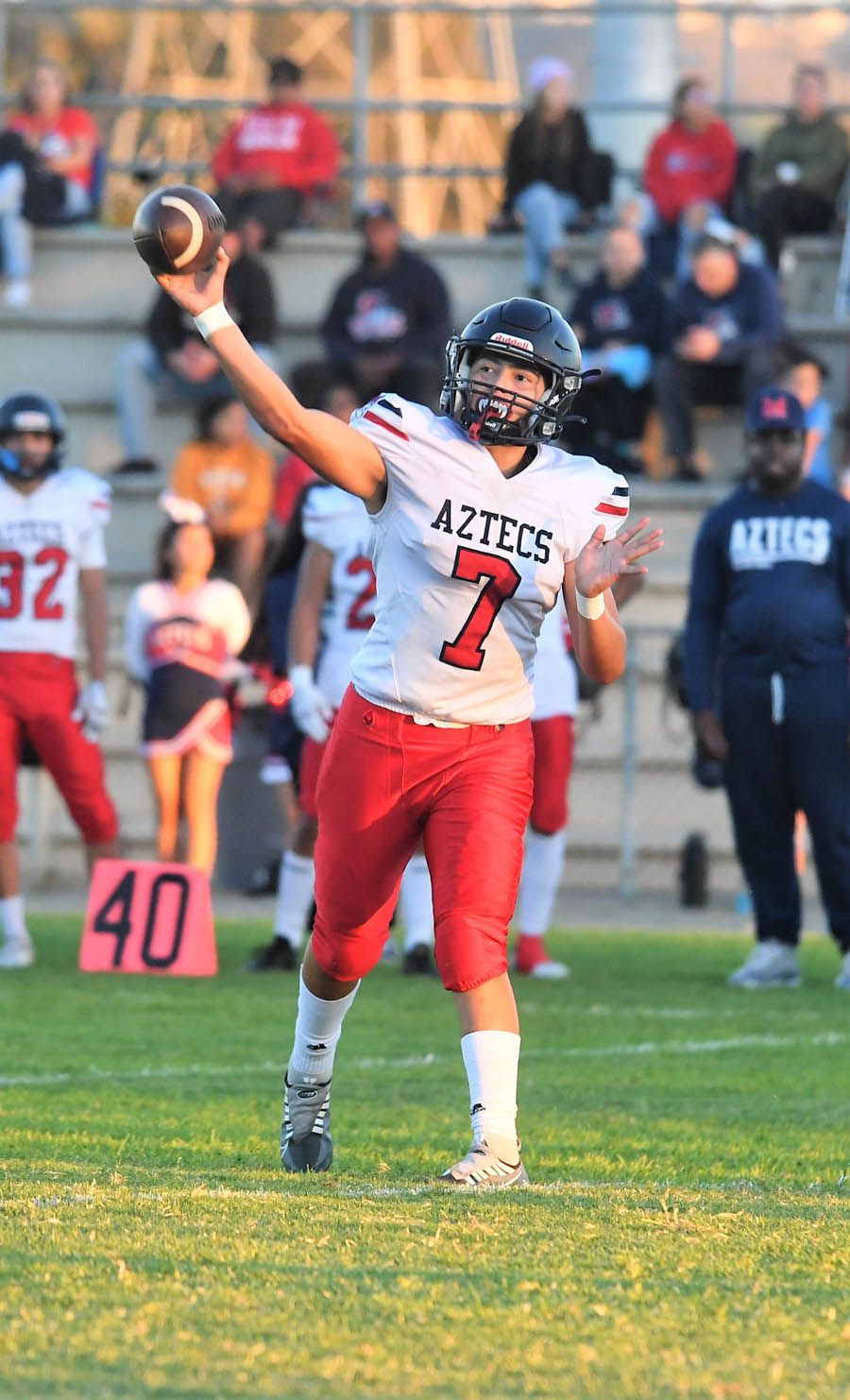 Montgomery will host either fifth-seeded Mission Bay (6-4) or 12th-seeded Westview (1-9) in its opening quarterfinal-round contest. The Aztecs wrapped up this year's Metro-South Bay League title in dramatic fashion as senior Isaac Cervantes (10 carries, 39 yards) scored on a 10-yard rushing play with 35 seconds remaining in regulation play to snap a 7-7 deadlock with the host Hilltop Lancers.
Hilltop (2-1 in league, 5-5 overall) had opened scoring on a six-yard touchdown pass from senior Jorge Garcia to senior Angelo Zapata before the Aztecs (3-0 in league) tied the game on a five-yard rushing touchdown by senior Iganacio Mondragon (12 carries, 63 yards). Mondragon also passed for 107 yards in the game while junior Arath Leyva was credited with 2.5 sacks and a team-leading nine tackles.
The Lancers appeared to be driving for the potential game-winning score when a holding penalty forced threw them into a loss and forced them into a situation to settle for a field goal. But Hilltop missed the 47-yard attmept attempt and gave the ball back to the visitors, who proceeded to mount a lengthy time-consuming drive that resulted in the game-winning touchdown with time running out.
The game-winning drive lasted 5:32 and took 13 plays to complete.
"I knew we just had to score that touchdown," said Cervantes, who enters the playoffs with 1,072 rushing yards and six touchdowns.
The league title is the third in four years for the Aztecs, who defeated Mission Bay by a score of 9-6 earlier in the season.
Despite the loss, the Lancers managed to solidify their grip on a playoff berth and will host ninth-seeded Francis Parker (4-6) in Friday's opening round.
Parker closed out regular season play with a 21-0 non-league loss against La Jolla Country Day (7-3), which received the No. 2 seed among Division IV teams.
Senior Chris Williams, a South County resident, set a single-game section scoring record with 52 points (six touchdown runs, a 62-yard interception return, seven extra-point conversions and a 28-yard field goal) in Parker's season opening 52-27 non-league win against visiting Pasadena Poly on Aug. 19.
He enters the playoffs with 1,443 rushing yards and 19 touchdowns while also passing for 439 yards and four touchdowns. He has amassed 2,094 all-purpose yards in 10 games (an average of 209.4 yards per game) by adding 85 yards on kick returns, 141 yards on punt returns, 158 yards on interception returns.
He leads the team with 171 points — 138 points on 23 total touchdowns and 31 kicking points.
Williams won the Division V championship in 2019 as a freshman as Parker shaded Castle Park, 24-21, in the rain at Otay Ranch High School.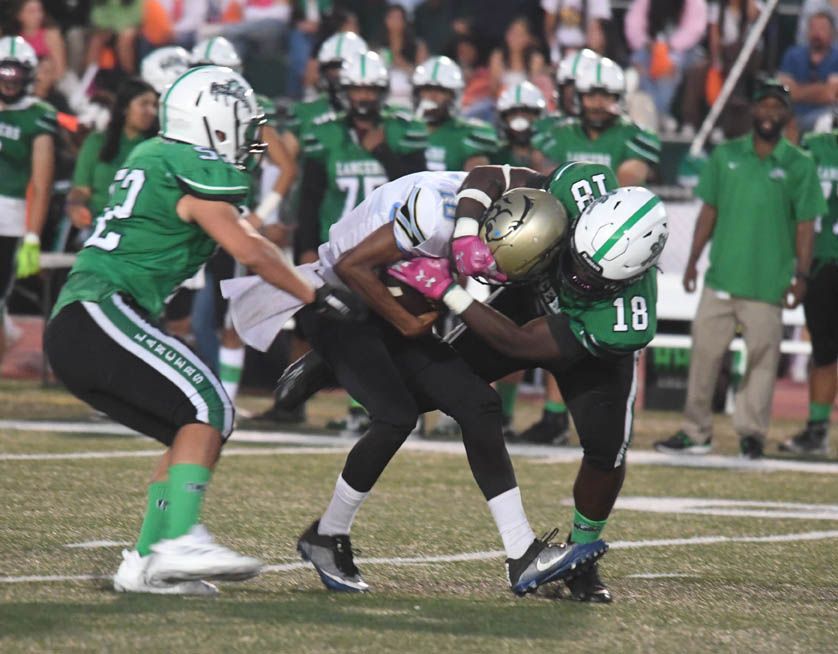 The Metro-South Bay League runners-up counter with senior Tyeron Washington, who complied 89 all-purpose yards in last Friday's league championship setback, and a strong defense that held the Aztecs to minus-6 yards (and Cervantes to minus-3 yards) in the first half.
"It was a disappointing loss Friday night," Hilltop coach Bryan Wagner said. "We we're right there a few times to put the ball in the end zone, but we failed to make plays. Overall, the effort was great, and we showed we can compete. Moving forward, we have the confidence in what we can do and how to go about doing it on both sides of the ball."
Garcia has accounted for 1,661 total offensive yards this season (974 passing with eight touchdowns and 687 rushing with xeight touchdowns) while Washington has 458 total offensive yards and 36 tackles to his credit.
The Hilltop-Francis Parker winner draws a tough assignment in the next round at No. 1 seed Fallbrook (7-3).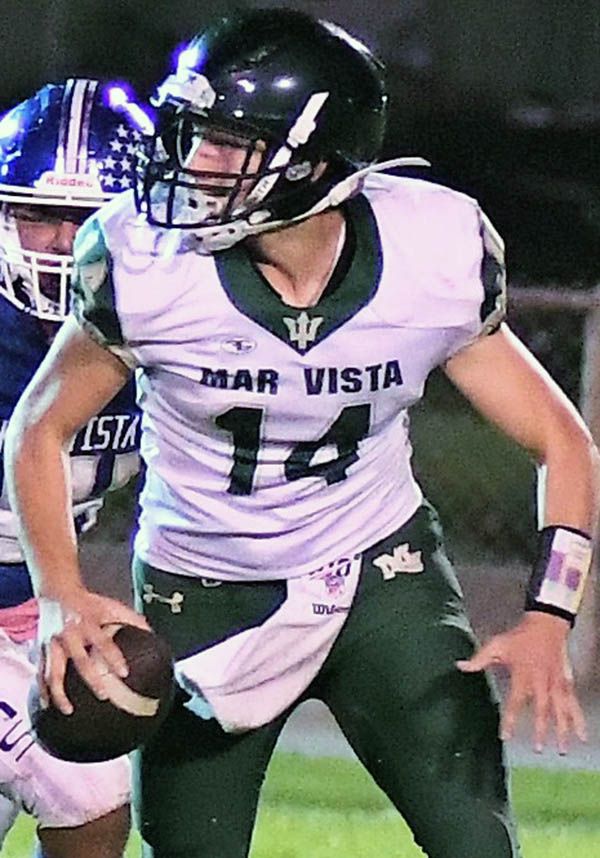 Mar Vista out-dueled host San Ysidro, 38-14, last Friday to secure a home field playoff game in a bid to finish as league tri-champions with a Castle Park win at Chula Vista. But the host Spartans prevailed, 34-0, to lock up their first outright championship since 2003.
Senior Aleks Wojcik passed for 272 yards with two touchdowns and rushed 20 yards on three carries and scored once via the run while senior De'Andre Hendrick had five catches for 82 yards and two receiving touchdowns.
Additionally, junior Lah'darius Crawford scored on a 100-yard kick-off return while senior Nathaniel Ramos scored on an interception return.
Junior Elijah Clark had five catches for 106 yards.
As a result, the Metro-Pacific League runner-up Mariners will host 12th-seeded Hoover (4-6) on Friday. The winner advances to face fourth-seeded Army-Navy Academy (9-1) in the ensuing quarterfinals.
Wojcik has passed for 2,322 yards and 27 touchdowns against 10 interceptions on season while also leading the team with 552 rushing yards and five touchdowns.
Clark has 747 receiving yards and nine touchdowns while senior Demarco Wright has eight touchdowns (four rushing, four receiving).
Last Friday's game showcased San Ysidro's new field as the Cougars had been forced to play on the road nearly the entire season. San Ysidro finished 3-7, 1-3 in league play, and missed the playoffs. Freshman A.J. Logan led the Cougars with one rushing touchdown and one receiving touchdown and 168 total yards in their final game of the 2022 season.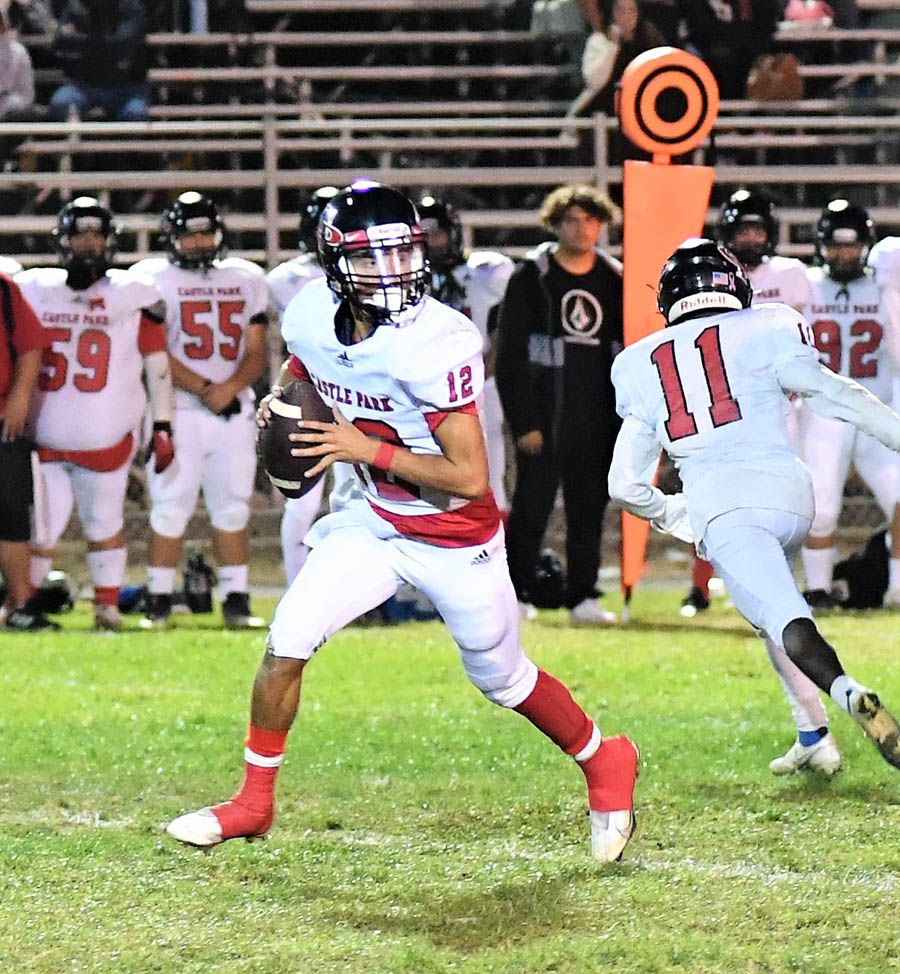 Castle Park will host ninth-seeded Southwest El Centro (1-9) on Friday, with the winner advancing to meet top-seeded Crawford (9-1) in the quarterfinals.
The Trojans (3-6 overall) are coming off back-to-back league losses to Mar Vista (27-21 on Oct. 21) and Chula Vista (34-0 last Friday) to finish in third place in the league standings with a 2-2 record.
Season leaders include sophomore quarterback Dylan Villarreal (779 passing yards, six touchdowns, 12 interceptions), sophomore Ladell Hampton (672 rushing yards, five touchdowns), senior Jeremiah Simler (479 rushing yards, six touchdowns), senior Jalen Hopkins (398 rushing yards, six touchdowns) and senior Sergio Cobos (346 receiving yards, five touchdowns).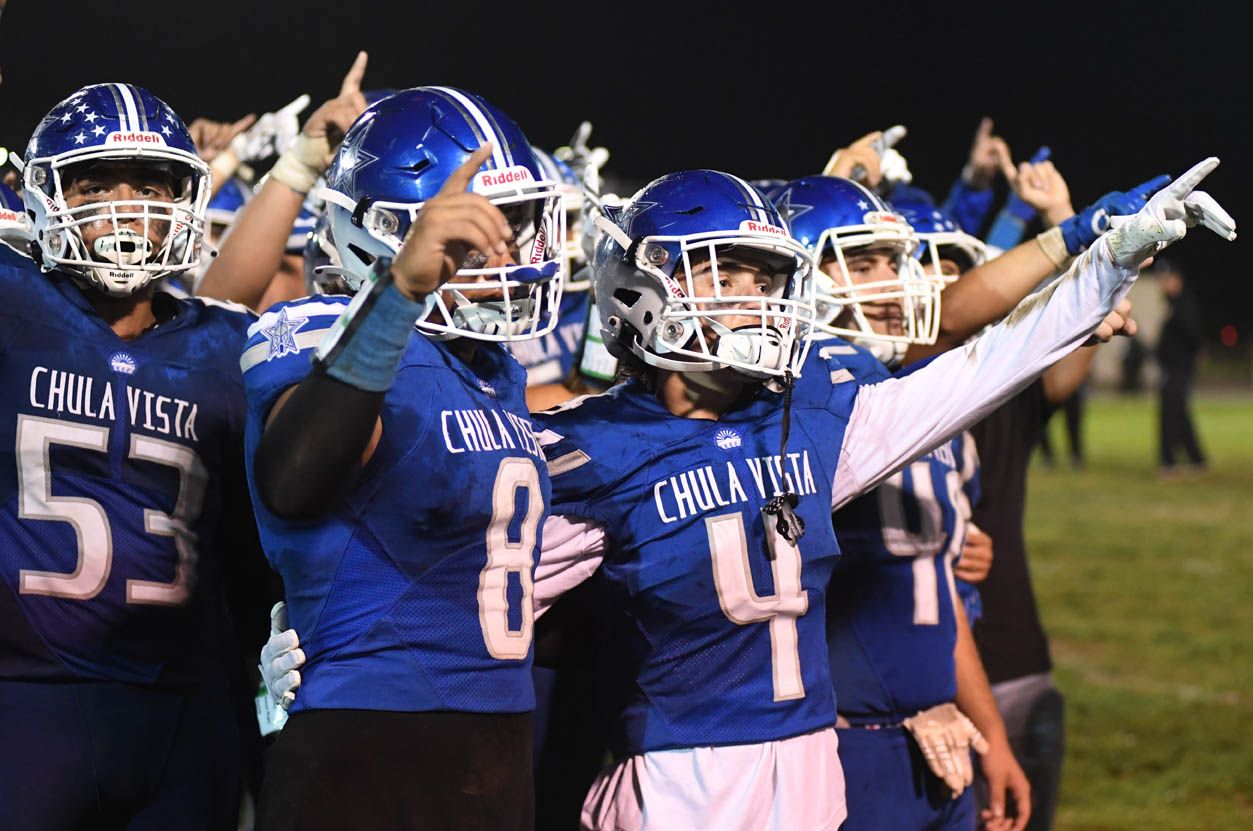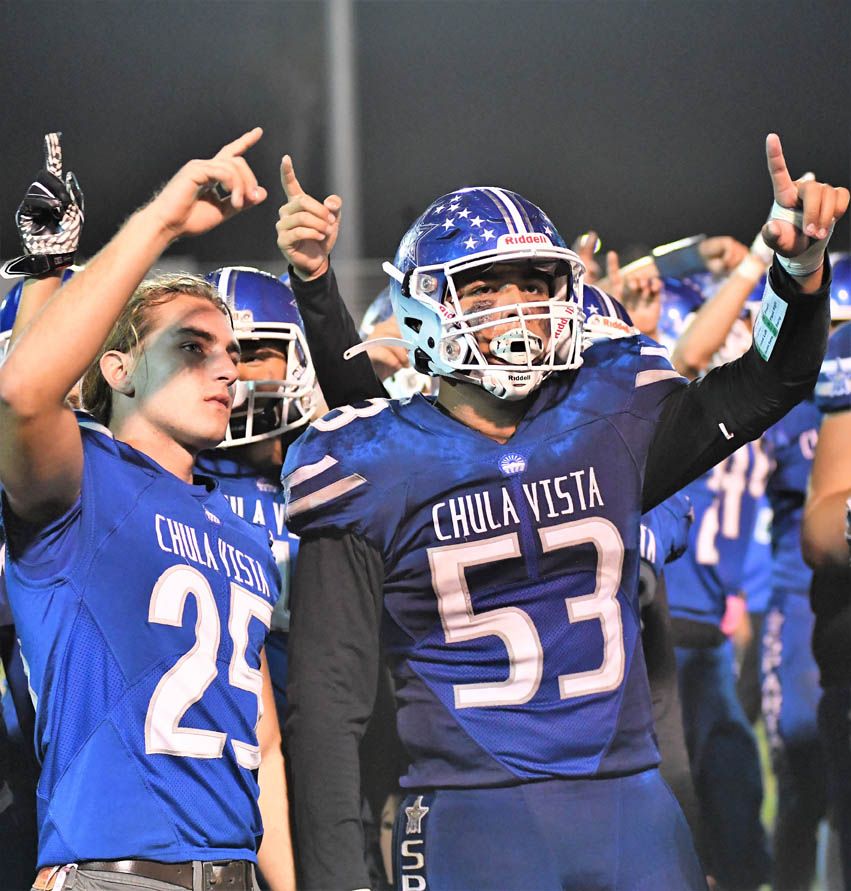 Metro-Pacific League champion Chula Vista will host a first-round game on Friday despite being the lower-seeded team. The Spartans, who are on a six-game winning streak with their first outright league championship since 2003, will host sixth-seeded Calexico (7-3), with the winner advancing to meet third-seeded Coronado (6-3) in the quarterfinals.
Chula Vista scored five rushing touchdowns — one each by senior Gio Barrios (11 carries, 170 yards), junior Paul Alvarez (three carries, 37 yards), sophomore John Paul Zapata (one carry, 31 yards), junior Gerardo Cadillo (four carries, 30 yards) and senior Jacob Pedroza (one carry, two yards).
Senior Guillermo Arce led the Spartan defense with 15 tackles. The hosts stymied the visitors with four interceptions, including two by senior Gio Aguirre and one each by Pedroza and senior Luis Lopez. Senior Matthew Robertson had one sack while senior Octavio Ramirez had one fumble recovery.
Chula Vista out-gained Castle Park 378-188 in total yards, including 286-163 in rushing yards.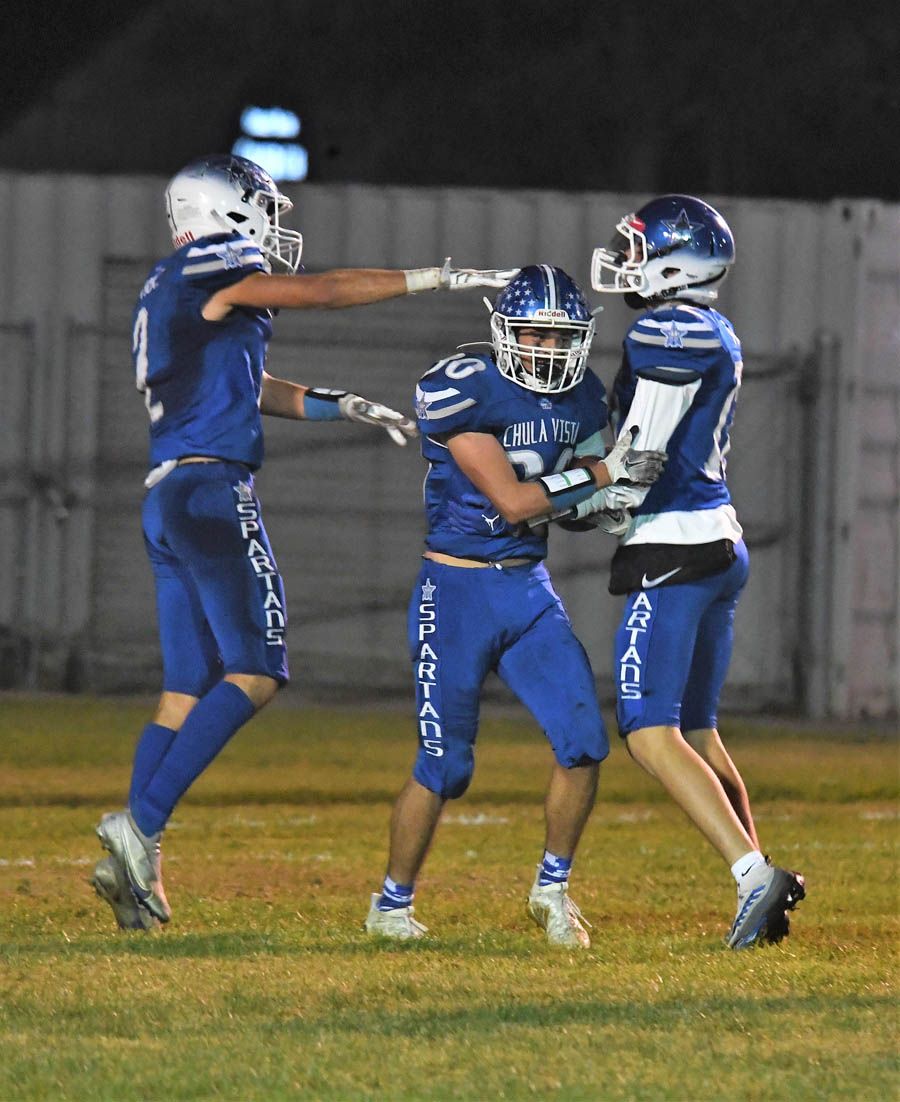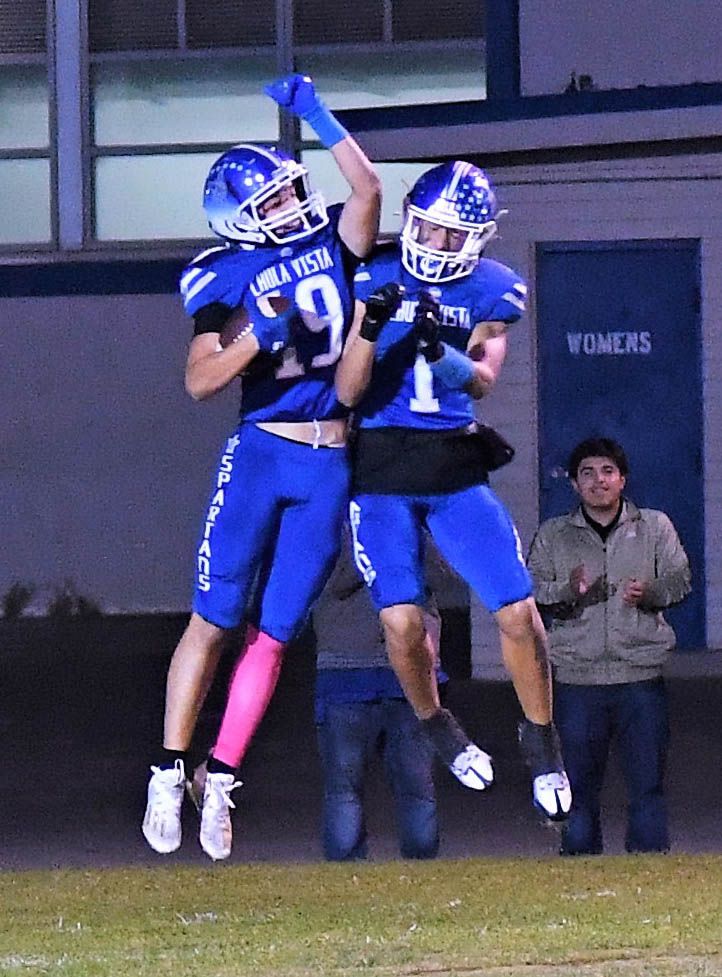 "We were very proud to bring a banner back to the Home of Champions," CVHS head coach Howard Bannister III said. "Castle played a tough game, but that's always expected from a Paco Silva-coached team. In the end, however, the night belonged to our Spartans… especially our 25 seniors who have worked so hard for this."
Calexico is coming off a 42-16 non-league win at Vincent Memorial after finishing 1-3 in Imperial Valley League play. "They look like a tough, aggressive, well coached group, so we must have a great set of practices this week in preparation for, what should be, an excellent first-round game," Bannister said.
Otay Ranch (3-6) will test its postseason fortunes with a first-round game at fifth-seeded Mira Mesa (7-3) on Friday. The Mustangs finished 0-3 in Metro-Mesa League play following last Friday's 32-27 loss to Bonita Vista at Southwestern College.
Otay Ranch enters the playoffs riding a three-game losing streak. Bonita Vista failed to qualify for the Division III playoffs after being bumped out of the No. 12 spot by Patrick Henry based on head-to-head meeting (a 48-20 win by the host Patriots on Sept. 16).
BV senior Dante Herrero passed for 209 yards with one touchdown and one interception and rushed for 20 yards on six carries and two touchdowns to lead the Barons, who snapped a cumulative four-game losing streak to claim third place in the Metro-Mesa League standings.
Senior Dante Scott had five catches for 48 yards and one touchdown while senior Juan Manuel Gomez rushed for one touchdown, as did junior Caden Ada-Tannehill (10 carries, 39 yards). Sophomore Marcos Pena had seven catches for 106 yards.
Marquee match-up
Obviously, the most intriguing first-round match-up has ninth-seeded St. Augustine (3-7) at eighth-seeded Eastlake (3-7) on Friday. Both teams' records are the result of tough scheduling and ill-timed injuries.
Eastlake suffered through a six-game losing streak to kick off the season before reeling off a three-game win steak while heading into the Metro-Mesa League championship game.
Season leaders for the host Titans include sophomore William Schmitz with 483 rushing yards and three touchdowns, junior Fabian Gerbella with 288 rushing yards and four touchdowns and junior Christian Gerballa with 250 receiving yards and two touchdowns.
Four quarterbacks have combined for 775 passing yards, five touchdowns and 12 interceptions.
Additionally, Fabian Gerbella tops Eastlake with 118 tackles, including 11 for losses, while senior Anthony Rodriguez ranks second with 92 tackles.
St. Augustine season leaders include freshman Brady Palmer with 964 passing yards and nine touchdowns, junior Parker Patterson with 482 rushing yards and three touchdowns and junior Isaiah Hasten with 380 receiving yards and four touchdowns, Hasten also has four interceptions on defense.
Friday's winner advances to play top-seeded Mission Hills (7-3) in the quarterfinals.
Defending Division 1-AA state champion Cathedral Catholic (5-5) is seeded second in the division while Mater Dei Catholic, the defending Division 2-AA state champion is seeded third. Grossmont Hills League runner-up Helix Charter, last year's Division I champion, rounds out an absolutely stacked Division I field.
Granite Hills outlasted host Helix, 46-44 in four overtimes last Friday to claim this year's Grossmont Hills League championship.
Season leaders for Helix include junior quarterback Ryland Jessee with 1,708 passing yards and 27 touchdowns, junior Kevin Allen III with 900 rushing yards and 12 touchdowns and senior Quincy Herron with 562 receiving yards and 11 touchdowns.
Open Division qualifiers include No. 1 seed Carlsbad (9-1), No. 2 seed Lincoln (9-1), No. 3 seed Madison (9-1) and No. 4 seed Poway (10-0).
Lincoln defeated previously undefeated Madison, 24-12, to win last Friday's City Western League championship.
The Open Division semifinals on Nov. 11 will pit Carlsbad against Poway, the only remaining undefeated team in 11-man section play, and Madison at Lincoln.
It should be an exciting chase to the finish line.
Six 8-Man football teams qualify for CIF Commissioner's Cup, including Victory Christian
Though no state regional playoff bracket yet exists for the 8-Man Division, six teams will battle for this year's San Diego Section Commissioner's Cup, emblematic of the section's eight-man championship.
A total of 14 schools fielded eight-man teams this season across three leagues (Ocean, Manzanita and Surf).
The six teams that made the playoff cut include top-seeded Victory Christian Academy (9-0), second-seeded St. Joseph Academy (8-1), third-seeded Rock Academy (8-1), fourth-seeded San Pasqual Academy (5-2), fifth-seeded Coastal Academy (8-2) and sixth-seeded Foothills Christian (7-3).
Ocean League champion Victory Christian Academy and Ocean League runner-up St. Joseph Academy both receive byes in the opening round that pits Surf League runner-up Coastal Academy at Manzanita League champion San Pasqual Academy and Foothills Christian at Surf League champion Rock Academy.
The Coastal Academy-San Pasqual Academy winner will play Victory Christian Academy in the semifinals while St. Joseph Academy will meet the Foothills Christian-Rock Academy winner.
The opening round is scheduled for Nov. 4-5, followed by the semifinals on Nov. 11.
The championship game is scheduled Nov. 19 at Escondido High School at 7:30 p.m.
Victory Christian, St. Joseph Academy and Foothills Christian represent the Ocean League while the Rock Academy and Coastal Academy represent the Surf League. San Pasqual Academy represents the Manzanita League.
The Ocean League was comprised of five teams this year. Victory Christian finished on top of the league standings with a 4-0 league record, followed by St. Joseph Academy at 3-1, Foothills Christian at 2-2, San Diego Jewish Academy at 1-3 and Ocean View Christian Academy at 0-4.
Victory Christian, which outscored opponents 407-47, cinched its perfect regular season with last Friday's 56-21 win over visiting Foothills Christian. Both teams go by Knights monikers.
VCA scored eight touchdowns in the game — five passing and three rushing.
Senior Tookie Davis completed 21 of 26 passing attempts for 382 yards and four touchdowns. Senior Quinton Richardson completed his only pass of the game for a 30-yard touchdown as the Knights amassed 412 passing yards.
Junior Derek Edmonds had six catches for 173 yards and four touchdowns while senior Isaiah Tabares had six catches for 85 yards and one touchdown. Senior Josiah Fellow had two catches for 66 yards while Gomez had five catches for 56 yards. Richardson had three catches for 32 yards.
The hosts tacked on 156 rushing yards for 568 total offensive yards in the freewheeling game.
Davis had 14 carries for 63 yards and two touchdowns while senior Jacob Gomez had 13 carries for 64 yards and one touchdown. Richardson had four carries for 32 yards.
Davis tallied 445 total offensive yards on his own with a hand (or arm) in six of the team's eight touchdowns. One of his four TD passes went for 75 yards. He finished the game with a 161.1 quarterback efficiency rating.
Victory Christian led, 20-8, after the first quarter and 36-15 at halftime.
Senior Anthony Contreras led the VCA defense with 15 tackles while senior Max Isom recorded one sack.
Overall, the teams combined for a behemoth 828 total offensive yards.
Foothills Christian, which will play the Rock Academy on Saturday at 6:30 p.m. at Francis Parker, totaled 139 rushing yards and 121 passing yards.
Senior Jayden Gascon completed five of seven passing attempts for 88 yards and two touchdowns – both to freshman Hunter Hamilton (four catches, 51 yards).
Senior Kevin Mayer had seven carries for 55 yards and one touchdown while sophomore Kameron Brown had six carries for 38 yards.
Senior Trey Clark amassed 148 all-purpose yards in the game – 18 rushing, 23 receiving and 107 on kick returns.
Gascon led Foothills with 16 tackles, including 12 unassisted stops, while Hamilton had 15 tackles (10 solo). Seniors Colin Perrott and Mark Hernandez both 10 tackles.
Clark and senior Jason Hardison each had one sack while Perrott blocked a punt.
Clark averaged 40 yards on four punts. His longest kick return measured 40 yards.
Brown scored on a two-point conversion.
Hamilton had 10 receiving touchdowns in seven games.
Victory Christian defeated St. Joseph Academy, 27-8, on Oct. 7.
Overall, the Knights recorded five shutout wins — 78-0 over North Valley Military Institute on Aug. 19, 46-0 over Cornerstone Christian on Sept. 2, 51-0 over Downey Calvary Chapel on Sept. 16, 18-0 over San Diego Jewish Academy on Sept.16 and 35-0 over Ocean View Christian on Oct. 21.
Davis turned in a phenomenal regular season with 1,505 passing yards and 23 touchdowns against just three picks while rushing for 475 yards and seven touchdowns.
Richardson leads the team in scoring with 100 points on 16 touchdowns and four conversions while Tabares ranks second with 82 points on 13 touchdowns and four conversions.
Contreras has logged 107 tackles, including 10 for losses and seven sacks. Richardson has made six interceptions while Contreras has four picks to his credit.