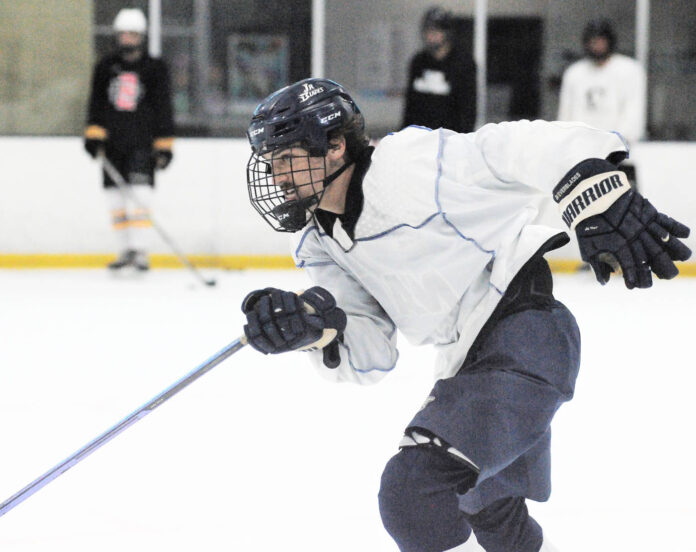 Never mind that temperatures outside the Kroc Center Ice Arena were pushing 90 degrees the last week in August as nearly 40 hopefuls attended tryouts for this season's San Diego State University men's ice hockey team.
Inside was the coolest place to be as recruits and walk-ons were under the watchful eyes of San Diego State University men's ice hockey head coach Phil Bateman and assistant coach Clark Oliver in a bid to secure a spot on the roster for the upcoming 2023-24 American Collegiate Hockey Association Division 1 season.
Following the Aug. 26-29 tryout camp, practices started on Aug. 31 in advance of the team's season opener Friday, Sept. 15, against Loyola Marymount University at the Kroc Center (8 p.m. face-off).
With just a handful of the top players off last year's inaugural Division 1 team returning, this season's roster will be largely filled by newcomers, but chock full of talent, according to Bateman.
"This will be an improved group," the SDSU bench boss predicted. "Our forwards will have a lot more skill, a lot more pace, a lot more size, too. The defense is exceptional, just a lot more professional blue line than we've ever had. It's an extension of our goaltending, very mobile, very agile, creative with the puck. It's an exciting blue line and goaltending. That's what I focused on during the off-season."
SDSU's inaugural Division 1 season was tough numbers-wise. The Aztecs, moving up from a successful 12-5-1 Division 2 season in 2021-22, finished 1-20-1, snapping a 0-19-1 start in their final homestand of the season.
Bateman said a small tryout of 20 players had much to do with the team's disappointing record. There just wasn't much to pick from, though the team challenged as best it could.
That shouldn't be a problem this season with the major influx of talent.
Bateman, in fact, believes the Aztecs will be fielding their best-ever team in school history.
Third-year player Marcus Kim, among SDSU's returners, said he is looking forward to the new ice campaign.
"I think we have great talent coming back but most of the team is new," said Kim, an Irvine native. "It's a whole re-set. We kept our top guys from last year and added. I think this team will do better than last year. We competed really hard last season. We just didn't have the guys to push us over the hump. We do this year. We're very strong defensively. We've brought in four new goalies. We're going to be greatly improved."
Local spotlight
Among the new faces on the team this season are a couple of old faces to local high school roller hockey fans: defenseman Braden Mayer (Eastlake High School) and forward Sean Devaney (Otay Ranch High School). Another San Diego native on the roster is Patrick Henry High School alum Shane Ege.
Mayer returns to the region after several seasons playing high level tier and Junior hockey across North America after leaving Chula Vista. He spent the 2021-22 season with the Boston Jr. Bruins and the 2022-23 season with the Florida Jr. Blades, both in the United States Prospects Hockey League Premier circuit on the East Coast.
Between the two teams, he racked up 38 goals in 81 regular season games from his blue-line position.
He also spent time in the North American Prospects Hockey League with a team in Michigan.
"I finally have come home," Mayer said with a smile.
Now 21 and sporting a mustache, one can say that the former Titan has grown into the game.
"I feel that Juniors was a good precursor to club hockey," he offered. "The ACHA all about is having fun playing hockey."
Mayer is one of the team's most skilled players, something he showcased during skating agility drills during the Aztecs' tryout camp at the end of August. It was not uncommon for him to put up 10 points in a roller hockey game.
When asked what he brings to the 2023-24 SDSU team, he quickly answered "depth."
"Depth is a big part of what we have brought in this year," Mayer said. "We have a more talented blue-line. We're looking forward to the challenge of playing against some of the more experienced teams this season."
The Big Show
The National Hockey League returns to San Diego on Friday, Sept. 29, when the Anaheim Ducks host the Los Angeles Kings in a preseason match-up of Southern California rivals at Pechanga Arena San Diego. Face-off is 7 p.m.
It's been a long wait for local hockey fans to see the NHL in person in their own backyard. The Ducks last played a preseason game in the sports arena in 1994 – Sept. 11 against the Kings (4-3 loss) and Sept. 21 against the Boston Bruins (4-3 win).
The Ducks met the San Diego Gulls on the International Hockey League in a 1993 exhibition game in San Diego during Anaheim's inaugural NHL season. The Ducks won that game 5-1.
The current edition of the Gulls serve as Anaheim's top developmental affiliate in the American Hockey League while the Kings' top developmental affiliate is the AHL's Ontario Reign. Both the Gulls and Reign share the same intense rivalry as do their NHL parent clubs.
The nearness of affiliates to their parent clubs has allowed an ease in call-ups.
Twelve players skated with both San Diego and Anaheim last season, including 2023 AHL All-Star goaltender Lukas Dostal. In total, 84 players have spent time with the Gulls and Ducks, including current rostered Ducks players Trevor Zegras, Troy Terry, Mason McTavish and Simon Benoit.
This will be a rare opportunity for youth hockey players in the area to touch the game at its highest level and could serve as extra motivation and encouragement for the next generation of players.
"I think it's so awesome that the Kings/Ducks will be doing an NHL exhibition game right here in San Diego," Bonita Vista High School roller hockey coach Keith Quigley said. "It's  great for our local community to see what NHL hockey is all about, and I think it's really cool that our local hockey kids have a chance to see the NHL guys and see how fast the game really is and how amazing these athletes really are."
The Reign will host the Gulls in an AHL preseason game on Oct. 8 (3 p.m. at Toyota Arena) following the conclusion of the NHL teams' respective training camps.
The Ducks and Kings will participate in the NHL Rookie Face-Off showcase Sept. 15-18 in Las Vegas. The Ducks roster includes Leo Carlsson, Anaheim's top pick in the 2023 NHL Draft (second overall in the league). Six teams overall will send their younger prospects to the ice. Besides the Anaheim and Los Angeles, participating teams include the San Jose Sharks, Colorado Avalanche, Arizona Coyotes and the host Vegas Golden Knights.
The NHL's 107th season faces off Oct. 10 with regular season games. The Golden Knights return as defending Stanley Cup champions.
The upcoming Sept. 29 preseason game will likely showcase several Gulls alumni and players likely to be placed on this season's San Diego roster.
The Gulls face off regular season play Oct. 13 under new head coach Matt McIlvane Oct. 13 and Oct. 15 in Ontario before hosting the Reign in San Diego's home opener on Oct. 20.
The Gulls have proven one of the AHL's top teams both on and off the ice since their relocation to San Diego for the 2015-16 season.
The Gulls own an all-time record of 258-213-28-14, including 137-98-15-6 at home and 121-115-13-8 on the road to rank second in the Pacific Division in all-time wins and tied for third in all-time points (558) since the division's inception in 2015-16.
SDSU 2023-24 ICE HOCKEY ROSTER
| | | | |
| --- | --- | --- | --- |
| Player Name | Home Town | Position | Previous Team |
| Brody Hsaio | Vancouver, BC Canada | Goalie | Rock Springs Prospectors / USPHL Premier |
| Luke Desmarais | Redwood City, CA, | Forward | SDSU |
| Cameron Henderson | Brampton, ONT Canada | Defenseman | SDSU |
| Lucas Bellig | Danville, CA | Defenseman | SDSU |
| Mason Brown | North Vancouver, BC Canada | Forward | Grandview Steelers PJHL Provincial Junior Hockey League |
| Nicolas Grigoropoulos | Pleasanton, CA | Forward | Jr. Sharks AAA CAHA |
| Marcus Kim | Irvine, CA | Forward | SDSU |
| Cameron Ferraz | Phoenix, AZ | Defenseman | South Shore Kings NCDC National Collegiate Development Conference |
| Nolan Conrad | Corona, CA | Forward | SDSU |
| Patrick Fast | San Jose, CA | Forward | Jr. Sharks AAA CAHA |
| Corey Bertola | Bridgewater, NJ | Forward | New Jersey Colonials 18U AAA |
| Brandon Grant | Irvine, CA | Forward | Anahem Jr. Ducks 18AA CAHA |
| Jake Abenojar | San Jose, CA | Defenseman | Jr. Sharks AAA CAHA |
| Kolby Hennessey | Spokane WA | Forward |  Creston Valley Thunder Cats KJHL Kootenay International Junior Hockey League |
| Gavin O'Bryan | San Diego, CA | Forward | SDSU |
| Shane Ege | San Diego, CA | Forward | SDSU |
| Sean Devaney | San Diego, CA | Forward | San Diego Sabers WSHL |
| Garrett Fuller | Airdrie, AB Canada | Goalie | Drumheller Dragons AJHL Alberta Junior Hockey League |
| Liam Dee | Burlington, ONT Canada | Goalie | Long Beach Shredders USPHL Premier |
| Nicholas Heinzle | Glen Robertson, ON, Canada | Goalie | Ontario Jr. Reign USPHL Premier |
| Connor Hennigan | Falmouth, MA | Defenseman | Falmouth High  USHS-MA |
| Sean Yeo | Vancouver, BC Canada | Defenseman |  Campbell River Storm / VIJHL Vancouver Island Junior Hockey League |
| Braden Mayer | Chula Vista, CA | Defenseman | Florida Jr. Blades USPHL Premier |
| Drew Gunderson | Tahoe, CA | Forward | Tahoe Grizzlies USHS-CA |
| Zachary Strooza | Yorba Linda, CA | Defenseman | Anahem Jr. Ducks 18AA CAHA |
| Max Kathol | Chestermere, AB Canada | Forward | Ontario Jr. Reign USPHL Premier |
| Logan Okanski | Bernardsville, NJ, | Defenseman | Long Beach Shredders USPHL Premier |
| Alexander Xinos | San Jose, CA | Forward | SDSU |
| Toby Petrus | Santa Rosa, CA | Forward | Santa Rosa Junior College |
| Noah Robinson | Arlington, VA | Defenseman | Ashburn Xtreme 18AA |
SDSU 2023-24 ICE HOCKEY SCHEDULE
Da

te

Opponent

Time

Score

9-15
vs
Loyola Marymount University (M2)
8:00 PM
—
9-22
at
University of Colorado Boulder
TBD
—
9-23
at
University of Colorado Boulder
TBD
—
9-29
vs
Arizona State University
8:00 PM
—
9-30
vs
Arizona State University
8:00 PM
—
10-13
at
Arizona State University
TBD
—
10-14
at
Arizona State University
TBD
—
10-20
at
Navy
TBD
—
10-21
at
George Mason University
TBD
—
11-2
at
University of Nevada Las Vegas
7:00 PM
—
11-3
at
University of Nevada Las Vegas
Midnight
—
11-10
vs
Colorado State University
8:00 PM
—
11-11
vs
Colorado State University
8:00 PM
—
11-17
at
Grand Canyon University
TBD
—
11-18
at
Grand Canyon University
TBD
—
12-1
at
University of Utah
TBD
—
12-2
at
University of Utah
TBD
—
1-26
at
University of Arizona
TBD
—
1-27
at
University of Arizona
TBD
—
2-2
vs
University of Colorado Boulder
8:00 PM
—
2-3
vs
University of Colorado Boulder
8:00 PM
—
2-9
vs
University of Oregon
8:00 PM
—
2-10
vs
University of Oregon
8:30 PM
—