Bonita Vista and Hilltop high schools enjoyed a fierce rivalry in both boys and girls soccer in the 1980s, 1990s and early part of this century.
It was the Lady Lancers who snapped Bonita Vista's vaunted 314-game Metro Conference unbeaten streak (1982-2005).
Conversely, it was the Barons who topped the Lancers in a penalty kick shootout to win the 2011 San Diego Section Division II boys championship.
But the schools' football rivalry may not be as conspicuous. That could change as the teams start playing one another more often.
Last Friday, Bonita Vista defeated host Hilltop, 35-14, behind a career-record 179 rushing yards and two touchdowns by senior Caden Ada-Tannehill.
The non-league victory boosted the Barons' record to 3-1 while the Lancers dropped to 1-3.
Ada-Tannehill, a BVHS star in boys lacrosse, scored twice in the first half as the visitors built a 21-0 lead.
He was involved in a trick play in the second half that set up a score for the Barons with a 31-yard halfback pass to senior receiver Julian Ramirez. BV junior quarterback Isayah Luna later scored on a one-yard run.
Bonita Vista finished the game with five rushing touchdowns. Besides scores by Ada-Tannehill and Luna, senior Carlos Ochoa (10 carries, 44 yards) and junior Hayden McMackin (two carries, 19 yards) also scored rushing touchdowns.
The hosts scored twice in the third quarter to narrow the score to 28-14? but the visitors added a touchdown in the fourth quarter to keep their lead safe.
Hilltop's touchdowns came off the arm of junior signal-caller Kneko Vazquez (14-of-17, 199 yards) and the feet of senior Jose Cabrera (11 carries, 35 yards). Junior Mason Vaquero (four catches, 36 yards) caught one touchdown pass while senior Nick Moore was active in the game with four pass receptions for 131 yards, including one play measuring 70 yards.
Bonita Vista held a narrow edge in total offensive yards, 310-263.
Ada-Tannehill recorded 219 all-purpose yards by tacking on 40 receiving yards on two catches.
The Barons take a two-game winning streak into Friday's homecoming game against Mar Vista (1-2) at Southwestern College.
"It's a big momentum for us entering our homecoming against Mar Vista," BVHS head coach Tyler Arciaga said. "Now having this little surge, you hope to keep up the momentum. With the game being at Southwestern College, that should add some extra excitement. Bonita Vista hasn't been 3-1 in a while.
"The difference right now is the play of our offensive line … Kelly Brown, Aiden Provencio, Sebastuan Flores, Niko piña, and Nicholas Edwards."
Seniors Nathan Sandoval and Landon Wales keyed the Barons defensively with eight tackles apiece while senior Elijah Goulbourn had two of his teams four sacks.
Junior Richie Rojas was successful on all five extra-point attempts.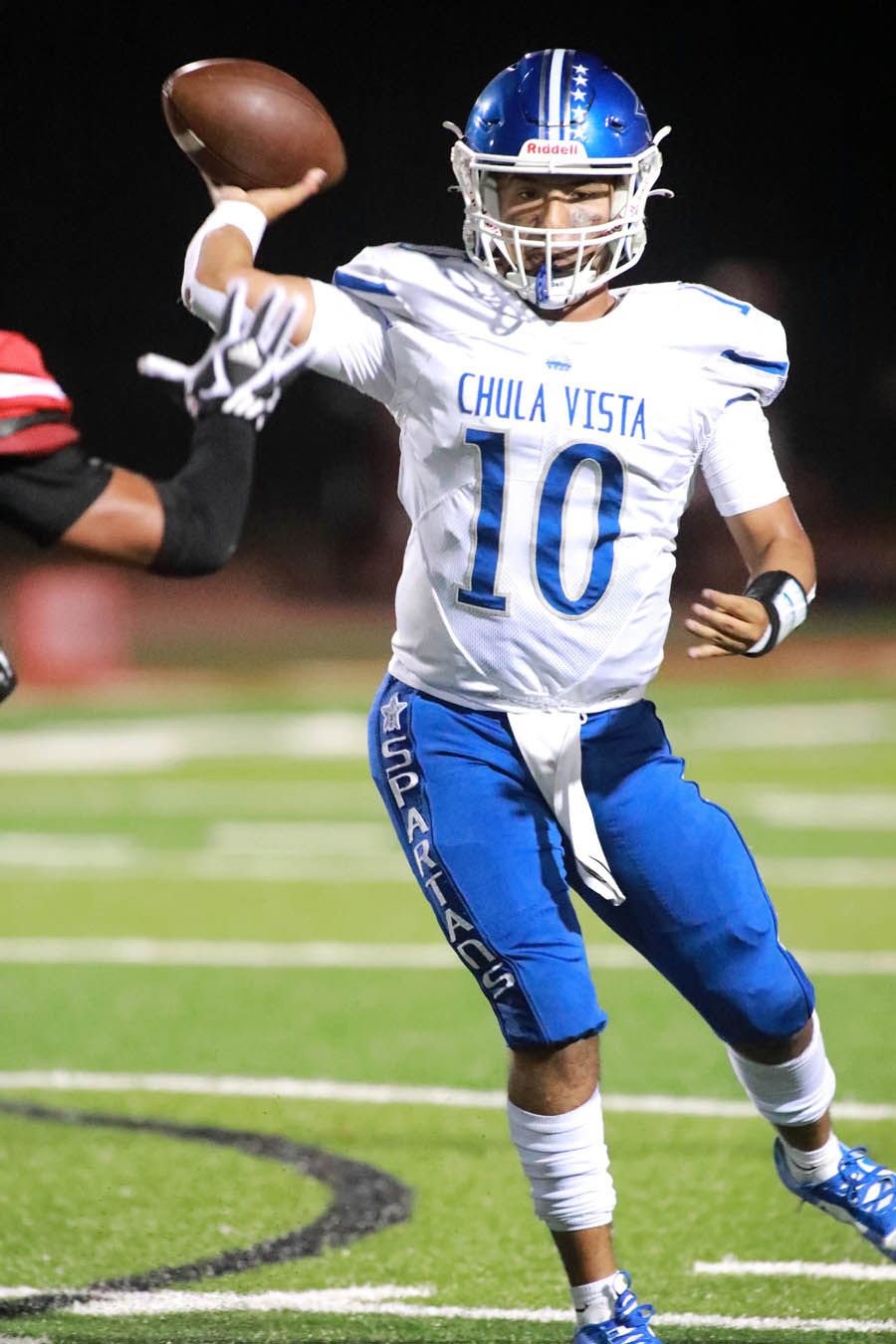 Around South County
Chula Vista defeated visiting Canyon Hills, 52-8, in a special Thursday night match-up to also hike its record to 3-1.
Junior Izaac Baca passed for 209 yards and three touchdowns while rushing for 34 yards and two more scores.
Junior Elijah Gillespie had four catches for 97 yards, including two touchdown receptions, while junior La'Darrione Perkins made one 31-yard TD catch. Junior Joseph Rodriguez had a 16-yard TD grab.
Senior Paul Alvarez (13 carries, 94 yards) and junior Izayah Ringfield (four carries, 37 yards) each scored one rushing touchdown as the Spartans racked up eight touchdowns in the game.
Senior Nathan Houck led the CV defense with five tackles while senior Franky Olmedo had two of the team's four sacks. Houck and sophomore Michael Marquez each registered one sack.
The Spartans are scheduled to host the surging Olympian Eagles in a non-league clash in a rate daytime contest at 4 p.m. on Friday. The Eagles have won two in a row after a 0-2 start.
Olympian recorded its first win of the season, 49-19, on Sept. 1 in a non-league home match-up against Trivium Prep from Goodyear, Ariz. The Eagles shut out host Valhalla, 19-0, in a Thursday night special on Sept. 7.
Olympian senior Tristan Anderson threw for 137 yards and three touchdowns against Trivium Prep while sophomore Jayden Fuentes and senior Emil Lozano each completed one touchdown pass.
Seniors Coby Dunn (18 carries, 89 yards) and Ethan Mallon (five carries, 63 yards) each scored rushing touchdowns. Seniors A.J. Cadriel (three catches, 60 yards) and Jake Marcial (six catches, 93 yards) both had two touchdown catches while sophomore Patricio Flatts hauled in a 28-yard scoring pass.
Junior Josue Vargas led the hosts with 114 all-purpose yards (28 rush, eight reception, 78 kick returns). He also recorded one sack on defense along with senior Matthew Latimer.
Fuentes had two passing touchdowns and one rushing touchdown in the game at Valhalla. He finished the non-league match-up with 130 total yards (107 passing, 23 rushing).
Vargas had eight carries for 79 yards while Cadriel had one 74-yard catch. Marcial had three catches for 54 yards.
Senior Ceejay Clavier keyed the defensive effort with nine tackles.
Castle Park evened its record at 2-2 by scoring its second consecutive win of the season, 27-19, at the Rock Academy last Friday that built on a 34-6 win the previous week over the visiting Lazaro Cardenas Jaguars  from Tijuana, Mex.
Junior Dillon Villarreal had an interception and short touchdown run to get the visiting Trojans going against the Rock Academy while senior Sebastian Lozano broke away for a 51-yard touchdown run.
Castle Park was scheduled to host Crawford on Thursday before traveling to Hilltop for a non-league game on Sept. 22.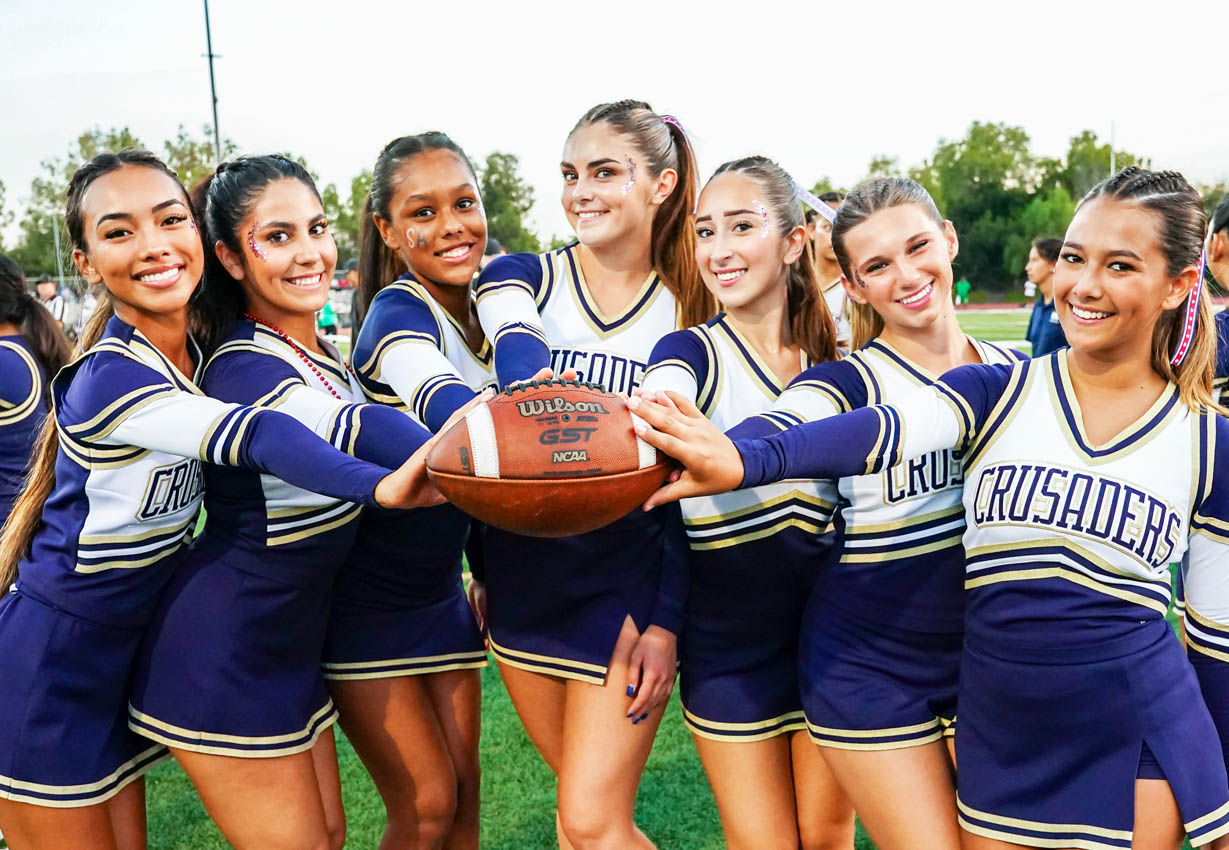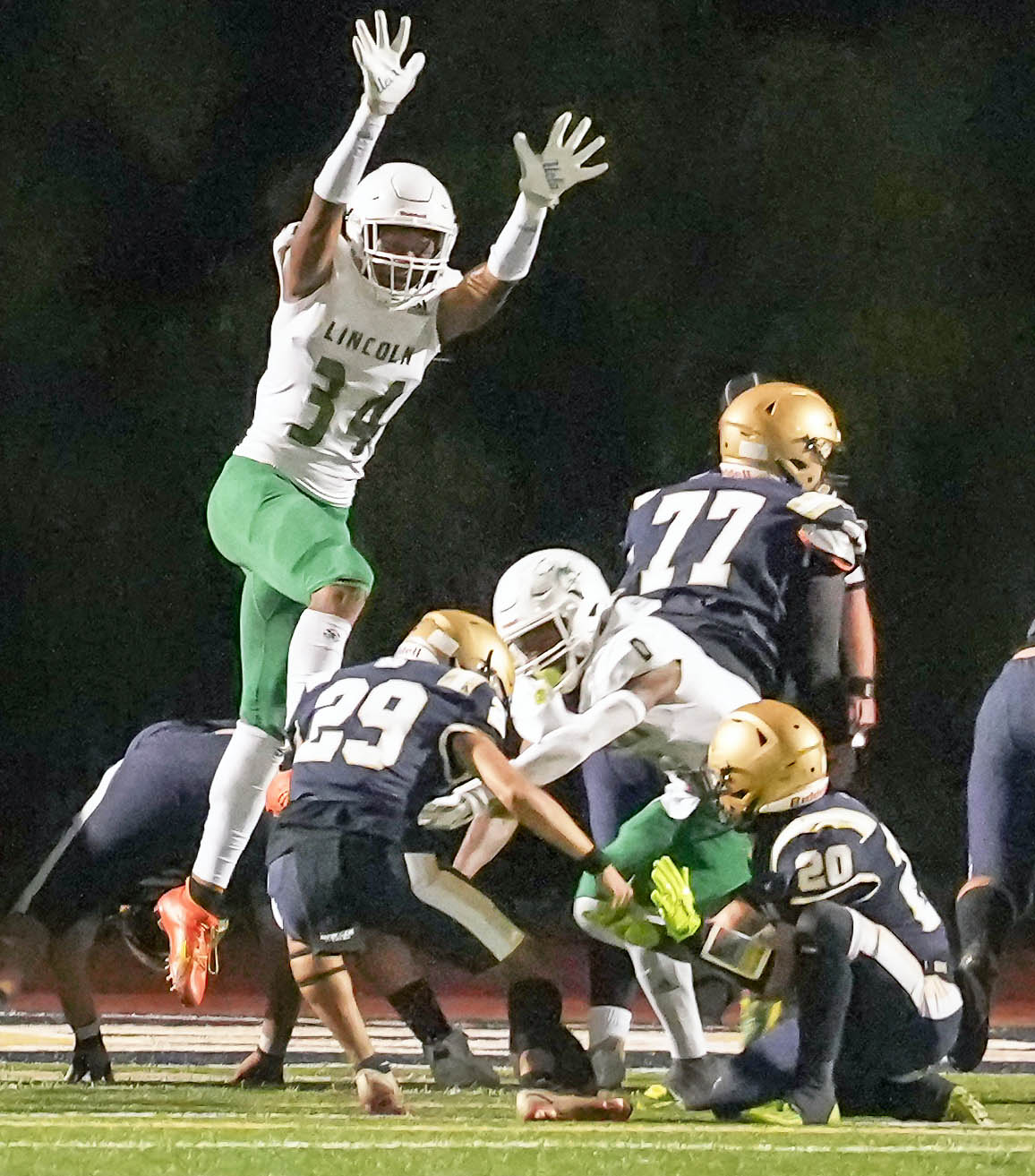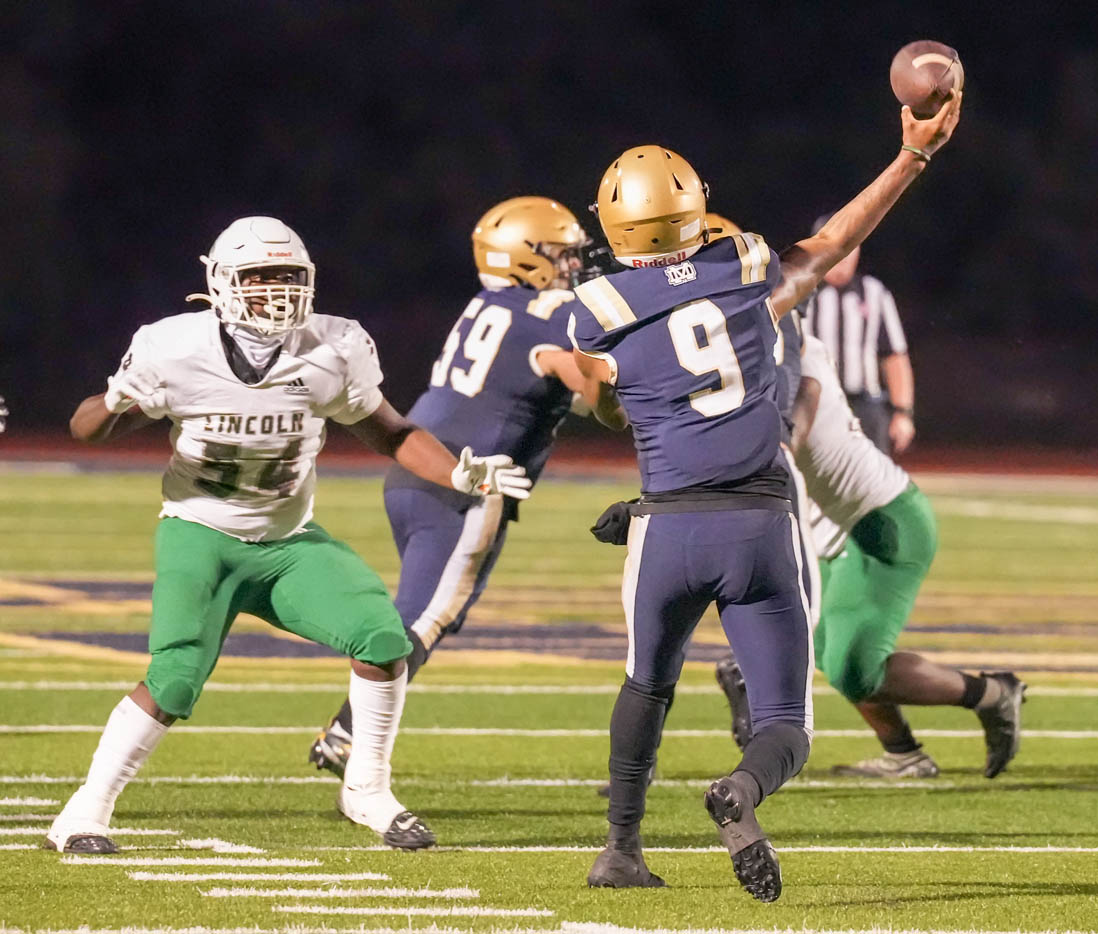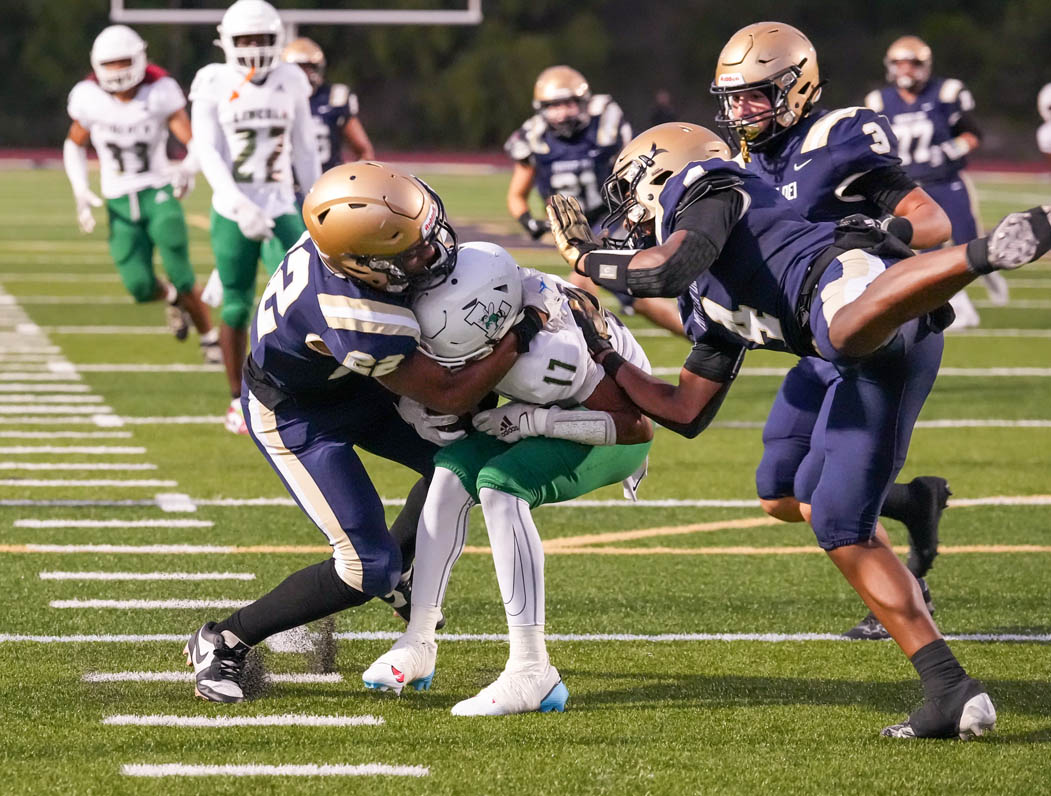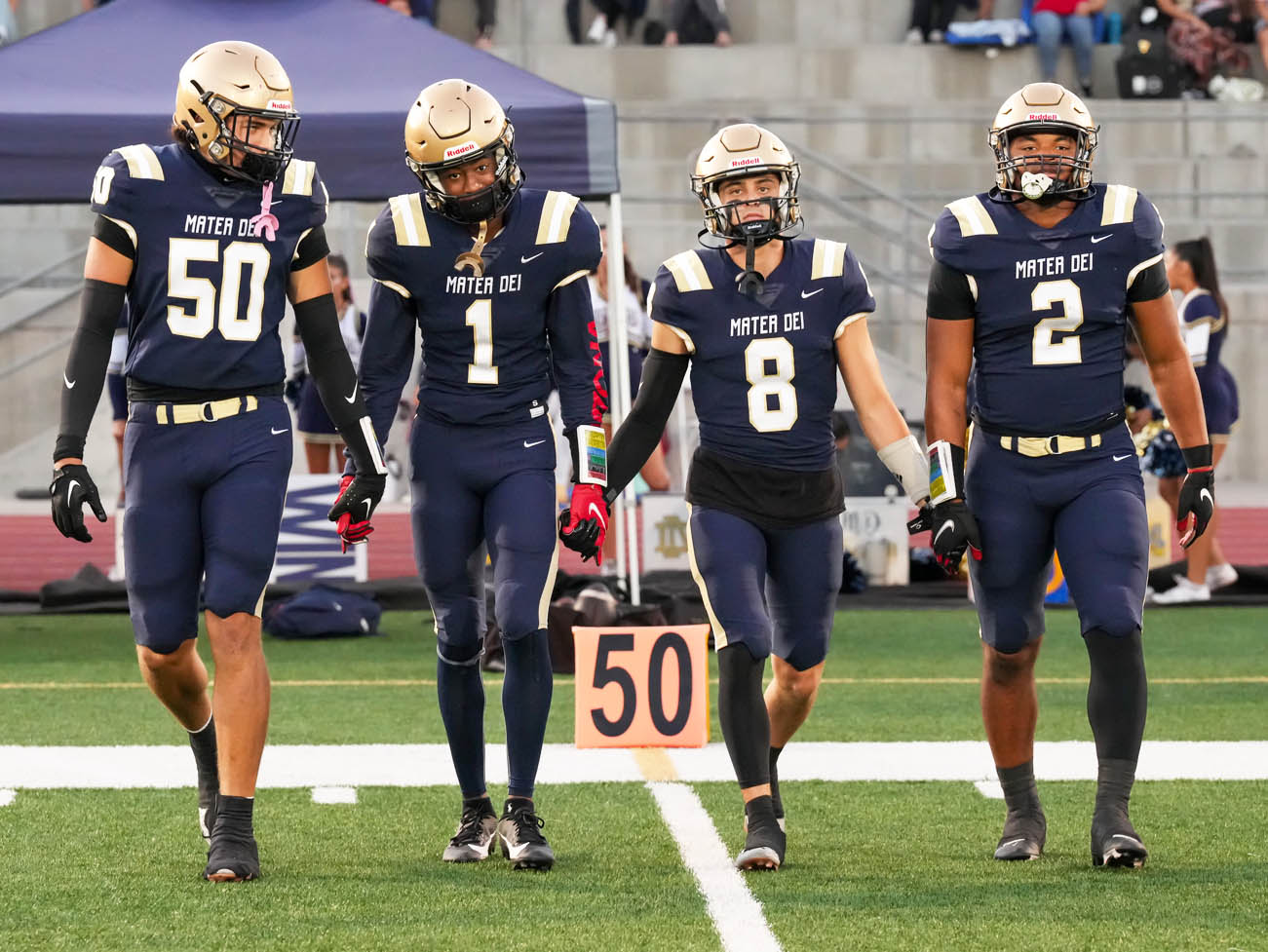 Sudden impact
Mater Dei Catholic hosted its first home game of the 2023 season on Sept. 7 and the Crusaders didn't flinch by inviting the second-ranked Lincoln Hornets.
The game was close to start before Lincoln (4-0) began to pull away for a 54-19 non-league victory in a match-up of defending division state champions.
Mater Dei Catholic fell to 0-3 following previous setbacks to Cathedral Catholic and Carlsbad.
Lincoln defeated Carlsbad for last year's Open Division section title. Carlsbad is currently ranked No. 1 in the section, as was the case last regular season.
Mater Dei Catholic led, 7-0, through the opening quarter but 34 points by the Hornets in the second quarter put them ahead 34-16 at halftime.
Junior Akili Smith Jr. led Lincoln with 192 passing yards, three touchdowns and one score on the ground but was intercepted twice. Junior Donald Reed III rushed 15 times for 125 yards and two TD.
The Crusaders will attempt to get into the win column for the first time this season when they visit Point Loma (2-2) on Friday for a non-league tilt.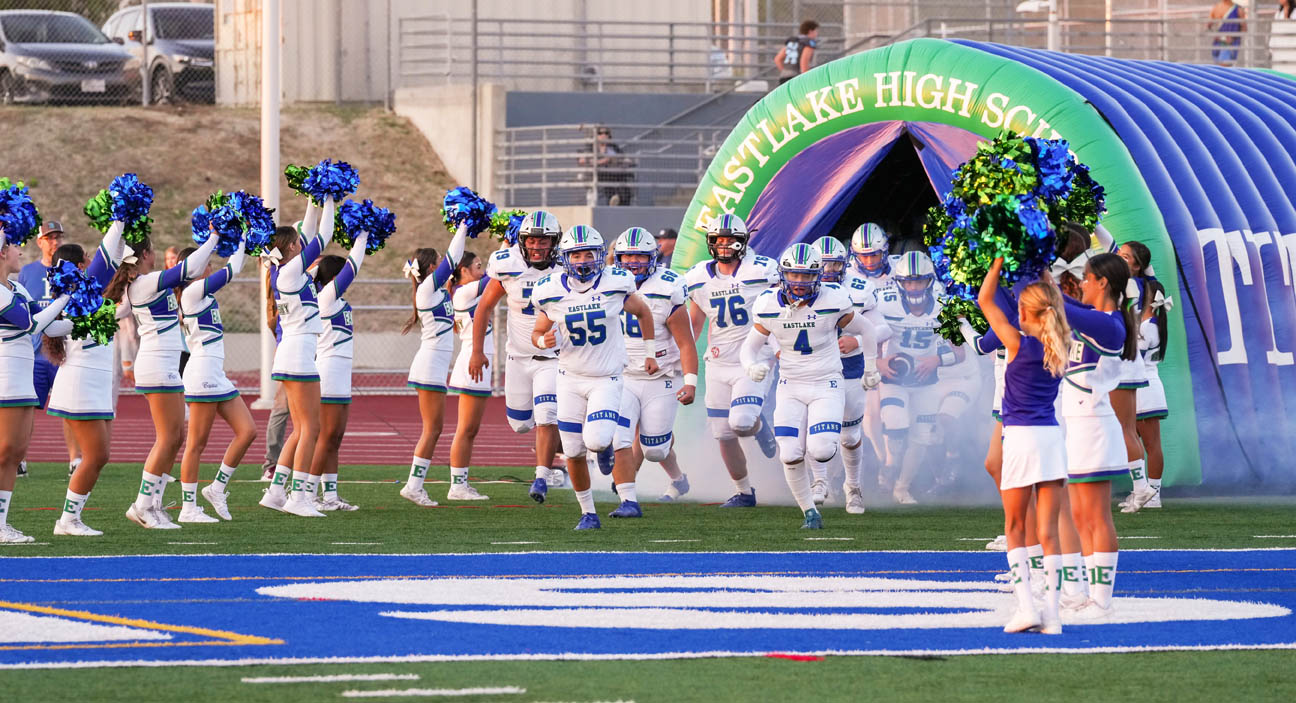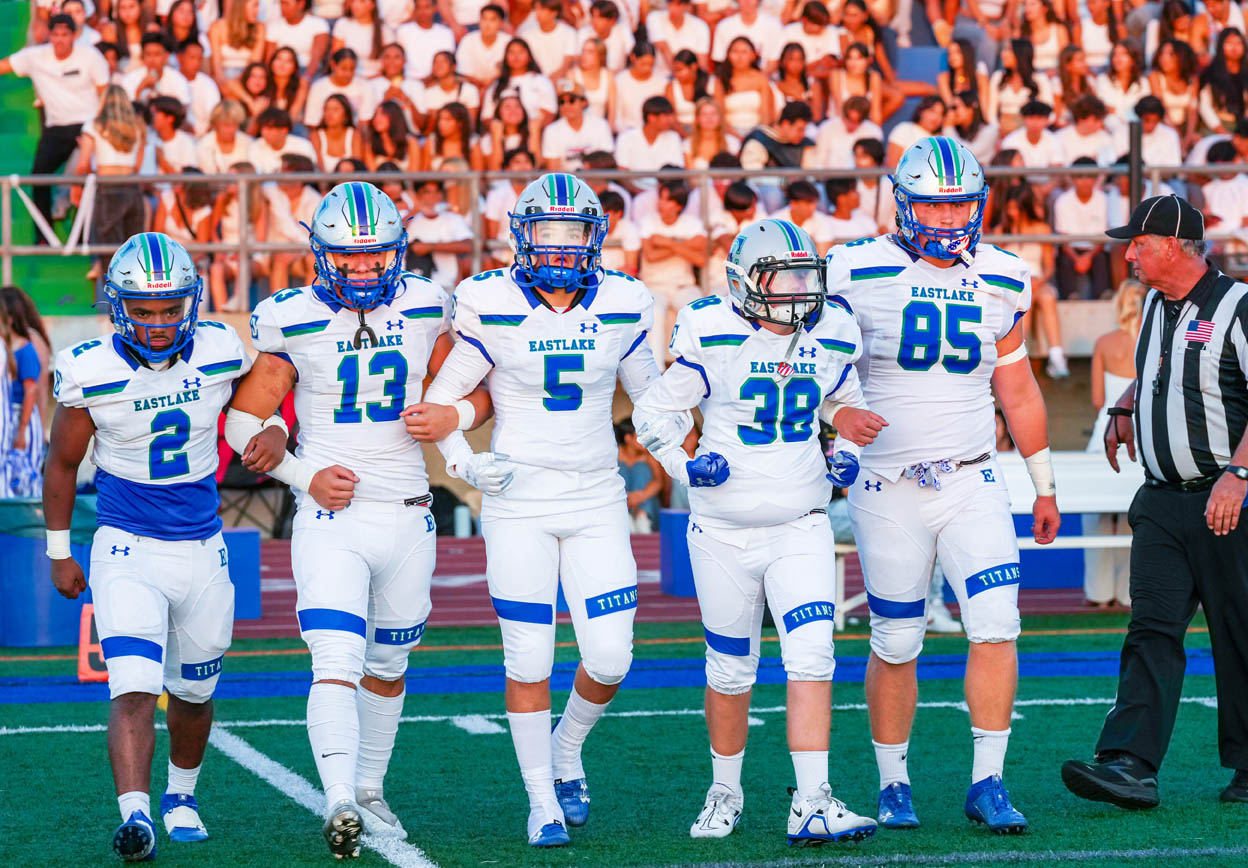 Eastlake is 0-4 following yet another tussle with a powerhouse team on its 2023 schedule. The Titans played the visiting Granite Hills Eagles, yet another returning division state champion, close to the vest to start the game before the East County squad took over en route to building a 35-0 lead in settling for a final 35-7 non-league victory.
The Eagles out-gained the host Titans 322-136 in total offensive yards.
Granite Hills freshman quarterback Zachary Benitez continued to excel with 119 passing yards and one touchdown while rushing for another score as the Eagles ran their winning streak to 12 games over the past two seasons.
Juniors Max Turner (nine carries, 83 yards) and Pablo Jackson (eight carries, 77 yards) each scored one rushing touchdown while Turner also had two catches for 42 yards and a touchdown reception.
Senior Nokoi Maddox also scored on a 34-yard punt return while junior Trent Whitlock tacked on five successful PAT conversions to round out team scoring.
Junior QB Sawyer Bray completed 11 of 12 passing attempts for 62 yards and scored the Titans' lone touchdown on a sneak.
Senior Blake Schweer led the Eastlake defense with 11 tackles.
A few points separate the Montgomery Aztecs (1-3) from a much better record. The Aztecs came up one points short in their season opener at Coronado, 22-21, and suffered an agonizing 27-24 non-league setback to the visiting El Cajon Valley Braves last Friday on a penalty that resulted in a retake of a blocked field goal. ECV senior Cristofer Gonzalez converted the chip shot on the last play of the game to provide his team with a 3-1 record to start the season.
ECV senior Darick Dubose collected 230 total offensive yards by passing for 130 yards with one touchdown and one interception, rushing 20 times for 100 yards with one touchdown and scoring on a 52-yard fumble return on defense.
Senior Paris Dixon had two catches for 76 yards and one touchdown while senior Chris Cosio had one interception.
Gonzalez accounted for nine points — three PAT and two field goals, including a long of 41 yards.
Montgomery sophomore Andie Deanda passed for 98 yards with one touchdown and one interception while also making seven carries for 44 yards and one touchdown. Senior Jose Guadalupe rushed 15 times for 143 yards and one score to buttress the Aztec running game that collected 223 yards.
Junior Raul Moreno (two catches, 13 yards) caught one scoring pass. Junior Zantez Thomas had one catch measuring 44 yards while senior Aerek Brown had one catch for 17 yards. Guadalupe had 151 total yards with eight additional receiving yards.
Defensively, senor Mario Corrales had one sack while senior Dalaias Garcia had one interception. Garcia also had six kicking points on three PAT conversions and a 24-yard field goal.
The Aztecs will host Prepa Federal Lazaro in a non-league game on Friday, Sept. 15, at 7 p.m.
Otay Ranch (0-4) is also still looking for its first win after dropping a 27-7 non-league decision to visiting Central Union. Junior Tyler Geasland passed for 100 yards but senior Oluwatolani Osinforlarin (seven carries, 19 yards) scored the lone touchdown for the host Mustangs on a rushing play in the third quarter.
Junior Julian Millan had four catches for 47 yards while junior Johnnie Welbourne had one catch for 39 yards.
Sophomore David Smith led Otay Ranch with 13 tackles while junior Prince John Dumaran had 12 stops. Junior Jason Haug had 11 tackles while junior Diego Martinez recorded 2.5 sacks. Senior Jaiden Ingram had one interception.
Senior Isaac Lopez electrified the home crowd with a 72-yard kick-off return.
Junior Nico Viesca (38 carries, 171 yards) scored three rushing touchdowns for the Spartans (3-1).
The game was a rematch of last year's playoffs.
The Southwest Raiders saw their record leveled at 2-2 following a 41-34 non-league loss to visiting Clairemont. Senior Justice Pigee passed for 171 yards and two touchdowns and three interceptions while junior Nery Gomez rushed 19 times for 73 yards and two touchdowns to lead the hosts.
Senior Andrew Moreno (three catches, 55 yards) and sophomore Diego Valencia (two catches, 22 yards) each caught scoring passes – Moreno from 18 yards and Valencia from 15 yards. Moreno led the team defensively with 10 tackles while senior David Hardy had one sack.
Valencia had a first quarter interception while junior specialist Kris Molick had 83 kick return yards.
Southwest head coach Domonic Cruz called the loss a "close but no cigar" defeat.
Senior Jackson Merrifield (six carries, 95 yards) led the visiting Chiefs (2-2) with three rushing touchdowns.
The Raiders play at Calipatria (3-1) this Friday.
The Monte Vista Monarchs (1-3) picked up their first win of the season by a score of 41-28 at San Ysidro. Monte Vista led by scores of 13-0 and 27-7 in putting away the victory.
The host Cougars generated 373 total yards in offense in the loss.
Sophomore Dario Garcia passed for 206 yards with one touchdown and one interception for San Ysidro while also rushing nine times for 77 yards and one touchdown. Junior Max Espinoza (four carries, 12 yards) and junior Jaiden Dominguez (one carry, three yards) both scored rushing touchdowns while sophomore Aaron Garcia caught a 40-yard scoring pass.
Dominguez collected 19 tackles (14 unassisted) on defense while senior Omar Vargas had 15 stops.
The Cougars host Hilltop this Friday in another non-league game.
Sweetwater fell to 0-4 following its 35-14 loss at Mission Bay (4-0) in another Thursday night special. Senior Xzavier Crews (eight carries, 109 yards) and sophomore Christian Corpus (five carries, 44 yards) each scored rushing touchdowns for the visiting Red Devils.
San Diego Section Football Rankings
MaxPreps through Sept. 12
Division I
Carlsbad (4-0)
Lincoln (4-0)
Helix (4-0)
Granite Hills (3-0)
Mission Hills (2-1)
Madison (2-2)
La Costa Canyon (3-1)
Cathedral Catholic (1-3)
El Camino (2-1)
St. Augustine (2-2)
Mater Dei Catholic (0-3)
Poway (3-1)
Torrey Pines (2-2)
San Marcos (3-1)
Ramona (2-1)
Mira Mesa (1-3)
Division II
Del Norte (3-1)
Rancho Bernardo (3-1)
Point Loma (2-2)
Oceanside (2-2)
Scripps Ranch (2-1)
La Jolla (2-2)
Central Union (3-1)
Eastlake (0-4)
Steele Canyon (2-2)
Mt. Carmel (3-1)
University City (0-4)
Christian (2-2)
Bishop's (0-3)
Brawley (3-0)
San Pasqual (1-3)
Rancho Buena Vista (0-3)
Division III
Mission Bay (4-0)
El Capitan (3-1)
La Jolla Country Day (3-1)
Fallbrook (3-1)
Morse (2-1)
West Hills (3-1)
Patrick Henry (1-2)
Santa Fe Christian (0-4)
Imperial (3-1)
Otay Ranch (0-4)
Palo Verde Valley (2-2)
Grossmont (2-2)
Valley Center (0-4)
Montgomery (1-3)
Vista (0-4)
San Diego (0-3)
Division IV
Mt. Miguel (4-0)
Chula Vista (3-1)
Crawford (3-1)
Calexico (4-0)
Santana (3-1)
Westview (2-2)
Classical Academy (2-2)
Escondido Charter (2-1)
Escondido (2-2)
Bonita Vista (3-1)
Coronado (1-3)
Olympian (2-2)
Hilltop (1-3)
Canyon Hills (0-4)
Francis Parker (0-4)
Orange Glen (1-3)
Division V
El Cajon Valley (3-1)
Vincent Memorial (2-2)
Kearny (4-0)
Hoover (3-1)
Sweetwater (0-4)
Valhalla (2-2)
Castle Park (2-2)
Clairemont (2-2)
Southwest El Centro (2-2)
Monte Vista (1-3)
Mar Vista (1-2)
Southwest (2-2)
San Ysidro (1-3)
Division V-AA
Army-Navy Academy (3-0)
Holtville (2-2)
Rock Academy (1-2)
Maranatha Christian (1-3)
Mountain Empire (0-4)
Calipatria (3-1)
Tri-City Christian (1-2)
O'Farrell Charter (0-4)