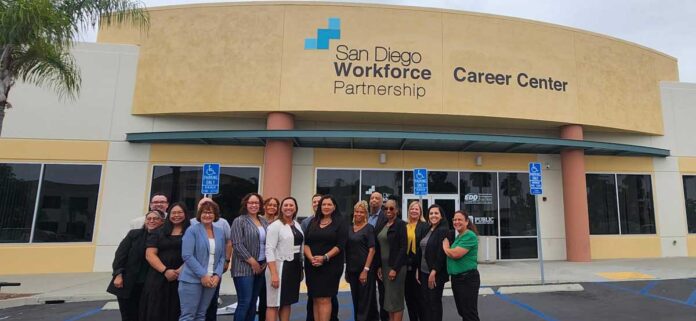 On Sept. 5, the San Diego Workforce Partnerships held a press conference announcing its new program Career Pathways for Foster Youth. The program was made possible by a $5 million investment from the County of San Diego to help current and former foster youth ages 16-24 land their first job. This program is in partnership with Promises2Kids, a local nonprofit dedicated to creating a brighter future for foster children, the Foster Alumni and Youth Community Empowerment Subcommittee (FAYCES), Access Inc., and Just in Time for Foster Youth.
In all aspects of their lives beyond work, including financial support with housing, mental care health, transportation, childcare and more, applications are open and available to current or former foster youth who live in San Diego County at www.workforce.org.
San Diego Workforce Partnership Chief Programs Officer Khaleda Atta said this grant builds on the Workforce Partnership's 25-year history of collaboratively serving foster youth.
County Board of Supervisors Chair Nora Vargas said in San Diego County there are currently 2,518 youth in the child welfare system ages 0-21. Additionally, as of last week there were 162 youth ages 21-24 years old.
"Research shows that former foster youth often experience poor outcomes as young adults, including unemployment, academic achievement, higher rates of homelessness, or finding stable housing," she said.
The program can support current and former foster youth individualized employment services to support vocational and career interests, Vargas said.