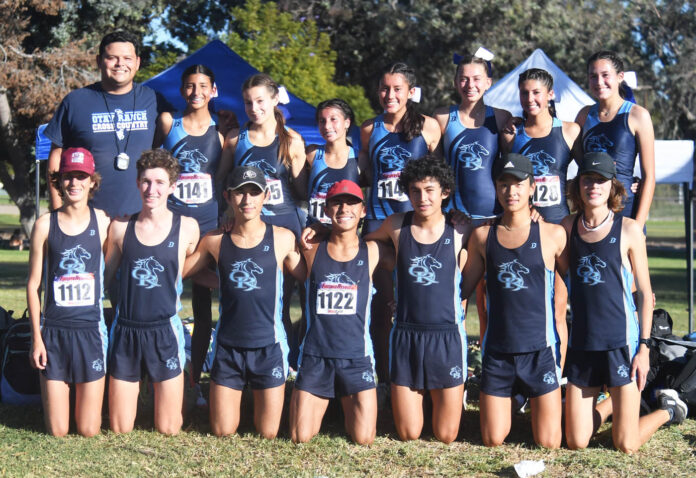 Hilltop High School senior Jimmy Byland won the Mesa League boys individual title in runaway fashion as did Eastlake High School in the Mesa League girls team title chase.
Byland (16:11) won by an 18.5-second margin over South Bay League individual champion William Wines of Southwest (16:29.5) in the combined 68-deep conference field.
Eastlake placed all seven of its runners among the top nine finishers in the Mesa League girls race in a show of force to record a low score of 18 points to easily out-pace runner-up Otay Ranch (46 points).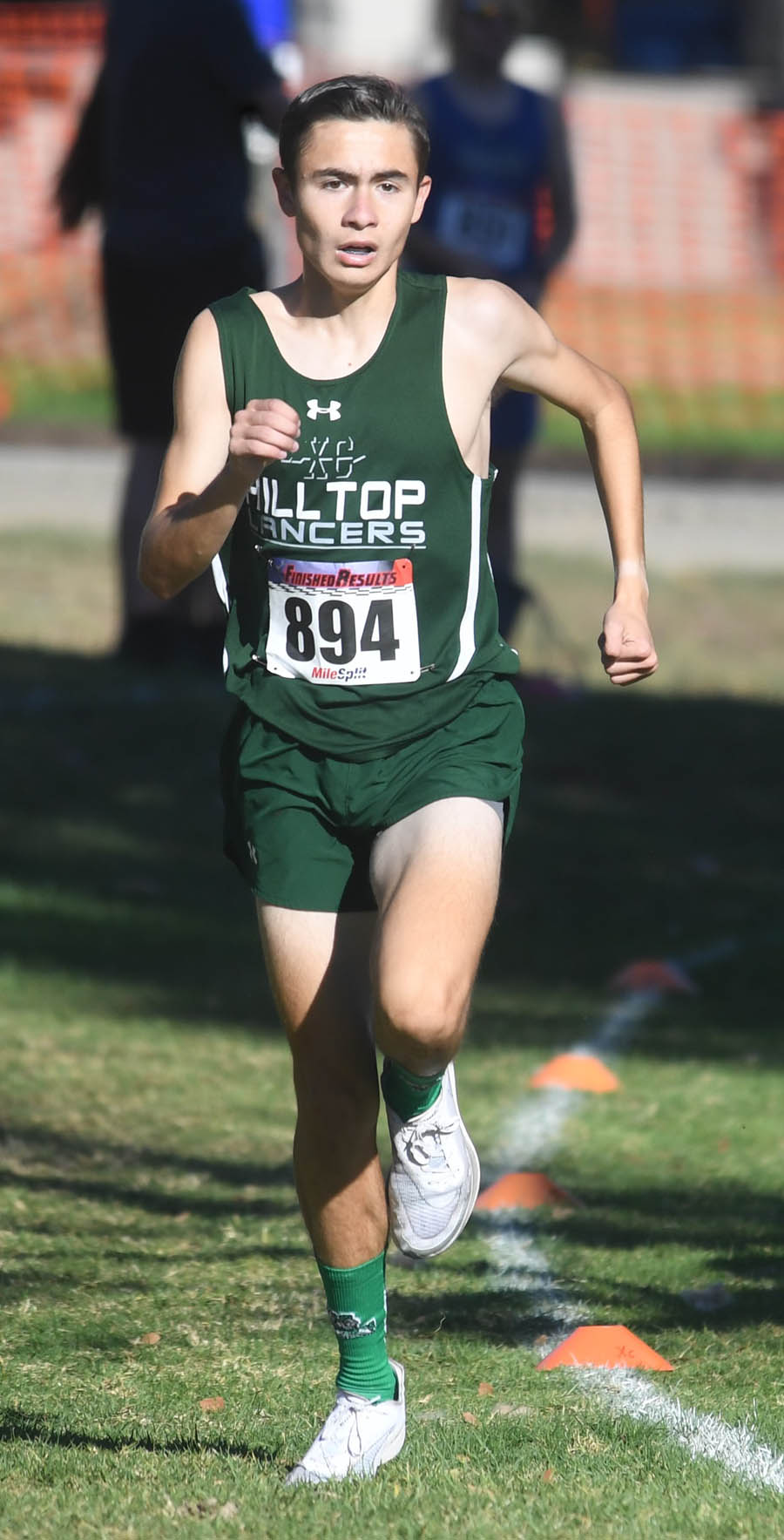 "My strategy was to get the first mile (done) really quickly," said Byland, who set a personal record on the 5K Rohr Park course. "I know the second and third miles would be far more challenging. That's why the first mile was so important to me."
Hilltop senior Miguel Tisnado finished fourth in the boys varsity race (third among Mesa League runners) in 16:52.5 but the Lancers could not match Otay Ranch's scoring potential as the Mustangs wrapped up the team title with a 30-42 scoring margin.
Otay Ranch placed all five of its scorers among the top nine conference finishers and seven among the top 13 finishers overall to power to the victory. The Mustangs' five-man spread was 30 seconds. The team's top three runners were separated by 15 seconds in crossing the finish line.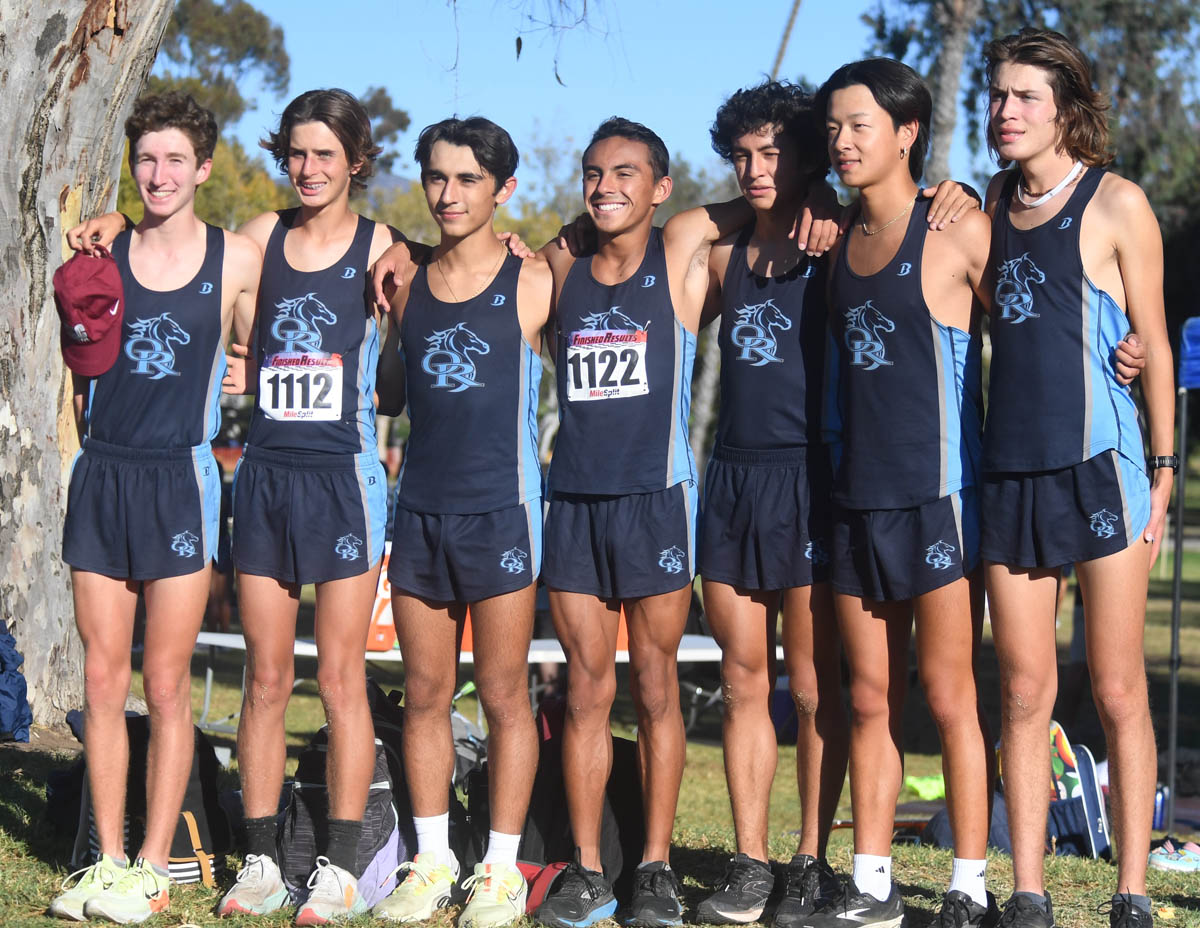 Otay Ranch's top seven runners included junior Jake Shorey (third overall, 16:48.9), senior Diego Vizcarra (fifth overall, 16:53.4), senior Ruben Baza Carrillo (sixth overall, 17:03.2), junior Jacob Juden (seventh overall, 17:07.3), senior Aydan Wohlford (ninth overall, 17:18.3), sophomore Zachary Shorey (12th overall, 17:41.9) and senior Daniel Kim (13th overall, 17:44.0).
Senior Eddie Castaneda, Hilltop's third scorer, finished eighth overall in 17:15.1 while Eastlake junior Trevor Santiago finished 10th in 17:21.3.
The top 10 varsity finishers earn all-league recognition in their respective leagues while the top 15 finishers received medals.
Rounding out the top 20 conference finishers were San Ysidro senior Christopher Rojas (14th overall, 17:55.1), Southwest sophomore Nathan Lopez (15th overall, 17:57.6), San Ysidro senior Dylan Alvizio (16th overall, 18:09.8), Bonita Vista senior Enrique Aranda (17th overall, 18:10.2), Hilltop junior Malachi McCoy (18th overall, 18:25.5), Eastlake junior Vance Halverson (19th overall, 18:31.3) and Southwest sophomore Isaiahs Gutierrez (20th overall, 18:35.0).
Otay Ranch will be out to snare one of just two Division I qualifying berths to the state championship meet at Saturday's upcoming San Diego Section finals at Morley Field.
"It's a great group of boys," Mustang coach Julian Valdez underscored. "They fight for each other. They knew how much Hilltop wanted this race, so did we — to be the championship team, but do did we.
"Seven in the top 12 (in league) is impressive. Jake Shorey ran an unbelievable race. He chased down some guys.
"We just need to continue to battle. Six of the top 10 teams are in Division I. Our season could end on Saturday, so we've got to keep on battling."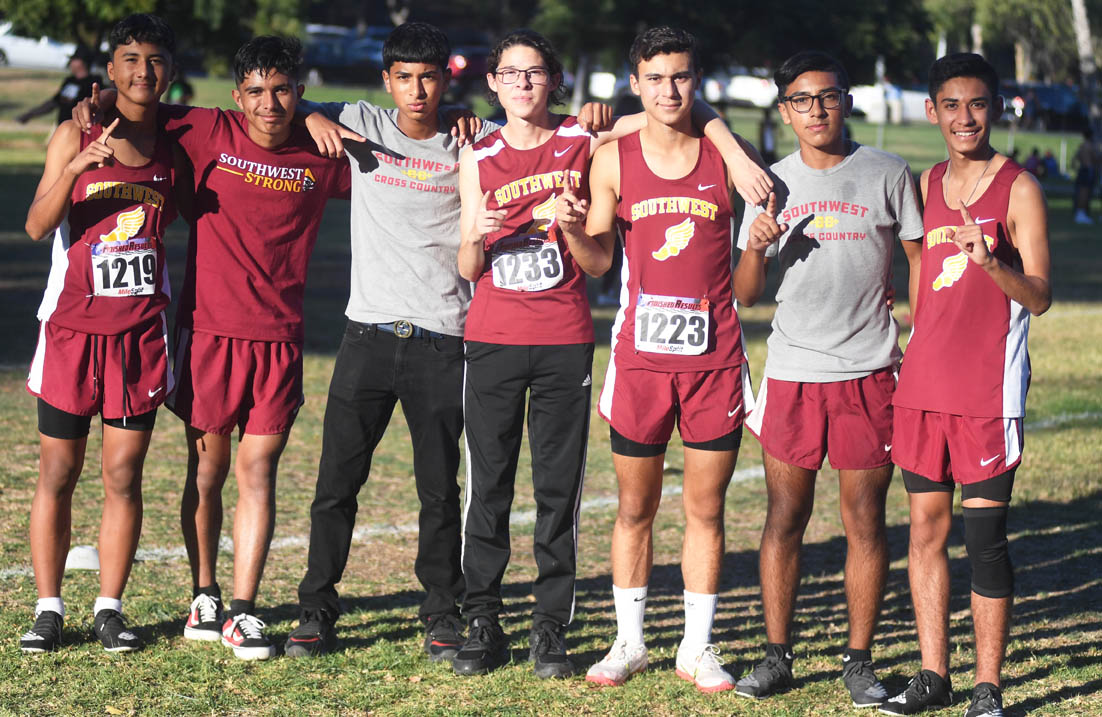 Wines' strong finish led Southwest to the South Bay League team championship. The Raiders are hoping to be in the mix for a state-qualifying berth among Division III boys teams.
"It feels great to finally win once in my four years of cross country," Wines said. "I'm excited about going to CIF.
"I wanted to stay with Miguel (Tisnado) because Miguel had beaten me in an earlier race. When the second-place guy dropped back, I wanted to stay within sight of Jimmy (Byland). I made it my goal to beat Jimmy."
Eastlake's girls team enters Saturday's CIF finals ranked third among Division I teams, seventh overall in the section.
Sophomore Vanessa Vuong (15:54.8) won the Mesa League individual title with a 39-second edge over junior teammate Amanda Challburg (16:33.4). Otay Ranch freshman Aviva DeVore finished third in 16:52.5, followed by four Lady Titans: senior Melissa Mekitarian (fourth, 17:01.8), sophomore Galia Salazar (fifth, 17:02.2), senior Katherine Robinson (sixth, 17:17.5) and junior Cameron Cruz (seventh, 17:26.4).
Otay Ranch senior Lauren Medina finished eighth in 17:29.2, followed by Eastlake senior Lake Merrifield in ninth in 17:32.0.
Otay Ranch junior Salma Franke (17:36.9) finished 10th. Of the top 10 all-league finishers, seven were from Eastlake and three from Otay Ranch.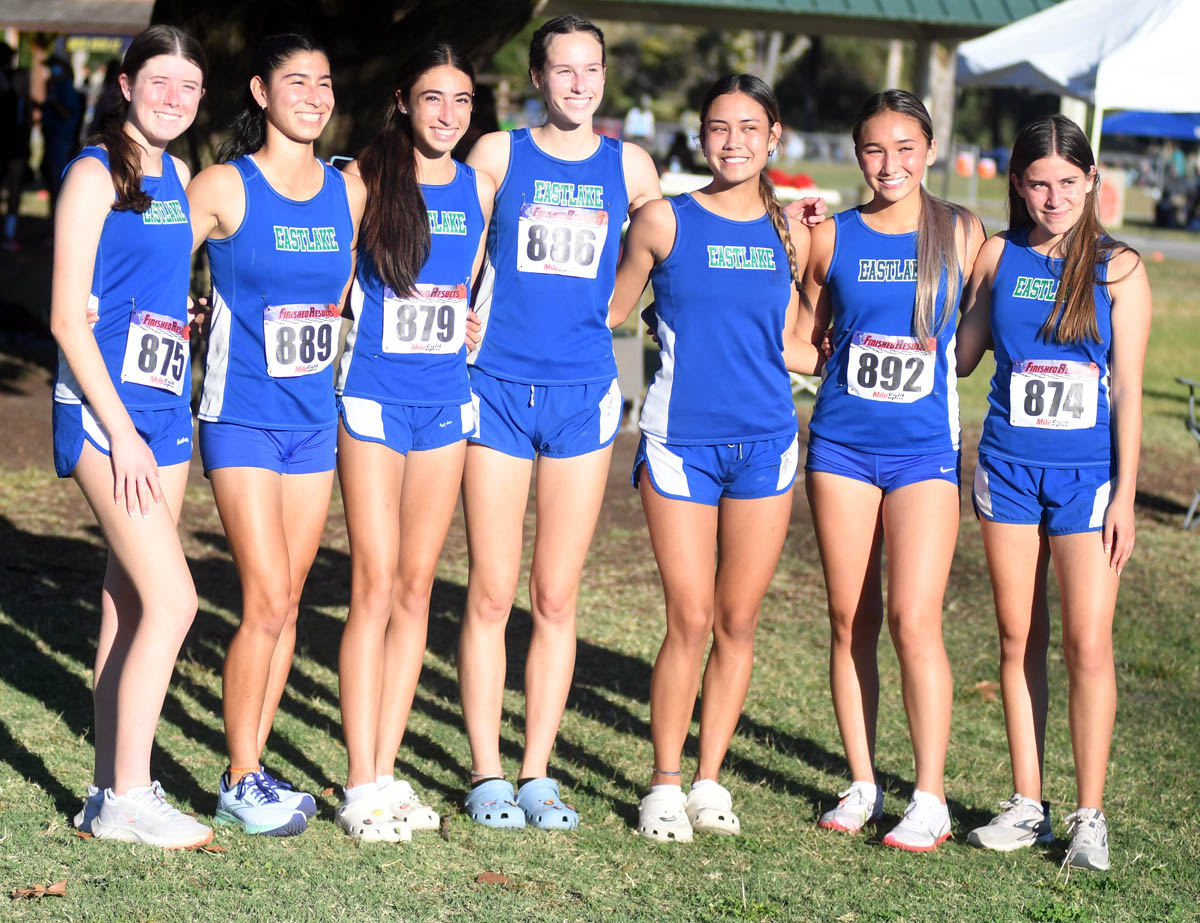 The Mesa League notched the top 19 finishers in the 69-deep field. Chula Vista sophomore Karina Lopez was the top South Bay League finisher in 20th place with a time of 18:52.3. San Ysidro senior Daphne Ledesma (19:09.3) was the South Bay League runner-up in 23rd place.
"We had seven out of the top nine in South County, not just the Mesa League," EHS coach David Koopman noted. "The girls push each other. There's a pecking order. They know they've been talking about qualifying for the state meet for a few weeks now. Everybody wants to peak at the right time."
All six Mesa League teams finished ahead of their South Bay League counterparts in the points standings. Chula Vista, San Ysidro, Sweetwater, Southwest and Mar Vista finished seventh through 10th, respectively.
League champion Chula Vista finished with four of the top nine runners while San Ysidro had two make first team all-league.
"I'm very proud of these ladies," Spartan coach Jorge Noriega said. "They worked hard all season and it paid off. I'm very happy for them. I hope they made Chula Vista High School proud."
Otay Ranch's boys junior varsity team made itself proud by placing the first 10 runners — count 'em — across the finish line.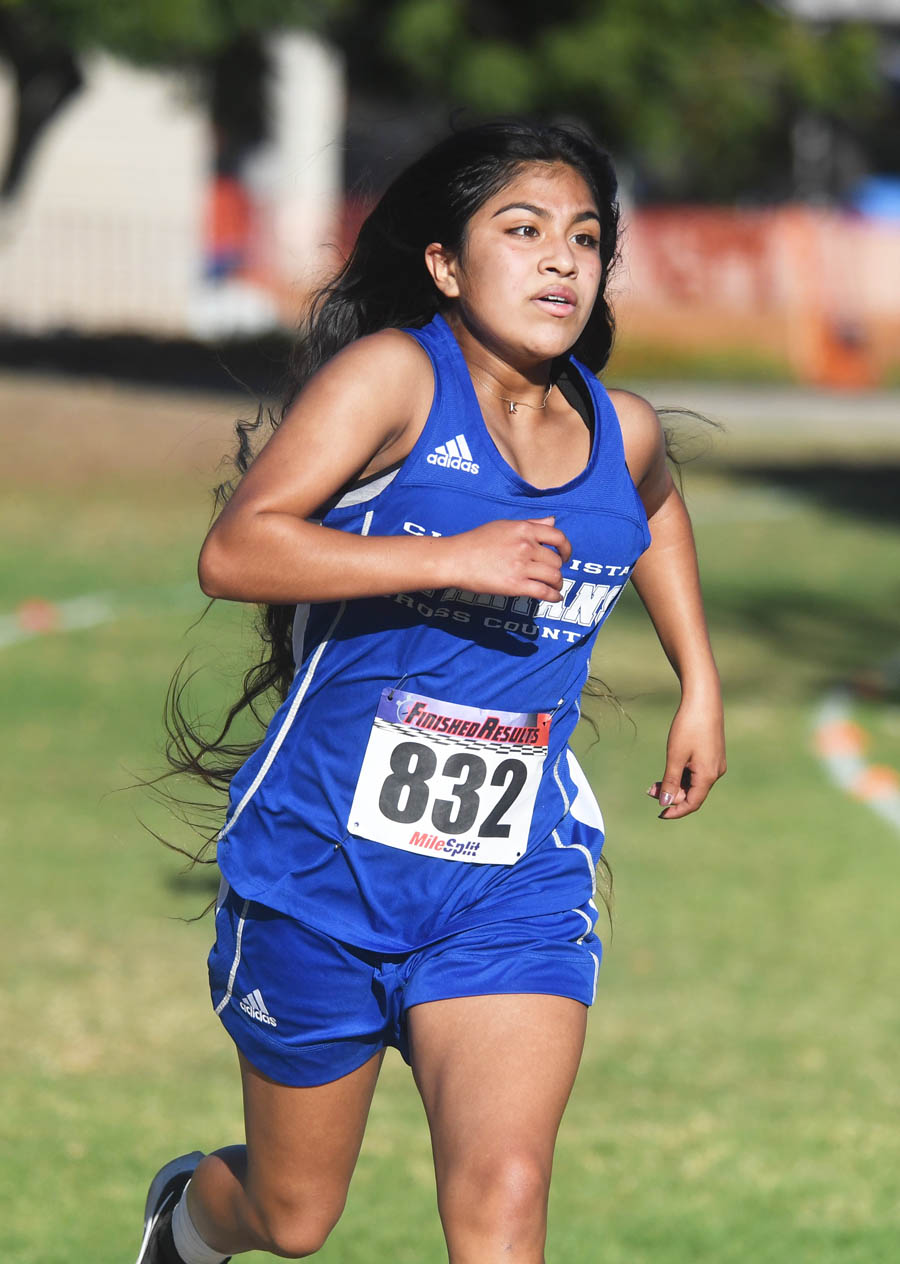 Sibling revelry
The Bonita Vista High School cross country team boasted four sets of siblings this season. Can you pick them out, including one set of twins?