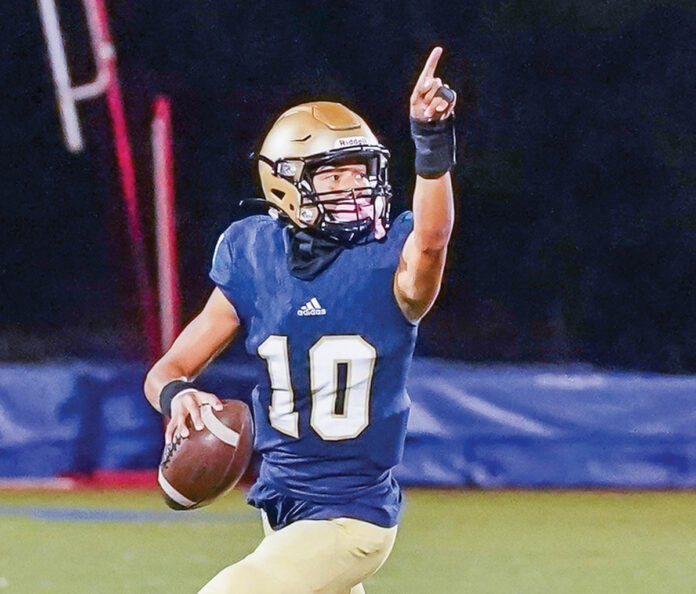 The Mater Dei Catholic High School football team had to wait two weeks to take the field again after its final regular season game against Olympian was canceled because of COVID-19 protocols and the Crusaders received a first-round playoff bye.
Mater Dei Catholic's players were obviously anxious to get back to the field — and winning on the gridiron — if last Friday's 55-0 quarterfinal-round playoff win over the seventh-seeded El Capitan Vaqueros was any indicator.
Crusader head coach John Joyner admitted it was "tricky having two weeks off."
"We stayed on top of our guys and told them we wanted to be hungry not rusty," Joyner said in preparation for the team's Division III quarterfinal game. "They prepared, got healthy and came out and got off to a fast start. I was very happy with their maturity throughout that time off."
Second-seeded Mater Dei Catholic (9-0) got off to a 14-0 start through the opening period of play, then racked up a 27-0 scoring advantage in the second quarter to take command of the game with a 41-0 halftime lead.
The second half consisted of mostly reserve player action.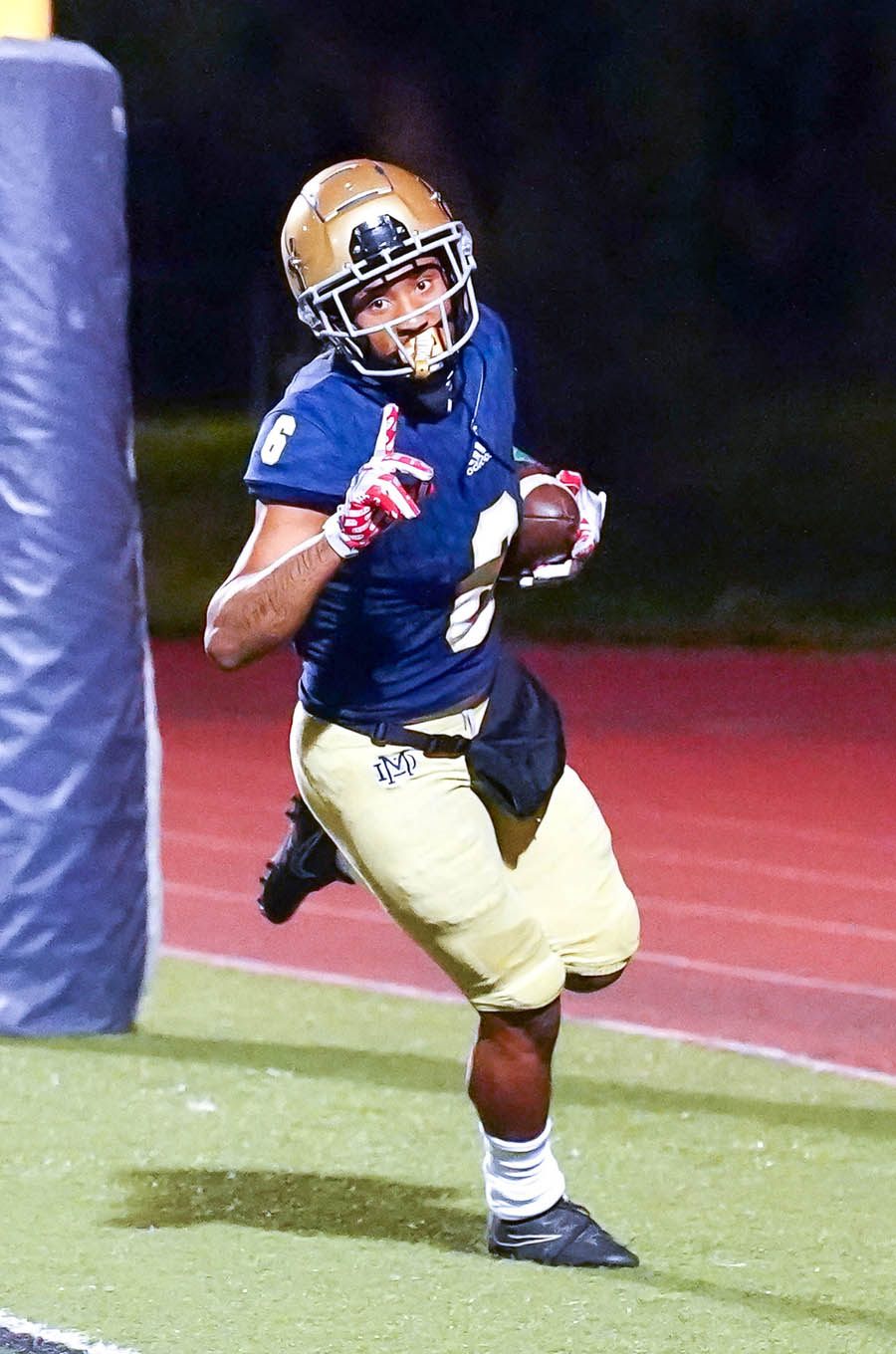 The Crusaders scored eight touchdowns – four passing scores by junior Dominic Nankil.
Nankil threw touchdown passes of 50, 48, 40 and 48 yards as part of a 213-yard performance. In order, Cruz Estrada, Jaylen Hall, Surahz Buncom and junior Rollin George — all juniors —caught the scoring passes.
Hall opened scoring on a five-yard rushing touchdown while senior Brian Dukes scored on a nine-yard fumble return, junior Nico Mosley scored on a 35-yard run and junior Noah Allen scored on a 34-yard pass from sophomore Zach Dare.
While the offense lit up the scoreboard, the Mater Dei Catholic defense continued to run the show. The Crusaders bottled up 1,000-yard rusher Savigon Yokley, limited the Vaqueros to a total of 10 rushing yards in the game and 21 total yards in the first half.
It was the first time El Capitan had been shut out since 2016.
"We had our backup QB Rollin George play Yokley in practice," Joyner explained. "He did a great job giving us a similar look and we knew we wanted to pressure him but also make sure we were disciplined with our pressure.
"The defense has been tremendous all year. So fast, so physical and really leads us every week. So proud of the coaches and players on the defensive side of the ball."
El Capitan veteran coach Ron Burner said the game was a mismatch on the field — and in the CIF seeding.
"We played a team that has no business in Division III, period," Burner said. "CIF should have moved them up to Division I with all the Division I players on their team. They have claimed they have 15 of them, so how do you explain them in Division III?
"It was the best football team I have ever coached against period. Our guys did the best they could and never gave up, but it truly was a David versus Goliath matchup. I can say I am very proud of how hard my team played all year long and, even though we came up short in the end, we had the fourth best season in El Capitan history — tied with the 1993 team. Only 2006, 2013 and 2014 we had better seasons. It was a great group of young men and I can't wait to see what next year brings."
This Friday at 7 p.m. will see Mater Dei Catholic hosting No. 3 Santa Fe Christian — teams with a combined 19-0 record.
The Eagles (10-0) are coming off a last-minute 38-35 quarterfinal-round win over sixth-seeded Brawley (9-3) as senior quarterback Thomas Greupner hit sophomore Kevin Olah on a 16-yard scoring pass to erase a Wildcat advantage.
Greupner passed for 173 yards in the win with a pair of touchdowns while senior Dante Rotchford scored three rushing touchdowns.
Greupner has passed for 1,460 yards with 14 touchdowns and two interceptions while seniors Luca Torti and Cooper Whitton have both scored eight rushing touchdowns.
Joyner said the team's offense needs to remain balanced. "It seems like there is a different guy every week that steps up and makes plays," the Crusader sideline boss said. "Our offensive line was dominant on Friday."
All facets of the Mater Dei Catholic machine will need to be in good working order this Friday.
"They're undefeated, very disciplined and well-coached," Joyner reference in regard to his upcoming opponent. "They have a fantastic QB and some good size. It should be a fun game."
Open Division
Top-seeded Carlsbad (11-0) will meet second-seeded Cathedral Catholic (9-2)  in Saturday's Open Division championship game at 7 p.m. at Escondido High School.
In last Friday's semifinals, Carlsbad beat No. 4 Torrey Pines, 44-7, while Cathedral topped No. 3 Mission Hills 38-10.
End of the road for Titans, Devils, Aztecs, Cougars
The Metro Conference, specifically the South Bay League, earned its share of respect by placing five teams in last Friday's quarterfinal round of the San Diego Section playoffs.
Mesa League entrants included reigning league champion Mater Dei Catholic (Division III) and runner-up Eastlake (Division I). Three teams from the South Bay League extended their seasons each one week: Sweetwater (Division IV), Montgomery (Division IV) and San Ysidro (Division V).
Of that quintet, only Mater Dei Catholic survived to play another week.
But it was a good run for everyone else.
Sixth-seeded Eastlake (8-4) held an early 10-0 lead but couldn't maintain the momentum in dropping an eventual 41-31 shootout to the host third-seeded Lincoln Hornets (8-3).
Sixth-seeded Sweetwater (6-4) had its six-game winning streak snapped in a 15-0 shutout loss at third-seeded Coronado (6-5) while seventh-seeded Montgomery (7-4) ended its playoff run with a 35-8 loss at second-seeded University City (7-4).
Twelfth-seeded San Ysidro (5-6) made waves with an upset win in the first round but couldn't duplicate it in the second round following a 49-0 setback at fourth-seeded Fallbrook (5-6).
(3) Lincoln 41, (6) Eastlake 31
The visiting Titans scored four touchdowns — two rushing and two passing – but it wasn't enough to overcome six touchdowns by the Hornets (four rushing, one receiving and one on an interception return). Lincoln amassed 432 all-purpose yards by game's end, including 242 rushing yards, to stretch the vaunted Eastlake defense.
The Titans countered with 391 all-purpose yards, including 155 passing yards and 100 kick-return yards. Senior Jordan Blondin completed nine of 17 passes for 91 yards with one touchdown and one interception. He also rushed 10 times fort 14 yards and one touchdown.
Senior Nayhum Lao rushed five times for 66 yards and one touchdown while senior Estabond Moss had three catches for 80 yards and two touchdowns.
Blondin left the game because of concussion protocols and Nicolas Peters subbed into the signal-calling role. Peters completed four of eight passes for 64 yards and one touchdown.
Senior Jayden Kendricks led the Titans defensively with 12 tackles while classmate Jayden Cortell had 11 stops. Cortell also had one interception for 25 yards — his seventh this season. Senior Jaydin Jackson and Lao both had fumble recoveries.
Blondin also punted four times for a 32.5-yard average. Senior Dominick Wright averaged 25.0 yards on four punt returns.
Sophomore Marco Gonzalez supplied seven kicking points on four extra-point conversions and a 35-yard field goal.
Junior Rodrick Robinson led Lincoln with 200 rushing yards and three touchdowns while senior Jalil Tucker had four catches for 41 yards and one touchdown.
(3) Coronado 15, (6) Sweetwater 0
The South Bay League champion Red Devils lost to the host Islanders for the second time this season in another low-scoring affair. Coronado defeated Sweetwater, 13-7, in the second week of the season.
Senior Zane Delcore scored on a 42-yard run to open scoring in the game while junior Elias Valdivia returned a punt 47 yards for a touchdown on special teams to help do in the Devils in the teams' second match-up. Sophomore Graham Bower scored on a trick wo-point conversion to seal Sweetwater's fate.
Sophomore Xzavier Crews caught a ball deep in Islander territory late in the game but it wasn't enough to avert the shutout loss as Coronado managed to tame the Devils' high-powered running attack.
SuHi head coach Ervin Hernandez admitted it was a "tough loss."
"I give credit to Coach Hines (Kurt Hines) and his team," Hernandez said. "They were stronger and more physical than us. With a full off-season we will make the weight room a priority. I thought we played well defensively, only giving up a touchdown, but our special teams hurt us by allowing the punt return for a touchdown.
"Offensively, we couldn't move the ball and they played great defense. That was the story of the game. Overall, the kids can celebrate back-to-back league championships and a playoff win, but we're not satisfied and will prepare this off-season with a great underclass coming back. The battle has been determined before we take that step on the field, so we will begin now."
The Islanders advance to play second-seeded University City (7-4) in Friday's semifinals.
(2) University City 35, (7) Montgomery 8
The visiting Aztecs were done in by the arm and legs of Centurion junior quarterback Samuel Cooper IV, who rushed for 133 yards and scored four rushing touchdowns and passed for 159 yards with an additional score to finish the game with 292 yards in total offense.
Cooper scored on one long dash of 70 yards after cutting through the Montgomery defense while junior Troy Granfors scored on a weaving 54-yard pass reception.
(4) Fallbrook 49, (12) San Ysidro 0
The Cougars (5-6) did not taste victory in their second trip to the playoffs in school history. San Ysidro logged just 26 passing yards and 24 rushing yards in the second-round loss. Senior Matthew Jaime led the Cougars with 40 total offensive yards (26 passing, 14 rushing).
Senior Cesar Lopez led San Ysidro defensively with 16 tackles, including 10 unassisted tackles, while senior Jose Gutierrez had one fumble recovery.
Fallbrook (5-6) advances to play at top-seeded Palo Verde Valley (10-2) in Friday's semifinals.