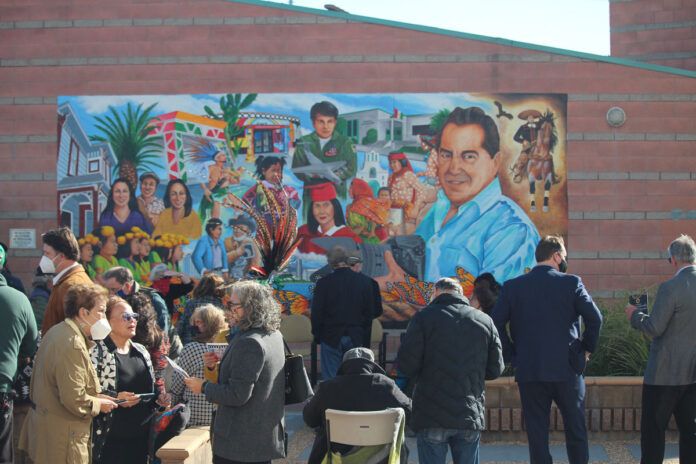 National City-based photographer Memo Cavada captured half a century of local history from senior photos to prominent weddings to gritty urban events so it stands to reason that a mural featuring impressions from his life, from Kimball Elementary student to Air Force hero to established photographer drew a large gathering of artists, local politicians and lifelong friends when it was dedicated on Dec. 15.
The vibrant mural was created by Master painters Guillermo Aranda and Salvador Barajas with assistance from Artistic Advisor David Avalos, and overlooks Morgan Square Plaza from the wall of National City's chamber of commerce building on National City Blvd.
Although the project was a joint commission by the National City Arts and Culture Collaborative and the National City Chamber of Commerce Foundation, the list of involved persons, friends and family, and everyone who had a hand in bringing the mural to fruition was extensive, in itself an indication of how many people knew Cavada.
Kumeyaay Professor Stanley Rodriguez opened the event with a blessing for the cold day, calling directionally to east, west, north, south and the sky in thanks to men, women, elders, children and all of creation.
With strong winds gusting through the plaza, Mural Chair Jacquelyn Reynoso said leaders had planned on keeping the mural veiled after the artists sealed the work, protected and unseen behind a large tarp, with a big reveal planned for the event itself. However, the night before the dedication was cold and rainy and when morning came the tarp was gone, presumably used as a blanket by homeless residents, Reynoso said, "which is what Memo would have liked" and a better use than to cover up artwork.
Taking the podium, National City Mayor Alejandra Sotelo-Solis asked for a quick show of hands: how many people in attendance had been photographed by Memo— well over half the crowd raised a hand, murmuring affirmation.
"Memo was one of our own. He was raised in our community, went to National City public schools, lived here and worked here," Sotelo-Solis said with tears streaming down her face.
Chuckling, the mayor said he was often a little late producing photos, would reassure everyone "I have them, I have them, they're on a disc" and always came through when needed.
"He never failed anyone," Sotelo-Solis said.
San Diego County District 1 Supervisor Nora Vargas said Cavada was "a public hero with a purple heart" who made sure local stories were told through photography.
Local theater producer William Virchis and businessman Roger Cazares reduced the emotional crowd to laughter with memories of a young Cavada chasing other young people through the streets, appearing like he might want to fight them when in actuality he was trying to make friends and offer them a beer, then pulled out sentimental emotion in a paired speech recalling Cavada's legacy.
"Someone said Memo never took the spotlight because he was always trying to give it to others. He put others before himself… His work was his voice," Virchis said.
Years from now, Virchis said, someone will stand in front of the mural and ask 'Who is that?' and the answer will be: a photographer, a hero, a man who loved his community, a best friend.
Dancers from Danza Mexi'cayotl offered a closing prayer, laying protection over the artwork while friends, family and attendees lingered into the cold afternoon, talking and laughing, with Cavada looking out from the mural in the background.