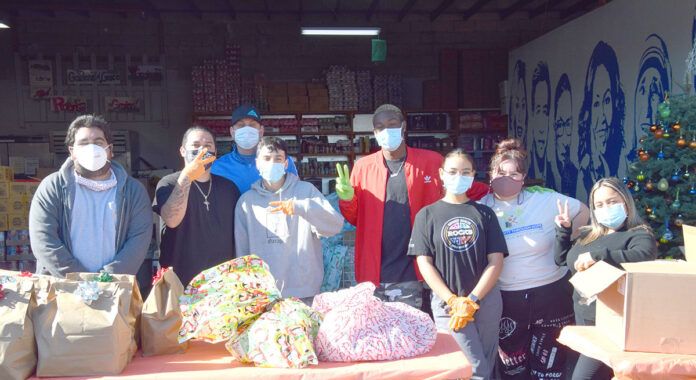 Chula Vista nonprofit Community Through Hope provided nutrition to individuals and families fighting nutrition and shelter insecurity in South Bay this holiday season by gifting them with meals and financial help during its Winter Treat event at the Community Through Help center on Dec. 19. This was the organizations second event with low-income families selected from referrals from schools, organizations, walk ins, and community outreach.
Director of Programs Deion Williams said those participating in the event receive dry goods, meats, produce.
"This year we were able to put together some gift cards," he said. "So, they are each getting $50 gift cards as well. Today, we are really excited, we have had our limit of 50 families, and we are still giving."
Williams said it partnered with Marsh and Ash for the month of December, recently opening their second location in Chula Vista and collected 1,000 pounds of food for those in need during the holiday season, collecting non-perishable food donations to feed kids in poverty and families impacted by COVID-19.
William said it also partnered with Feeding San Diego, its largest vendor the organization is affiliated with.
"The needs and comments coming in from the families is wonderful," he said.
"We are hitting a couple of years now. Community Through Help is a multi-purpose little organization. We started off basically dealing with food insecurities, and we are now transitioning to help shelter the homeless, and we are getting ready to launch a street medicine campaign. The team really wants to help and delve deep into the homeless population, provide a deeper level for trauma and case management because it is extremely important."
Community Through Hope Executive Director Sebastian Martinez said that it is excited to end the year serving families across South Bay.
"Nutrition is essential to health, and not having to choose between nutrition, paying bills or buying presents for loved ones is one way we are serving our community this holiday season."
Community Through Hope continues to exist to provide trauma-informed services that honors equity and offers hope to those in need, serves the community and connecting this population with programs and services to improve lives. For more information on its current and ongoing outreach and events reach out to our media contact or visit www.communitythroughhope.org.