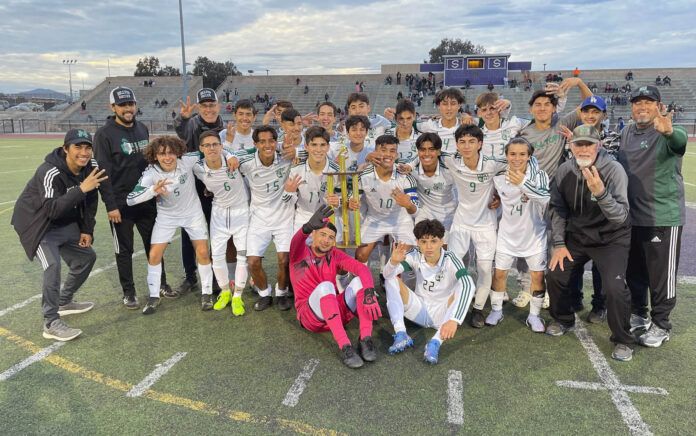 The Hilltop and Chula Vista high school boys soccer teams each presented their fans with an early Christmas present by advancing to the Grossmont Conference Holiday Classic tournament championship game Dec. 22 at Santana High School.
Hilltop unwrapped a 1-0 victory.
"A great match by both teams," Hilltop head coach John Salts said. "Hilltop controlled most of play for the game with strong passing. The Spartans played fast and aggressive throughout the entire match with a long ball style of play."
Hilltop's defense was able to hold off attacks by the Spartans while supporting the offense with well-timed passes.
Alex Borroyo scored the lone goal in the match.
The Lancer defense and goalkeeper Pablo Torrez notched the team's eighth shutout in 10 matches on the season as Hilltop moved its record to 8-0-2.
The Lancers are undefeated against San Diego County competition; the two ties are both against Metro Conference teams — one each against Eastlake and Bonita Vista.
This is Hilltop's third consecutive Grossmont Gold Division tournament championship.
"I'm proud of these boys for pushing themselves through six matches in seven days," Salts said." They are keeping it light and having the time of their lives. It is a great bunch of kids. Coach Jesse Acevedo is doing a fantastic job with the boys."
The Lancers finished 4-0-1 in the tournament, defeating Clairemont, 4-0, and tying Bonita Vista, 2-2, before topping recording a 3-0 shutout win over Steele Canyon. Hilltop blanked San Ysidro, 1-0, before advancing to meet Chula Vista (5-2-3) in the championship game.
During that stretch, the Lancers played to a 0-0 tie and edged Santana, 2-1, in non-league games.
In other tournament finals, Crawford defeated Mount Miguel, 4-1, to win the Purple bracket while Hoover topped Canyon Crest Academy, 1-0, to win the Premier bracket.
Chula Vista finished 3-1-1 in its five tournament games. The Spartans kicked off tourney play with a 6-1 win over Monte Vista before playing to a scoreless draw against San Ysidro in a pair of games played on Dec. 11. Chula Vista swept its two tournament games on Dec. 18 — 2-1 over Granite Hills and 1-0 over Olympian.
Kevin Gomez Gonzalez scored the game-winning goal in the semifinal win over San Ysidro for Hilltop while Gomez Gonzalez, Borrayo and Christian Velazquez each scored goals in the win over Steele Canyon.
Jorge Colon and Carlo Chavez both scored goals for Bonita Vista in its 2-2 draw against the Lancers.
Hilltop hosts the Chula Vista Learning Community Charter Cobras in a non-league game on Monday, Jan. 3, at 5 p.m.
The Lancers kick off league play with a Jan. 5 home match against Mar Vista.
Chula Vista hosts Eastlake in a high-profile non-league match on Jan. 5 at 3:30 p.m. before traveling to Mar Vista for a league match on Jan. 7.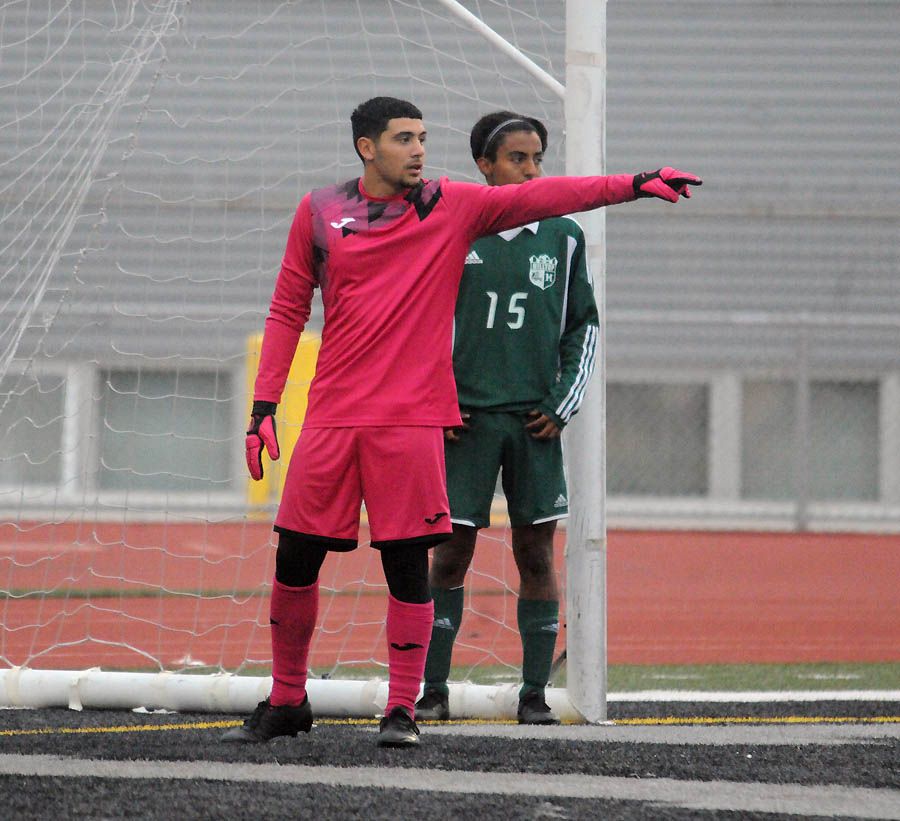 HILLTOP LANCERS
UNDEFEATED AT 8-0-2
Hilltop 15, Christian 0
Hilltop 1, Mater Dei Catholic 0
Hilltop 4, Canyon Hills 0
Hilltop 4, Clairemont 0
Hilltop 2, Bonita Vista 2
Hilltop 0, Eastlake 0
Hilltop 2, Santana 1
Hilltop 3, Steele Canyon 0
Hilltop 1, San Ysidro 0
Hilltop 1, Chula Vista 0
Prep scoreboard
Boys soccer
South Bay League
Monday, Dec. 6
Chula Vista 1, Mater Dei Catholic 0
Non-League
Monday, Dec. 20
Sweetwater 1, Bonita Vista 1
Thursday, Dec. 23
Sweetwater 3, Monte Vista 0