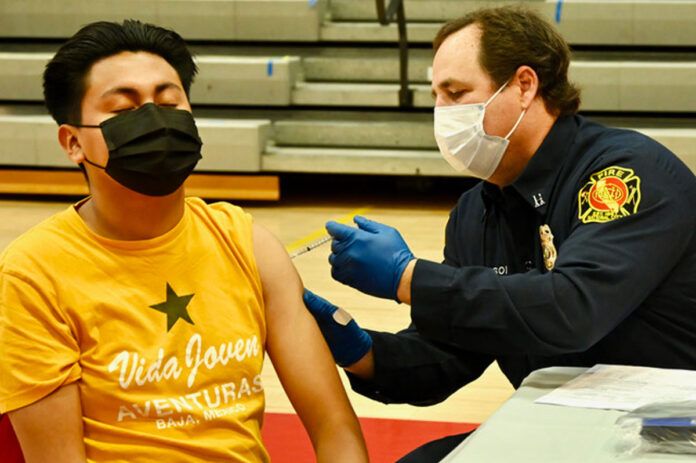 JANUARY
• Every year since 2009, volunteers have ventured out in the middle of the night across San Diego county to gather data and tally how many unsheltered homeless individuals they encounter during a single point-in-time count.
With COVID-19 still looming over the region, that in-person count was canceled for 2021.
• Nora Vargas was sworn into office for the San Diego County Board of Supervisors as District 1 representative on Jan. 4. The district includes National City and Chula Vista. Due to the COVID-19 pandemic, the ceremony was held virtually.
Vargas replaced longtime District 1 Supervisor Greg Cox.
• The Chula Vista City Council unanimously passed a resolution in support of accountability for the violent attack on the Capitol, condemning the assault on America's democracy and condemning former President Donald Trump's inciting violence as a political tool.
Council member John McCann recused himself from voting.
• A new COVID-19 vaccination superstation opened in Chula Vista on Jan. 21 with the eventual goal of vaccinating more than 5,000 people per day. It was the fifth vaccination site to open in the South County area, with plans to bring a total of 12 vaccinations sites in the region. A vaccination pod was opened in National City on Jan. 24. The pod was expected to vaccinate approximately 500 people a day.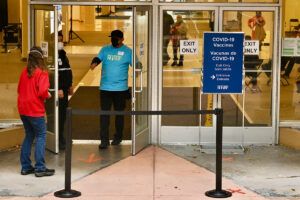 FEBRUARY
• The county of San Diego announced the expansion of COVID-19 vaccine eligibility to all individuals working in education, childcare, emergency services and food and agriculture. At the Chula Vista Vaccination Supersite, staff and volunteers began the first day of vaccinating educators.
Jillian Salazar, a kindergarten teacher, was there with her sister Jamie Palomares, a special needs pre-school instructor. Both work in the San Diego Unified School District.
"Being a teacher in the pandemic has been very challenging," said Salazar. "Within our whole careers, we had to organize and adjust and also take care of the wellbeing of our students while we were navigating something totally brand new to us."
• The city of Chula Vista honored people, business and organizations during its virtual "2021 Chula Vista COVID-19 Community Champions Thank You" ceremony on the city's YouTube channel.
Mayor Mary Casillas Salas said the celebration recognized those who helped the community during the COVID-19 pandemic.
"Many people, organizations and businesses have helped others in a variety of ways. From the front line essential workers like our health care professionals, our grocery store personnel, our mail carriers and delivery drivers, to individuals who are helping our neighbors by making masks, donating to those in need, and checking in on the elderly, we are proud to recognize all of the wonderful groups and individuals that make Chula Vista the vibrant and caring community that it is," said Casillas Salas.
MARCH
• Taste of Third, the culinary event that offers participants a taste of food from participating restaurants along Third Avenue in Chula Vista, celebrated its 25th year in 2021, after going dark last year because of the pandemic.
APRIL
• The city of National City launched a '100 Days' campaign to vaccinate as many people as possible and in its second week focused on vaccinating 48,000 residents from the 91950 zip code in order to reach herd immunity against COVID-19 by the end of June.
Vaccine clinics were offered in partnership with the National City Fire Department and University of California San Diego, or UCSD Health center to vaccinate as many people as possible at Las Palmas Elementary school.
• After more than a year, the Chula Vista Elementary School District began letting students back into the classroom for all of its 46 campuses and three non-district charter schools on April 12. Using hybrid models for the remainder of this school year, it was a welcoming sight to see children on campus, said Lauderbach Elementary School Principal Melody Belcher.
"Monday was our first day of school after one year, returning in person, and it was the best day ever," she said. "They say that Disneyland is the happiest place on earth, but guess what? Yesterday at Lauderbach was the happiest place on earth. We had more than 400 children return to school in-person through our hybrid schedule. We are a school with over 700 students, so 58% of our students returned in-person."
• The National City City Council held a public hearing April 6 where it considered amending sections of city code in a step toward allowing medical marijuana dispensaries and medical marijuana cultivation in some parts of the city.
Title 18 of National City zoning includes two sections that prohibited the use of cannabis.
The motion to fulfill the ordinance passed 4-1; council member Ron Morrison, who said he was "reiterating objections" from previous meetings, gave the sole dissenting vote.
• A difficult divorce, a house that needed repairs, losing a job, not knowing where to go or what to do, Lisa Bender was thinking of going to New York, while getting someone to work on her house. That was a year ago. But that was just the beginning of Bender's spiritual journey that led her to open Rainbow Kittihood Kitten & Cat Bed n' Breakfast, something she never thought she would be doing.
"I am a spiritual person. I feel like I am in a more magical phase in my life where I decided I was going to try and make magic," she said.
• Willie DePascale spent more than 45 years in the culinary industry. A retired chef of 25 years, he finished up his chef career at the U.S. Grant Hotel before moving to local produce supplier Moceri Produce.
"I was planning on retiring this September, but COVID kind of forced me for an early retirement because I had no business, and the phone was not ringing," he said.
With his gas fired pizza oven in his backyard in Chula Vista, DePascale set out on mastering pizzas, but since he and his wife could only eat so much, he began to give them away to friends and neighbors.
"Everybody said the pizza was really good and said that I should open up a place," he said. "I already own a restaurant Pioneer BBQ & Catering, and I do not need another restaurant."
With the struggle that the pandemic brought to the hospitality industry, DePascale turned his retirement hobby into a cause to help those that work in the industry. Now, Big Willie's Pizza Pies for a Cause gives back to those families in the industry.
"There are a lot of people struggling out there right now, especially in my business that I have been part of for more than 40 years. My cooks, dishwashers, prep cooks, waiters and waitresses, and the same with the people in the produce company. I kept seeing all these stories on television, so I decided what I was going to do."
DePascale began to give away pizzas for donations only. Pizzas were available to order at a suggested donation price, with all proceeds going towards the purchase of $500 gift cards to shops such as Vons, Ralph's, Target and Amazon.
MAY
• The city of National City held its third and final public hearing on two related ordinance changes that paved the way for recreational marijuana sales and cannabis lounges. Despite many public comments against those changes and outspoken criticism from council member Ron Morrison, both items passed.
The city's next steps included holding an equity workshop and considering business applicants.
JUNE
• Featuring a regulation multi-purpose soccer field and tennis and pickleball court surrounded by a winding jogging path, a half basketball court, two play areas for children, picnic areas, a large space for community gatherings and events, Millenia Park was designed as a versatile community hub for the Millenia community. On June 5, the 3.5 acre park opened beginning with a ribbon cutting ceremony with Mayor Mary Casillas Salas, city officials, and the park's development team.
Kimley Horn, park designer and engineer, worked with numerous departments of the city and the Meridian Development, which is overseeing the development of the 210 acre Millenia Community.
"We are proud to unveil Millenia's fourth park, with furthers our commitment to make every home in Millenia within a three minute walk to the park," stated CEO and President Guy Asaro of Meridian Development in a press release. "We have been proactive in developing parks and community infrastructure to coincide with residential construction. It has taken sustained effort and tremendous coordination among the design and construction teams, city staff, and the development team—all in the middle of a pandemic. We're excited to give our residents great places to gather and play."
• Southwestern College honored muralist Salvador Barajas, 77, awarding him the college's highest honor, the 2021 honorary degree for his historical and inspirational contributions in Chicano Park and national arts community. He began the work in 1974, when he joined a group of muralists, changing the fate of Chicano Park forever.
Barajas said he became involved right after he came to San Diego and learned how the development of Interstate 5 and the Coronado Bridge forced more than 5,000 people out of Barrio Logan.
He said the "Chicano Park Takeover" had already happened, where a student from San Diego City College gathered students and community members together in April 1970, and took the park by force, commandeered a bulldozer and began flattening the land as others planted cactus, plants and trees to create a park, while women and children created human chains around the bulldozers, completely stopping the construction of a Highway Patrol station.
• The county of San Diego held their final scheduled weekly COVID-19 briefing. As County Board of Supervisors Chair Nathan Fletcher said, the final meeting was held with "not just a sense of relief but a sense of exuberance" as almost all restrictions were lifted and a sense of closure was granted, a huge leap from announcing soaring case numbers or emergency restrictions less than one year ago.
"We saw from the earliest days— the cruise ship, the testing, the first vaccine superstation… we could go on and on but we showed our resilience," Fletcher said.
• At a June 15 National City City Council meeting, elected leaders approved flying the Juneteenth, LGBTQ, Kumeyaay-Digueno and Fire Fighter Mourning flags above government buildings as a visual indication that the local municipality is accessible to all residents.
That vote came just days after the state of California lifted COVID-related restrictions that had limited physical access to some government buildings for over a year.
National City Mayor Alejandra Sotelo Solis said the city wanted to welcome residents back with "not only an open door but also cultural representation" with flags that reflect people in the community.
The city subsequently hoisted the Juneteenth flag in remembrance of slavery coming to a final end in 1865, over two years after it was made illegal in the United States with the 13th amendment of 1863.
• Changes are happening at the Third Avenue Village Association. In April, the TAVA Board of Directors chose not to extend Executive Director Luanne Hulsizer's contract after nine years of service, deciding to go in a new direction by hiring a consultant to help with TAVA management.
Hulsizer's employee agreement ended June 30.
JULY
• Chula Vista Chamber of Commerce CEO Lisa Cohen announced her retirement after 20 years and six months as CEO. Though it has not been announced yet, Cohen will be going back to the private sector as an executive vice president for a company in San Diego.
Cohen said that in her lifetime with the chamber, the worst recession and a pandemic, that she is happy to say that the chamber is running smoothly and is still there for businesses, it is financially sound, and that this is the perfect time for her to "hand the reins" over to a new CEO.
• San Diego Habitat for Humanity was building six homes as part of an affordable housing project in National City that were to be be sold for no more than 30% of an applicant's household income.
According to data from the U.S. Census Bureau, the average National City resident spent at least $4,000 over the 30% income threshold traditionally advised for housing costs from 2015 through 2019. San Diego Habitat for Humanity Director of Homeowner Relations Shayna Hensley said the city of National City was chosen for the project in part because the local government made the land available, but also because of need in the area.
AUGUST
• National City Mayor Alejandra Sotelo-Solis announced Aug. 3 that a new system of electric vans used to connect people from public transportation to common destinations was coming to National City.
The FRANC system, named for early National City resident and builder Frank Kimball, will be similar to the downtown San Diego FRED system of electric vans that provide zero-emission rides on demand, Sotelo-Solis said.
The program is funded by a $1 million Clean Mobility Project Voucher Program grant for at least the first two years and will hub out of the 24th street and 8th street trolley stations, connecting public transportation riders from their home to mobility hubs and their final destinations.
• The county of San Diego on Aug. 12 began notifying restaurants of $4.5 million in permit fee refunds for the period of March 16, 2020, through June 15, 2021, the result of a class action lawsuit against the County by local restaurant group 640 Tenth LP. This is in addition to $118.9 million already provided to restaurants by the San Diego County Board of Supervisors to offset the impact of California's stay-at-home and local public health orders. Agreed in the lawsuit settlement is for all restaurants and limited food preparation facilities in the county that paid or were required to pay annual permit fees to the County and the County of San Diego Department of Environmental Health and Quality during this time frame.
SEPTEMBER
• What began as a small parade and street fair nearly 50 years ago, Bonitafest, was "Back in the Saddle!" again, as it prepared to continue the community celebration with two parades, and a pandemic modified radio melodrama.
"Since 1973 Bonitafest has honored outstanding members of the community whose contributions have made the South County a better place," said Bonitafest Chairman Max Branscomb.
• Andria Elam is ranked internationally as a ballroom dancer. She also sings, works in musical theater, and applied all these talents into the pageant world. On Aug. 14, Elam was crowned Mrs. California United States 2021 and was headed to Las Vegas in October to compete in the Mrs. United States pageant.
Elam began competing in pageants when she was 18 years old, becoming Miss Bonita in 1999. Since then, she has held the titles of Miss San Diego, Miss South Bay, Miss San Diego Cities USA, Miss California Galaxy, and Miss West Coast. Elam said that all of this has been part of a fantastic journey of her life from early childhood.
• The National City City Council approved paying a $300,000 settlement to Mauquieta McNeil and Taneka McNeil during a Sept. 21 council meeting for a case that asked how and why resident Earl McNeil died in police custody after turning himself in for a warrant.
• Chula Vista Elementary School District trustee Kate Bishop stepped down as board president on Sept. 15 but would remain on the school board. The decision came after several tweets from her personal Twitter account that some parents considered disturbing and unacceptable for a person in her position as a board member of an elementary school district became public. Bishop's reportedly contentious tweets date back to 2011. Bishop was elected to the board in 2020.
OCTOBER
• With the Center of Disease Control's approval of the Pfizer COVID-19 booster shot Sept. 24, the County held a press conference three days later on the status of available Pfizer boosters in the county. Supervisor Chairman Nathan Fletcher said the San Diego region was doing incredibly well with almost 88% of eligible people vaccinated, with nearly 80% fully vaccinated.
"The recent CDC, Food and Drug Administration, and Western Scientific Review Safety Council approval for the Pfizer booster for certain groups is another step forward in our fight against COVID-19," Fletcher said. "We encourage everyone eligible to get their booster. We want to reiterate for the 12% of eligible San Diegans who have not yet received the vaccine, we still encourage everyone to get vaccinated."
Vice Chair Nora Vargas, whose district includes Chula Vista and National City, said the South County region "should be proud" as it is fully vaccinated at 88.8%.
• On Oct. 12, the Chula Vista City Council adopted a resolution that would bring a shuttle service to seniors and residents as part of an agreement with the California Air Resources Board for the Community Shuttle Program, and Circuit Transit, Inc. With a $1 million grant agreement with Community Congregational Development Corporation, the pilot program supports Chula Vista's efforts of reducing greenhouse emissions and meeting public transportation needs for all ages. The City, in conjunction with Circuit Transit, applied for the Clean Mobility Options grant in October 2020.
The City was awarded $997,833 through the CMO program, a statewide initiative funded by California Climate Investments and administered by California Air Board's Program Administrator team to provide funding for zero-emission shared mobility option to under-resourced communities.
• In a joint press conference on Oct. 19 at the Chula Vista police station, police and the San Diego County District Attorney's Office announced the arrest of Larry Millete, the husband of May "Maya" Millete of Chula Vista who has been missing since January. Larry Millete was charged with the murder of his wife, and with illegal possession of an assault weapon. According to the DA's office, if convicted, Millete faces life in state prison. Millete was booked into a San Diego County jail and held without bail.
After nine months of searching for Maya's body, the DA's office filed the case based on evidence in a nine-month investigation in collaboration with the Chula Vista police, which led the investigation, a team from the DA's office, along with support from the FBI and Naval Criminal Investigative Service.
When asked if the case would be affected by the lack of finding Maya's body, San Diego County District Attorney Summer Stephen said that California law allows prosecutors to file murder charges even though the body of the missing person is not found, saying that case law holds that successfully disposing of a victim's body does not entitle a murderer to avoid prosecution.
She added there is case law that will be used in this case that a missing body is circumstantial evidence that there was foul play. She said it is a case that is built on a piece by piece circumstantial evidence at this point.
"Whenever one of our community goes missing, we hope for their safe return," said Stephan "Sometimes missing persons cases remain unsolved, but as the evidence unfolded in this case, it pointed in one direction, that May was murdered. As we make this announcement, I know the hearts of the community are with May's family, her three young children, and everyone who knew and loved her," Stephan said.
Larry Millette would later plead not guilty.
He is due back in court in February 2022.
NOVEMBER
National City Mayor Alejandra Sotelo-Solis and community members accepted a $2 million check from the state of California on Nov. 17, to be spent on repairs and improvements for Las Palmas pool.
The lump sum effectively doubles the dollars available for the facility, since the city of National City's leaders already slated $2.25 million of inbound American Rescue Plan Act funds for facility improvements at Las Palmas pool.
• During a special Nov. 15 meeting, National City's Planning Commission approved a Conditional Use Permit allowing San Diego Rescue Mission to develop a transitional housing facility at 2400 Euclid Ave.
The 7.65-acre property, located in a residential neighborhood that borders on the Lincoln Acres currently includes South Bay Community Church, an accompanying watchman's residence, and a school that is no longer in operation post-COVID.
National City Principal Planner Martin Reeder said the main sanctuary building would be converted to a 160-bed transitional housing facility with an additional eight beds and three private rooms for families established in the watchman's residence under San Diego Rescue Mission's plan. Typical services, he said, would include showers, daily meals, laundry services and case management.
DECEMBER
• Members of the Filipino-American and Asian Pacific Islanders communities held a rally at Market on 8th in National City to generate interest in their demand that the city adopt district-based voting.
"On [Dec.4], we're there to educate the attendees on why it's important to adopt district voting in National City. We're there to reinforce the vision we have for the community, and equitable voting rights in the city and to encourage people to support this cause," said Audie de Castro, one of the event's organizers.
De Castro said the group would consider a lawsuit if their demand for districting is not met.
• The Chula Vista City Council unanimously approved the Chula Vista Redistricting Commissions final map on Dec. 7, with council member John McCann absent.
The City hired two major consultants in redistricting the city's district boundaries on March 16. The Redistricting Commission adopted resolutions on Feb. 18, recommending the selection of demographer, National Demographics Corporation as the demographer and Southwest Strategies, LLC as the public outreach consultant.
NDC was chosen by the Redistricting Commission for its professional experience, interactive mapping review, approach towards public engagement. Southwestern Strategies was chosen for its ability to reach out to the diverse communities in Chula Vista, its workforce, resources to successfully reach out to these diverse groups during a pandemic, and its multi-generational and multi- social economic approach.
After receiving the 2020 Census data on Sept. 27, the new adjusted population for Chula Vista is 276,060 individuals. An increase of 32,175 residents. Most of this growth occurred in District 3, growing by 22,000 residents, but all districts showed some growth. The current map was approved by the Commission on Nov. 18.
• Fully vaccinated or not, San Diego county residents are required to wear a mask while indoors in all public spaces following a new statewide mandate.
The statewide mandate went into effect on Dec. 15.
This comes in response to the increase in cases and hospitalizations in the state and the detection of the new COVID-19 Omicron variant.
The mandate is effective at least through Jan. 15, 2022.
County Public Health Officer Wilma J. Wooten stated that masks help slow the spread of COVID-19 and its variants.
"San Diegans should wear masks while indoors in public places to protect themselves and others," she said.