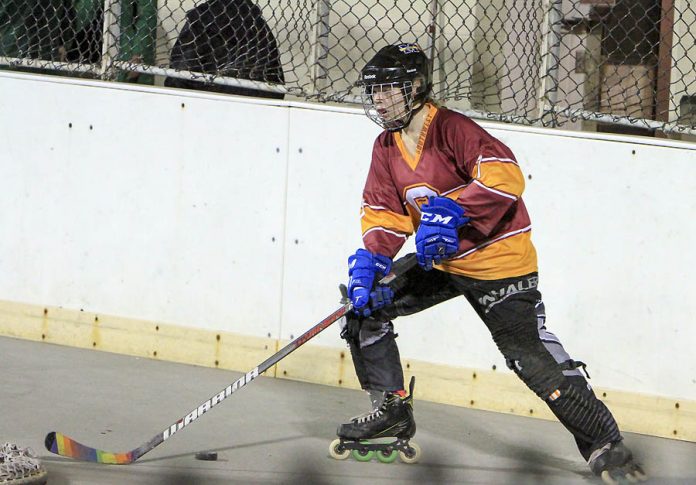 Southwest High School senior Kayleigh Andrew has left her stamp at the South San Diego school in more ways than one.
She is positioned to be a four-year varsity letter-winner in both girls field hockey and co-ed roller hockey this year and will be looking to letter in a sport this coming spring to become a 12-time letter-winner at the school. That's not easy to accomplish and a badge to be proud of.
But that's just the athlete part of being a student-athlete.
For instance, she is co-founder and president of the Eco-Engineering Farm on campus and the president of campus cleanup activities.
It's a large plate of activities; she handles all of them well.
Andrew was a member of this past fall's record-setting girls field hockey team that advanced to the quarterfinal round of the San Diego Section playoffs. The Lady Raiders posted a third place finish in the Metro Conference standings with an 8-4 league record and went on to finish 17-9 overall.
Included was a 2-1 first-round playoff win at seventh-seeded Granite Hills. Andrew scored one of the two goals in the upset victory for 10th-seeded Southwest.
She finished as the team's leading scorer during the season.
Andrew began playing roller hockey as an eighth-grader and entered high school with invaluable experience. She quickly became a backbone on the team, and established a reputation as one of the South Bay League's most tenacious defensive players.
She also proved she can put the puck in the net after scoring 11 goals in an 11-2 victory against the San Ysidro Cougars on Wednesday, Dec. 13, at the Castle Park High School roller rink. The 11 goals are believed to be record for most goals scored in one game by a female player in the 18-year history of the CIF-Metro Conference.
But records aren't necessarily what she plays for; her goal is to play to the best of her ability and let the chips fall where they may.
A word of caution: don't get in her way on the playing court.
"I like how girls field hockey is an all-female sport where I can bring out my aggressive side against other females," Andrew said without hesitation. "I like roller hockey because it's coed and I can come out and prove (to male players) not to underestimate females. I like the looks on people's faces when I skate by and they see a long braid sticking out the back of my helmet."
Andrew earned first team all-league honors on this year's Southwest girls field hockey team. She also earned honors as the team's most valuable player.
She was a second team all-league selection in the sport as a junior.
"We've made the playoffs in two of the last three years — it was surreal watching as a team that initially communicate on the field became a family," she said.
Andrew served as team captain for two years. Her duties included setting up nets before games, running captain-led practices, making sure all the players had matching uniforms and leading pre-game warm-ups.
She shared captain's duty with teammate Nayeli Velarde this season. "We made sure the team stayed together," Andrew said.
Andrew has also received accolades on the roller rink. She represented the Sweetwater district on the Metro-2 all-star team that competed in last March's California State Cup tournament in Irvine.
Roller hockey comes easy for her after being a lifelong fan.
"I know the game," she said in a demonstrative tone. "I have a game IQ. I've grown up with hockey. I'm naturally aggressive."
She has played softball the past three years. She calls that her "off-season sport."
Success has come on the diamond as well. The Lady Raiders have advanced to the San Diego Section playoffs in two of the past three years. Southwest finished 19-11 last spring, compiling three playoff game appearances.
The Lady Raiders won the 2015 South Bay League title.
"I was this wide-eyed freshman who had no idea what I was doing," she said.
But that quickly changed. Andrew has played multiple positions in the infield and outfield and even served as catcher.
Jerry Nestlerode has served as her coach in both girls field hockey and roller hockey. He praised her work ethic, in particular.
"She's made a really good effort over the past four years to become the player she is," Nestlerode said. "She's worked hard to be the best she can be."
Cougar country
San Ysidro (0-4 in league play) scored its first two goals of the season in the loss to Southwest (2-0 in league play, 2-2 overall).
Alex Navarro scored the Cougars' history-making first goal, assisted by teammate Jake Curtis.
"It was exciting," Navarro recounted. "It was overwhelming. When I saw the puck go over the goal line, I knew I had scored the first goal in school history."
Curtis scored the second goal in school history.
Both players are seniors at the school; the lure of playing a new sport landed them on inline skates.
"It was something different, something new, I thought it would be exciting to join," explained Navarro, who previously competed on the school's swim and boys water polo teams and is an assistant captain on the roller hockey team. "The most challenging thing was learning to skate in one week."
Curtis is the defending South Bay League track and field champion in the 100- and 200-meter dashes.
"I wanted to try something new my senior year," explained Curtis, who has the honor of being the school's first team captain in roller hockey. "This is my first team sport, learning to communicate with my teammates has been the biggest thing I've had to learn. It's really interesting … the team has become more than just a team, it's a family."
The fledgling San Ysidro team continues to improve each game. "We're learning, everyone is improving," head coach Adrian Rodriguez said on an upbeat note.
Game on
In another South Bay League game played Wednesday at the Castle Park High School roller rink, Mar Vista defeated Sweetwater, 6-2, behind three goals from Isaac Suarez and two goals from Bryan Suarez.
The Mariners improved to 2-1 in league play with the win while dropping the Red Devils to 1-1 in league play.
In a non-league game on Wednesday, the Poway Titans defeated Chula Vista, 6-0, behind three goals and one assist from Michael Little.
Spartan goaltender Gio Cimmino, a first team all-league selection last season, was credited with 40-plus saves in the game.
CIF-Metro Conference
2017-18 Standings
Mesa League
(Through Dec. 13)
League/Overall
Eastlake Titans 3-0, 4-0
Castle Park Trojans 2-1, 3-1
Otay Ranch Mustangs 2-1, 3-1
Hilltop Lancers 1-2, 2-2
Bonita Vista Barons 0-4, 0-4
South Bay League
(Through Dec. 13)
League/Overall
Southwest Raiders 2-0, 2-2
Chula Vista Spartans 2-1, 2-2
Mar Vista Mariners 2-1, 2-2
Sweetwater Red Devils 1-1, 1-3
San Ysidro Cougars 0-4, 0-4
North County League
(Through Dec. 13)
League/Overall
Scripps Ranch Falcons 3-0, 4-0
Rancho Bernardo Broncos 3-0, 3-0
Westview Wolverines 3-0, 3-0
Cathedral Catholic Dons 2-1, 2-1
Patrick Henry Patriots 2-3, 2-3
Escondido White Tigers 0-4, 0-4
Poway Titans 0-4, 1-4
CIF/Metro Conference Scoreboard
South Bay League
Wednesday, Dec. 13
Southwest 11, San Ysidro 2
Mar Vista 6, Sweetwater 2
Non-League
Wednesday, Dec. 13
Poway 6, Chula Vista 0
CIF-Metro Conference Scoring Leaders
Sweetwater district teams
(Through Dec. 13)
Luke Killeen (Eastlake) 18 goals, 5 assists – 23 points
Martin Mari (Castle Park) 18 goals, 3 assists – 21 points
Will Hamilton (Eastlake) 12 goals, 6 assists – 18 points
Eleazar Cruz (Castle Park) 11 goals, 3 assists – 14 points
Paul Chavez (Otay Ranch) 9 goals, 3 assists – 12 points
Kayleigh Andrew (Southwest) 11 goals, 0 assists – 11 points
Trevor Fune (Hilltop) 10 goals, 1 assist – 11 points
Braden Mayer (Eastlake) 9 goals, 2 assists – 11 points
Adrian Hernandez (Chula Vista) 6 goals, 2 assists – 8 points
Jake Powell (Eastlake) 4 goals, 4 assists – 8 points
Kevin Eagles (Eastlake) 6 goals, 1 assist – 7 points
Sean Devaney (Otay Ranch) 5 goals, 2 assists – 7 points
Lucio Gutierrez (Chula Vista) 5 goals, 2 assists – 7 points
Casey Prenatt (Otay Ranch) 3 goals, 2 assists – 5 points
Jacinto Montalvan (Hilltop) 3 goals, 2 assists – 5 points
Isaac Suarez (Mar Vista) 5 goals, 0 assists – 5 points
Bryan Suarez (Mar Vista) 4 goals, 0 assists – 4 points
Marco Macias (Eastlake) 4 goals, 0 assists – 4 points
Nick Stark (Bonita Vista) 3 goals, 1 assist – 4 points
Jesus Gonzalez (Castle Park) 3 goals, 1 assist – 4 points
North County League Scoring Leaders
(Through Dec. 13)
Miles Cook (Rancho Bernardo) 7 goals, 10 assists – 17 points
Matthew Gauthier (Scripps Ranch) 11 goals, 5 assists – 16 points
Matt Voegel (Patrick Henry) 10 goals, 4 assists – 14 points
Jake Belland (Cathedral Catholic) 9 goals, 4 assists – 13 points
Wesley Rim (Scripps Ranch) 9 goals, 3 assists – 12 points
Matt Russell (Patrick Henry) 7 goals, 4 assists – 11 points
Cody Ayers (Scripps Ranch) 6 goals, 5 assists – 11 points
Alex Pang (Rancho Bernardo) 5 goals, 6 assists – 11 points
Lyushen Loshak (Westview) 4 goals, 6 assists – 10 points
Michael Little (Poway) 6 goals, 3 assists – 9 points
Laurent Lee (Westview) 4 goals, 5 assists – 9 points
Ben Goodard (Westview) 6 goals, 2 assists – 8 points
Sam Lathus (Cathedral Catholic) 5 goals, 3 assists – 8 points
Kyle Fraser (Scripps Ranch) 4 goals, 4 assists – 8 points
Cody Sherman (Scripps Ranch) 3 goals, 5 assists – 8 points