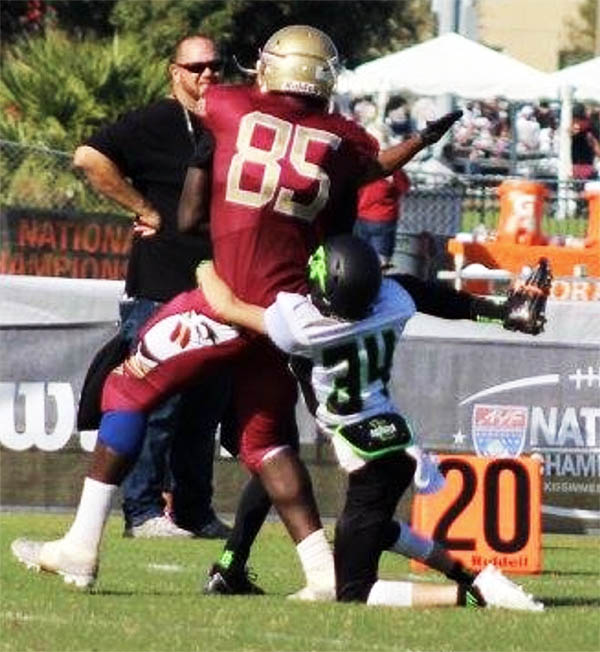 The Eastlake Panthers 12U American Youth Football team has wrapped up its 2017 season following a national championship appearance in Kissimmee, Fla.
The Panthers started their postseason coast-to-coast odyssey by defeating the Los Toros Bulls, 28-0, in the San Diego Q-Bowl championships Nov. 11 at Balboa Stadium.
The Q-Bowl championship was the team's fourth consecutive and marked the fourth year the team went undefeated in the regular season.
Trey Edwards scored three touchdowns in the Q-Bowl victory and was the co-MVP in the AYF National Championship game.
The team finished 12-1 on the season.
The Panthers played three games in Florida, defeating the Providence (R.I.) 49ers, 50-6, and the Landover (Md.) Seminoles, 32-6, before dropping a 22-8 championship game matchup to the Cerritos Vypers.
The Panthers led the Vipers 8-0 at halftime in the championship contest.
The Vypers finished the season ranked first in the nation.
American Youth Football Champions
National D1 Cadet: Watkins Hornets
National D1 Jr. Pee Wee: White Oak Warriors
National D1 Pee Wee: Marshall Heights Bison
National D1 Jr. Midget: Southeast Tarheels
National D2 Jr. Pee Wee: Charm City Bucs
National D2 Pee Wee: East Coast Seminoles
Conference All-Stars 10U: Metro AYF
Conferecnce All-Stars 1U: Flo SoCal
Conference All-Stars 14: San Diego
All-American 10U: Southside Ducks
All-American 11U: Wilmington Pilots
All-American 12U: Cerritos Vypers
All-American 13U: Patriots Youth Football
All-American 14U: Orange County Buckeyes
All-American D2 10U: Manchester East Cobras
All-American D2 11U: Marlboro Mustangs
All-American D2 12U: Garden Villa Giants
All-American D2 13U: Charm City Bucs
All-American D2 14U: Charm City Bucs