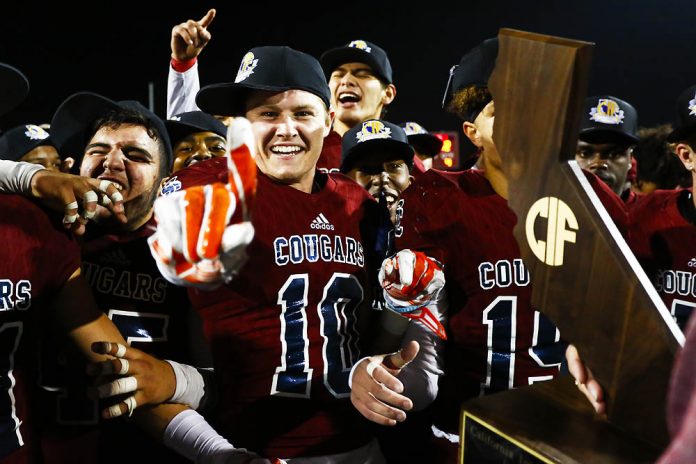 It was beyond the wildest dreams of head coach Scott Longerbone, and a tribute to all the players on the Steele Canyon High School football team who never stopped believing in themselves even if others didn't.
The Cougars' long-sought dream season finally came to fruition Saturday night, Dec. 16, at Southwestern College's DeVore Stadium with possession of the 2017 California Division 3-A state bowl championship title.
It came following an emotional pregame tribute to former Granite Hills football player Will Burton, an all-section first team defensive selection, who was tragically killed in an automobile accident on Monday, Dec. 11, following a football awards banquet in Alpine.
Granite Hills and Steele Canyon are neighborhood rivals in the Grossmont Conference and players on both teams knew each other well.
In fact, the teams met in the San Diego Section Division II semifinals on Nov. 24, with the seventh-seeded Cougars eliminating the sixth-seeded Eagles 28-27 for the right to face the undefeated Ramona Bulldogs in the division championship game Dec. 2 at Southwestern College.
Steele Canyon went on to topple the Bulldogs, 33-29, to record the biggest upset of the championship weekend at DeVore Stadium. They went on to win an even bigger game for Burton.
Steele Canyon players wore special No. 19 decals on their helmets in remembrance of Burton at Saturday's state championship football game. All on the Cougar sideline were convinced Burton was watching Saturday's game. If so, their dramatic 44-42 victory over Northern California champion Half Moon Bay was heaven sent.
Cougar country
While other teams with richer football traditions grabbed headlines over the last six weeks of post-season competition, Steele Canyon quietly went about winning a history-making first state championship in the sport at the Rancho San Diego school, which opened in 2000.
The Cougars, week in and week out, played the role of giant-killer.
Steele Canyon (12-4) defeated three teams in the playoffs with previously undefeated records, starting with the Bishop's Knights (9-0) in the division quarterfinals, then progressing to top-seeded Ramona (12-0) in the division championship game and culminating with Saturday's state championship game victory against the Half Moon Bay Cougars (14-0).
Steele Canyon didn't finish with a perfect record. In fact, the Cougars lost four games during the regular season en route to a third place finish in the Grossmont Hills League standings. But the Cougars were perfect in their six playoff games, finishing a season of unparalleled achievement with a coveted state championship and eight-game winning streak.
Steele Canyon becomes only the second football team in section history to play 16 games in one season. The Cougars needed every one of them to become long-sought state champions.
Steele Canyon earned the right to play in Saturday's history-making contest by defeating host Orange El Modena, 28-26, in last weekend's Southern California regional playoff game. The Half Moon Bay Cougars won their Northern California regional playoff game against Sutter, 28-7, to make the 503-mile trek to Chula Vista.
Quarterback Thomas Fishburne once again directed Steele Canyon to a victory on Saturday. He finished the game by passing for 187 yards and one touchdown; he also ran for one score.
"I woke up this morning knowing we were about to be state champions," Fishburne told reporters after the game. "That's what this team has been through all season long. Nobody believed in us but we believed. We went in that locker room and when we were on the field we knew we were brothers for life and had to come out and get the win."
"These last two games (regional and state final) have been beyond anything I ever dreamed of getting a chance to coach in," Longerbone offered in an emotional address.
The Division II San Diego Section champions wasted little time in taking a 14-0 lead in Saturday's state championship game. Kenneth Watson scored on a nine-yard touchdown run and Mikel Oliver then returned a fumble recovery 59 yards for another score.
But it was apparent that Half Moon Bay didn't come all the way to Southern California to lay the proverbial egg. The Northern California regional champions recorded a safety and then scored on two long touchdown drives to take a 15-14 lead into halftime.
Jake Qusig scored on a five-yard run to make the score 14-8. Half Moon Bay then engineered a time-consuming 96-yard scoring drive capped by a seven-yard touchdown pass from Gavin Tomberlin to Von Alem.
15-14 Half Moon Bay.
However, Steele Canyon reeled off a series of big plays all game long and quickly took matters into its own hands to retake the lead. Fishburne swung a pass to Nathaniel Gorden, who promptly broke down the sideline on a 73-yard scoring romp to put the Southern California regional champions ahead for good.
20-15 Steele Canyon.
Marvin James recorded a pair of interceptions in the third quarter. The Cougars scored on both turnovers.
Fishburne scored on a 36-yard touchdown run to propel Steele Canyon ahead 27-15. Watson scored his second touchdown of the game with 4:49 to play in the third quarter on a 21-yard run as the Cougars took a 34-15 lead in the game.
Half Moon Bay then ripped off its own series of big plays to get back in the game to produce a frantic finish to the state championship contest. Following a six-yard scoring run by Chase Huffman, Half Moon Bay recovered an onside kick and then proceeded to score on an eight-yard run by Qusig to narrow the score to 34-28 with 10:26 to play in the fourth quarter.
John Lautner kicked a 21-yard field goal to boost the Steele Canyon lead to 37-28. But Half Moon Bay responded with a four-yard touchdown run by Juan Vasquez to make the score 37-35 with 4:19 to play.
The San Diego Section champions whipped the large crowd into a frenzy when Deontae McKinney scored on an 11-yard touchdown run with 2:06 left in the game.
44-35 Steele Canyon.
Steele Canyon was able to withstand another late touchdown by Half Moon Bay with 1:25 to play as Tomberlin passed 26 yards to Hayden Van Almen. Steele Canyon then capped the history-making — if not somewhat harrowing — win when Chance Johnson recovered the ensuing onside kick.
From the Cougars' many nay-sayers, respect was finally granted. When the Southwestern College scoreboard clock reached zeroes, chaos ensued on the field.
It all began with a moment of silence; it ended in exuberant celebration.
Steele Canyon Cougars – 2017 Division 3-A state champions. That has a nice ring to it.
Extra points
Steele Canyon grabbed three interceptions on defense — two by James and one by David Lipscomb.
Steele Canyon was the lone San Diego Section team to win a state championship title this weekend.
The Helix Highlanders fell, 49-42, to the Folsom Bulldogs in the Division 1-AA championship game Friday at Sacramento State while Southwest El Centro saw its perfect season end in a 45-41 loss to visiting Milpitas in the Division 4-A championship game on Saturday.
In the Division 6-A title game, played Saturday at Calexico High School, San Francisco Galileo defeated Vincent Memorial 38-20.
Helix, the section's Open Division champion, built an early 14-0 lead on Folsom but saw that lead quickly evaporate following 28 unanswered points by the Bulldogs. Quarterback Carson Baker passed for 322 yards with three touchdowns and scored on a touchdown run to buttress the Scotties in the loss.
Elelyon Noa rushed for 124 yards on 28 carries while Isaiah Wooden scored two touchdowns (three yard-run and 73-yard pass reception). Rashad Scott (47-yard catch), Isaac Taylor-Stuart (eight-yard run) and Terrance McIntyre (three-yard catch) each scored touchdowns in the game for the Highlanders.
McIntryre's TD reception made the score 49-42 with 1:06 to play in the game but Folsom (16-0) recovered an onside kick to secure the state championship title.
Helix ended its season with a final 13-2 record.
Southwest El Centro, the section Division III champion, finished 14-1 while Vincent Memorial, the Division V section champion, finished the season 12-3.
Southwest El Centro quarterback Cameron Jungers passed for 334 yards and five touchdowns in the four-point setback to Milpitas, which scored on a 39-yard pass play from Tyree Bracy to Tuni Faletau Fifita with 2:37 to play to clinch the victory.
The host Eagles rallied from a 34-14 deficit to lead 41-37 with 3:42 left in the game. But Southwest El Centro's comeback bid ended on an incomplete fourth-down pass.
Tariq Bracy, twin brother of the Milpitas quarterback and a commit to Notre Dame, led Milpitas (14-1) with 254 rushing yards and three touchdowns. Tyree Bracy passed for 158 yards and two TDs.
Vincent Memorial led 14-8 at halftime but Galileo roared out of the chute in the second half with three unanswered touchdowns to grab the lead, and eventually the state crown.