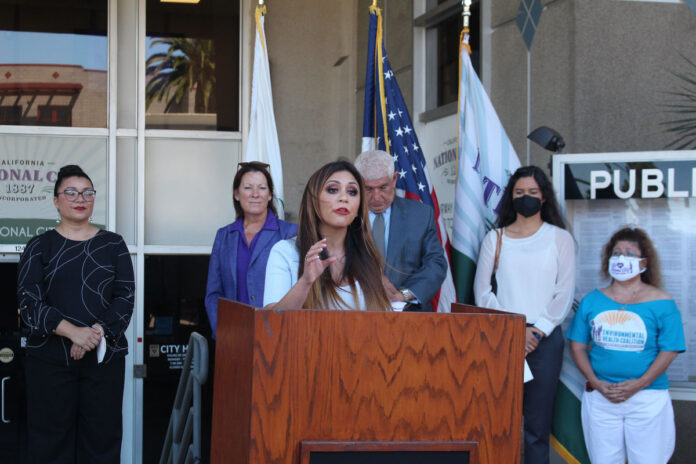 National City Mayor Alejandra Sotelo-Solis announced Aug. 3 that a new system of electric vans used to connect people from public transportation to common destinations is coming to National City.
The FRANC system, named for early National City resident and builder Frank Kimball, will be similar to the downtown San Diego FRED system of electric vans that provide zero-emission rides on demand, Sotelo-Solis said.
The program is funded by a $1 million Clean Mobility Project Voucher Program grant for at least the first two years and will hub out of the 24th street and 8th street trolley stations, connecting public transportation riders from their home to mobility hubs and their final destinations.
Generally, Sotelo-Solis said, the goal would be to connect the park system, Naval Base San Diego, and other destinations that are almost accessible by public transportation but do not necessarily have the connections to get people to and from larger public transportation systems.
Sotelo-Solis said the impetus to develop FRANC was born in a moment of listening to her mother-in-law muse over memories of paying just 25 cents to ride the Lynwood Trolley from her home to the park, a park her family had just arrived at by car.
"I thought to myself: why not do something like this in National City? Today, we are celebrating accepting a grant to create this system that will allow us to connect residents with those last hundred feet so people can get to places like the park without a car," Sotelo-Solis said.
Ostensibly, if some frequent commuters replace their drives with rides, the system might play a role in getting cars off the road and reduce vehicle emissions.
San Diego Association of Governments Executive Director Hasan Ikhrata, a strong advocate of public transportation, said the FRANC enterprise is "exactly what we mean when we talk about the Five Big moves," an approach to reducing vehicle use which includes mobility hubs, flexible fleets, and integrated technology that tracks traffic patterns among other components.
Although "we're not expecting 100% of single-occupant drivers to use this, if 10% do, it will make a difference," Ikhrata said, contributing to an overall reduction in emissions and serving as an example of how future mobility hubs will work.
"I definitely want you to know South Bay has a good start on getting around but also is working toward social justice. Some people don't have access to opportunities because they have no way to get there. This means everyone, regardless of how much they make, can get to those opportunities," Ikhrata said.
Port Commissioner Sandy Naranjo, an environmental justice advocate who currently lives in National City, said FRANC has the power to help reduce greenhouse gases that are overwhelmingly created by automobiles.
Doing so, she said, decreases the environmental inequity of residents living near the bayfront, promotes environmental justice, and gives all National City residents clean and healthy options to get around town.
Reducing those greenhouse gases also positions the Port to hit its goal of being emission-free by 2030, Naranjo said.
Environmental Health Coalition Climate Justice Director Carolina Martinez, with passion in her voice, said "the planet is burning" while over 20% of air pollution is traced back to vehicle emissions, a statistic National City residents have the power to reduce.
FRANC, along with youth transportation passes, 24-hour blue line trolley service and other mass transit improvements are all part of the plan to reduce that statistic, Martinez said.
Sotelo-Solis said FRANC is one system that will be open for responsible teen use so they can get from middle schools to after-school activities.
The mayor said details are still being finalized but generally speaking, FRANC will run from dawn until dusk, with two units on hand until ridership is identified.
"We want to make that connectivity, get people excited about ridesharing. We want this to be a program that is here in perpetuity," Ikhrata said.