A .333 batting average in baseball is considered top-flight, so for Park View Little League to win one of three state championship opportunities has to be considered top-flight in its own right.
Park View advanced its 10U, 11U and Junior Division (14U) all-star teams — all California District 42 and California Section 7 champions — to this year's 10-team Southern California divisional championship tournaments held throughout the Southland.
The divisional tournaments wrapped up last weekend, the last stop for all three divisions this year, with the winner being declared the Southern California state champion.
Park View's 11U all-stars entered Saturday's championship game riding the crest of an undefeated 9-0 postseason record but dropped a 6-0 decision to District 25 champion West Los Angeles to force a double-elimination game on Sunday.
Park View bounced back to defeat West Los Angeles, 3-1, to lay claim to this year's state championship – believed to be a first for the league at that age level.
"As far as I am aware of, this is the first," Park View Little League president Johnny Fuentes said in regard to the potentially history-making feat by the league's 11U all-star team. "I have been with Park View for 15 to 20 years and I cannot recall three teams going to the state tournament. It means a lot to the program at Park View.
"For the families who trusted the safety protocols of COVID to have their kids return to play in the league, to have that success means a lot. The foundation you have to build on is great."
"We found some adversity in the tournament, but the players trusted each other," added Park View 11U manager Dennis Diaz, whose team finished all-star play 10-1 overall. "Our team never quit. Most of them have played together since they were 6 years old. They believed in each other."
Park View's 10U and Junior Division teams did not make it that far, with both teams ending their seasons in the elimination bracket at their respective tournaments.
Park View's 10s (7-2 overall) finished 1-2 at the divisional tournament hosted by District 42 Imperial Beach Little League while Park View's Junior Division team (6-3 overall) finished 1-2 in divisional play at Santa Anita Little League.
El Segundo (District 36) defeated Sherman Oaks (District 40), 2-1, in Monday's double-elimination 10U Southern California state championship game at Imperial Beach Little League while Santa Anita (District 17) won this year's Junior Division title.
District 42 administrator Ernie Lucero heaped praise on the process that helped craft this summer's state champions.
"The 11s from Parkview Little League played extremely well — it's no wonder they won the Southern California state championship," Lucero said. "The players, manager and coaches all worked in step with each other that ultimately led them to this victory in this tournament. Parents and friends who attended every single game, cheering them on, only added to their chances of success.
"Given the restrictions of COVID, the participation during this season and leading into our Tournament of Champions and All-Star games afforded the community a sense of excitement that was not available last year. Everybody was eager and happy to be outdoors and partake in this wholesome American tradition which is Little League baseball."
Lucero said it is interesting to note that Park View Little League has won all of the Southern California state championship games its teams have played at Aliso Viejo Little League Park in Orange County: 2009, 2016 and 2018 at the 12U level and now at the 11U level.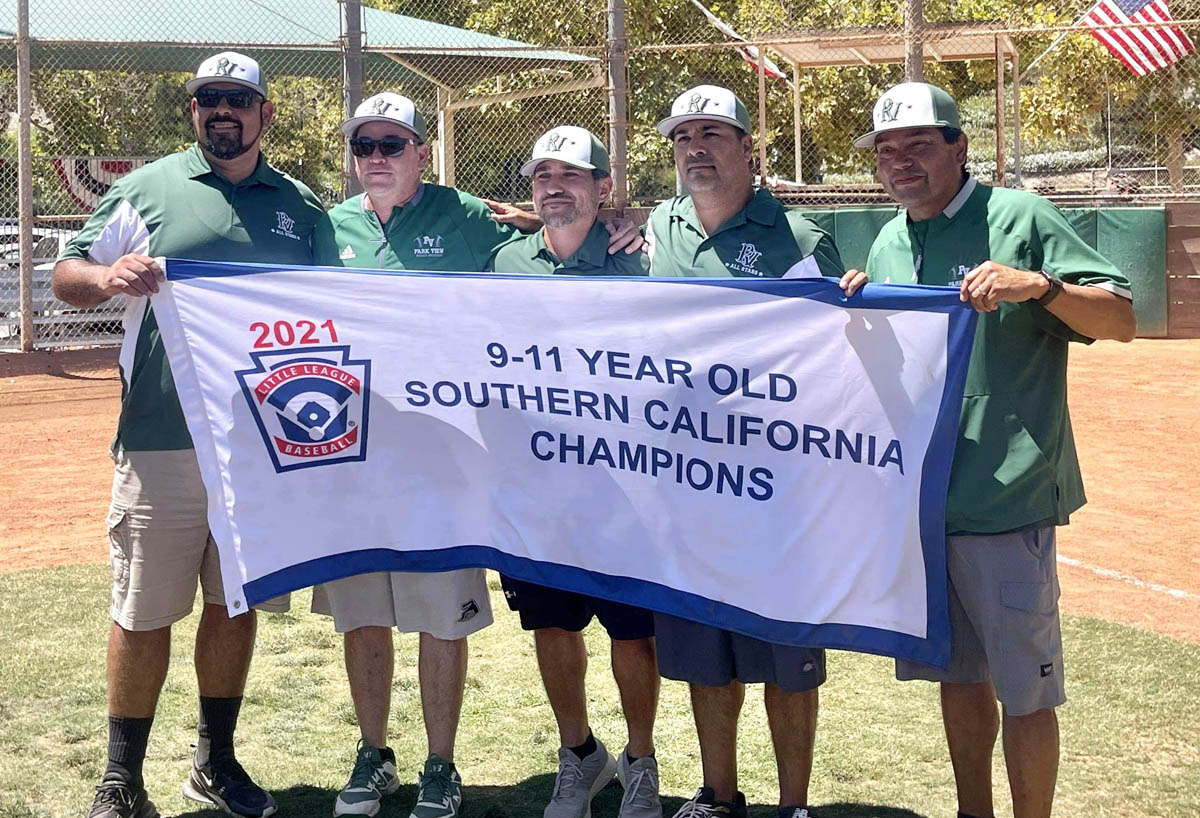 Green machine
Park View carried a 6-0 record into the 11U divisional tournament after winning titles at the district and section levels. Park View won its opening three games at the state tournament in order to reach the SoCal division championship game.
Diaz noted Park View outscored its opponents 106-26 in its 11 games. He called it an "all-around effort" by the team to record such success.
"The catalyst for us was pitching and defense," the Park View manager said. "We didn't allow a single run in the district tournament (42-0 run-differential). We faced some pretty good competitive teams.
"We faced some adversity by having to play some late inning, close games, but especially after losing our first game on Saturday and coming back on Sunday to win the championship. We had a very talented team, but it was our kids' hearts and determination that set us apart from our competition."
Noah Medina finished 3-0 on the mound for Park View with victories in the section and state tournament championship games. He pitched a complete game (six innings) in Sunday's state final, allowing one run while scattering seven hits.
Our defense played lights out," Diaz said. "He allowed one walk. Our defense was super. We made all the plays."
Indeed, defense set the tone as center fielder Danyaal Javier threw out a runner at home plate to complete a double play in the first inning. "That was such a huge play; it set the tone for the whole game," the Park View manager said.
Donovan De los Santos finished the state championship game with two hits and two RBI. He landed the first big hit of the game with a two-RBI single in the third inning. Park View finished the contest with seven hits.
De los Santos also finished 5-0 on the mound throughout the team's multi-tournament run.
Defensively, second baseman Emilio Diaz recorded seven of the 18 outs in the game.
Nico Alcala finished as the team's home run leader with three round-trippers in 11 games.
"We just had a good group of players, coaches and parents who believed in each other, the whole team," Dennis Diaz said. "They really stepped up with a lot of heart. In all my years of coaching — 15 years — I've never had a team as close as they were."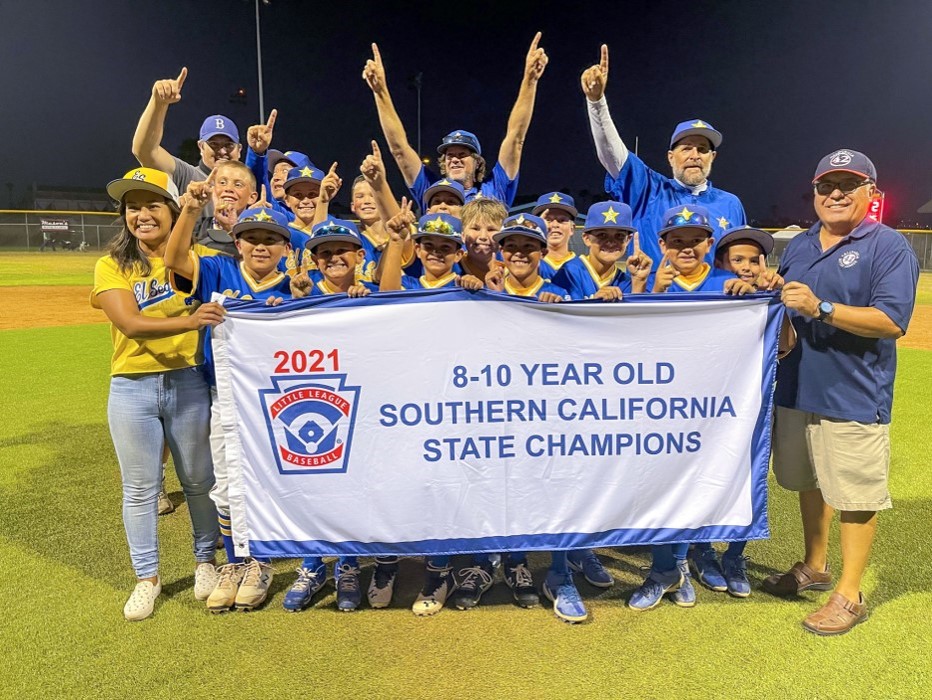 Hanging 10
Park View finished 1-2 at the divisional level to conclude an overall 7-2 all-star run. The District 42 champions lost, 6-0, to eventual state champion El Segundo in their first divisional game on July 25, then defeated Fontana Community, 13-2, in an elimination game on July 27 to remain in the running.
Park View ended its tournament run following an 11-8 loss to District 32 champion Scripps Ranch on July 29.
Fuentes said the team's success was due to the rapid progression of its 9-year-old component.
"The 10s were solid but we weren't sure what the 9s would contribute," Fuentes said. "They hung in there with the 10s. For the nine-year-olds who are coming back, they grew a lot. They got a taste of what the Southern California state championship is about."
Lucas Yaomoto and Aaron Bleisch stood out for Park View in its summer odyssey.
The tournament continued after Park View was eliminated. El Segundo defeated District 56 champion East Hills, 4-0, in last Friday's winners bracket final to advance to Sunday's championship game. Sherman Oaks edged East Hills, 2-1, in Saturday's elimination bracket final and then promptly handed El Segundo its first tournament loss the next day to force Monday's double-elimination game.
Imperial Beach Mayor Serge Dedina threw out the first pitch at Monday's championship game.
District 42 staff received many positive comments from the participating 10 teams that competed over the course of the 10-day tournament in Imperial Beach. "Kudos go to the Imperial Beach team for making the tournament a rousing success," Lucero said.
Almost famous
Park View's Junior team defeated District 68 champion North Mission Viejo, 10-6, in its first game at the SoCal state tournament on July 24 on a walk-off grand slam by Aidan Galacia.
"That lit the team on fire," Fuentes said.
But the District 42 champions couldn't get the timely hit they needed in their next two games — both losses — despite loading the bases multiple times. The back-to-back losses to District 13 champion Conejo Valley (4-2 on July 26) and District 20 champion Claremont (13-0 on July 28) eliminated Park View from the 10-team tournament.
"We're very proud of them — they had a summer filled with memories," Fuentes said. "For next season, with 60 to 70 percent of the team being 13-year-olds, it looks good. There's a lot of upside."
Park View Junior Division manager Marco Román said the team worked hard to prepare for the tournament season.
"We had our eyes set on the Southern California state tournament and knew anything less would be a disappointment," he said.
Park View defeated Southwest and Sweetwater Valley to win the District 42 championship but had to battle back through the elimination bracket to win the Section 7 banner, thereby taking a 5-1 record into the state tournament.
"We faced some adversity in the sectionals where we had to beat El Centro twice in the championship to advance," Roman said. "We faced their No. 1, a hard throwing lefty, in the first game. We went with Jacob Medina, who was playing with injured fingers on his glove hand he suffered in the previous game. Jacob put the team on his shoulders and outdueled their starter to get us to the 'if' game.
"In the 'if' game, El Centro jumped off to a four-run lead in the top of the first inning. Unfased, we answered back with eight runs in the bottom of the first inning led by Aidan Galicia's bases clearing double. We never let off the gas pedal to end the game in five innings with a 15-4 win.
"Still on our high from winning Section 7, we faced a North Mission Viejo in Game 1 of the state tournament. This was a game where we led through five innings with a strong performance by starter Nathan Segura. In the sixth inning North Mission Viejo scored three runs to tie the game.
"We went into extra innings. In the top of the eighth inning North Mission Viejo took a one-run lead. Down one run in the bottom of the eighth, our first two batters were unsuccessful in getting on base. With two outs and our backs against the wall, a single by Isaac Martinez and Jacob Medina and then walk by Sebastian Diaz. Anthony Lavine singled to tie the game, setting the stage for an incredible ending. On a 2-1 count Aidan Galicia hit a ball heard throughout all of Southern California over the left field wall for a walk off grand slam.
In the Game 2 we faced a formidable opponent in Conejo Valley. The game remained close in the late innings. Down 4-2 in the seventh the boys were not going down without a fight. We quickly loaded the bases with no outs. Was this going to be a repeat of Game 1? Unfortunately, this was not the case as Conejo Valley brought in a new pitcher, who was able to retire the next three batters in order without allowing a run.
Game 3 was not in the cards for us and, although we were unable to capture the Southern California state championship, I am proud of what the boys accomplished in this tournament season. I'm thankful for my coaches Oscar Cordero and Perry Gomez, who put in countless hours of practice preparing the boys to compete."
Southern California State
Little League Champions
10U: El Segundo (District 36)
11U: Park View (District 42)
12U: Torrance (District 27)
Intermediate (13U): Golden Hill (District 56)
Junior (14U): Santa Anita (District 17)
Senior (16U): East Hills (District 56)
Park View 11U All-Stars
Nicolas Alcala, Nathaniel Carrasco, Donovan de los Santos, Emilio Diaz, Wesley Fuller, Miles Gilfillen, Danyaal Javier, Rommiel Magno Jr., Noah Medina, Joaquin Mendoza, Elijah Nicoletto, Aidan Page
Manager: Dennis Diaz.
Coaches: Julio Alcala, Carlos Medina
League president: Johnny Fuentes
Road to a Championship
California District 42
Championship Tournament
Park View 19, Southwest 0
Park View 9, Sweetwater Valley 0
Park View 14, Eastlake 0
California Section 7
Championship Tournament
Park View 11, Valley de Oro 0
Park View 15, Rancho de Oro 2
Park View 11, Rancho de Oro 0
Southern California Division
Championship Tournament
Park View 8, Tustin Western 5
Park View 12, Encinitas 9
Park View 4, West Los Angeles 3
West Los Angeles 6, Park View 0
Park View 3, West Los Angeles 1
Park View Junior Division Roster
Mike Ruiz
Alejandro Gomez
Aidan Galicia
Anthony Lavine
Sebastian Diaz
Joaquin Roman
Luke Hill
Jacob Medina
Tyler Maula
Nathan Segura
Andres Cordero
Aaron Cordero
Isaac Martinez
Manager: Marco Roman
Coaches: Oscar Cordero, Perry Gomez
Park View 10U Roster
Aaron Bleisch
Adrian Molina
Aldo Reynoso
Alonso Gallardo-Hermosillo
Tiny Rudden
Christopher Crabb
Dylan Goddard
Jacob Castillo
Lukas Yaomoto
Nico Segura
Remi Icasas
Tomas Sandoval
Xavian Flores
Manager: Mike Yaomoto
Coaches: Kevin Rudden, Will Bleisch
American Legion Baseball
District 22 San Diego American Legion Baseball capped its local season with Area 5 championship playoffs July 15-18 at the University of San Diego as the Patrick Henry Trojans defeated the Oceanside Vipers, 9-2, to wrap up play in the eight-team double-elimination tournament.
Both the Trojans and Vipers qualified for the six-team state tournament July 24-27 in Clovis. Joining to two San Diego-based teams were the Petaluma Leghorns, Atwater/Merced Yammers, Long Beach Bruins and Napa Valley Baseball Club.
The tournament, which took place at Buchanan High School, served to pay tribute to the armed forces of the United States. Petaluma represented the Marines while Long Beach represented the Air Force, Oceanside represented the Army, Patrick Henry represented the Navy, Atwater/Merced represented the Space Force and Napa Valley represented the Coast Guard.
The Trojans finished 1-2 in Clovis, a suburb of Fresno in the hot for the season Central Valley. The Trojans defeated Napa, 9-5, in their first game before dropping a 9-1 matchup against Oceanside (which enacted a bit of revenge for their loss in the Area 5 tournament).
The Trojans were eliminated from the tournament following a 6-5 loss in eight innings to Napa.
"We took a very young group up to Fresno, so this was a great learning experience for them," Patrick Henry coach Sheldon Watkins said. "We finished the summer 13-2 overall, so we are excited for the spring."
Neither the two San Diego County entrants advanced to the state championship game.
Petaluma defeated Napa Valley, 13-0, to win the state title – its third in four years — and advanced to the eight-team western regional tournament being held Aug. 4-8 in Fairfield.
Petaluma finished 4-0 in the state tournament with wins over Oceanside (4-3), Long Beach (7-2) and Oceanside (16-2 in a rematch) to advance to the championship game. The Leghorns took a 15-game winning streak into the regional tournament.
The western regional tournament included state champions from California, Utah, Hawaii, Arizona, New Mexico, Texas and Nevada along with the host team (Fairfield Expos).
Petaluma defeated League City (Texas), 10-4, in its opening game but lost, 5-4, to Honolulu (Hawaii) in its second game. The Leghorns fell short in their quest to win a national championship following a 4-2 loss to Fairfield in an elimination game on Aug 6.
Hawaii defeated Texas, 4-3, to advance to the national championship tournament.