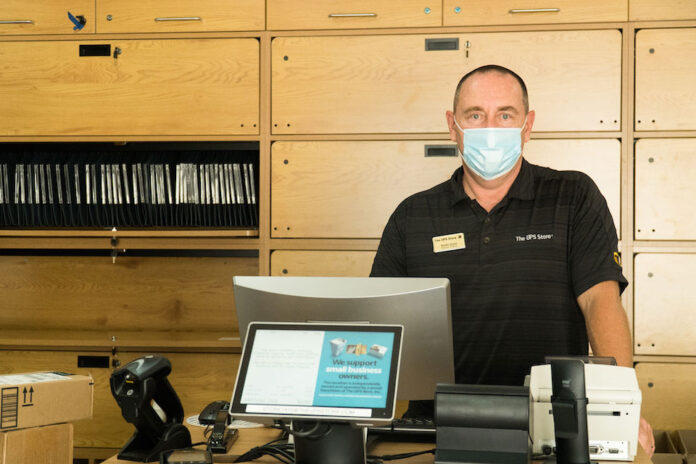 This fall, SDSU students are receiving their mail and packages efficiently and with ease with the help of Eastlake business owner Burke Jones of The UPS Store as he opened two locations on both the east and west sides of the campus. A The UPS Store retail owner for nearly 25 years, Jones said this new model is the first of its kind in the nation and he is excited about the new model. It not only supplies a mailbox for students but offers many other services that students can utilize in both their campus and personal life. The UPS Store will also provide storage, shipping, printing, faxing, shredding, live scan fingerprinting, print services and more.
"I have been doing the UPS model store, even before it was UPS," he said. "It was Mailbox Express in the 1990s. My mom owned a store in 1995 and we all partnered on a store in 1996, and then another. In the early 2000s, we sold those stores, and I began to open UPS stores. My favorite thing is to get them running and help someone live their entrepreneurial dream. But, as I got older and the network got stronger, I now own a UPS store in Pacific Beach and now two locations at SDSU."
Jones said there a few styles like this across the nation, but it is an up-and-coming model, and a less traditional model than traditional UPS storefronts.
"The way it works at SDSU is that we have an agreement with the university, so we manage the mail and the packages for the students that live on campus so that the resident halls and dorms do not have to deal with it," he said. "That is not their expertise, so packages tend to go missing and it takes up more manpower. So, instead of having 20 locations to pick up mail and packages, now there are two."
Jones said after opening last week, it already has 4,000 mailboxes on the east side, and 4,200 on the west side. He said being his first location on a university, he is already working with other schools because he believes it is an interesting opportunity for himself and students.
"For me, I have been doing the brick and mortar on the street friendly UPS store for a long time now," he said. "This model for me is great. The model is strong, and the community involvement is great."
Jones said the agreement with the university is a great bedrock, but it is all the other services that the locations can provide to students and the community around the campus  that is most exciting.
"The technology has really grown," he said. "The way our mailboxes (Student U-Box) work is different than your typical UPS store. We have folders in the back and each folder represents a student. We have only been here a week and already opened a few mailboxes for people that are not students. When we check in mail or packages for students, it sends out an email or text to the student and gives them a number. So, when they come in the store, they can check in on an iPad, and the several TV screens in the back of the store tells who is here, and where their mail is by the number. We know where the packages are, how long they have been here, which makes it a much more dynamic model. This is good because first, it is busier, and second, younger people are more technology oriented."
Jones said the first week has been challenging as parents string in with their students getting them settled for college, and the stores are extremely busy, but this is also an opportunity for jobs.
"We will have about 35 employees' total," he said. "The bulk of them will be students and they will have super flexible schedules because they have school, sports, and other college activities. In my Pacific Beach store, which is super busy, we have between 10 and 12 employees. It is three times the staff, but the day we opened here we set up 7,000 mailboxes."
Jones said he believes this model is going to spread quickly around the country, especially larger campuses. As schools grow, and like SDSU now is building new residence halls, each time this happens, it adds a couple hundred new boxes.
Jones said there is a new design of UPS stores as corporate is rebranding the stores.
"This is the first non-traditional that has this new model," he said. "It is a totally different look. It is brighter, wood laminate flooring, so when people come in, they are taken back a bit. It is exciting for us to be the first university or hotel site in the country, and I am looking forward to seeing how this unfolds."
Jones' son is beginning as a freshman at SDSU this fall.
"It has been an interesting conversation with parents when they come in to move their sons or daughters in, because I am a parent of a freshman too," said Jones.