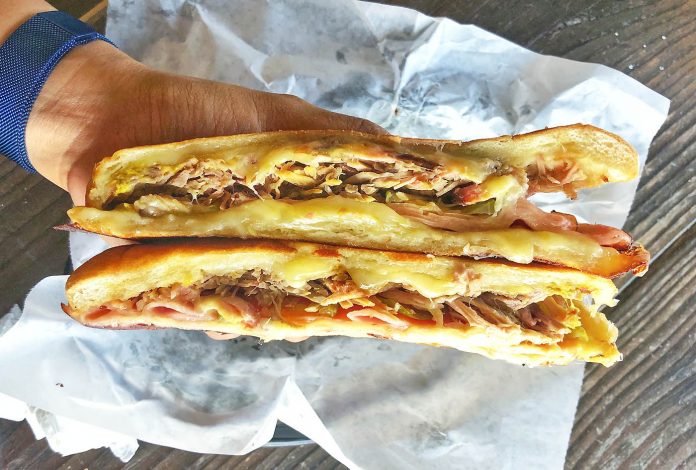 Eight-hour house smoked pulled pork tossed in a mojo (citrus and garlic) sauce, house smoked ham, Swiss cheese, yellow mustard, honey dijon and pickles, served on a torta roll and then slapped on a panini press for an ever satisfying crunch to put this sandwich over the top. Are you salivating?
After a long wait, Chula Vista's Grind House now has a nine-item staple menu of which I'm sure at least one shall be a staple craving.
This solid menu is served daily from open to close and includes this Cuban sandwich that is currently Grind House's hot-ticket item. Another popular sandwich is their tuna melt. Get this: the tuna is locally landed from Catalina Offshore Products. Seasoned big eye and yellowfin topped with cheddar, pickles and onion on sourdough.
Other items include breakfast sandwiches and salads.
Follow them on social media, @grindhouse3rd on Instagram, for pop-up specials such as their vegan barbecue sandwich made with jackfruit, barbecue sauce, pickles and crispy fried onions on ciabatta. Come on Sunday for some killer biscuits and gravy. Specials will rotate in and out depending on the time and season, so be sure to take advantage of these items.
The mastermind behind the new Grind House menu is Chula Vista native Tom Logsdon. If his name sounds familiar it should. Keep an eye out for his Third Avenue restaurant opening early next year: The Balboa Bar & Grill.
Grind House is no longer just a coffee shop with pastries, it's so much more now. It's a place to start/end your day, grab a quick bite or camp out and get work done. It's become the preferred hub for the community to gather. So come by, especially if you haven't been in a while, kick back, enjoy the casual eats, grab a beer, wine, juice, coffee or cold brew.
Grind House is located at 260 ½ Third Ave., Chula Vista. Hours are Monday through Saturday from 6 a.m. to 8 p.m. and Sunday from 8 a.m. to 2 p.m.
Contact Kris at:
Email: kris@krisgaliciabrown.com
Instagram: @krisgaliciabrown
Twitter: @krisgaliciabrwn
www.krisgaliciabrown.com