With all 13 Metro Conference teams in start-up mode for the inaugural girls flag football season, there may not have been any real favorites for league titles at kickoff.
There might be now.
Bonita Vista improved to 5-0 after defeating Mater Dei Catholic, 25-12, on Wednesday. Prior to that, the Lady Barons shut pout host Hilltop, 52-0, last Friday and Olympian, 26-0, on Sept. 5.
Bonita Vista defeated Mira Mesa (13-6 on Aug. 24) and Cathedral Catholic (26-6 on Aug. 28) in preparation for conference play.
"It's taken a lot of work with learning the rules and conditioning," BVHS head coach Tristan Lamb said. "They came together faster than I expected."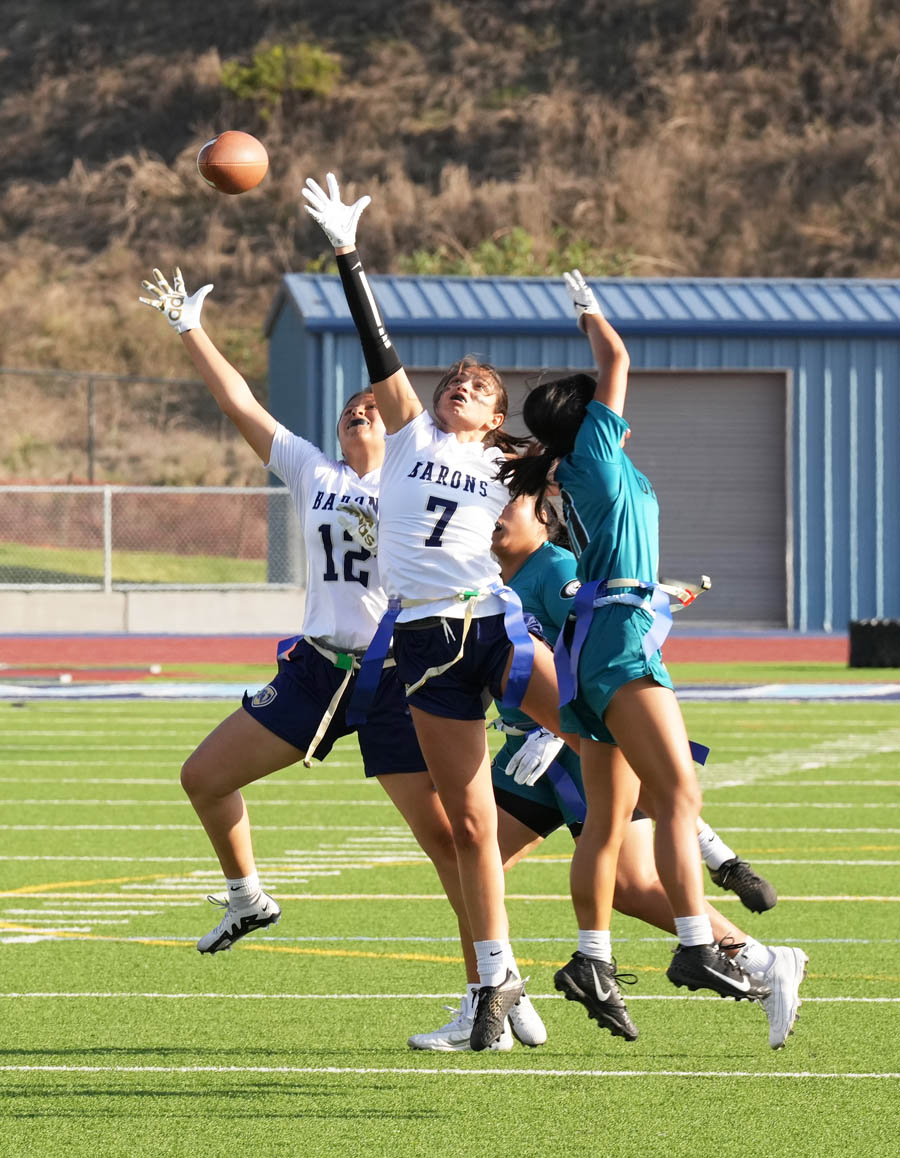 Lamb also coaches the school's basketball team. He said the girls flag football team has drawn from basketball, soccer and volleyball.
All those sports are perennial CIF contenders.
"We have a championship mindset," Lamb said. "They are all high-profile sports on campus that draw high-profile athletes."
Top performers include senior quarterback Malyna Castillo with 960 passing yards and 17 touchdowns against nine interceptions, senior running back Tatiana Colon with 87 yards and one touchdown and senior Mahliya Wilson with 351 receiving yards and seven touchdowns.
Castillo passed for 279 yards and three touchdowns and three interceptions in the team's win over Mater Dei Catholic (3-1, 1-1 in Mesa League) while Colon (four catches, 68 yards), freshmen Layla Schoen (two catches, 51 yards) and Sofia Garay (two catches, 70 yards) each caught one scoring pass.
Bonita Vista (2-0 in Mesa League) logged five interceptions on defense, including three by Wilson.
Castillo passed for 144 yards and five touchdowns and three interceptions against Hilltop (1-3) while senior Lucia Quintero (three catches, 24 yards) and Wilson (four catches, 69 yards) each had two touchdown receptions.
The Lady Barons racked up eight interceptions on defense, including four by Colon for 96 yards. Colon finished the game with three touchdowns.
Bonita Vista continues its intrepid season with a game Monday at Grossmont (5-1, 2-0 in Mesa League), a neutral site game against Otay Ranch (1-2, 0-2 in Mesa League) on Tuesday and a non-league game at Scripps Ranch (3-3) on Thursday.
Photos by Jon Bigornia