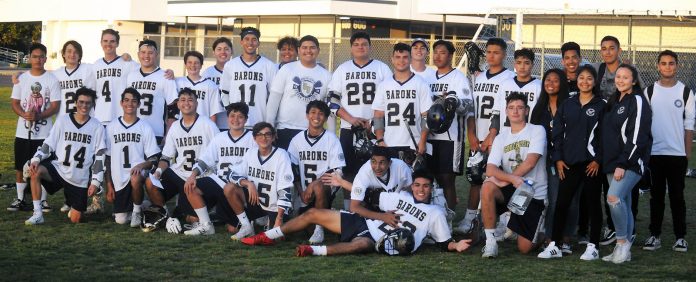 The Bonita Vista High School boys lacrosse team won both its games this week to face off Mesa League play with a 2-0 record and a lot of optimism.
The Barons recorded an 8-7 come-from-behind win over visiting Hilltop on Monday to face off league play and tacked on a 14-1 win over visiting Otay Ranch on Wednesday.
The pair of home turf wins has to give the team some confidence heading into the balance of its season schedule.
Bonita Vista plays at defending league champion Eastlake on Monday, then hosts South Bay League leader Olympian on April 22.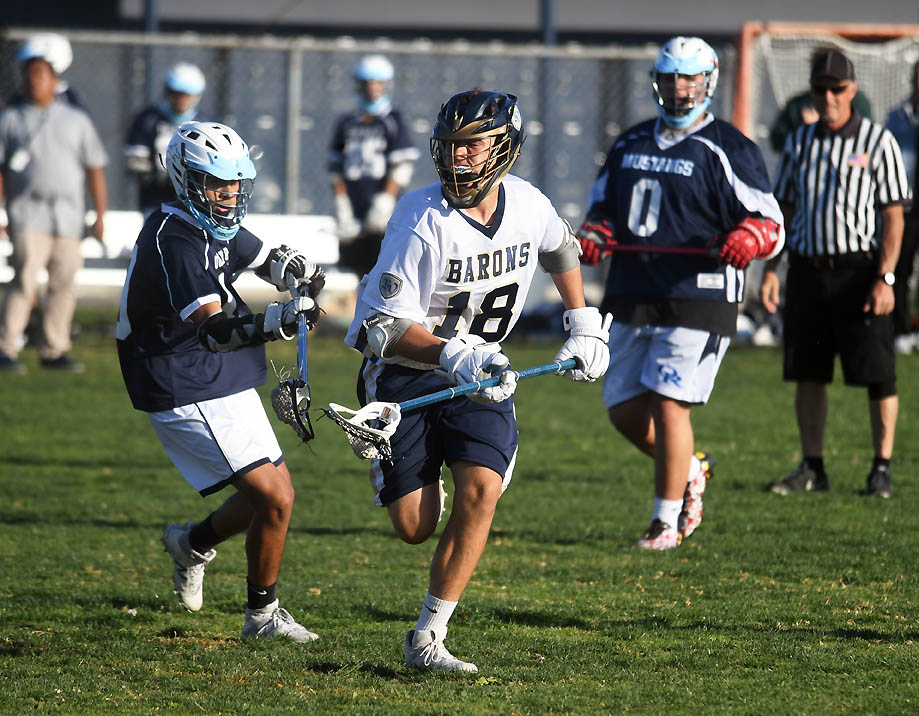 Baron head coach Peter Locke attributed the two wins this past week to his team starting to "click" together, putting all the lessons they've learned through the first half of the season to use.
"We're a young team, we have a lot of players who are playing in their first year," Locke explained. "We're coming to a point of the season where they're coming together as a team. We feel that if we jut keep playing hard that we'll be able to turn things in our favor."
That seems to be exactly what happened in Monday's game against the rival Lancers.
Hilltop took a 1-0 lead on an early goal by Kyle McLean before the hosts rallied to go ahead 4-3 at halftime. The visiting Lancers rattled off three unanswered goals in the third quarter to take a 6-4 lead. But the Barons quickly tied the game, 6-6, on goals by Timmy Tucker and Jaylin Lee.
The game remained tied 6-6 until McLean scored his third goal of the match to push Hilltop to a 7-6 lead with 7:00 left in regulation play.
But that left plenty of time for a Bonita Vista comeback and the Barons did just that after Tucker tied the game with 4:02 left and Lee scored the go-ahead goal with 3:48 to play.
The Lancers had a shot glance off the framework of the net in the final 30 seconds to nearly send the contest into overtime.
Alex Tang and Lee led Bonita Vista with three goals each in the contest while Tucker scored two goals. Lee keyed the Barons defense with 10 ground balls.
"This was our first league game — we needed this," the elder Locke underscored. "We got players back from spring break, we were at full strength for the first time this season."
McLean led Hilltop with three goals while Andres Macias scored two goals. Isaias Pedroza and Arturo Arriola each scored one goal in the loss.
The loss evened the Lancers' league record at 1-1.
"We missed by half an inch (on the potential game-tying shot)," Hilltop coach Pete Bishop said. "But it's a game of inches. This is how lacrosse games should be played – two teams fighting for it."
Bonita Vista improved its overall record to 5-8 by recording the dominating win over winless Otay Ranch.
The Barons bolted out to a commanding 13-1 halftime lead in Wednesday's game behind four goals from Tang and Lee, three goals from Zak Potok and one goal each from Miguel Morgan and Leo Zepeda. Lee led the hosts defensively with 11 ground balls in the first half.
Kiki Moran scored the lone goal for Otay Ranch, which dropped to 0-3 in league play, 0-12 on the season.
Photo Gallery by Phillip Brents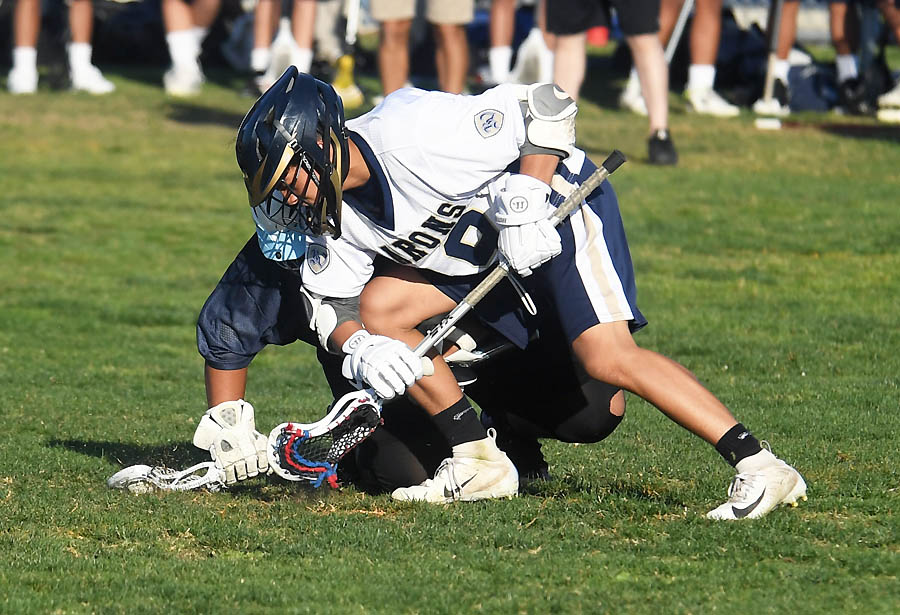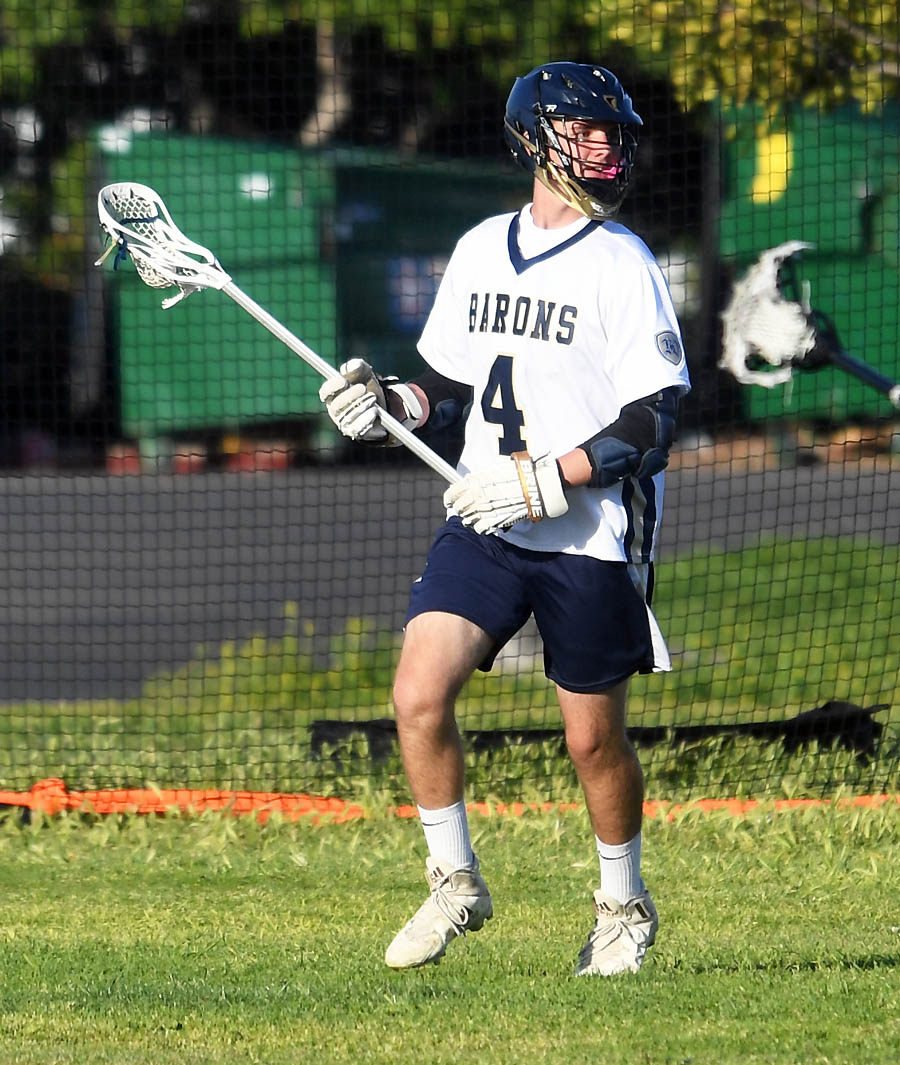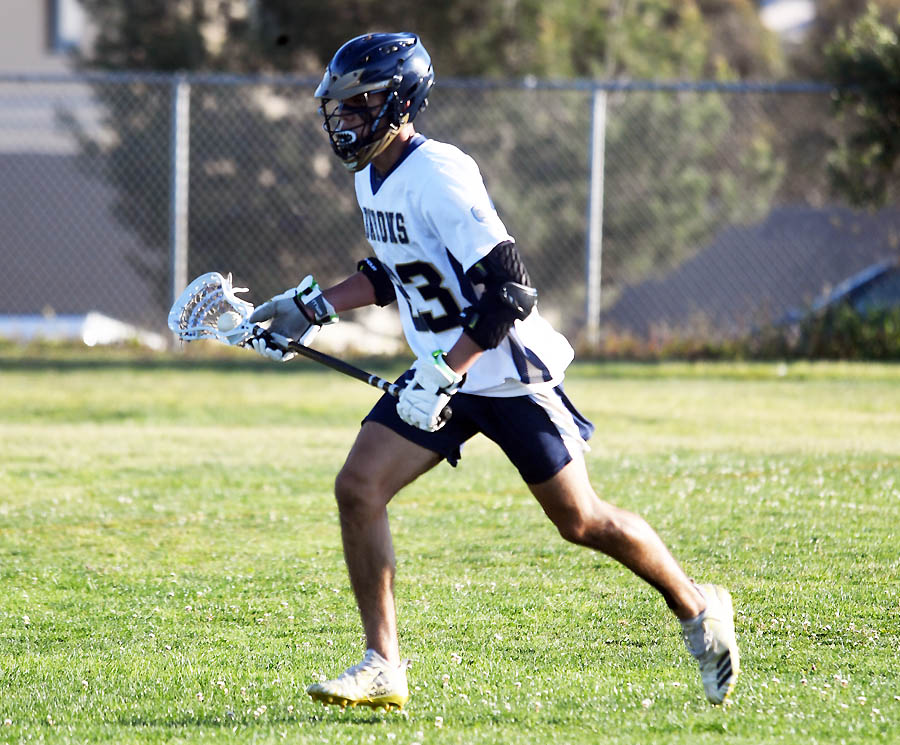 Metro Conference 2019
Boys Lacrosse Standings
Mesa League
Eastlake Titans 2-0, 6-5
Bonita Vista Barons 2-0, 5-8
Hilltop Lancers 1-2, 7-7
Otay Ranch Mustangs 0-3. 0-12
Monday, April 8
Bonita Vista 8, Hilltop 7
Woodinville (Wash.) 18, Eastlake 6
Wednesday, April 10
Bonita Vista 14, Otay Ranch 1
Eastlake 21, Hilltop 5
Monday, April 15
Bonita Vista at Eastlake, 7 p.m.
South Bay League
Olympian Eagles 4-0, 9-3
Mar Vista Mariners 1-1, 3-8
Mater Dei Catholic Crusaders 1-1, 2-3
Chula Vista Spartans 0-4, 0-9
Monday, April 8
Olympian 17, Chula Vista 1
Mar Vista 6, Monte Vista 5
Monday, April 15
Chula Vista at Mar Vista, 5:30 p.m.
Mater Dei Catholic at Olympian, 6 p.m.
Castle Park girls lacrosse team to host community showcase
 The Castle Park High School girls lacrosse team will celebrate Community Appreciation Night with pregame and halftime ceremonies during Monday's South Bay League game against visiting San Ysidro.
Pre game ceremonies are scheduled to start at 5:15 p.m., followed by the regularly scheduled game at 6 p.m.
Groups being recognized include the city's first responders from the Chula Vista Fire Department, Chula Vista Police Department and emergency medical technicians.
Halftime awards will be presented to Dr. Charles Camarata and Aaron Ruiz.
"We are recognizing Dr. Charles Camarta for his longtime service to Castle Park as a doctor and supporter to the Castle Park Athletics programs for building up the Southwest Wellness program for our student athletes across the district," CPHS girls lacrosse coach Chris Kryjewski said.
"We are also recognizing Aaron Ruiz, who is a Chula Vista recreation manager who brings different community service opportunities for Castle Park students."
Pregame festivities will include performances by the Castle Park High School dance company and the Castle Park High School Trojan Brigade and tall flags program.
"Come out and enjoy a fun game of lacrosse as we are building the game of lacrosse in the Chula Vista community and in the Castle Park community," Kryjewski said.
Name of the game
Castle Park (4-7 overall) will carry a 2-1 league record into Monday's match while San Ysidro is 0-2 in league play, 0-3 overall.
Castle Park went 1-1 this week, defeating visiting Southwest by a score of 15-5 on Monday and dropping an 11-4 decision at Mar Vista on Wednesday.
Top scorers in the win over Southwest included Berenice Villalobos (six goals), Ilinani Roche (three goals), Janell Morales (two goals), Celeste Preciado (two goals) and Allison Velasco (two goals).
Goalkeepers Kim Zuniga and Citlalli Fernandez each recorded five saves to backstop the victory.
"Defensively we forced the ball to be dropped, which gave our offense more possessions of the ball," Kryjewski explained. "As a team we are starting to truly come together and trust each on the field. Our communication is getting better on the field daily.
"The coaching staff additions have really helped us mold into a overall team unit. The coaching staff here at Castle Park has become a family and we trust each on the field to make changes at any moment in the game to benefit out players. I'm so happy to have this coaching staff at Castle Park High."
The Trojans suffered their first league loss on Wednesday.
"The first half of the game went back and forth with Mar Vista scoring and then Castle Park would counter back," Kryjewski said. "The second half Mar Vista came back to prevail and win the game."
The hosts led 6-4 at halftime before closing out the win with five goals in the second half.
Preciado scored two goals for Castle Park while Velasco and Roche each scored one goal.
Aurora Santillan led Mar Vista in scoring with four goals and one assist while Paris Avalos and Erica Rodriguez each scored three goals.
Fernandez was credited with six saves in the setback.
"What hurt us in this game was losing the possession of the ball, which led to Mar Vista's five goals in the second half," Kryjewski said. "I am proud of how my team worked and never quit in the game. We will correct our mistakes from this game and come back stronger in games going forward.
"This team is very special and when they clean up all mistakes can truly be competitive team on the field. The team has been working hard since offseason training and now in practices to get one percent better daily.
I give my hat off to Mar Vista on never folding during the game and this game was the most competitive game between the two teams in the last four years. Coach (Shizuka) Baker does a great job with that program."
Metro Conference 2019
Girls Lacrosse Standings
South Bay League
Mar Vista 3-0, 6-6
Chula Vista 3-0, 3-8
Castle Park 2-1, 4-7
Montgomery 0-2, 1-4
San Ysidro 0-2, 0-3
Southwest 0-4, 0-6
Monday, April 8
Mar Vista 16, San Ysidro 1
Castle Park 15, Southwest 5
Chula Vista defeated Montgomery by forfeit
Wednesday, April 10
Mar Vista 11, Castle Park 4
Chula Vista defeated Southwest by forfeit
Monday, April 15
Chula Vista at Mar Vista, 3 p.m.
Southwest at Montgomery, 5 p.m.
San Ysidro at Castle Park, 6 p.m.
Mesa League
Eastlake 2-0, 5-5
Olympian 1-0, 5-4
Hilltop 1-1, 4-4
Bonita Vista 1-1, 8-6
Otay Ranch 0-2, 0-8
Monday, April 8
Olympian 7, Otay Ranch 5
Hilltop 12, Bonita Vista 5
Wednesday, April 10
Eastlake 10, Hilltop 6
Bonita Vista 9, Otay Ranch 4
Monday, April 15
Eastlake at Bonita Vista, 4 p.m.
Olympian at Hilltop, 5:30 p.m.
National Lacrosse League Report:
Seals drop 14-8 decision to Rush on emotional night
On an emotional night featuring the team's Stick Up For A Cure campaign, the San Diego Seals dropped the season-series finale against the Saskatchewan Rush, 14-8, Friday (April 12) in front of 6,245 fans at Pechanga Arena San Diego.
The Seals defense held the Rush to three goals in the first half but fell short in the third quarter while allowing a five-goal run from the Saskatchewan offense.
"Obviously a disappointing loss for us tonight," Seals defenseman Drew Belgrave said. "It gives us something to look forward to next week to get this bad taste out of our mouth. I think we're having a hard time keeping our focus for a full 60 minutes. I think we played a really good first half defensively, but we came out in the second half and weren't doing what we should've been doing. We've got to get our body right and get our mind right."
In a battle for first-place atop the Western Division, San Diego's efforts fell short against the reigning NLL champions. The team couldn't find a way to cut the deficit late in the game.
"We were not good enough tonight," Seals general manager and head coach Patrick Merrill said. "The last three games we just haven't been good enough. (Saskatchewan) is a good team and I felt like we hung in there in the first half and played our game. I thought it had the makings to be a really good game for first place here tonight, and obviously it took us too long to get going offensively. In the third quarter, I thought we fell apart defensively, they went on a run and we couldn't recover."
Forward Connor Kelly continued to impress, leading the team's offensive efforts with three goals and one assist. Forward Casey Jackson added a pair of goals, while forward Garrett Billings recorded four assists.
Jackson now leads the Seals with 33 goals – one ahead of Austin Staats.
"I felt like we were way too passive," Merrill added. "We have to find more ways to be aggressive and get inside. We've got to look at our systems, we can't have those types of breakdowns on either end. It just seemed like at times we weren't on the same page. We've got to reset and refocus pretty quickly and get ready to bring a better effort."
The Seals will play two final home games to close out the regular season. The Colorado Mammoth will make their first trip to America's Finest City on Friday, April 19.
Kelly named NLL Rookie of the Week
San Diego Seals' Connor Kelly was named the National Lacrosse League Rookie of the Week for Week 17 after recording a breakout game by registering four goals and two assists against the New England Black Wolves on April 6, a 17-14 Seals' loss. He is the second Seal to receive the honor this season.
National Lacrosse League Standings
(Through April 12)
Eastern Division
x-Buffalo 12-4 (.750 WPCT)
x-Georgia 12-5 (.706 WPCT)
x-Toronto 11-6 (.647 WPCT)
x-New England 8-8 (.500 WPCT)
Rochester 5-11 (.313 WPCT)
Philadelphia 3-12 (.200 WPCT)
Western Division
x-Saskatchewan 9-6 (.600 WPCT)
x-San Diego 9-7 (.563 WPCT)
x-Calgary 9-8 (.529 WPCT)
Colorado 5-10 (.375 WPCT)
Vancouver 4-11 (.267 WPCT)
x-clinched playoff berth