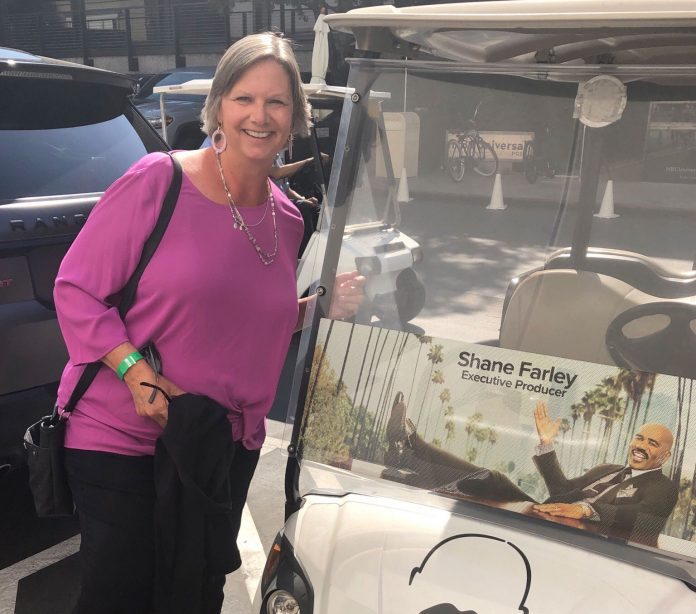 Chula Vista resident Becky Niemiec likes to go to TV show tapings in Los Angeles.
"Most start giving away free tickets 30 days before the filming," she said.
"The first time I went to a show taping in LA was 46 years ago with my mother," said Niemiec, 62. "We drove cross country from Ohio, while we were in LA we saw the 'Golden Girls.' I remember trying to hear my laugh when it aired. I was not successful."
She moved to California in 1973. Niemiec is a former substitute teacher.
Niemiec's two oldest children— she has three— moved to San Diego for graduate and undergraduate school.
"We went up to LA and saw a taping of Two and a Half Men with Charlie Sheen. He was very professional," she said. "You would never have guessed he had anything going on other than professionalism."
Niemiec's daughter, Valerie Dorrian went with her.
"I thought it was definitely a fun experience to share with family," said Dorrian. "I also went to the finale of American Idol to see Adam Lambert."
In 2018 Dorrian said she and a friend watched tapings of 'Superior Donuts and Mom.
"We also attended a taping of Extra TV. We saw Lindsey Vonn and we each ended up receiving an iHome system they were giving away."
According to Niemiec some shows have dress codes such as wearing solid bright colors and no all white or red. "The shows will tell you what to wear. Sitcoms – usually anything, since you are not seen," she said.
She noted other ins-and-outs of being in a studio audience.
"It was very interesting to see the different types of shows: sitcom, a talk show and the athlete show. All shows have a warm up person," she said.
"They get the audience ready for applause, how not to laugh, what kind of reactions they hoped for. For sitcoms we were not allowed to take in a cell phone. For Steve Harvey we could take it in and take pictures of the set, but then had to put it away. Steve Harvey was taped at Universal and Ultimate Tag at Warner Bros."
Some shows require an audience member to sign a non-disclosure agreement.
Niemiec said the websites that provide free tickets are https://1iota.com; http://www.on-camera-audiences.com; http://www.tvtickets.com.
"One woman we met used this site – http://standingroomonly.tv – and one guy we met used this one – https://corp.castingnetworks.com/la. Some websites require a small fee others are free."