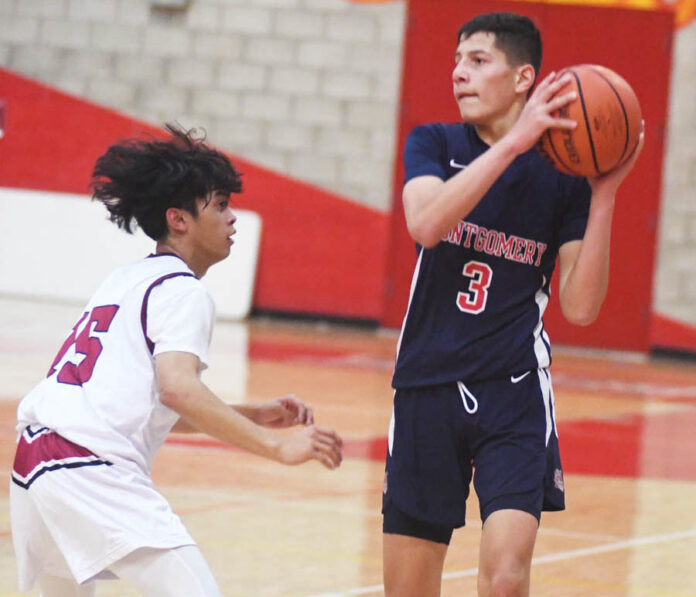 The Montgomery High School boys basketball team tipped off Metro-Mesa League play Jan. 5 with a 66-55 victory at Olympian High School.
Freshman Xair Mendez paced the Aztecs (1-0 in league, 12-2 overall) with 23 points while senior Tedrous Teshome dropped in 15 points. Another freshman, J.J. Sanchez, scored 13 points to put three Montgomery players in double-digits for the game.
The 12th-ranked Aztecs took command of the contest with a 24-16 scoring bulge to tip off the first quarter. The host Eagles (0-2 in league,7-5overall) bounced back to trail 38-24 at halftime. However, the visitors racked up a 28-20 scoring edge in the second half to notch the victory.
Three freshmen were in the scoring column for Montgomery. Mendez sank three three-pointers in the game.
Teshome and freshman Alek Sanchez both collected nine rebounds while J.J. Sanchez had eight boards. Alek Sanchez dished out seven assists while Mendez had three steals.
"Olympian is always a tough place to travel to in league play," Aztec head coach Ed Martin said. "We wanted to get league play started the right way and the kids were locked into the game plan."
Senior Demond Johnson keyed Olympian with 21 points while senior Erick Amador followed on the scoresheet with 10 points. Sophomore Dion Harvey led all players on the court with 11 rebounds.
The Eagles won the rebounds battle 39-38.
The Aztecs followed up that win with a 79-41 victory at Southwest last Friday in non-league play to extend the Otay Mesa school's winning streak to five games. Mendez poured in 19 points while J.J. Sanchez had 17 points. Teshome contributed 13 points.
Junior Anthony Hamilton had nine rebounds while J.J. Sanchez had six assists. Alek Sanchez had six steals.
Montgomery jumped out to a 25-5 first quarter lead and led 52-22 at halftime.
Southwest improved its season record to 8-9 with a 67-46 non-league home win over Valley Center on Saturday.
"Southwest is a tough team coached by one of the best in our section, Steve Selland," Martin said. "We were able to jump on them early and played really well defensively."
The Aztecs look to be chasing Otay Ranch (2-0 in league, 11-5 overall) and San Ysidro (2-0, 11-5) for the rights to this year's Mesa League title.
Otay Ranch defeated visiting Eastlake, 63-56, in its league opener on Jan. 5 and tacked on a 62-58 win at Olympian last Friday.
San Ysidro shot out of the gate with a 115-65 homecourt win over Bonita Vista on Jan. 5 and topped host Eastlake, 83-68, last Friday to remain undefeated in league.
Montgomery should figure somewhere in the mix.
"What keeps this young team going is that they are incredibly smart and hard working," Martin said. "In addition, we recently got a shot in the arm by getting our senior leader back just before the Aztec Holiday Classic: Tedrous Teshome.  Teshome is a four-year varsity player who was second team All-Mesa League last year.  Since getting him back from injury in late December, practices have been more lively with communication and spirit overall."
Senior Nico Cervantes led the way for Otay Ranch in its win over Eastlake with 23 points while Olympian's Johnson poured in 30 points in the loss to the Mustangs.
Senior Sebastion Medina rocked the court with 60 points in San Ysidro's win over Bonita Vista, including eight treys, and dropped in 25 points in the ensuing win over Eastlake.
Senior Franlys Valenzuela had 12 rebounds in the win over Bonita Vista while sophomore Andrei Tovar had 16 rebounds in the win over Eastlake.
Medina is averaging 19.6 points per game on the season.
San Ysidro led Bonita Vista, 61-29, at halftime.
Tip-ins
Thirteenth-ranked Mater Dei Catholic (8-3) is scheduled to play ninth-ranked Mission Bay (13-4) in the championship game of the delayed Frank Pekarek National City Host Lions Club tournament on Saturday at 2 p.m. at Sweetwater High School.
Mater Dei Catholic completed pool play 4-0 but a schedule conflict with another tournament necessitated the Sweetwater tournament championship game be postponed to a later date.