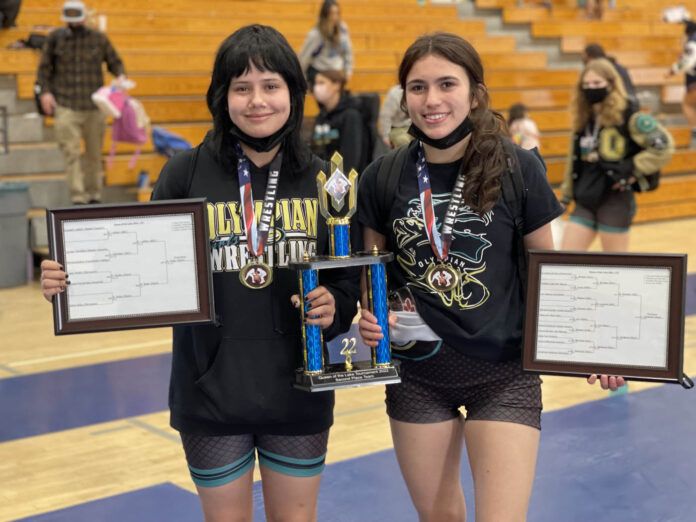 Thirty-two teams signed up for last Saturday's Queen of the Lake girls wrestling tournament at Eastlake High School.
Steele Canyon won the team title with 127 points, with Olympian posting a runner-up finish with 97 points and two individual weight class champions.
Hilltop tied for 11th place with 32.5 points while San Ysidro placed 14th with 26 points.
"Queen of the Lake was a nice little tournament," Olympian coach Jay Fabunan said. "Initially there were more girls but many schools had to drop out. COVID hit everyone hard but it was great that we were still able to have this tournament.
"It gave our girls a great opportunity to shine. We only had eight weight classes filled but we managed to win two of them and still place second as a team.
"Cheyenne Sandoval (123) And Alina Solis (139) were our champions, and they are only a freshman and sophomore, so we have a lot of years left to see them grow more in the sport.
"Thanks to Eastlake coach D.J. Mancillas for persisting and running this tournament. Everyone greatly appreciated it and got good competition."
San Ysidro's Andy Campos won the 145-pound title while Hilltop's Angelina Aguuerilla (108), Chula Vista's Nicole Moore (128) and Olympian's Lauren Wolfe (133) all placed second in their weight classes.
There will be a girls dual meet season, though compressed into the next two weeks necessitated by the ongoing coronavirus pandemic.
Olympian's dual matchups include those against Hilltop (Jan. 18), San Ysidro (Jan. 20), Chula Vista and Eastlake (Jan. 25) and Otay Ranch (Jan. 27).
The Metro Conference championship tournament is scheduled Jan. 28 at Montgomery High School.
San Pasqual High School will host the Division I section finals while Brawley High School will host the Division II section finals.