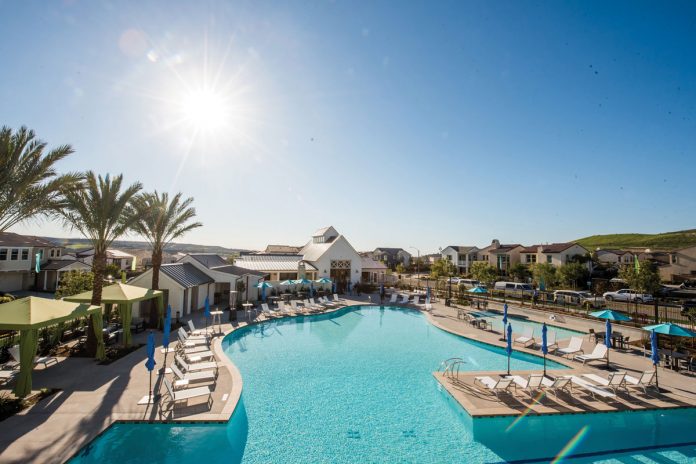 Less than two years since its grand opening, The Village of Escaya has sold 500 homes, making it one of the most popular new communities in San Diego County.
"That spectacular sales rate is a reflection of Escaya's unique combination of a genuine small-town atmosphere, appealing amenities, high-style homes and reasonable prices," said Halé Richardson, director of marketing for HomeFed Corporation, master developer of the 450-acre village.
"Homes of the same caliber could easily cost $100,000 more in North County," she said.
To create this neighborly environment, HomeFed collaborated with homebuilders Brookfield Residential, CalAtlantic Homes (now Lennar) and Shea Homes and their architectural teams to jointly design all 27 floorplans offered at The Village of Escaya and to map out the amenities.
Six of the nine home collections, totally 21 floorplans, feature single-family detached homes, ranging from approximately 1,800 to 3,700 square feet and priced from the $500,000s to the $800,000s. Six townhome designs are priced from the low $400,000s.
The Village of Escaya is enlivened by three vibrant social hubs: an exclusive club and wellness center for homeowners; a picturesque town center; and an eight-acre community park.
The Orchard Club, a beautifully landscaped private club, includes a recreational pool/ lap pool combination, a separate children's pool, cabanas, and a 3,700-square-foot clubhouse with space for special events and a chef's kitchen. The adjacent Harvest Wellness Center features state-of-the art fitness equipment and extensive programming for people of all athletic abilities and interests.
The 30,000-square-foot Village Center, which is under construction and scheduled to open in 2020, will be a convenient walkable destination for everyday purchases, meeting friends for coffee, indulging in craft beer or vintage wine, or hanging out in inviting gathering spaces.
The amenity-rich and centrally located park will be a magnet for community activities with space for six practice fields for soccer, a basketball court, an adventure playground, and a grassy outdoor amphitheater. Plans also call for a K-6 elementary school to be built adjacent to the park.
Beautiful architecture inspired by Otay Ranch's agrarian roots ties the entire community together. "It's a style we call 'New Heritage,' said Richardson. "It features transitional Spanish, Farmhouse, and Ranch styles interpreted in a contemporary fashion."
The Village of Escaya is located off Heritage Road between Olympic Parkway and Main Street in Chula Vista. To reach the community from I-805, take the Olympic Parkway exit, drive east, and turn right onto the new extension of Heritage Road. Continue south on Heritage for 1.5 miles, and then turn left onto Santa Maya. You will see The Village of Escaya Welcome Center on your right.
For information, visit www.escayalife.com.