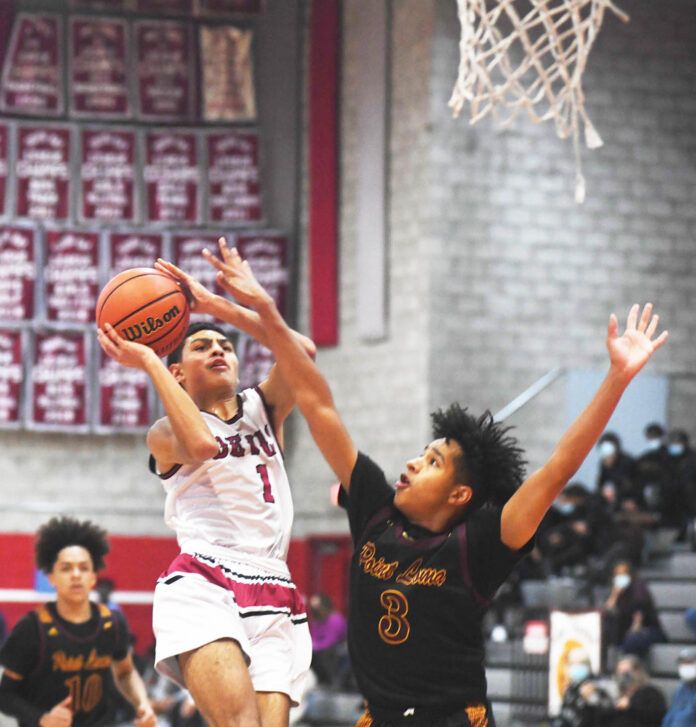 This year's Frank Pekarek National City Host Lions Club boys basketball tournament spotlights several Metro Conference teams as well as several ranked teams within the San Diego Section among the 16 teams in its lineup.
"There's a lot of talent in this year's field, I think the tournament title is really up for grabs between four or five teams," said Sweetwater head coach Jesse Aguirre, who is serving as tournament director. "Mater Dei Catholic and Mission Bay are ranked and Hoover is good."
The host Red Devils drove out to a 2-0 start in tournament play by defeated the Santana Sultans, 69-34, last Friday and Foothills Christian, 76-73, on Saturday.
The Red Devils had Monday off but encountered a likewise 2-0 Point Loma team on Tuesday.
Sweetwater prevailed, 53-51, in dramatic advance to Wednesday's cross-in bracket round.
Medal-round games were scheduled for Thursday.
Sweetwater took advantage of a seemingly endless string of unforced errors by a winless Santana team, breezing out to a commanding 28-5 lead in the first quarter. The Devils defense continued to feed their offense with a 22-10 run in the second quarter for a 50-15 halftime lead.
The Sultans regrouped and played better in the second half but could only manage a 19-19 standoff in the scoring column.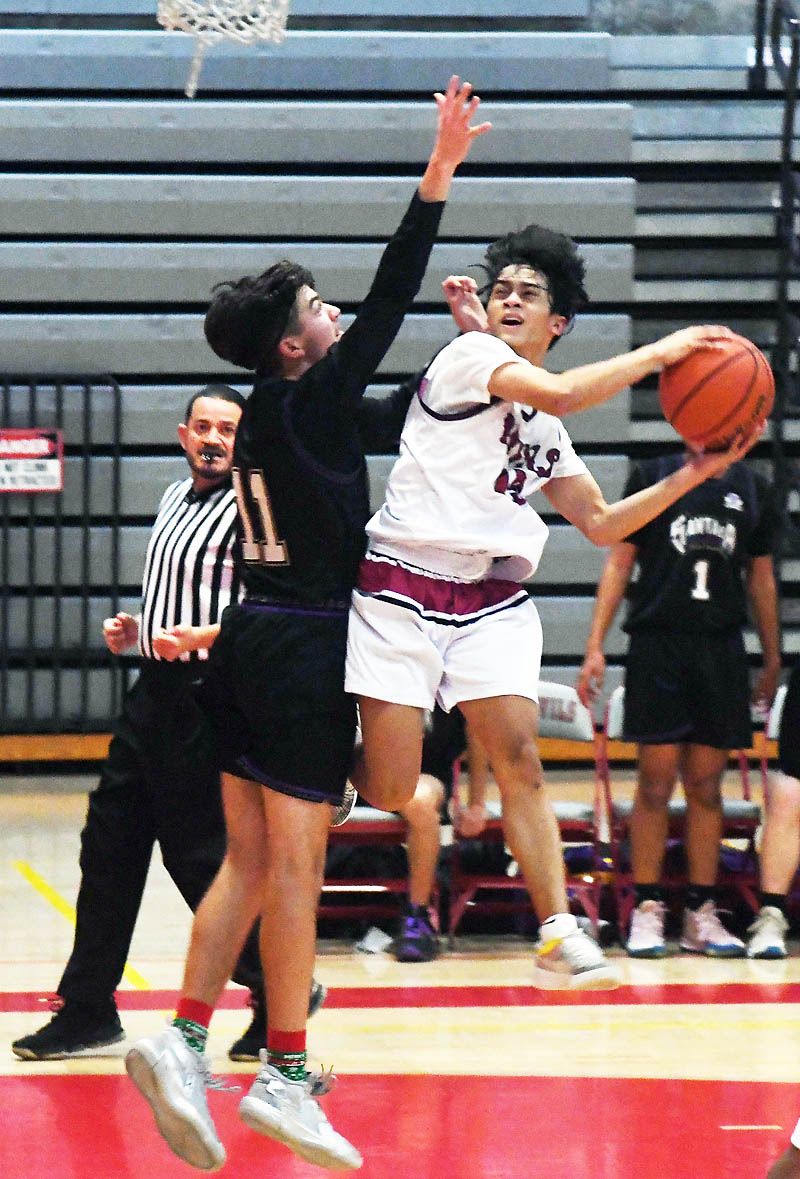 SuHi senior guard Julian Garcia topped all scorers with 32 points while sophomore forward Izell Wright tacked on eight points. Santana sophomore forward Michael Mendez dropped in 15 points while sophomore guard Kaden Heinricy had nine points.
The Sultans fell to 0-10 following the loss to the Red Devils and 0-11 following a 62-41 loss to Point Loma the following day.
Sweetwater broke out to a 30-19 first quarter lead on Foothills Christian, which is rebuilding this season with just three seniors and eight freshmen. The Devils led 49-34 at halftime but it was a battle from there as the Knights racked up a 39-27 scoring edge in the second half.
"We had no business winning that game," Aguirre quipped.
But they did to extend their early season record to 3-2.
Garcia, senior guard Joshua Rustia and senior guard Thomas Keough paced the National City team in scoring.
Sweetwater finished 5-13 during the 2021 spring season after posting an 18-10 record in the 2019-20 pre-COVID season. Despite finishing 10-2 in South Bay League play in 2019-20,t he Red Devils were a surprise non-qualifier for the San Diego Section playoffs..
Sweetwater did not qualify for the section playoffs in the spring, either.
Aguirre said he is looking forward to a highly competitive South Bay League season starting in January.
"We hope to be competitive but there's a lot of good teams in the league this season," the SuHi coach said. "It might be pretty even."
The Devils showed some spunk in winning their pool by outlasting Point Loma on Tuesday night.
Sweetwater appeared to have a comfortable 46-35 lead at the end of three quarters but a desperation surge by the Pointers narrowed the score to 53-47 with 1:41 to play in regulation.
A technical foul called on Aguirre saw Point Loma senior John Woodworth sink a pair from the charity stripe to make the score 53-49. Senior Max Bowen then banked in a shot off a rebound to cut the deficit to two points before the Devils could finally call a timeout with 35.6 seconds left.
That was only the beginning of the wild finish, however.
The Pointers (2-4) eventually got the last possession with 13 seconds left on the score clock and promptly moved the ball down court. The City Conference team took three attempts under the basket before an outside shot veered wide as time expired.
Garcia once again led Sweetwater on the scoreboard with 23 points. Perhaps more crucial to his play in the game was his rebounding, especially in the final quarter.
The win hiked the Devils record to 4-2 in advance of Wednesday's playoff matchups.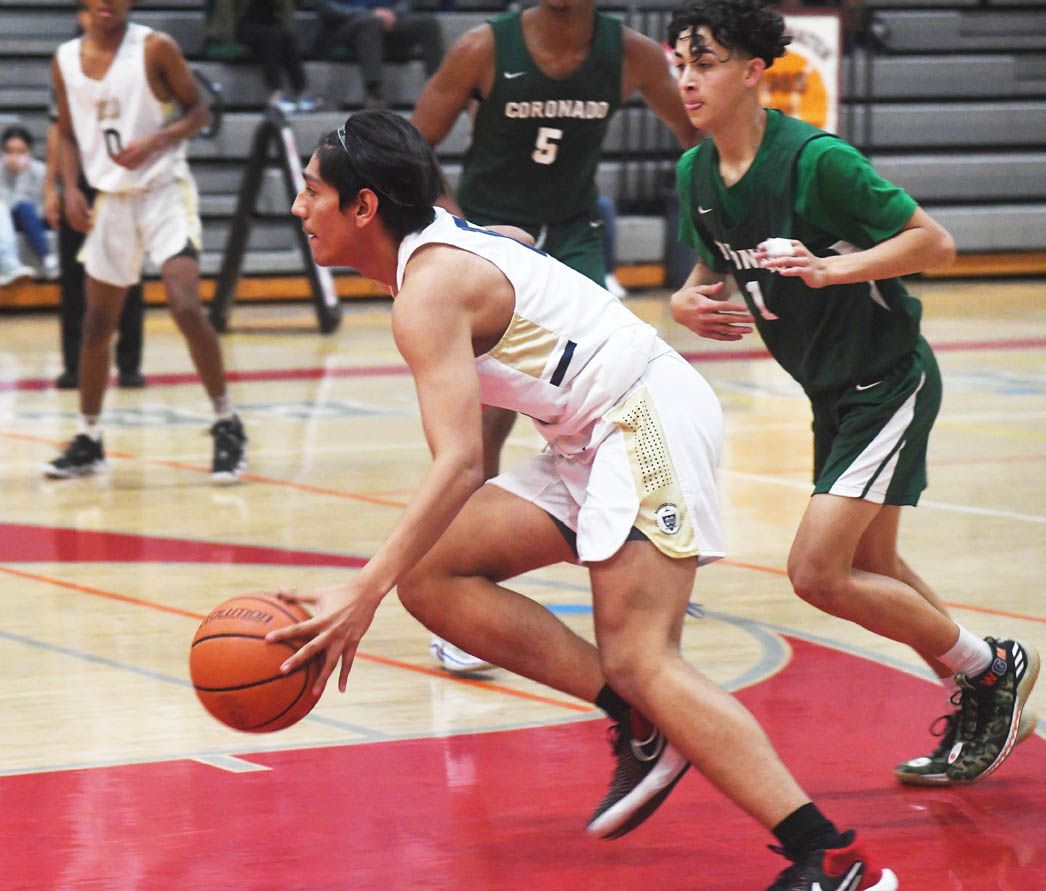 Crusader Nation
Mater Dei Catholic opened up a 7-2 start to the season by winning their opening three tournament games to capture their pool. The Crusaders tipped off the Sweetwater tourney with an 82-41 victory against Coronado last Friday and kept the momentum going with a 73-57 win over Central Union on Saturday.
Mater Dei Catholic doubled up Southwest, 83-42, when tournament play resumed on Monday.
The Crusaders won last spring's Division I section championship en route to advancing three rounds deep into the regional playoffs but lost heavy in the graduation department with six key seniors, according to head coach Jason Bryant.
Mater Dei Catholic has reloaded, however, with four transfers, including three players who formerly played at the school before leaving, and then returning.
Prior to entering the Sweetwater tournament, the Crusaders finished 4-1 at the West Hills tourney, losing only to top-ranked Torrey Pines.
"I think we want to play hard-nose basketball, play physical with a focus on letting our defense be our offense," Bryant said.
Senior point guard K.J. Gonzalez and junior shooting guard Kristian Gonzalez have keyed the team in the early part of the season.
The Crusaders lineup also features several notable players off the school's very recently crowned state championship football team, including junior quarterback Dominic Nankil, junior receiver/quarterback Rollin George, junior receiver Jerry McClure and senior forward Brian Dukes.
Nankil passed for 297 yards and one touchdown in Mater Dei Catholic's 35-24 victory against Modesto Central Catholic in the Division 2-AA state championship game Dec. 10 at Saddleback College.
"It was super exciting," Nankil said. "We are two-for-two in winning state championships. It's pretty much the best feeling ever."
Nankil tied for the team lead with 17 points in last Friday's hoops win over Coronado. Besides throwing the football with accuracy, he can also sink shots from the floor.
"I'm coming back with a lot of leadership energy from the football season," Nankil said. "Winning league and going to CIF and state. These are pretty much the same goals for every sport."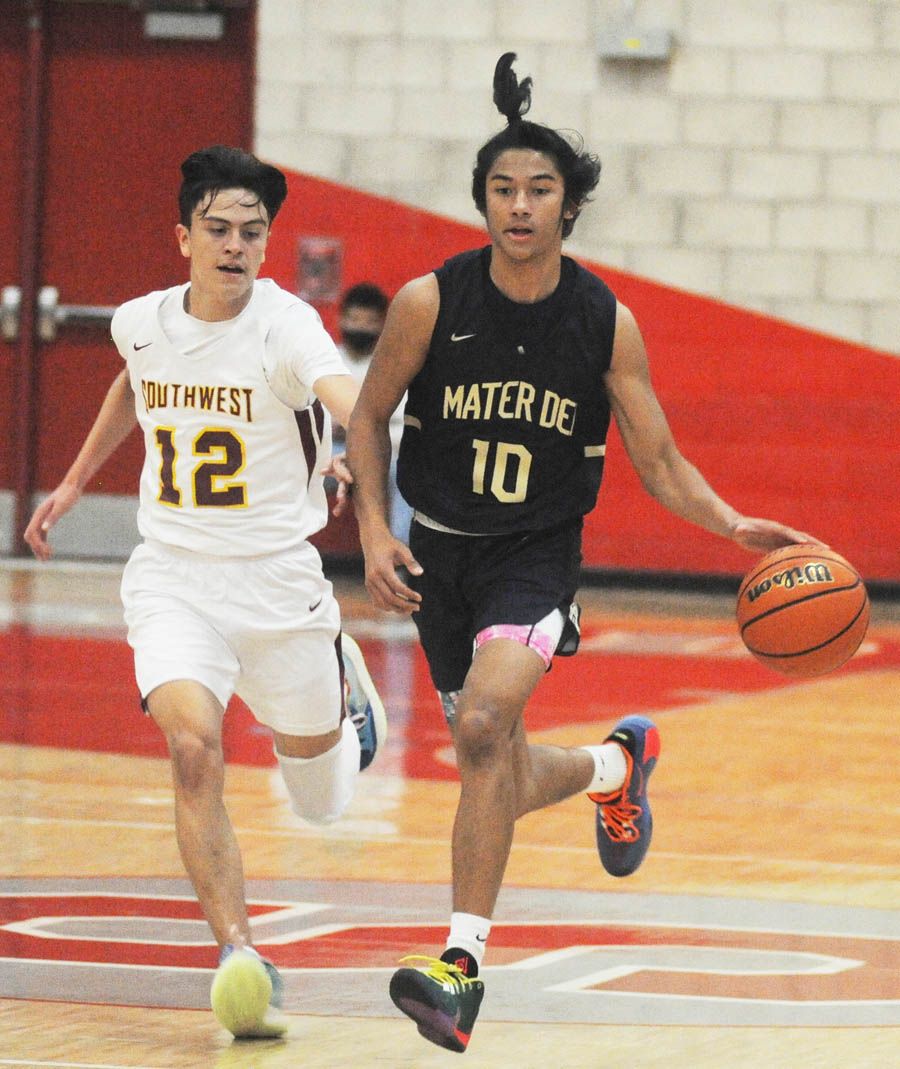 Otay Ranch is starting a new era following the retirement of longtime coach Howard Suda. David Kulowitch is now on the bench and has led the Mustangs to a 5-2 start heading into Tuesday's tournament game against Mission Bay.
Otay Ranch tipped off tournament play with a dominating 75-39 win over Mount Miguel on Saturday and followed that up with a 61-57 loss on Monday to a solid San Dieguito Academy squad.
Junior Kelan Spandonis keyed the Mustangs with 17 points in the win over Mount Miguel while sophomore Percy Whittaker dropped in 14 points. Junior A.J. McIlwain contributed 10 points.
Junior Elijah Newsome led Otay Ranch with 19 points in Monday's setback.
"This is the year that we want to make strides to get back to where we're competitive again," Kulowitch said. "We have a tough league. Three of the teams won Southern California regional championships last season. We want to compete with them. We play six of the top 10 teams this season. We want to go out and earn some respect.
"We got some scoring. We got some depth at guard. We have two transfers from Eastlake who will contribute as well."
Wednesday, Dec.22
Mission Bay 87, Sweetwater 32
Morse 56, Southwest 32
Mater Dei Catholic 58, Hoover 49
Coronado 51, El Cajon Valley 49
Thursday, Dec. 23
Southwest 74, Foothills Christian 55
Otay Ranch 57, Point Loma 51
Morse 40, Coronado 37
SAN DIEGO SECTION TOP 25 BOYS BASKETBALL RANKINGS
(MaxPreps through Dec. 20)
Torrey Pines 8-1
St. Augustine 8-2
San Marcos 6-3
San Diego 6-1
Mission Bay 7-2
Cathedral Catholic 8-3
La Jolla Country Day 8-2
La Costa Canyon 5-3
San Ysidro 6-3
Mater Dei Catholic 6-2
Mission Hills 5-4
Montgomery 7-2
El Camino 4-0
Bishop's 9-2
Otay Ranch 5-1
Madison 7-1
Del Norte 10-4
Scripps Ranch 10-2
Francis Parker 5-3
Santa Fe Christian 4-5
Hoover 5-2
Olympian 4-1
Patrick Henry 6-6
Carlsbad 4-6
Pacific Ridge 11-3