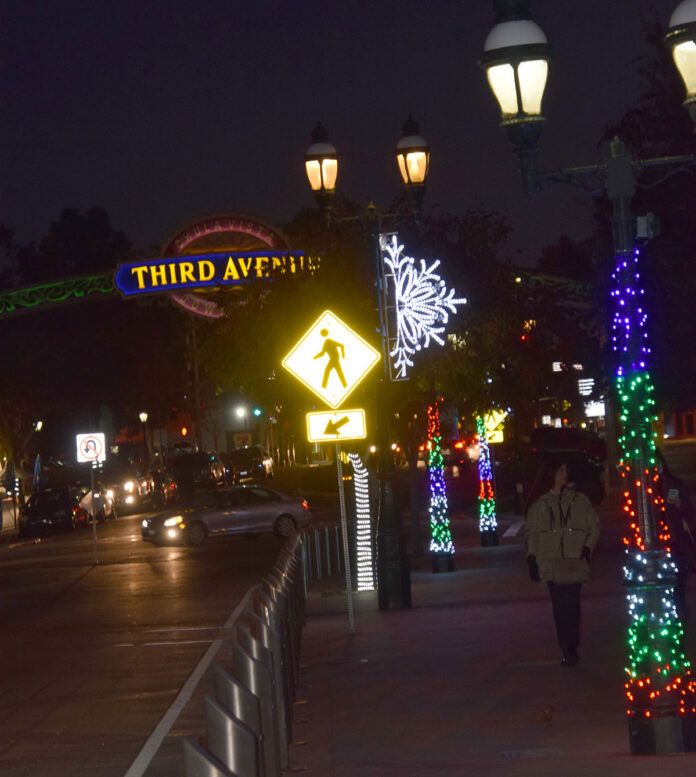 After several delays, Chula Vista lit up Third Avenue at its Starlight Nights on Third Avenue on Dec. 15, with help from Santa as carolers sang some holiday favorites. For at least 50 years, the city has held its annual Starlight Parade, pausing it a couple of years during the recession, and now for the past two years due to the COVID-19 pandemic. Marketing & Communications Manager Anne Steinberger said not being able to do the parade this year again was disappointing, so the city created Starlight Nights.
Mayor Mary Casillas Salas said the lights were a "long time coming" this year, but with the cancellation of the Starlight Parade again this year, the city still wanted to do something for the holidays.
"There are ways that we can safely celebrate the holiday season and we are excited to light up Third Avenue," she said. "You would think that putting up lights and snowflakes would be really easy, and that is what (Council member) Jill Galvez and I thought," she said. "We worked together on a subcommittee to make this happen, and it has been a really big undertaking. We have 93 light poles stretching five city blocks."
Casillas Salas said it took the collaborative help of the city manager, city staff, the Third Avenue Village Association, and the Third Avenue businesses to get this done.
"Crews retrofitted the streetlights and the lights on Third Avenue median with new infrastructure in time for the holidays," she said. "Some of the lighting will still continue this month so we're not done yet, but tonight is going be pretty spectacular (lighting up Third Avenue). So, we appreciate everybody's efforts, and we want to thank TAVA again for your collaboration and Starlight Nights banners."
Galvez said it has been a rough couple of months as the community has weathered COVID together.
"We were disappointed we could not bring the Starlight Parade to you this year, but I guarantee we will be doing it next year. I hope you all come down and visit and shop and spend hour holiday dollars on Third Avenue," she said.
TAVA District Manger Dominic Li Mandri said it was honored to be partnered with the city. To help light up Third Avenue.
"These are the exact types of programs that we hope to bring in the new year 2022 to Third Avenue," he said. "So, stay tuned. We hope to see many new exiting things on Third Avenue, and we hope that everyone here tonight takes a walk down Third avenue and check out these new lights."
Casillas Salas said the lights look great on Third Avenue, the work will continue to finish the retrofitting, and that all the Third Avenue businesses were participating in the Starlight Nights event.
"This is going be a great venue for our families to be able to walk through Third Avenue, drive through Third Avenue, and have some safe fun for the holidays," she said.
Steinberger said with the help of McFarlane Promotions and the city's contractor team had a challenging time in getting the lights ready this year as it was setting up new lighting infrastructure on Third Avenue. She said they had problems, getting hit by the current supply chain crises, waiting for the transformers for the lights to come in. She said that there were still some lights to be finished a bit north and south on Third Avenue, but that they had tested and gotten the core of the Village completed.
"And that is where we are today, and it is going to look like magic," she said.
Steinberger said that it has worked with McFarlane Promotions for seven years now, and with its help, the event has become "bigger and better" each year.
McFarlane President Laurel McFarlane said that this year, the work being done on lights on Third Avenue is a major infrastructure overhaul that will give the city the ability to utilize lights on Third Avenue year-round for many of its events.
Steinberger said that the cost of this lighting infrastructure was $160,470. ProCal Lighting materials, equipment, services and labor to install 120v receptacles on 117 decorative light poles on the east and west side of Third Avenue from E to H streets was $122,820. Décor Plan's materials, equipment, service, and labor for holiday lights and/or snowflakes on 117 light poles was $35,732, and T's & Signs 42 Starlight Night Banners cost $1,918.