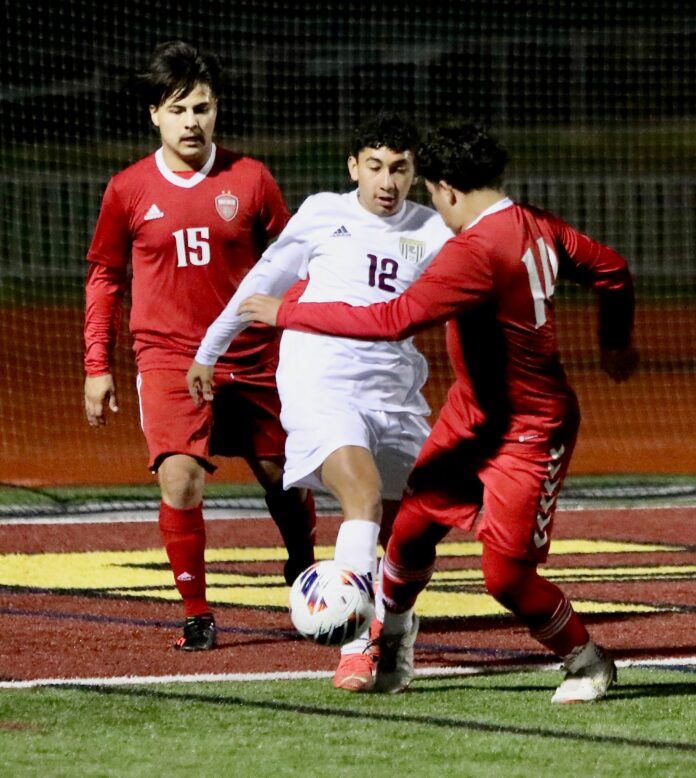 Weather forecasters were predicting an epic storm to surge through San Diego County the weekend of Feb. 24-26, threatening high school soccer championship games overseen by the San Diego Section to be washed out.
While some rain did fall, the predictions fell well short of the mark and the CIF soccer finals did play out.
But not necessarily play out to the satisfaction of Sweetwater High School's boys team.
The second-seeded Red Devils, back-to-back Metro-Mesa League champions, fell short of advancing to the Southern California regionals following a 3-0 loss to the fifth-seeded Point Loma Pointers, who proved to be the bracket-buster in the DivisionI finals with upset wins over three higher-seeded opponents, including Sweetwater.
"It's was a tough one," SuHi head coach Diego Espinoza admitted. "Our boys tried to stick to the game plan, but the Point Loma side was set up to counter attack and made it hard for us to find a way through. We didn't do ourselves any favor marking on set pieces but Point Loma was a great side and earned that championship."
The championship game was 1-0 in favor of the Pointers at halftime following a goal by sophomore Fin Rohnow, assisted by junior Anderson Kelly.
Point Loma made it 2-0 just moments into the second half as Eduardo Brito sent a long ball into the box that curved in at the last second.
The Red Devils pressed offensively for the next 38 minutes but the Pointer defense held firm in front of junior goalkeeper Owen Purvis, who was not scored upon in the four CIF section playoff games.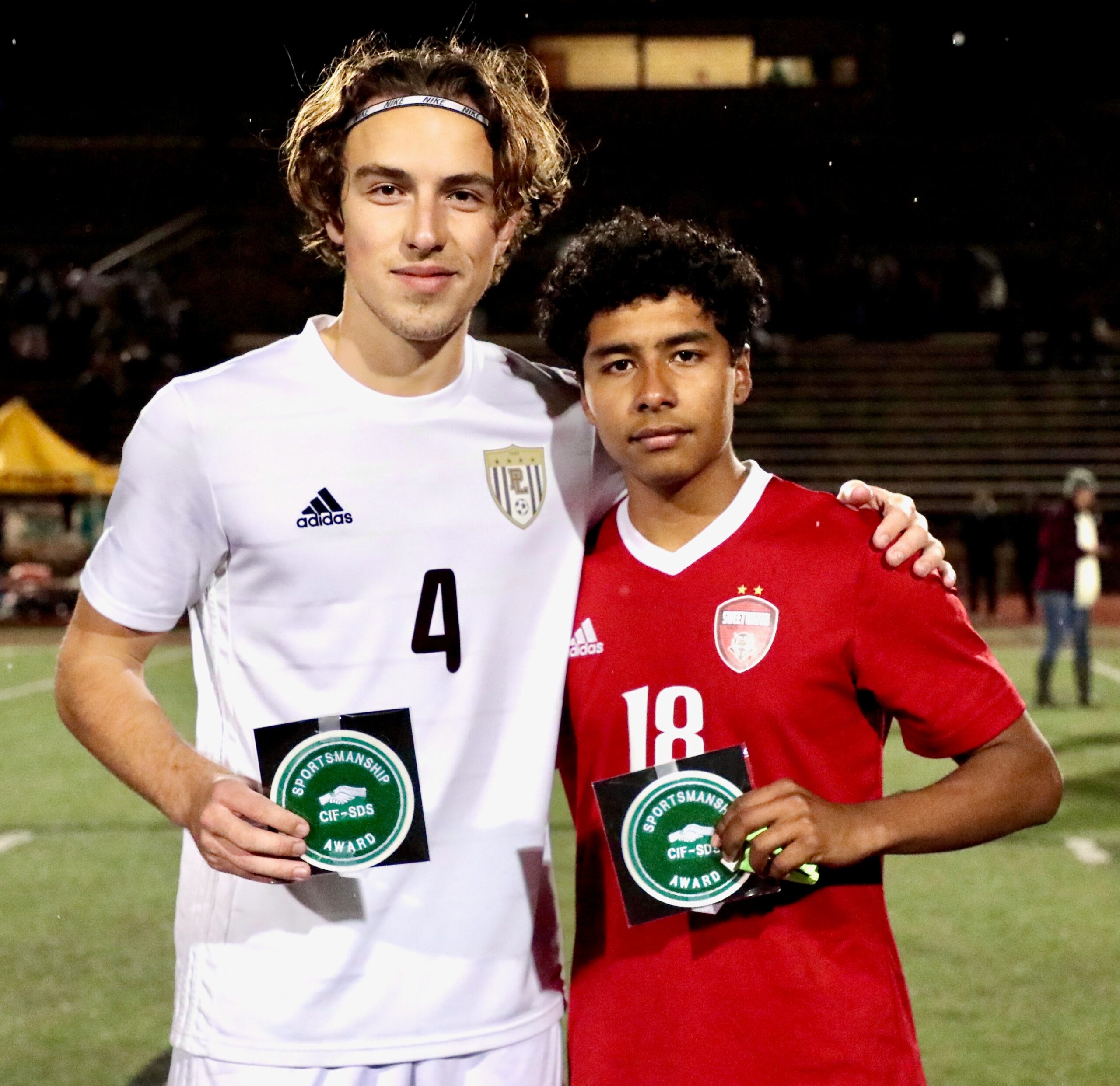 The final Point Loma goal came in the 63rd minute by junior Ethan Denney, assisted by senior Marko Alonso.
The CIF championship was the third for Pointers coach Elliott Savitz, the others coming in 2016 and 2018.
Sweetwater's season ended with a final 11-9-3 record, 4-1-1 in league play.
If there is any consolation to the Red Devils, Point Loma went on to capture the Division III Southern California regional state title with a 3-2 win over third-seeded El Dorado.
"Our season was great and, truth be told, the last five years have been fantastic," Espinoza said. "We've been promoted a few divisions going from Division IV to Division I and won back-to-back (league) banners. The school and community has really stepped up to what my coaching staff and I are trying to do and it's starting to show. While there's still plenty of work to do in the years to come, I am more than happy with what we accomplished this year."
Photos by Scott Hopkins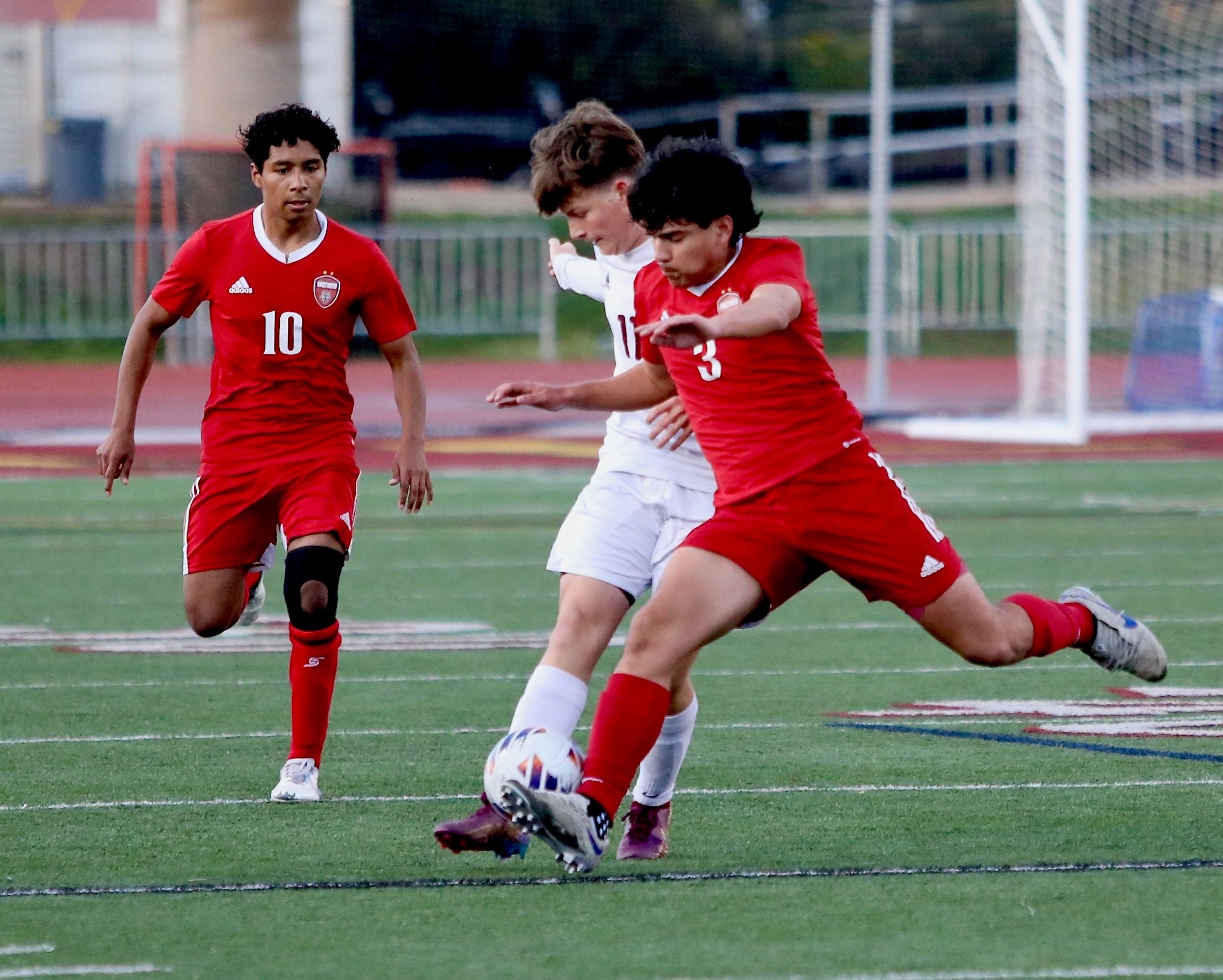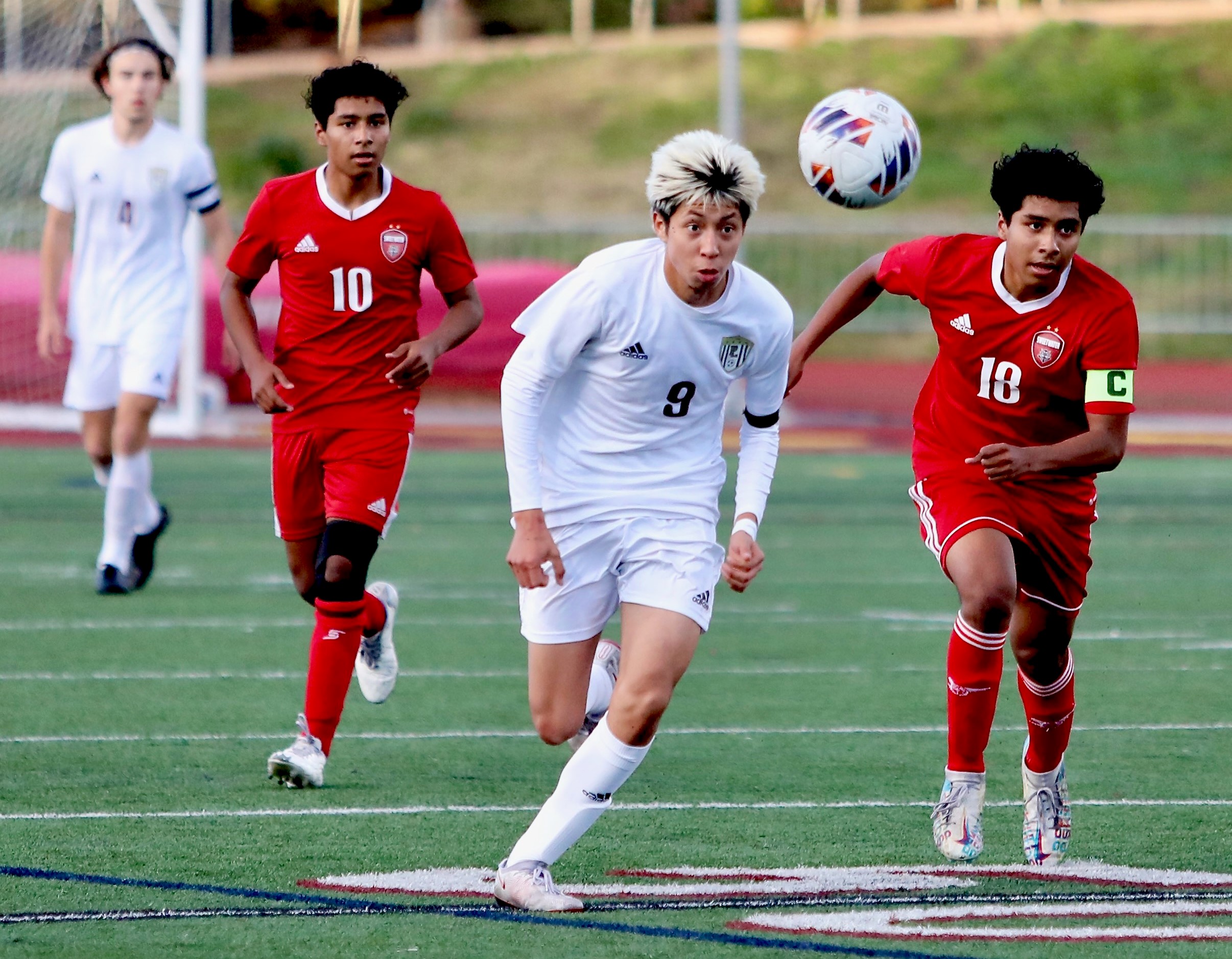 San Diego Section
Soccer Playoff Scoreboard
Boys Brackets
Open Division
Quarterfinals
Wednesday, Feb. 15
(1) San Dieguito Academy 4, (8) Rancho Bernardo 0
(5) Poway 2, (4) Eastlake 1
(3) St. Augustine 4, (6) Del Norte 0
(2) San Pasqual 1, (7) Cathedral Catholic
Semifinals
Wednesday, Feb. 22
(1) San Dieguito Academy 1, (5) Poway 0
(3) St. Augustine 3, (2) San Pasqual 2 (OT
Championship game
Saturday, Feb. 25
(3) St. Augustine 1, (1) San Dieguito Academy 0
Division I
First round
Wednesday, Feb. 15
(8) Calexico 4, (9) University City 4 (Calexico wins 4-2 in PK)
(5) Pt. Loma 6, (12) Escondido 1
(6) Westview 3, (11) Francis Parker 0
(7) Carlsbad 1, (10) Canyon Crest Academy 0
Byes: (1) Torrey Pines, (2) Sweetwater, (3) Southwest San Diego, (4) Coronado
Quarterfinals
Saturday, Feb. 18
(1) Torrey Pines 5, (8) Calexico 1
(5) Pt. Loma 0, (4) Coronado 0 (Pt. Loma wins 3-2 in PK)
(6) Westview 1, (3) Southwest 0
(2) Sweetwater 2, (7) Carlsbad 1
Semifinals
Wednesday, Feb. 22
(5) Pt. Loma 1, (6) Torrey Pines 0
(2) Sweetwater 3, (6) Westview 0
Championship game
Saturday, Feb. 25
(5) Pt. Loma 3, (2) Sweetwater 0
Division II
First round
Wednesday, Feb. 15
(9) Chula Vista 2, (8) Montgomery 1
(12) Oceanside 2, (5) Scripps Ranch 1
(6) Fallbrook 3, (11) Patrick Henry 1
(7) San Ysidro 2, (10) San Marcos 0
Byes: (1) La Costa Canyon, (2) Steele Canyon, (3) Hilltop, (4) San Diego
Quarterfinals
Saturday, Feb. 18
(1) La Costa Canyon 3, (9) Chula Vista 0
(4) San Diego 2, (12) Oceanside 0
(3) Hilltop 2, (6) Fallbrook 1
(2) Steele Canyon 3, (7) San Ysidro 1
Semifinals
Tuesday, Feb. 21
(1) La Costa Canyon 4, (4) San Diego 0
(2) Steele Canyon 1, (3) Hilltop 0
Championship game
Friday, Feb. 24
(1) La Costa Canyon 1, (2) Steele Canyon 0
Division III
First round
Wednesday, Feb. 15
(9) Mission Hills 4, (8) Clairemont 2
(5) Mt. Carmel 5, (12) Mater Dei Catholic 0
(6) Bonita Vista 2, (11) Orange Glen 1
(7) Monte Vista 2, (10) Santana 1
Byes: (1) Crawford, (2) Kearny, (3) Bishops, (4) Rancho Buena Vista
Quarterfinals
Saturday, Feb. 18
(1) Crawford 2, (9) Mission Hills 1
(5) Mt. Carmel 1, (4) Rancho Buena Vista 0
(3) Bishop's 3, (6) Bonita Vista 0
(7) Monte Vista 1, (2) Kearny 0
Semifinals
Tuesday, Feb. 21
(5) Mt. Carmel 2, (1) Crawford 2 (Mt. Carmel wins 3-1 in PK)
(3) Bishop's 2, (7) Monte Vista 0
Championship game
Thursday, Feb. 23
(3) Bishop's 3, (5) Mt. Carmel 2
Division IV
First round
Wednesday, Feb. 15
(8) Mission Bay 2, (9) Otay Ranch 1
(5) Pacific Ridge 5, (12) Imperial 3
(11) Escondido Charter 7, (6) Lincoln 6
(10) Gompers Prep 1, (7) Canyon Hills 0
Byes: (1) La Jolla Country Day, (2) Morse, (3) Brawley, (4) La Jolla
Quarterfinals
Saturday, Feb, 18
(1) La Jolla Country Day 0, (8) Mission Bay 0 (LCCD wins 5-4 in PK)
(5) Pacific Ridge 1, (4) La Jolla 0
(3) Brawley 4, (11) Escondido Charter 1
(2) Morse 1, (10) Gompers Prep 1 (Morse wins 7-6 in PK)
Semifinals
Wednesday, Feb. 22
(1) La Jolla Country Day 3, (5) Pacific Ridge 2
(2) Morse 3, (3) Brawley 2 (OT)
Championship game
Friday, Feb. 24
(1) La Jolla Country Day 5, (2) Morse 0
Division V
First round
Wednesday, Feb. 15
(8) Mar Vista 2, (9) Victory Christian Academy 1
High Tech High Mesa 2, (5) Vincent Memorial 1
(6) El Capitan 2, (11) Liberty Charter 0
(7) Health Sciences 1, (10) Bayfront Charter 0
Byes: (1) Preuss UCSD, (2) Palo Verde Valley, (3) Classical Academy, (4) Guajome Park Academy
Quarterfinals
Saturday, Feb. 18
(1) Preuss UCSD 2, (8) Mar Vista 0
(4) Guajome Park0, (12) High Tech High Mesa 0 (Guajome Park wins 4-3 in PK)
(6) El Capitan 1, (3) Classical Academy 0
(2) Palo Verde Valley 2, (7) Health Sciences 0
Semifinals
Tuesday, Feb. 21
(1) Preuss UCSD 4, (4) Guajome Park Academy 1
(2) Palo Verde Valley 1, (6) El Capitan 0
Championship game
Thursday, Feb. 23
(1) Preuss UCSD 3, (2) Palo Verde Valley 1
Girls Brackets
Open Division
Quarterfinals
Tuesday, Feb. 14
(1) Westview 1, (8) Del Norte 0
(5) San Marcos 1, (4) Bonita Vista 0
(6) La Costa Canyon 1, (3) Torrey Pines 0
(2) Cathedral Catholic 4, (7) Eastlake 0
Semifinals
Wednesday, Feb. 22
(1) Westview 4, (5) San Marcos 1
(6) La Costa Canyon 2, (2) Cathedral Catholic 1
Championship game
Saturday, Feb. 25
(1) Westview 1, (6) La Costa Canyon 0
Division I
First round
Tuesday, Feb. 14
(9) Rancho Bernardo 3, (8) Mission Bay 2
(5) Sage Creek 4, (12) Christian 0
(6) Pt. Loma 1, (11) Helix 0
(7) West Hills 3, (10) Poway 0
Byes: (1) Carlsbad, (2) Coronado, (3) Mater Dei Catholic, (4) Mission Hills
Quarterfinals
Friday, Feb. 17
(1) Carlsbad 2, (9) Rancho Bernardo 0
(4) Mission Hills 1, (5) Sage Creek 0
(6) Pt. Loma 3, (3) Mater Dei Catholic 2'
(7) West Hills 2, (2) Coronado 0
Semifinals
Wednesday, Feb. 22
(1) Carlsbad 2, (4) Mission Hills 1
(7) West Hills 1, (6) Pt. Loma 0
Championship game
Saturday, Feb. 25
(7) West Hills 3, (1) Carlsbad 1
Division II
Play-in round
Monday, Feb. 13
Mt. Carmel 2, Steele Canyon 0
San Pasqual 5, Central Union 0
First round
Tuesday, Feb. 14
(8) Our Lady of Peace 2, (9) Olympian 0
(12) Mt. Carmel 2, (5) Classical Academy 1
(6) Granite Hills 3, (11) San Pasqual 1
(10) Santana 1, (7) El Camino 0
Byes: (1) Canyon Crest Academy, (2) Otay Ranch, (3) Patrick Henry, (4) Francis Parker
Quarterfinals
Friday, Feb. 17
(1) Canyon Crest Academy 4, (8) Our Lady of Peace
(4) Francis Parker 2, (12) Mt. Carmel 1
(3) Patrick Henry 3, (6) Granite Hills 2 (OT)
(2) Otay Ranch 1, (10) Santana 0
Semifinals
Tuesday, Feb. 21
(4) Francis Parker 1, (1) Canyon Crest Academy 0
(3) Patrick Henry 2, (2) Otay Ranch 0
Championship game
Friday, Feb. 24
(3) Patrick Henry 2, (4) Francis Parker 1
Division III
Play-in round
Monday, Feb. 13
Chula Vista Learning Community Charter 1, Valhalla 1 (CVLCC wins 3-2 in PK)
First round
Tuesday, Feb, 14
(8) San Diego 3, (9) Fallbrook 0
(5) Foothills Christian 3, (12) CVLCC 1
(7) Valley Center 3, (10) Hilltop 2
Byes: (1) Pacific Ridge, (2) La Jolla, (3) Santa Fe Christian, (4) Oceanside
Wednesday, Feb. 15
(6) Monte Vista 3, (11) Imperial 2
Quarterfinals
Friday, Feb. 17
(8) San Diego 2, (1) Pacific Ridge 0
(4) Oceanside 1, (5) Foothills Christian 0
(6) Monte Vista 5, (3) Santa Fe Christian 0
(2) La Jolla 4, (7) Valley Center 1
Semifinals
Tuesday, Feb. 21
(8) San Diego 4, (4) Oceanside 1
(6) Monte Vista 0, (2) La Jolla 0 (Monte Vista wins 4-2 in PK)
Championship game
Thursday, Feb. 23
(6) Monte Vista 3, (8) San Diego 2
Division IV
Play-in round
Monday, Feb. 13
Maranatha Christian 2, Del Lago Academy 0
First round
Tuesday, Feb. 14
(9) Morse 5, (8) Chula Vista 2
(5) Escondido 4, (12) Maranatha Christian 0
(6) High Tech High San Diego 5, (11) Mt. Miguel 1
(7) Calexico 1, (10) Canyon Hills 0
Byes: (1) Clairemont, (2) Montgomery, (3) Kearny, (4) Sweetwater
Quarterfinals
Friday, Feb. 17
(1) Clairemont 3, (9) Morse 1
(5) Escondido 5, (4) Sweetwater 1
(6) High Tech High San Diego 2, (3) Kearny 1
(2) Montgomery 6, (7) Calexico 5
Semifinals
Wednesday, Feb. 22
(1) Clairemont 3, (5) Escondido 2
(6) HTH San Diego 1, (2) Montgomery 0
Championship game
Friday, Feb. 24
(1) Clairemont 2, (6) HTH San Diego 1 (OT)
Division V
Quarterfinals
Friday, Feb. 17
(1) Madison 4, (9) El Cajon Valley 2
(4) Mar Vista 1, (5) HTH North County 1 (Mar Vista wins 2-1 in PK)
(3) O'Farrell Charter 3, (6) Guajome Park Academy 2
(2) Southwest El Centro 2, (7) Liberty Charter 0
Semifinals
Tuesday, Feb. 21
(1) Madison 2, (4) Mar Vista 0
(2) Southwest El Centro 2, (3) O'Farrell Charter 0
Championship game
Thursday, Feb. 23
(1) Madison 1, (2) Southwest EC 0