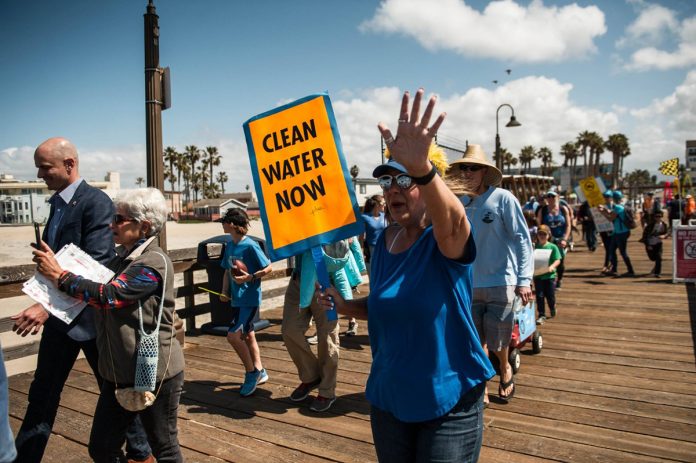 Surfrider Foundation-San Diego's Clean Border Water Now Committee is hosting its third annual march for clean water in Imperial Beach, which the organization anticipates will be attended by hundreds, this Saturday, April 13, at 11 a.m. in Imperial Beach.
"It (the pollution) affects not only Imperial Beach but Chula Vista and National City residents," said Shannon Johnson, the march co-chair.
According to Johnson the mayors of Imperial Beach and Coronado participated in the march last year.
"There are two sources – one from the Tijuana River mouth, south of Imperial Beach," said Johnson. "The other comes from a sewage treatment plant, Punta Bandera. Imperial Beach's beaches are closed 20 percent of the time."
The pollution is a constant issue for families living or playing near the affected areas.
"My husband Shawn was born and raised in Imperial Beach; locals have dealt with it a lot," said Johnson.
The organization recently posted a collage of newspaper clippings on an Instagram account that wrote about the pollution, published in The Chula Vista Star-News dating back decades.
The foundation, in published statements, claimed the Imperial Beach shoreline has been forced to close due to pollution from the Tijuana River Valley nearly 40 times this year.
They claim the recent rains have intensified the situation.
"Some don't have cars, so for some of them to go the beach is an undertaking," said Bethany Case, owner of Imperial Beach's Red House Kitchen. "They don't go to the local beaches, they go to the northern beaches."
Funding for remedies has been stymied according to Case.
"One major impediment, that we could eliminate for funding, is if the Navy were to officially admit that there is a problem," said Case. "They are installing a huge base for Navy SEALs on the northern end of Imperial Beach, which is affected by the pollution as much as the area near the pier."
Case encourages participants to wear blue, make or bring signs and use their voices at the march.
The same day from 9 to 10:45 a.m. a beach cleanup, sponsored by Soapy Joe's, will be held at the end of Date Street.
The march, which starts at the Portwood Pier Plaza, will run through Imperial Beach to the Spirit of Imperial Beach statue. A volunteer appreciation pizza party will be held at Pizzeria Luigi's after the march.