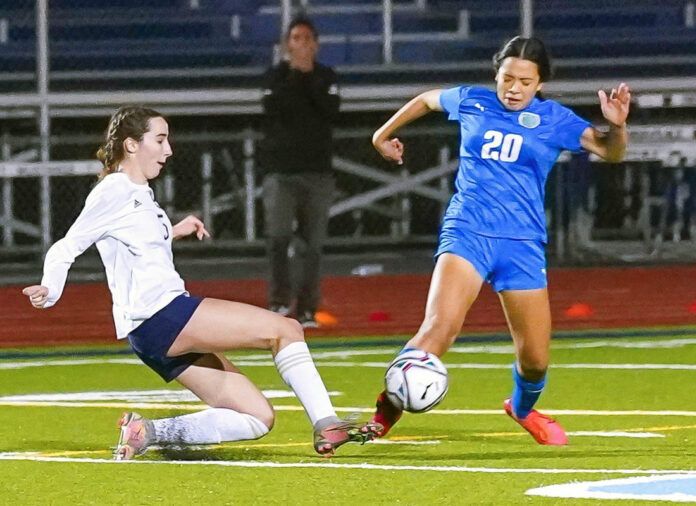 The San Diego Section boys and girls soccer finals are wrapping up this weekend.
As in any year, games have gone to overtime, shootout tiebreakers, upsets have abounded and, ultimately, teams have advanced.
Four South County teams received top seeds in this year's girls playoff brackets: Bonita Vista in the Open Division, Eastlake in Division I, Olympian in Division III and Hilltop in Division IV.
Additionally, Chula Vista Learning Community Charter received the No. 2 seed in Division IV.
Fast forward to Wednesday's semifinals and three of those aforementioned five teams remained in championship contention: Eastlake, Hilltop and CVLCC.
Eastlake hosted fifth-seeded Poway in a battle of teams with Titan nicknames while Hilltop hosted fourth-seeded Ramona. CVLCC was the higher-seed in its matchup against sixth-seeded Hoover.
Eastlake doubled up Poway, 2-0, on goals by Selena Wimbish and Ashley Mekitarian while Hilltop slipped past Ramona by a score of 3-1 to secure berths in the finals.
Eastlake (9-7-3) will play 10th-seeded Torrey Pines (7-12-4) Saturday at Hilltop High School at 7:30 p.m.
Hilltop (18-2-1) will meet CVLCC (15-1-1) and sixth-seeded Hoover (12-15-2) in Friday's championship match at 4:30 p.m. at Rancho Bernardo High School.
The Lady Cobras defeated sixth-seeded Hoover (12-16-2) by a 3-2 score in Wednesday's semifinals.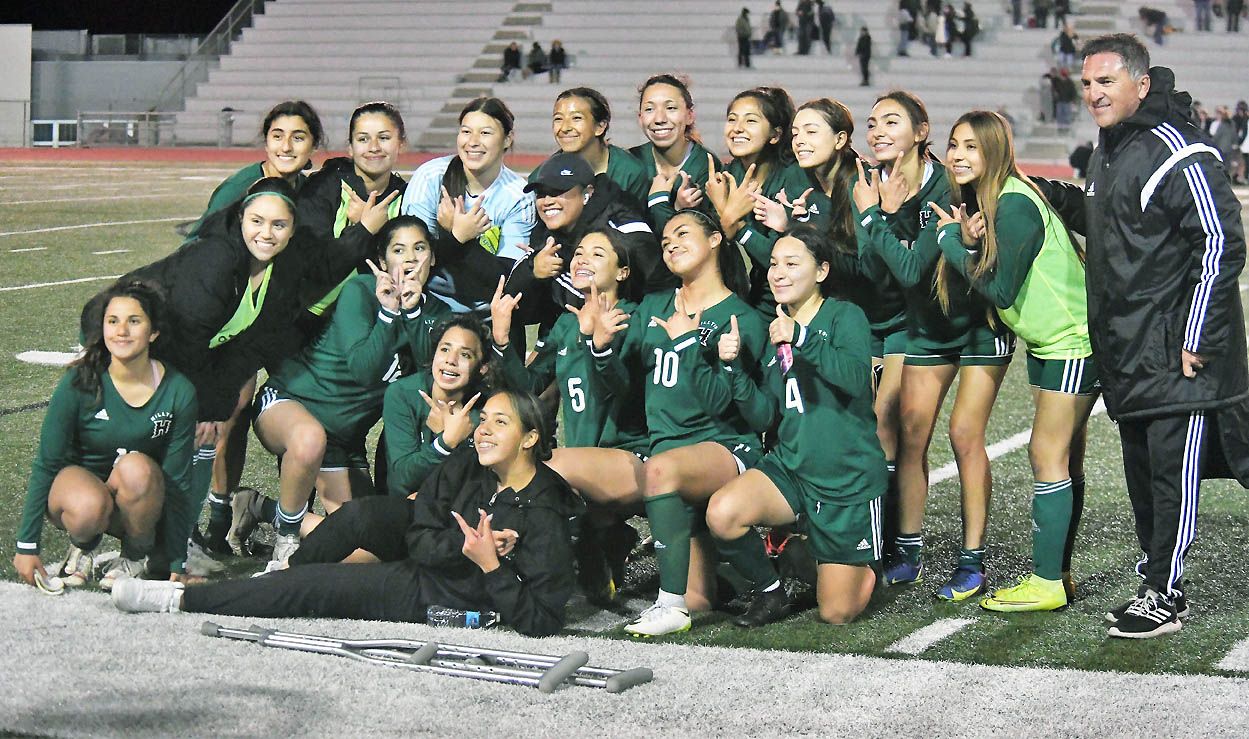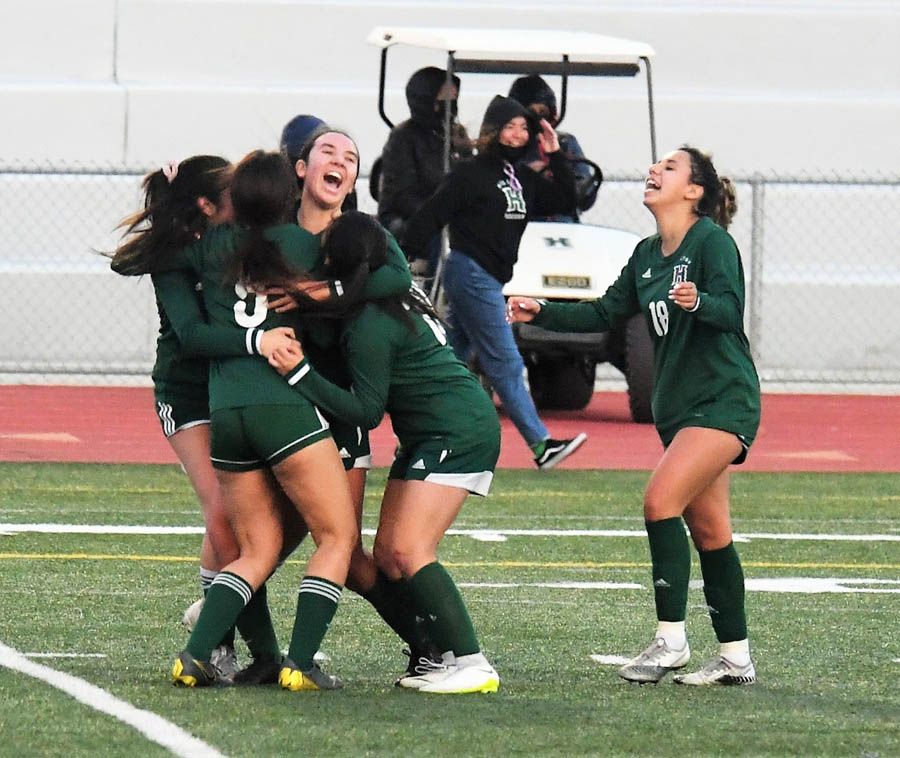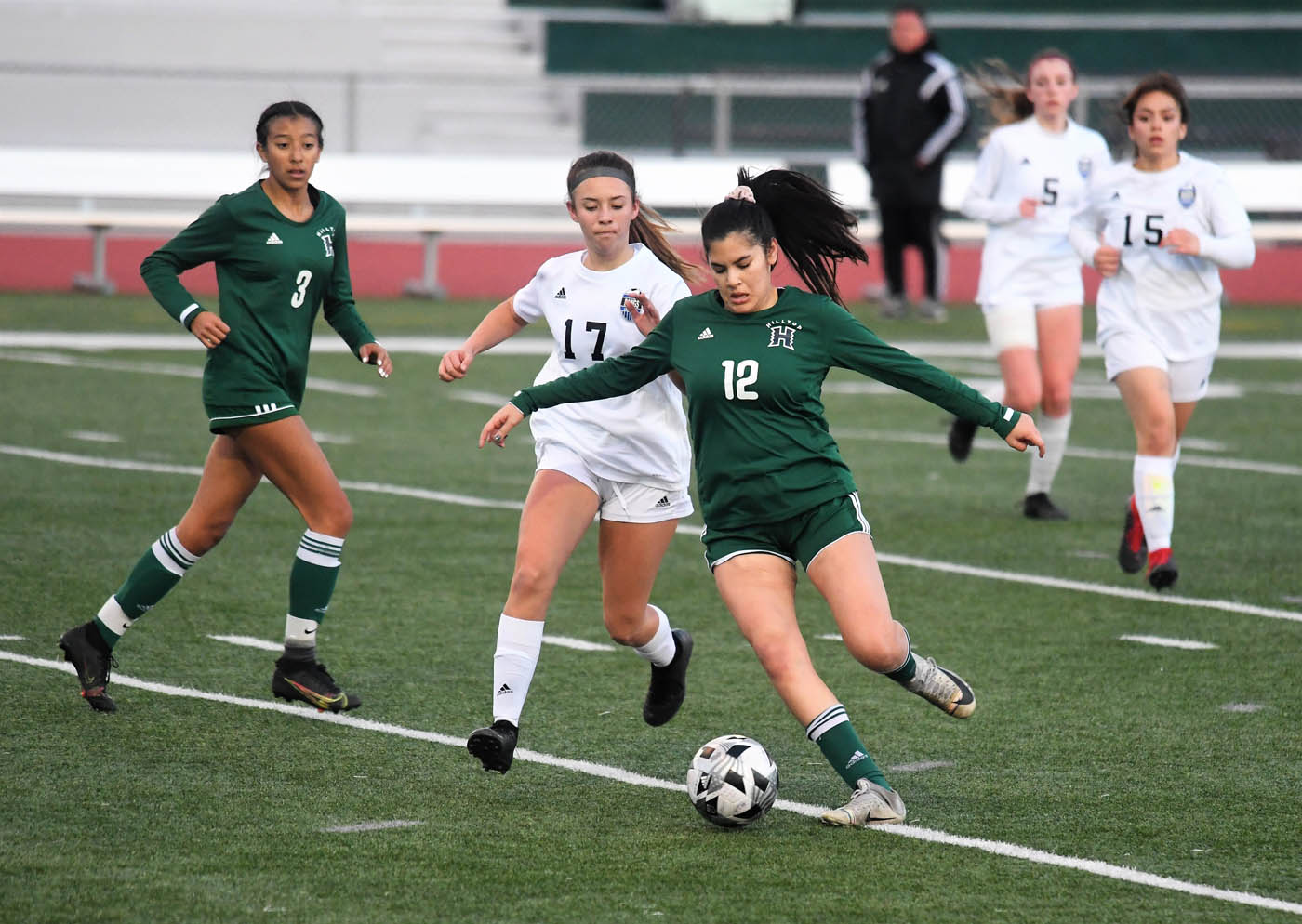 Hilltop received two goals from freshman Olivia Grant and a first strike from junior Daisy Velez against Ramona. The Lady Bulldogs narrowed the score to 2-1 in injury time but the hosts sealed the win just 30 seconds later by Grant as stoppage time continued. (The game was stopped late in regulation due to a drone hovering over the field.)
This is the first trip to the CIF finals for head coach Rene Ortiz with Hilltop.
"Our season has been a very good one," said Ortiz, who helped coach the San Diego Sockers to their latest indoor soccer championship last season. "This year we have a good number of seniors and sophomores with is something that has been missing in a long time. This combination does make a significant difference during play. I am very happy for this team because they are a very determinde group that work hard."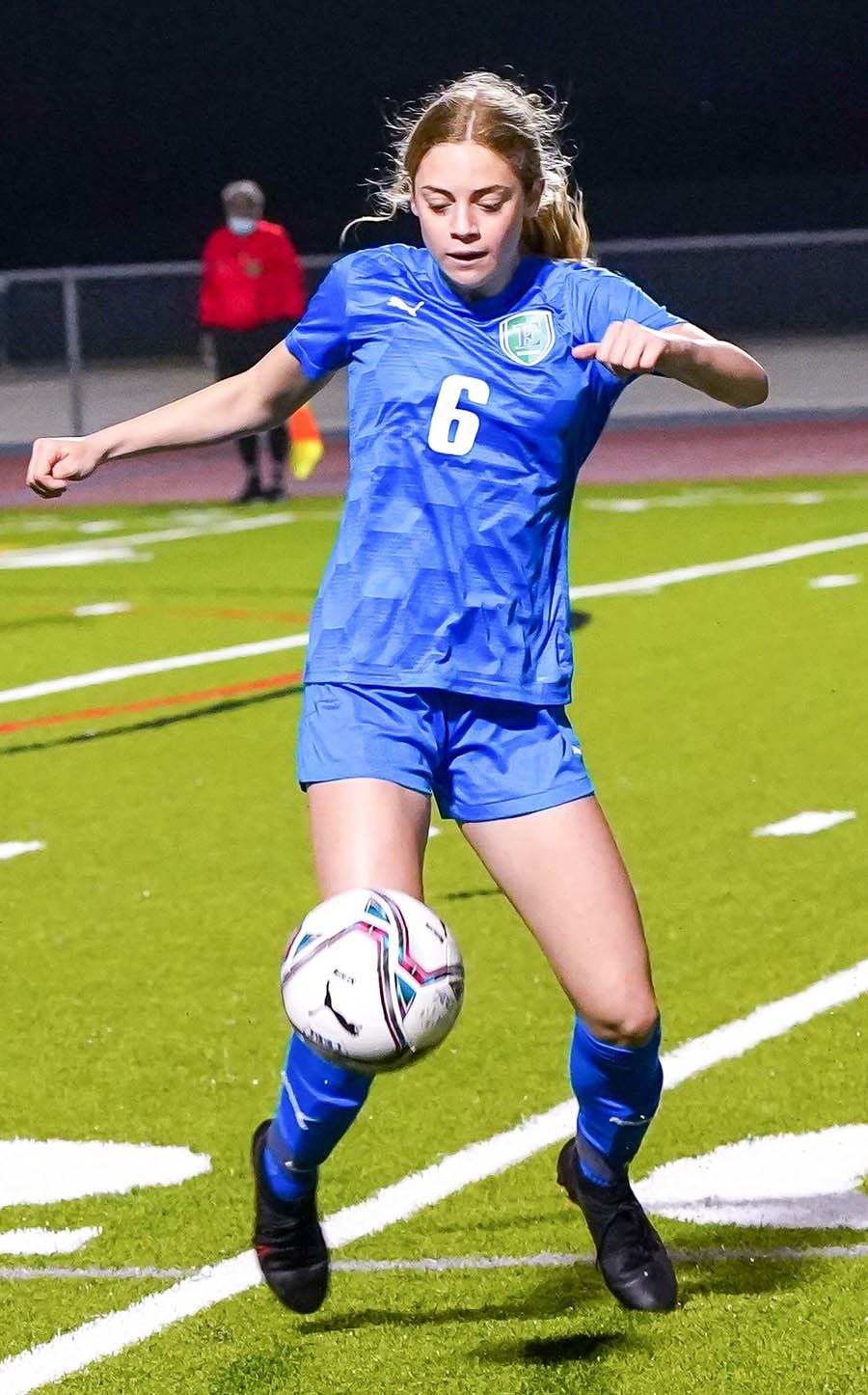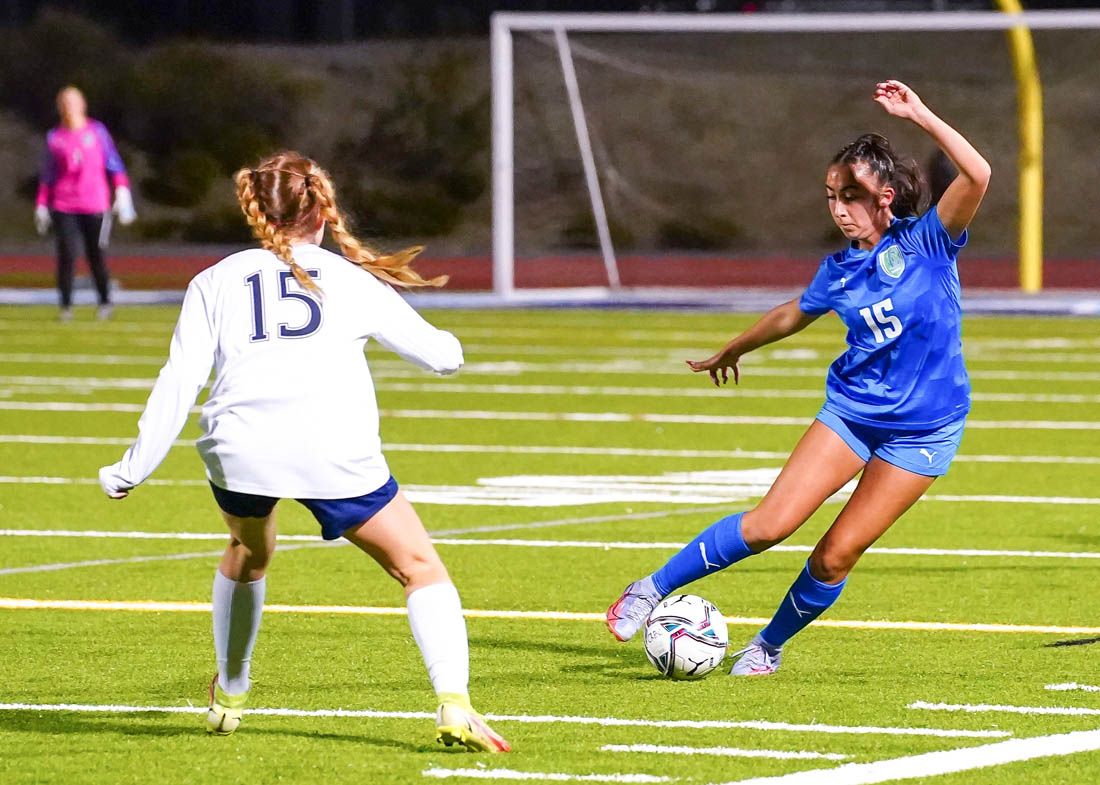 On a roll
In quarterfinals last Saturday, Eastlake edged ninth-seeded San Dieguito Academy, 1-0, while Hilltop blanked ninth-seeded Del Lago Academy, 3-0. The CVLCC Lady Cobras edged seventh-seeded Mountain Empire, 1-0, also to advance.
Bonita Vista (2-0 loss to eighth-seeded Point Loma) and Olympian (3-2 loss to ninth-seeded Rancho Buena Vista) were not so lucky to advance past the quarterfinal round.
First-round winners in Division II included 12th-seeded Otay Ranch (tiebreaker over fifth-seeded Patrick Henry) and seventh-seeded Mater Dei Catholic (2-1 over 10th-seeded Steele Canyon). Both South Bay teams suffered shutout losses in the quarterfinals.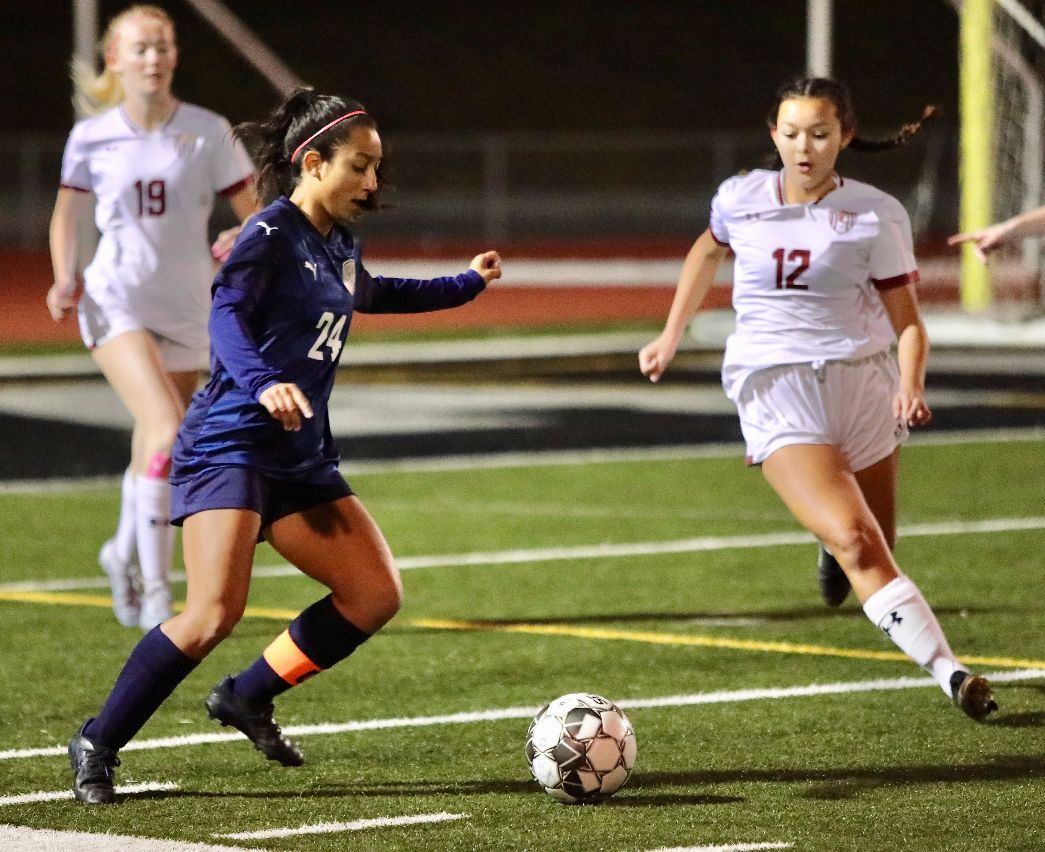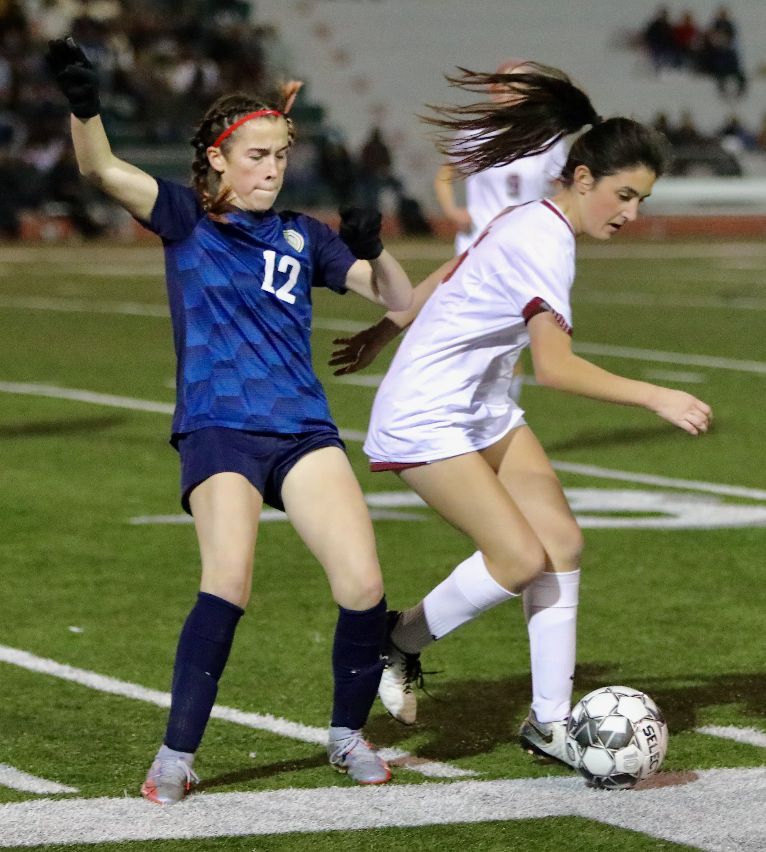 Final countdown
Hilltop High School will host the Open Division finals on Friday and the Division I finals on Saturday.
Mesa League champion Bonita Vista received the No. 1 seed in the Open girls bracket but was unable to make that stick following the loss to Point Loma in the quarterfinals on Feb. 16.
Senior Erin Denney scored on a penalty kick in the first half while senior Jenna Ruthven scored on a scramble in front of the net in the second half.
The Lady Pointers advanced to Tuesday's semifinal against fourth-seeded Del Norte, winning, 2-1 to meet third-seeded San Marcos in Friday's championship game.
It's not often a South Bay team earns the No. 1 seed in the Open Division in any sport and it appeared Bonita Vista seemed to have a dream season going after beating out Olympian for this year's league title while only suffering one regulation loss in 18 matches.
Bonita Vista finished 7-0-3 in league, inching ahead of Olympian's 6-0-4 mark. The Lady Eagles had their own magic working on the pitch with an 18-1-4 regular season record.
The Lady Barons finished 14-2-5 overall.
Mesa League boys runner-up Eastlake received the seventh seed in the Open boys bracket but lost, 4-3, at second-seeded San Pasqual in the quarterfinals on Feb. 15.
San Pasqual (15-3-6) will meet fourth-seeded Coronado (17-0-2) in Friday's championship match at Hilltop High School (7:30 p.m.) after both teams came up victorious in Tuesday's semifinals — Coronado in a tiebreaker over top-seeded Torrey Pines (19-3-2) and San Pasqual over third-seeded St. Augustine (15-4-2).
Eastlake (15-4-4) finished 8-1-1 in league play behind Mesa League champion Sweetwater (9-1, 14-5-1).
The Red Devils received the No. 2 seed in the Division II tier but bowed out of the bracket following last Friday's 5-4 overtime loss to seventh-seeded Escondido.
"We finally had our breakthrough this year," SuHi fourth-year coach Diego Espinoza said. "We hope to keep going. We had a young team — a lot of the team returns. The boys really took it upon themselves to make it happen."
Senior midfielder Osvaldo Garcia was among the many standouts. "He didn't lead the team in any category, but his work-rate was unmatched on the field," Espinoza said.
Division I
The Division I finals will pit qualified boys teams at 4:30 p.m. and girls teams at 7:30 p.m., both at Hilltop High School.
The Southwest Raiders earned the No. 1 seed in the division and survived a tiebreaker against eighth-seeded Westview in last Friday's quarterfinals, winning 5-4 on spot kicks, to advance to Tuesday's semifinal match against fourth-seeded Del Norte.
Southwest (11-7-1) was not able to scratch out a regulation or overtime victory before being dragged into another tiebreaker scenario after battling the Nighthawks to a 1-1 draw. Del Norte (9-6-4) won the tiebreaker 4-3 to advance to meet second-seeded Rancho Bernardo (12-5-4) in Saturday's championship game.
Division II
Montgomery, which finished 4-6 in Mesa League play, received the No. 5 seed in the boys bracket and eliminated 12th-seeded San Marcos, 4-3, in the opening round before winning the tiebreaker over fourth-seeded Hoover following a 1-1 overtime draw in the quarterfinals.
The Aztecs (13-10) advanced to Wednesday's semifinal against top-seeded Carlsbad (15-1-8), losing 1-0, to fall one rung short of the championship game.
Division III
Olympian, like Bonita Vista, was unable to parley a No. 1 seed into a pot of gold. The Lady Eagles finished an otherwise extraordinary season 18-2-4.
Photos by Jon Bigornia