A South County animal shelter has marked its "second season" of an adoption campaign that takes a page from a popular reality TV series.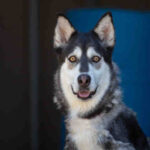 "The Real Huskies of Bonita" has returned for its second year, with an array of active canines up for adoption.
According to the county, Huskies are an active breed that require daily exercise to keep them out of possible mischief in addition to regular brushing so that shedding of their thick coat is reduced.
Among the "cast" looking for permanent homes are:
•Casey who is neutered, 1 year and 7 months old and "quite fetching";
•Charlie Bear, a neutered 1 year and 3 months old "gentleman wrapped in natural fur coat";
• Jueneau the spayed 1 year and 10 months old best friend;
• Meeko the neutered and well mannered 2 year old;
•Penny the spayed 4 year old who takes no sass and
• Roxy, spayed and 4 years old who wants a good styling.
Walk-in adoption hours are from 1 to 4 p.m. Tuesday through Friday and 10 a.m. to 4 p.m. Saturday and Sunday at the South Shelter, 5821 Sweetwater Road in Bonita.
For more information, call (619) 767-2675 or visit https://www.sddac.com/.