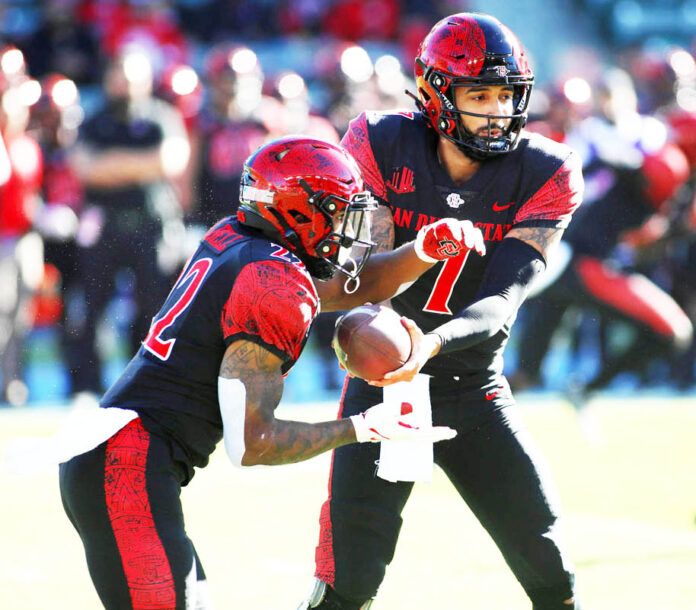 The San Diego State University football team set a program record with its 12th victory of the season by defeating the University of Texas-San Antonio, 38-24, in the Tropical Smoothie Café Frisco Bowl on Dec. 21.
Christian High School alumnus Jesse Matthews had 11 catches for 175 yards and two touchdowns to earn the offensive most valuable player award in the game while Bonita Vista High School alumnus Greg Bell rushed for 101 net yards and scored one touchdown to highlight contributions from San Diego region players.
Mt. Carmel High School alumnus Lucas Johnson completed 24 of 36 passing attempts for 333 yards with three touchdowns and no interceptions. He also rushed five times for 15 yards and one touchdown.
Rancho Bernardo alum Matt Araiza was five-for-five on point-after-touchdown conversions while kicking a 33-yard field goal.
The Aztecs' previous record of 11 wins in one season was set in 1966 (11-0), 1969 (11-0), 2015 (11-3) and 2016 (11-3). The program finished its first 98 seasons of play without a 12-win season.
SDSU head coach Brady Hoke saw a generally maligned offense, especially its passing game, gain redemption in the bowl game victory.
The Aztecs (12-2) had a 300-yard passer (Johnson), 100-yard rusher (Bell) and 100-yard receiver (Matthews) for the first time since Nov. 21, 2014 against the Air Force Academy (Quinn Kaehler, Donnel Pumphrey and Ezell Ruffin).
It was Matthews' greatest game as an Aztec, setting personal records for most receptions and most receiving yards in one game. He finished his junior season with 57 catches for 642 yards and nine touchdowns. He was particularly active in the team's final four games of the season with 37 catches for 465 yards and seven touchdowns.
In three seasons at SDSU, the former Patriot has reeled in 129 passes for 1,601 and 12 touchdowns, suggesting the best may yet to come during his 2022 senior season.
He said the 12-win season was a special one in terms of leaving a legacy for future teams to strive for.
The bowl game win was the second consecutive for the Aztecs after winning the 2019 New Mexico Bowl. SDSU is now 10-9 all-time in bowl games, 2-0 under Hoke. Interestingly, Matthews also earned offensive MVP honors in that bowl game win.
The Dec. 21 bowl game matchup was the first meeting between the Aztecs and Roadrunners, who were coming off their first Conference USA championship in school history.
The Aztecs finished the game with 31 first downs and a season-high 489 yards in offense. SDSU gave up a pair of first quarter touchdowns but rallied to win from a first quarter deficit for the fourth time this season.
SDSU won its 10th consecutive game when leading at the half and improved to 25-5 in the Hoke era when leading at halftime.
Matthews caught scoring passes of 11 and 20 yards while Tyrell Shavers rounded out the Aztecs' three receiving touchdowns with a 24-yard TD catch.
Bell scored on a one-yard run. He finished the season with 1,091 net rushing yards and nine touchdowns (both team season bests) while Johnson passed for 1,424 yards with 12 touchdowns and four interceptions to finish with a 129.69 quarterback rating.
Araiza finished the season with an NCAA-record 51.9 yards per punt average.
SDSU played back from 7-0 and 14-7 first quarter deficits to lead 17-14 at halftime. The Aztecs pushed their lead to 31-17 following Shavers' touchdown catch with 2:39 left in the third quarter.
Frank Harris completed a pair of scoring passes for Texas-San Antonio (12-2). The game's attendance wasb15,801.
Several SDSU players seem interested in declaring for the upcoming NFL draft. For the remainder of the returners, now it's finally back home.
SDSU has played 23 consecutive games outside its home market, including home games at the Health Dignity Sports Park in Carson, while construction continues on its new stadium in Mission Valley. The Aztecs are scheduled to host the University of Arizona on Sept. 3 at the recently named Snapdragon Stadium.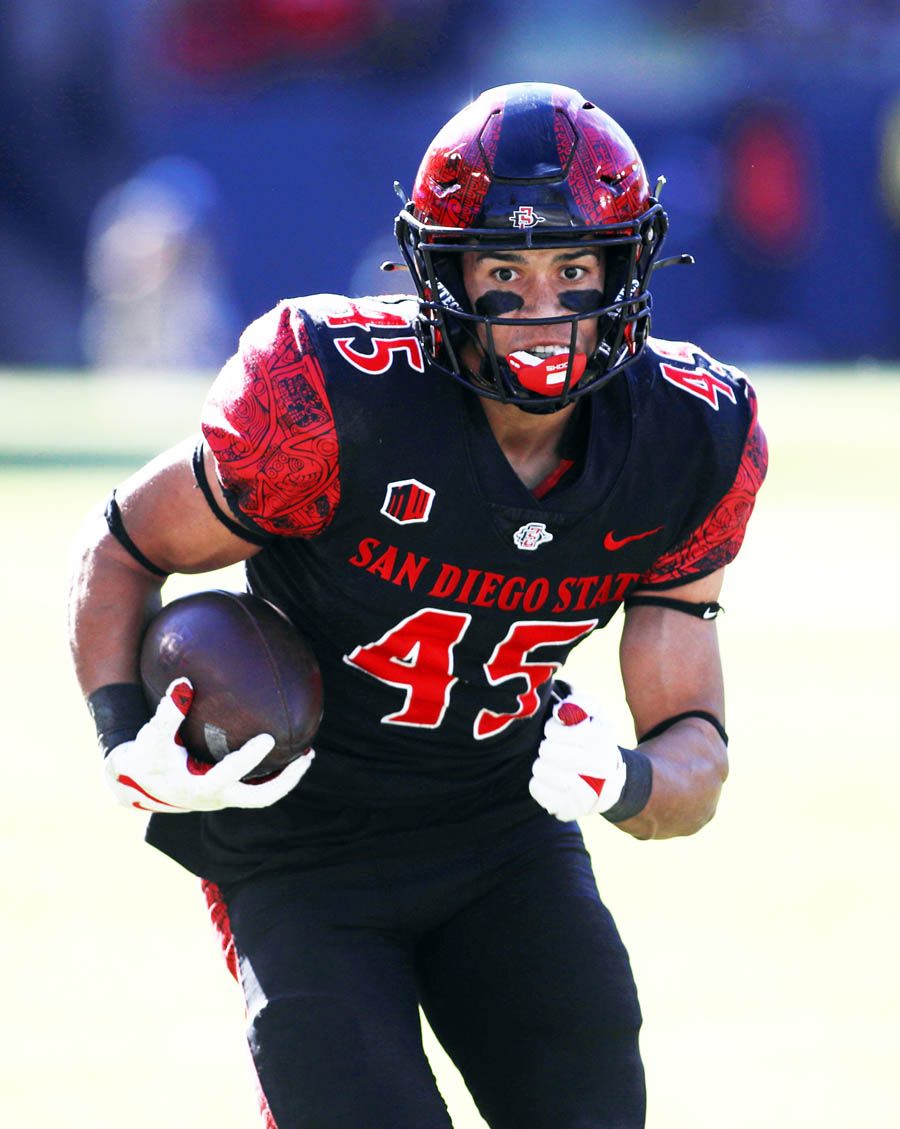 AP TOP 25 COLLEGE FOOTBALL POLL
(Final Regular Season)
1. Alabama Crimson Tide (12-1)
2. Michigan Wolverines (12-1)
3. Georgia Bulldogs (12-1)
4. Cincinnati Bearcats (13-0)
5. Notre Dame Fighting Irish (11-1)
6. Baylor Bears (11-2)
7. Ohio State Buckeyes (10-2)
8. Ole Miss Rebels (10-2)
9. Oklahoma State Cowboys (11-2)
10. Utah Utes (10-3)
11. Michigan State Spartans (10-2)
12. BYU Cougars (10-2)
13. Pitt Panthers (11-2)
14. Oklahoma Sooners (10-2)
15. Oregon Ducks (10-3)
16. Louisiana Ragin' Cajuns (12-1)
17. Iowa Hawkeyes (10-3)
18. NC State Wolfpack (9-3)
19. Clemson Tigers (9-3)
20. Wake Forest Demon Deacons (10-3)
21. Houston Cougars (11-2)
22. Arkansas Razorbacks (8-4)
23. Texas A&M Aggies (8-4)
24. UTSA Roadrunners (12-1)
25. Kentucky Wildcats (9-3)
Aztecs dominate all-conference football awards list
San Diego State University dominated the Mountain West Conference football awards as head coach Brady Hoke was named the conference's coach of the year while juniors Cameron Thomas (Carlsbad) and Matt Araiza (Rancho Bernardo) were selected as the conference's defensive and special teams players of the year, respectively.
The Aztecs captured the regular season Mountain West West Division title en route to posting a runner-up finish in the Mountain West championship game to Utah State.
The coach of the year honor was the second in his four years in the league for Hoke, who also won the 2010 award. The Aztecs were picked to finish third in the division but finished regular season play 11-1 to tie a school record for most wins in one season.
Thomas, who made the all-MW first team for a third consecutive season, became the third SDSU player to win the conference defensive player of the year award, joining Kirk Morrison (2003-04) and Damontae Kazee (2015-16).
Besides being named a first-team all-MW punter, Araiza was also selected as a second-team kicker. He became SDSU's second MW special teams player of the year following a three-year run by Rashaad Penny (2015-17).
For the third consecutive year, the Aztecs had the most first-team all-MW selections with eight. Joining Thomas and Araiza (punter) on the first team were offensive linemen William Dunkle (Eastlake) and Zachary Thomas (Carlsbad), linebacker Caden McDonald, safeties Patrick McMorris (Santa Ana) and Trenton Thompson (Palm Springs), and kick returner Jordan Byrd.
SDSU also had four second-team picks in running back Greg Bell (Bonita Vista), defensive lineman Keshawn Banks, defensive back Tayler Hawkins (Palm Springs) and Araiza at punter, and three honorable-mention selections in offensive lineman Alama Uluave, defensive lineman Jonah Tavai (Manhattan Beach) and linebacker Michael Shawcroft (Helix Charter).
San Diego State's 15 all-league selections match its most since 2001 (when 16 were selected) and only trailed Nevada's 16 all-conference picks. The Aztecs had the most on the first and second team (12 total selections).
Dunkle is on the all-MW first team for the first time of his career after being an honorable-mention selection as a freshman in 2019.
According to Pro Football Focus, Dunkle allowed just eight pressures (no sacks) on the regular season in 329 passing opportunities, while having the fifth-highest overall grade (91.1, min. 600 snaps) among offensive linemen with the third-highest run block grade (94.3, min. 600 snaps).
Bell made the second team for the second consecutive season. Entering the MW championship game, Bell had rushed 208 times for 940 yards (4.5 average) with eight touchdowns. He ranked third in the MW in total rushing attempts (208, 23rd in FBS), fourth in rushing attempts per game (17.33, 28th in FBS), rushing yards (940, 51st in FBS) and rushing yards per game (78.33, 55th in FBS), and tied for sixth in rushing touchdowns (eight).
Nevada junior quarterback Carson Strong earned honors as the MW offensive player of the year while UNLV quarterback Cameron Friel was named MW freshman of the year.
National awards
Araiza was among the most decorated Aztecs in 2021 after winning the prestigious Ray Guy Award and named a consensus All-American by the NCAA.
Araiza was named to the first team in all five All-America teams recognized by the NCAA: Walter Camp, Football Writers Association of America (FWAA), Associated Press, The Sporting News and American Football Coaches Association (AFCA).
Dunkle was named to the Associated Press All-America selections as a member of the second team.