San Diego county is a region of outdoor living, from students who eat at lunch tables in noontime sun on a daily basis to community events scheduled at parks and beaches year-round. Every now and again, however, our residents are slammed by icy rainstorms and gusty winds that warrant an actual umbrella to get from the car to the house and back again. Come the weekend, families hit the road to pitch a couple of snowballs in Julian or Pine Valley with the promise of returning home to warmth and dry clothes after a day of play. In the meantime, homeless residents on the lookout for a dry place to take shelter by day turn to spaces that are free, with a public bathroom and a place to charge a cellular phone. As with so many other community services, the library checks out.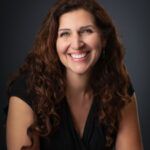 Counterpoint to the physical presence of rain and the need for a warm refuge, there is also respite to be found in the safety of resources for residents who might have a warm bed at night but struggle by day for information, connection, community. Really, is the older man who clearly has not showered in some time with weathered skin and a collection of bags seated at a public library table for a six-hour stretch so different from the quiet girl who does not use the name from her birth certificate and sneaks bites of food from her backpack in the teen reading area? Neither one appears to check out books. More noticeably, both use the library as shelter from whatever their life looks like once they pass through the doors at closing time with their hunched shoulders and lonely looks.
Noticeably, the event listings at local libraries include a few key categories. Sure, there are story hours for children, game nights for families and monthly book clubs for avid readers but there are also meetups that might not have existed ten years ago. A 2021 Institute of Museum and Library Services article "Showing Their Pride" describes the steady increase of LGBTQ-related programs in recent years, including those where people talk about their experiences as homeless teens with a connection to the LGBTQ community. Meanwhile the American Library Association has research available on programming for baby boomers, the 78 million Americans born from 1946 to 1964 who are at risk of being overlooked by society upon widowhood. They might have a lovely home, but do they have anywhere to go?
Along with fire and police services, and a local elementary school, the library is a fixture in most communities. There are fewer books on the shelves these days, the better to curate a collection and reel in square footage while online sources of information abound; there are shortened building hours but boosted public wi-fi available; there are events listed that focus on community services and food banks and veteran outreach. The library, it seems, offers a roof but is also a source of shelter.
This month, local libraries have a rich offering of events which blanket a wide swath of the community.
• Meet other families and enjoy fun skill building games and toys during Preschool Play from 11 a.m to 12 p.m. on March 4 at the Bonita-Sunnyside library.
• The Merrie Ukes meet every Tuesday from 10 to 11:30 a.m. at the Bonita-Sunnyside library. Have fun learning some ukelele songs and playing in a group. Beginners welcome.
• Kids are invited to choose the winner of the California Young Reader Medal by voting for their favorite nominated book. Gather at the Bonita-Sunnyside library for nominated book readings on Mondays at 4 p.m. and Fridays at 3 p.m. in March.
•Art enthusiasts are invited to the Bonita-Sunnyside library from 4 to 5 p.m. on March 7 and March 21 to learn art skills and create a new piece to take home.
• Science Explorers meets at the Bonita-Sunnyside library on Wednesdays from 4 to 5 p.m. with hands-on STEM activities for kids.
• The Bonita-Sunnyside library also has a chess club which meets Thursdays from 4 to 5 p.m. with all ages and abilities welcome to join in.
• Chris Burns will perform Celtic songs and ballads on March 11 from 2 to 3 p.m. at the Bonita-Sunnyside library.
• Join older adults for Silver Age Yoga at the Bonita-Sunnyside library Thursdays from 11 a.m. to noon.
• Every Friday, the Bonita-Sunnyside library has story time from 11 a.m. to noon.
• Learn to design and print your own project on the Bonita-Sunnyside library's 3-dimensional printer from 2 to 3 p.m. on March 18. Beginners welcome, for all ages.
• Practice your drawing and coloring skills at the Bonita-Sunnyside library themed art table, happening this month from 4 to 5 p.m. on March 7 and March 21.
• Join the Rush Hour book club at the Bonita-Sunnyside library which meets monthly. The next meeting will be on March 21 from 6 to 7 p.m.
Visit www.sdcl.org for information on these and other Bonita-Sunnyside library events.
• Older residents are invited to Senior Socials with coffee, crafts, games and senior tech help every Wednesday from 10 a.m. to noon at the National City library, or at Casa de Salud on Tuesdays and Thursdays from 10 a.m. to 12 p.m., 1408 Harding Ave.
• Join in on adult craft classes the second Wednesday of every month, next held at 6 p.m. on March 8 at the National City library.
• Book club is held the third Tuesday of every month at the National City library, coming up next at 1 p.m. on March 21. This month's selection is "Britt-Marie is Here" by Fedrick Bachman, suggested by resident Roxanne Kelley.
• Teens and young adults are invited to join the Bookflix club and discuss books and graphic novels being made into shows and movies. The Bookflix club meets at 6 p.m. on the fourth Tuesday of the month at the National City library, next held on March 28.
• STEAM Saturdays happen every first and third Saturday at the National City library from 2 to 3 p.m. on March 4 and 18 in the large meeting room.
Visit nationalcityca.gov for more information on these and additional National City library events.
• Free homework help is available at the Otay Ranch library in Chula Vista every Monday, Tuesday and Wednesday from 4 to 6 p.m.
• The Otay Ranch branch library hosts a family story time for children under age 3 every Tuesday from 10:15 to 10:45 a.m.
• Children of all ages are welcome at the Lego Club which meets from 12 to 12:45 p.m. at the Otay Ranch library.
• The Otay Ranch library also hosts their Ready, Set, Read program for young children from 9:30 to 10:30 a.m. every Wednesday.Visit chulavistaca.gov/departments/library for more information on these and additional Chula Vista library events.
You can email Jessica at: jessica@integritynews.us with comments and suggestions.