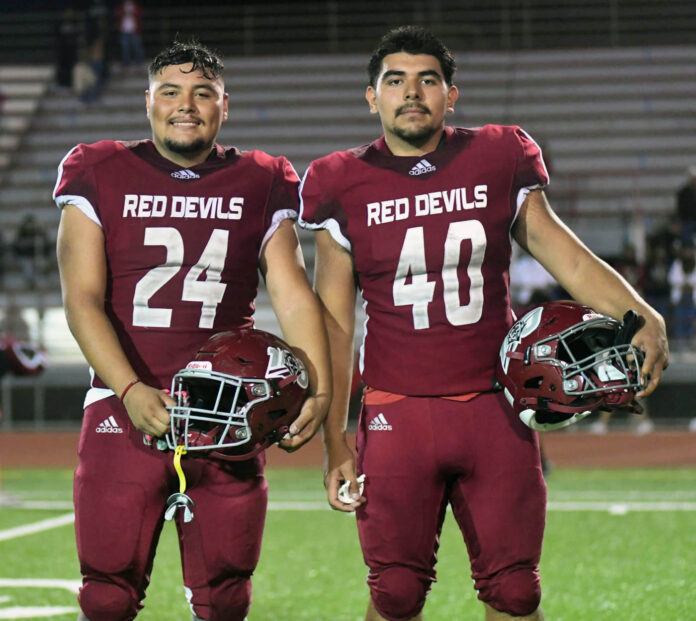 The Sweetwater Red Devils featured a new look on offense with senior Fabian Venegas taking direct snaps from center to entertain fans assembled for last Friday's South Bay League game against the visiting San Ysidro Cougars.
It paid off as the Devils posted a 56-7 victory to pick up their opening league win of the season.
The Cougar defense tried valiantly but Venegas' large frame proved nearly unstoppable to contain. He scored four touchdowns while carrying the ball 12 times for 271 yards.
When Venegas didn't elect to keep the ball, he handed it off primarily to seniors Javier Sanchez (five carries, 139 yards) and Carlos Hopper (10 carries, 69 yards).
Sanchez scored three touchdowns while Hopper scored one touchdown.
As a team, Sweetwater rolled up 506 rushing yards while scoring eight touchdowns in winning back-to-back games for the first time this season.
With five of the eight touchdowns measuring 50 yards or more, the explosive blocking of the offensive line had a great deal to do with securing the victory.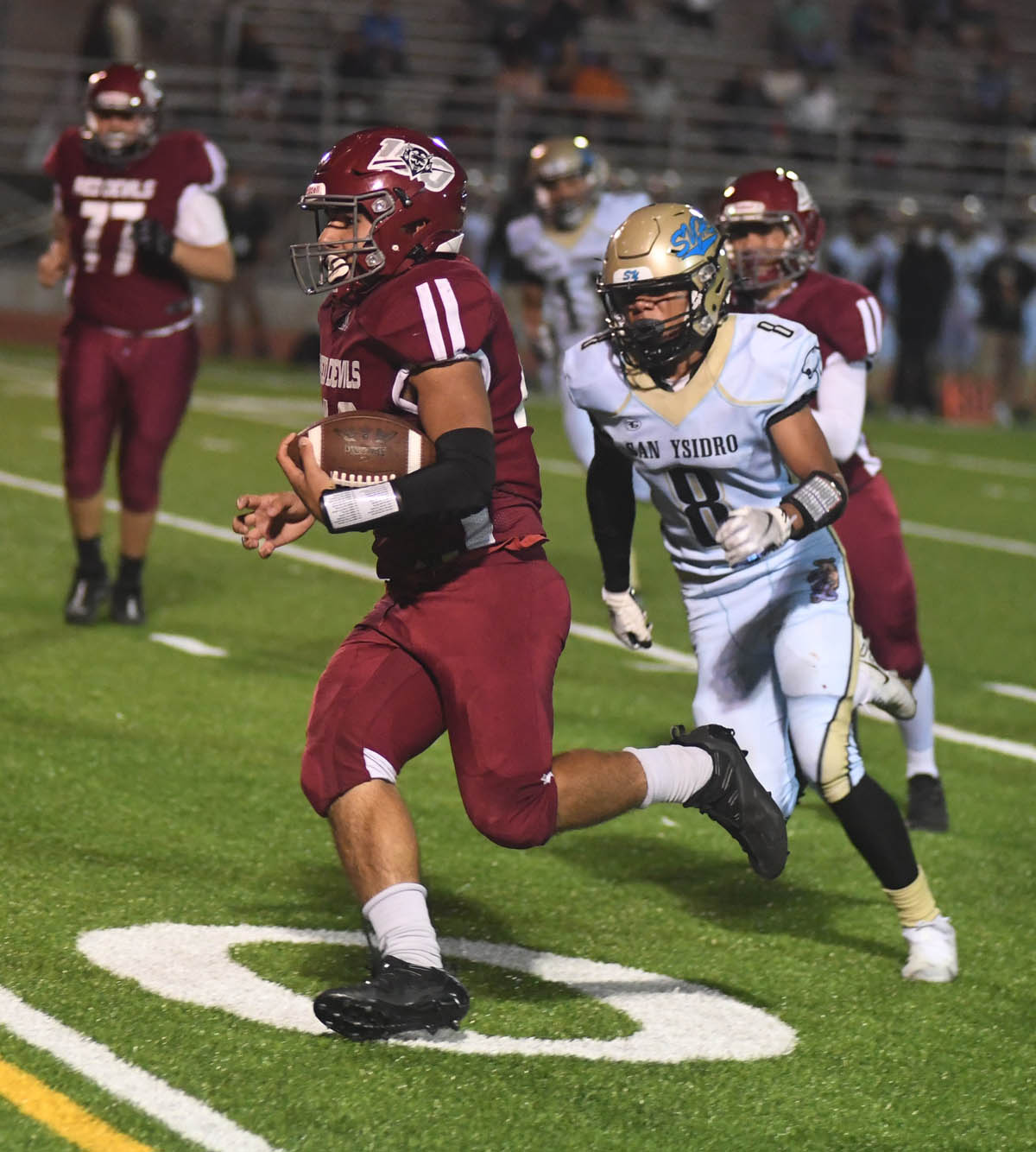 "Our line did a really great job this past week cleaning up things," head coach Ervin Hernandez said. "They did a good job of that."
Venegas and Sanchez were the first to credit the play of the team's offensive linemen as the key to success.
"It felt good, but I couldn't do it without my linemen," Venegas said. "Running in the open field felt great, seeing the endzone ahead of me."
"It comes down to hard work," Sanchez said. "Practicing has paid off. We're more confident."
The hosts didn't waste time to building a commanding lead over the Cougars.
Venegas scored on a 69-yard run, breaking through the San Ysidro defense, after taking a direct snap. Sanchez added the point-after conversion for a 7-0 SuHi lead with 8:11 remaining in the first quarter.
The visitors fumbled the ball on their first play after receiving the ball on the ensuing kickoff. Sophomore Carlos Delgado recovered the ball at the seven-yard line.
Venegas carried the ball to the one-yard line. Hopper dove into the endzone to complete the short scoring drive. Sanchez scored on a two-point conversion run to hike the Devil lead to 15-0.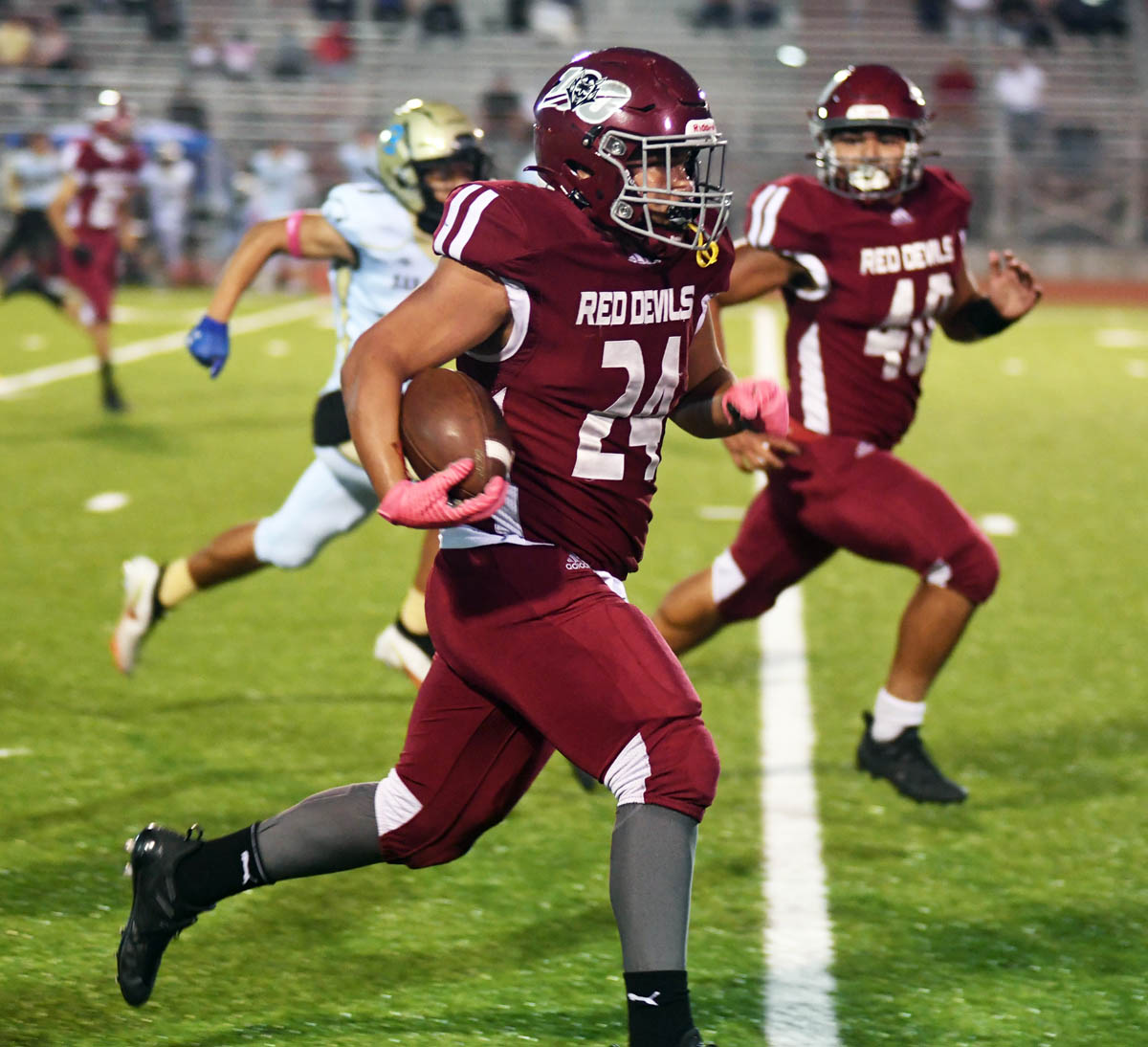 Sanchez broke loose to score on a 62-yard run on the next Sweetwater possession. He tacked on the extra point for a 22-0 lead.
Still in the opening quarter, Sanchez scored his second touchdown of the game on a four-yard run, set up by a 32-yard scamper by Hopper.
The successful PAT made the score 29-0 with 2:45 left in the first quarter.
The Devils led 36-0 at halftime after recovering the ball at the Cougar 13-yard line on a blocked punt. Venegas scored his second touchdown of the game from there.
There was still plenty of scoring to come in the second half.
Sanchez scored his third and final touchdown on a breakaway 64-yard run just 1:05 into the third quarter to up the SuHi lead to 43-0.
Backed up to their own eight-yard line, Venegas quickly solved the problem by ripping off an intrepid 92-yard scoring run down the home sideline in the final two minutes of the third quarter.
49-0 Sweetwater.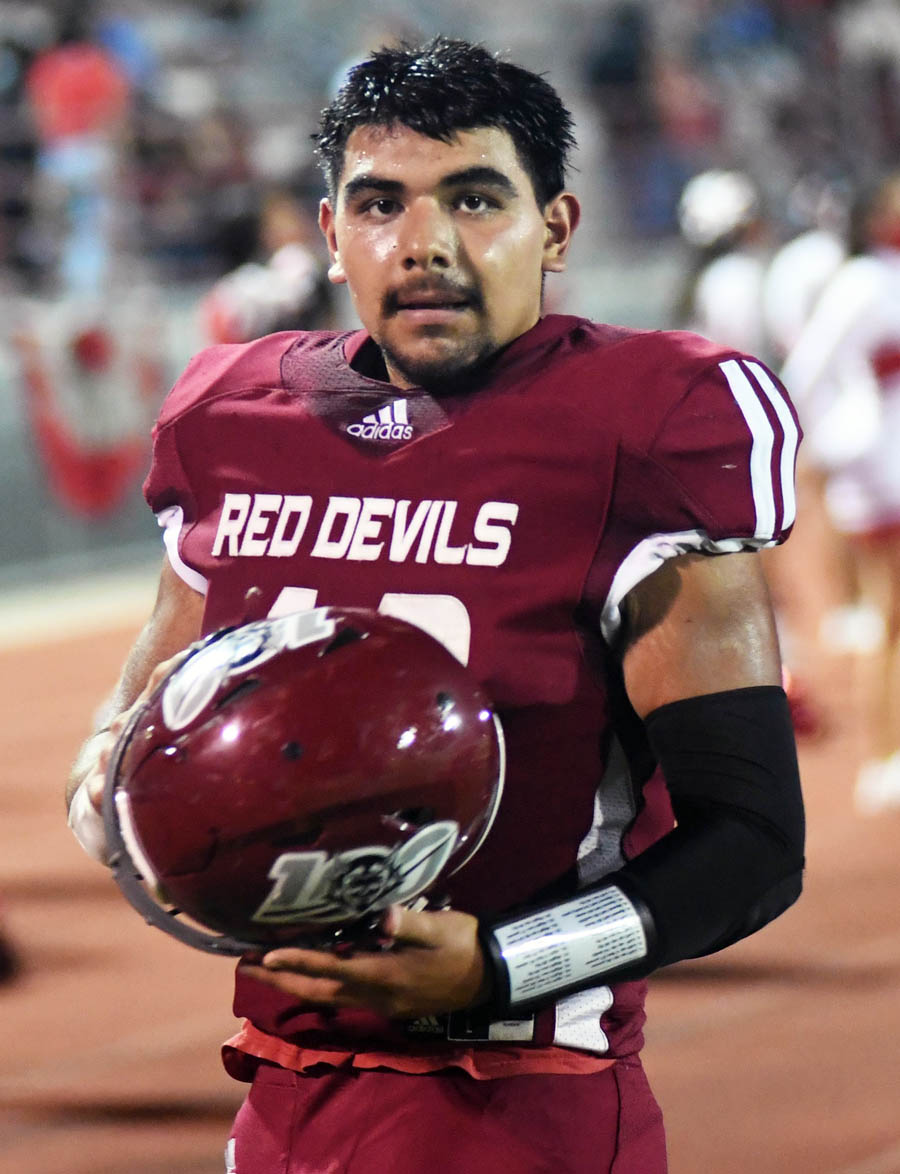 San Ysidro finally got on the scoreboard with 10:00 left in the fourth quarter with a running clock in effect. Junior Ja'Marcus Jiles (five-of 27, 76 yards) hit senior Koby Jackson on a 21-yard pass into the endzone to spoil the Devils' shutout bid.
The Cougars recovered the onside kick but Sweetwater senior Nick Jenkins intercepted the ball and returned it 29 yards to place the ball at the 50-yard line for another long touchdown run by Venegas.
Besides scoring three touchdowns, Sanchez had a breakout night by adding a pair of two-point conversions and three kicking points. He also recovered a fumble.
The hosts recovered three fumbles. Senior Charles Cota returned one fumble recovery 15 yards while Sanchez and Delgado had the other SuHi recoveries.
The Devils also recorded three sacks in the game — one each by junior Ben Grubbs, Hopper and Delgado.
Senior Josue Delgado also tacked on three kicking points to round out the well-rounded Sweetwater effort.
San Ysidro, which kicked off the season with a 3-1 non-league record, had its moments. Jiles has a strong arm but couldn't connect with receivers down field until the second half.
Senior speedster McKai Jackson led the Cougars with 108 all-purpose yards – 62 rushing, three receiving and 43 on kick returns.
Senior Matthew Jaime has a big frame. He rushed three times for 13 yards while sophomore Juan Castro caught one pass to complete a sizzling 36-yard play. Senior Santiago Luna caught one pass for 16 yards.
Senior Sal Samano once again led the San Ysidro defense with 12 tackles. Senior Domenick Romo recorded a 22-yard sack and sophomore Jose Atfield registered one caused fumble.
Romo averaged 29.4 yards on five punts while sophomore Omar Vargas punted once for 38 yards.
Senior Angel Lopez had one PAT in the game.
The Devils will be looking to secure a Division IV playoff berth while the Cougars will be looking to qualify for the Division V playoffs.
Sweetwater (1-0 in league, 2-3 overall) has a key divisional matchup this Friday at Montgomery (1-0 in league, 3-2 overall). The teams are near each other in the two regional football polls. The Devils are seventh in the section power rankings, which will be used as a guide for playoff seeding, while the Aztecs are ninth.
San Ysidro is 16th in the Week 7 release of the section power rankings.
Twelve teams in both Division IV and Division V qualify for the upcoming playoffs.
Top Division IV teams in the power rankings include No. 1 Coronado (5-1), No. 2 University City (3-3), No. 3 Patrick Henry (4-2), No. 4 Rancho Buena Vista (4-3), No. 5 Del Norte (3-3-1) and No. 6 Valhalla (2-5).
Sweetwater lost, 13-7, to Coronado in the second week of the season.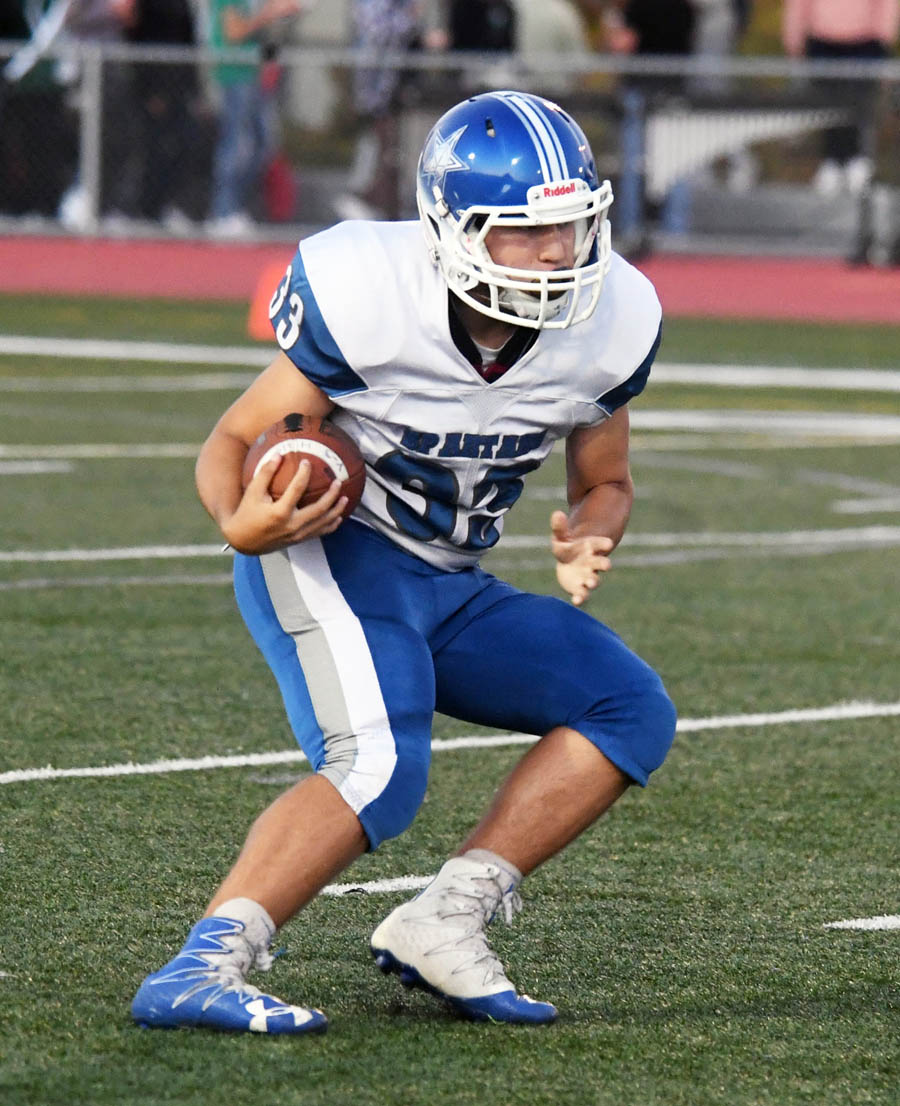 Spartans extend win streak to three games, hike South Bay League-leading mark to 3-0
Chula Vista High School head football coach Howard Bannister III set a goal for his team to win this year's South Bay League championship. The Spartans currently sit on top of the league standings with a 3-0 record and appear to be gaining momentum each week.
Chula Vista defeated host Castle Park, 42-17, last Friday to run its current winning streak to three games following a disappointing 0-2 start.
The Trojans dropped to 0-3 in league, 0-7 overall.
The game was closer than the final score indicated, according to Bannister.
"Coach Paco Silva made some great coaching adjustments early on and really gave us a game in the first half," the CVHS coach said. "We were able to settle down and take over the second half on defense and running the ball. It was a great team win but also great to re-kindle this old rivalry after taking a few years off."
Junior Giovanni Barrios led Chula Vista with 10 carries for 122 yards and scored three touchdowns while senior Anthony Venegas had 17 carries for 135 yards and scored one touchdown.
Sophomore Jacob Davidson rushed for one touchdown and caught one touchdown.
Senior Raymond Cruz keyed the team once again with 11 tackles. Sophomore Sean Arce and junior Mathew Robertson both recorded one sack.
Senior Daniel Montes finished the game with four extra-point conversions.
Junior quarterback Jacob Pedroza passed for 42 yards with one interception
As a team, the Spartans rushed for 298 yards. Davidson caught three passes for 38 yards, including one for a score.
Chula Vista (3-2) will host Orange Glen (4-1) in a non-league game this Friday in a departure from an originally scheduled non-league game against San Ysidro.
The Patriots are No. 9 in the section's Division III power rankings while the Spartans are No. 15 in the section's Division IV power rankings.
Kick-off for Friday's game is 6:30 p.m.
"That will be a great test for our team as they have had a good season so far in Division III," Bannister said. "We will also keep a close eye on the Sweetwater-Montgomery game."
The Spartans are scheduled to play at Sweetwater on Oct. 15 in the teams' resumption of their annual Legacy of Pride rivalry game. The game will also double as the Red Devils' homecoming game.
Sweetwater defeated visiting San Ysidro, 56-7, last Friday to start league play 1-0 while improving to 2-3 overall.
Chula Vista is on a three-game winning streak after a 0-2 start while Sweetwater has won its last two games following a 0-3 start.
Metro Conference Football Scoreboard
Mesa League
League/Overall
Mater Dei Catholic 1-0, 5-0
Eastlake                      1-0, 4-2
Otay Ranch                1-0, 2-3
Bonita Vista             0-1, 2-3
Hilltop                       0-1, 1-5
Olympian                   0-1, 0-5
Friday, Oct. 1
Mater Dei Catholic 46, Bonita Vista 0
Eastlake 54, Olympian 0
Otay Ranch 49, Hilltop 21
Friday, Oct. 8
Bonita Vista at Olympian, 6:30 p.m.
Eastlake at Hilltop, 6:30 p.m.
Mater Dei Catholic at Otay Ranch, 6:30 p.m.
South Bay League
League/Overall
Chula Vista                3-0, 3-2
Montgomery             1-0, 3-2
Sweetwater               1-0, 2-3
San Ysidro                 1-2, 3-3
Mar Vista                   0-1, 3-3
Castle Park                0-3, 0-7
Friday, Oct. 1
Chula Vista 42, Castle Park 17
Sweetwater 56, San Ysidro 7
Friday, Oct. 8
Castle Park at Mar Vista, 6:30 p.m.
Sweetwater at Montgomery, 6:30 p.m.
Non-League
Orange Glen at Chula Vista, 6:30 p.m.
8-MAN FOOTBALL
CITRUS LEAGUE
San Pasqual Academy 2-0, 5-0
Victory Christian  2-0, 4-1
Warner                     1-1, 1-4
Borrego Springs    1-1, 1-4
St. Joseph Academy  0-2, 3-3
Julian                        0-2, 0-5
Friday, Oct. 1
Victory Christian Academy 63, St. Joseph Academy 14
San Pasqual Academy 72, Julian 0
Warner 48, Borrego Springs 39
San Diego Section Power Rankings
(Through Oct. 2)
Division I: 1. Carlsbad (6-0), 2. Cathedral Catholic (5-2), 3. Mission Hills (4-2), 4. Torrey Pines (3-2), 5. Lincoln (5-1), 6. Helix (3-2), 7. Madison (4-2), 8. Granite Hills (4-2), 9. Eastlake (4-2), 10. Grossmont (2-4), 11. La Costa Canyon (3-3), 12. El Camino (3-3), 13. St. Augustine (1-6), 14. Oceanside (3-3), 15. Steele Canyon (1-6), 16. San Marcos (1-5)
Note: Top four teams advance to Open Division playoffs
Division II: 1. Scripps Ranch (5-0), 2. Poway (4-2), 3. La Jolla (3-3), 4. Valley Center (3-3), 5. Christian (4-2), 6. Otay Ranch (2-3), 7. Mira Mesa (3-2), 8. Rancho Bernardo (4-2), 9. San Diego (6-1), 10. San Pasqual (4-2), 11. Bishop's (4-1), 12. Vista (2-4), 13. Central Union (2-4), 14. Point Loma (2-4), 15. Morse (3-3), 16. Olympian (0-5)
Division III: 1. Santa Fe Christian (6-0), 2. Mt. Carmel (6-0), 3. Mater Dei Catholic (5-0), 4. Santana (5-1), 5. West Hills (6-0), 6. Ramona (4-2), 7. El Capitan (5-1), 8. Imperial (4-2), 9. Orange Glen (4-1), 10. Brawley (5-2), 11. Westview (1-5), 12. Canyon Hills (1-5), 13. Bonita Vista (2-3), 14. Escondido (3-4), 15. Hilltop (1-5), 16. Kearny (0-6), 17. Monte Vista (0-6)
Division IV: 1. Coronado (5-1), 2. University City (3-3), 3. Patrick Henry (4-2), 4. Rancho Buena Vista (4-3), 5. Del Norte (3-3-1), 6. Valhalla (2-5), 7. Sweetwater (2-3), 8. La Jolla Country Day (4-2), 9. Montgomery (3-2), 10. Mar Vista (3-3), 11. Mount Miguel (2-2), 12. Southwest El Centro (2-4), 13. Francis Parker (3-3), 14. Vincent Memorial (4-2), 15. Chula Vista (3-2), 16. Classical Academy (1-5), 17. Castle Park (0-7)
Division V: 1. Palo Verde Valley (4-2), 2. Mission Bay (5-1), 3. Holtville (5-0), 4. Army-Navy Academy (4-3), 5. Escondido Charter (6-0), 6. Fallbrook (2-4), 7. Crawford (2-5), 8. Calexico (3-3), 9. Foothills Christian (3-3), 10. Mountain Empire (2-4), 11. O'Farrell Charter (1-5), 12. Tri-City Christian (1-5), 13. El Cajon Valley (2-5), 14. Maranatha Christian (1-5), 15. Hoover (1-5), 16. San Ysidro (3-3), 17. Calipatria (2-3), 18. Clairemont (0-7)
MaxPreps Rankings
(Through Oct. 3)
Top 25: 1. Cathedral Catholic (5-2), 2. Carlsbad (6-0), 3. Lincoln (4-2), 4. Mission Hills (4-2), 5. Mater Dei Catholic (5-0), 6. Torrey Pines (3-2), 7. Scripps Ranch (5-0), 8. Helix (3-2), 9. Poway (4-2), 10. Madison (4-2), 11. Eastlake (4-2), 12. Oceanside (3-3), 13. El Camino (2-3), 14. Mt. Carmel (6-0), 15. La Costa Canyon (3-3), 16. Rancho Bernardo (4-2), 17. Ramona (4-2), 18. St. Augustine (1-6), 19. Granite Hills (4-2), 20. La Jolla (3-3), 21. Santa Fe Christian (6-0), 22. Mira Mesa (3-2), 23. Otay Ranch (2-3), 24. Steele Canyon (1-6), 25. Christian (4-2)
Division I: 1. Cathedral Catholic (5-2), 2. Carlsbad (6-0), 3. Lincoln (5-1), 4. Mission Hills (4-2), 5. Torrey Pines (3-2), 6. Helix (3-2), 7. Madison (4-2), 8. Eastlake (4-2), 9. Oceanside (3-3), 10. El Camino (2-3), 11. La Costa Canyon (3-3), 12. St. Augustine (1-6), 13. Granite Hills (4-2), 14. Steele Canyon (1-6), 15. Grossmont (2-4), 16. San Marcos (1-5)
Division II: 1. Scripps Ranch (5-0), 2. Poway (4-2), 3. Rancho Bernardo (4-2), 4. La Jolla (3-3), 5. Mira Mesa (3-2), 6. Otay Ranch (2-3), 7. Christian (4-2), 8. San Diego (6-1), 9. San Pasqual (4-2), 10. Valley Center (3-3), 11. Point Loma (2-4), 12. Bishop's (4-2), 13. Vista (2-4), 14. Central Union (2-4), 15. Morse (3-3), 16. Olympian (0-5)
Division III: 1. Mater Dei Catholic (5-0), 2. Mt. Carmel (6-0), 3. Ramona (4-2), 4. Santa Fe Christian (6-0), 5. West Hills (6-0), 6. El Capitan (5-1), 7. Brawley (5-2), 8. Santana (5-1), 9. Orange Glen (4-1), 10. Imperial (4-2), 11. Escondido (3-4), 12. Westview (1-4), 13. Bonita Vista (2-3), 14. Canyon Hills (1-5), 15. Hilltop (1-5), 16. Monte Vista (0-6), 17. Kearny (0-5)
Division IV: 1. Del Norte (3-3), 2. Patrick Henry (4-2), 3. University City (3-3), 4. Coronado (4-1), 5. Rancho Buena Vista (4-3), 6. La Jolla Country Day (4-2), 7. Sweetwater (2-3), 8. Mount Miguel (2-2), 9. Montgomery (3-2), 10. Valhalla (2-5), 11. Mar Vista (3-3), 12. Francis Parker (3-3), 13. Southwest El Centro (2-4), 14. Vincent Memorial (4-2), 15. Chula Vista (3-2), 16. Classical Academy (1-5), 17. Castle Park (0-7)
Division V: 1. Mission Bay (5-1), 2. Escondido Charter (6-0), 3. Palo Verde Valley (4-2), 4. Fallbrook (2-4), 5. Holtville (5-1), 6. Calexico (3-3), 7. Army-Navy Academy (4-3), 8. Crawford (2-5), 9. Tri-City Christian (1-5), 10. Mountain Empire (2-4), 11. San Ysidro (3-3), 12. El Cajon Valley (2-5), 13. O'Farrell Charter (1-5), 14. Calipatria (2-3), 15. Foothills Christian (3-3), 16. Hoover (1-4), 17. Maranatha Christian (1-5), 18. Clairemont (0-7)