The National Football League formally wrapped up its 2018-19 season with Sunday's Super Bowl title game won 13-3 by the AFC champion New England Patriots over the NFC champion Los Angeles Rams.
Of note, Mount Miguel High School alumnus Cory Littleton, who signed as an undrafted free agent with the Rams in 2016 following a college career at the University of Washington, made an interception on New England quarterback Tom Brady's first pass in the game.
Littleton, who was voted to the 2019 Pro Bowl as a special teams starter, finished Sunday's game with 10 tackles. As a starting linebacker, Littleton recorded seven tackles in a 30-22 playoff victory against the Dallas Cowboys and 12 tackles in a 26-23 overtime victory against the New Orleans Saints in the NFC championship game.
Sunday's game, which attracted a total audience of 100.7 million on multiple viewing platforms, according to CBS Sports, capped a run of 256 regular season and 11 playoff games that began with training camps in July, which, in turn, was preceded by rookie mini-camps and April's 2018 NFL Draft.
So the question begs, are you ready for more football?
San Diego's two newest pro football franchises — San Diego Fleet of the start-up Alliance of American Football and the San Diego Strike Force of the Indoor Football League — are set to kick off their inaugural seasons in the shadow of Super Bowl LIII.
The Fleet, the first up to test the market, is scheduled to kick off its 10-game regular season this Saturday, Feb. 9, at the Alamodome against the host San Antonio Commanders. The game will be telecast live by CBS.
The Fleet, a charter member of the eight-team league, will play its home games at SDCCU Stadium, starting Feb. 17 against the Atlanta Legends.
The Fleet will share the cavernous 71,000-seat Mission Valley facility, the former home of the San Diego Chargers before they departed to Los Angeles in 2017, with San Diego State University's football team and the SDCCU Holiday Bowl game.
Former NFL head coach Mike Martz (who won a Super Bowl championship in 2000 as the offensive coorindator of the St. Louis Rams) will serve as the Fleet's inaugural head coach. Former San Diego Chargers coach Mike Riley will coach the Commanders.
The San Diego franchise selected University of San Diego alum Josh Johnson (2004-7) as the overall first pick in the league's quarterback draft.
However, Johnson signed as a back-up with the NFL Washington Redskins in December following season-ending injuries to signal-callers Colt McCoy and Alex Smith.
Johnson, who threw for 9,699 yards and 19 touchdowns during four years with the Toreros, started three of four games for the Redskins, winning one while posting a 69.4 quarterback rating.
The Fleet held its training camp, along with the rest of the league, in San Antonio starting Jan. 4, and finalized its 52-player roster on Jan. 30.
Local connections include eight former SDSU players: tight end Gavin Escobar, offensive tackles Daniel Brunskill and Terry Poole, offensive guard Darrell Greene, defensive end Alex Barrett, linebacker Eric Pinkins, wide receiver Kameron Kelly and place-kicker Donny Hageman, the Aztecs' special teams MVP in 2014.
Escobar has spent time with five NFL teams since being taken in the second round of the 2013 draft by the Dallas Cowboys.
Pinkins was drafted in the sixth round of the 2014 NFL draft by the Seattle Seahawks.
Former Otay Ranch High School and Southwestern College quarterback Luis Perez, who led Texas A&M-Commerce to the 2017 NCAA Division II championship, will lead the Birmingham Iron into SDCCU Stadium on March 17.
Steele Canyon High School alum Chanceller James, who went on to play at Boise State and participated in two training camps (2017-18) with the NFL San Francisco 49ers, is playing for Salt Lake City.
The Stallions visit the Fleet on March 9 to make another San Diego homecoming come true.
The Strike Force, which also is playing off the region's rich military heritage, kicks off its inaugural season with a Feb. 22 game at the Quad City Steamwheelers and will host the Tucson Sugar Skulls in its home opener March 3 at Pechanga Arena San Diego.
The Strike Force, which will play 14 regular season games through June 15, will be the third arena football league team to call San Diego home.
The San Diego Riptide played at the arena from 2002-05 as a member of af2; the San Diego Shockwave played its lone season in 2007 at SDSU's Viejas Arena as a member of the National Indoor Football League, which folded in 2008.
The Shockwave finished its season with a 10-1 record, attracting crowds from a low of 2,379 to a high of 4,952.
The Indoor Football League, which has been in continuous operation since 2008, is fielding 10 teams during the 2019 season.
The Iowa Barnstormers are the defending IFL champions.
Patriot Nation
Brady further etched his name in the NFL history book by winning his sixth Super Bowl championship in nine trips to the NFL title game.
Sunday's appearance marked Brady's ninth trip to the NFL championship game – his fourth in the last five years. In his illustrious 19-year career, he has collected four Super Bowl MVP awards and is the league's all-time career leader in passing yards and touchdowns passes.
He is the oldest quarterback to win a Super Bowl at 41.
The Super Bowl championship was the eighth overall for New England head coach Bill Belichick, including two as a defensive coordinator with the New York Giants and six alongside Brady with the Patriots.
The Patriots have now tied the Pittsburgh Steelers for most Super Bowl victories with six.
New England wide receiver Julian Edelman, who caught 10 passes for 141 yards, earned honors as the 2019 Super Bowl MVP. Pats rookie running back Sony Michel scored the only touchdown of the game midway through the fourth quarter to break a 3-3 standoff between the teams on the scoreboard.
Fleet sunk in AAF opener
San Diego's pro football replacement for the Chargers got off to a slow start in Saturday's Alliance of American Football season opener by dropping a 15-6 decision to the host San Antonio Commanders in front of an optimistic draw of 27,857 fans at the Alamodome.
SDSU alumnus Donny Hageman accounted for all of the Fleet's offense in its inaugural AAF game by kicking two field goals in the second quarter as the teams battled to a 6-6 standoff on the scoreboard, though not for a lack of offense.
The Commanders racked up 364 yards in total offense while the Fleet tallied 295 total yards.
San Diego's offensive drives were hampered by six sacks and three interceptions.
San Antonio quarterback Logan Woodside completed 18 of 36 passing attempts with two interceptions. Kenneth Farrow scored the game's lone touchdown on a three-yard run on the first play of the fourth quarter to give the hosts a 12-6 lead.
Nick Rose finished the game with three field goals for the Commanders, including a 28-yard field goal with 3:34 to play to put San Antonio up by two scores.
The Commanders defense made itself felt early on as Shaan Wsshington delivered a bone-jarring hit on San Diego quarterback Mike Bercovici that knocked off Bercovici 's helmet  and sent it flying. Washington would finish the game with three picks.
San Antonio's Orion Stewart made the biggest defensive play of the first half when he returned an intercepted pass 68 yards into Fleet territory.
The Fleet's bid for its first touchdown in franchise history ended when the Commanders' Zack Sanchez pass intercepted a pass in the end zone with 1:37 to play.
San Diego will attempt to get in the win column when it hosts the Atlanta Legends on Sunday, Feb. 17, at 5 p.m. at SDCCU Stadium. The Legends are coming off a 40-6 loss to the Orlando Apollos on Saturday.
Orlando is coached by 73-year-old Steve Spurrier, who won the 1966 Heisman Trophy and later coached in the Tampa Bay Bandits in the USFL. The Apollos attracted 20,191 fans to Saturday's home game against Atlanta despite on-and-off rain.
The new league has adopted rules to quicken the game, such as no kickoffs (teams start on the 25-yard line), no PAT conversions on touchdowns and 35 seconds between plays.
In Sunday's continuation of opening weekend, Birmingham (with former Otay Ranch High School and Southwestern College quarterback Luis Perez) pitched a 26-0 shutout against the visiting Memphis Express while the Salt Lake Stallions (with former Steele Canyon High School standout Chanceller James) kicked off its season with a 38-22 setback at the Arizona Hotshots.
Perez, who Texas A&M-Commerce to a NCAA Division II national championship and earned a look-see in the Los Angeles Rams' training camp, was sharp in his AAF debut while passing for 252 yards. His primary target was Iron receiver Quinton Patton, who caught four passes for 107 yards.
Birmingham kicker Nick Novak, a 10-year NFL veteran, including time with the Chargers, made all four of his field goal attempts to account for 12 kicking points. Trent Richardson, the third overall pick in the 2012 NFL Draft, scored two fourth quarter touchdowns.
Perez was sacked twice in the opening three quarters in front of an announced crowd of 17,039 at Legion Field.
Arizona quarterback John Wolford, a former college standout at Wake Forest, threw for 275 yards and four touchdowns to spearhead an up-tempo offense for head coach Rick Neuheisel. The Hotshots made their debut in front of a crowd estimated between 10,000 and 15,000 in the 71,000-capacity Sun Devil Stadium.
Each team plays 10 regular season games. Two rounds of playoffs follow regular season play, which concludes April 12-14.
The AAF will hold its championship game on April 27 in Las Vegas.
Preseason Power Rankings: 1. Arizona Hotshots, 2. Orlando Apollos, 3. San Antonio Commanders, 4. Salt Lake Stallions, 5. Atlanta Legends, 6. Birmingham Iron, 7. San Diego Fleet, 8. Memphis Express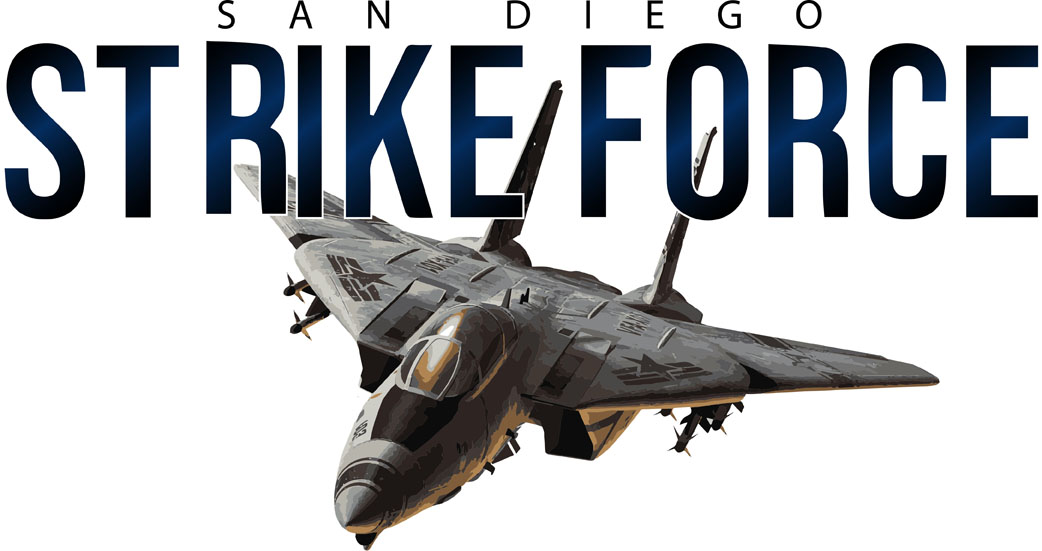 Eastlake's Grossman tabbed to lead new Strike Force arena football team
There's a new football team in town and a familiar face to guide it.
Eastlake resident Burt Grossman, a local community leader and former San Diego Chargers defensive end, has been tabbed as the first head of the Indoor Football League's San Diego Strike Force.
Grossman, who served as president of the Eastlake Panthers youth football organization from 2013-16, has dedicated his life to community service and youth sports advocacy since retiring from the NFL in 1996. He is understandably excited about the new career opportunity.
"I know that there are a lot of football fans in San Diego who are hungry to embrace a team they can call their own and be proud of, and we're going to do everything we can on the field and in the community to give them just that," Grossman said.
A former first-round pick of the Chargers in 1989, eighth overall out of the University of Pittsburgh, Grossman spent seven seasons in the NFL, including five with the Chargers (1989-93) and two with the Philadelphia Eagles (1994-95).
A serious neck injury ended Grossman's career prematurely in 1996, but not before he wrapped up his career having totaled 276 tackles and 43.5 sacks.
He has since embedded himself in the community. Besides serving as a youth sports advocate, he has dedicated his life to helping serve the underprivileged and special-needs communities.
He seems to be a natural fit for the arena football team's first coach.
"We can't think of a better coach and person to lead our team into this first season here in San Diego than Burt," Strike Force president Greg Anderson said. "Not only did he prove and establish himself on the field as a player here in San Diego, but more importantly he's done some incredible things in the community and he's exactly the kind of leader we wanted for the Strike Force."
The Strike Force will make its debut under Grossman in its IFL season opener at the Quad City Steamwheelers on Feb. 22.
He is looking forward to starting from the ground floor and building up.
"I like the fact that it is a blank slate, the time and energy spent on fixing or rebuilding a broken culture is consuming," Grossman explained. "This is an opportunity to paint your own picture rather than try and restore another artist's work."
Grossman said the evolution of the head coaching position has forced teams to "look for someone who can manage many personalities while building a winning culture and standard, yet have enough finesse during the process to have all those different personalities and variables work in unison towards a common goal."
Grossman received invaluable coaching instruction from some of the best minds at both the collegiate and NFL levels, including former NFL coach John Fox, a Castle Park and Southwestern College alumnus, who owns the distinction of coaching teams to both AFC and NFC championship titles.
"I played for John Fox at Pitt and he was always the complete coach to me," Grossman said. "I think a lot of coaches struggle to communicate with a diverse room of personalities' age groups and socio-economic upbringings.
"Football has mostly been a time capsule in a bubble of the 1980s. That's slowly changing to redefine what a head coach is and what that prototypical mold or stereotype looks like. Look around the NFL and college, the head coaches look like your cool young uncle and no longer your bitter grandfather. I came through a generation of coaches who have no place in the game today."
Burt Grossman file
Grossman's community-minded resume is extensive.
A sociology major at Pitt, Grossman is a board member for the San Diego High School Sports Association and a youth advisory-council member for the San Diego County Office of Education.
He coached football at both Castle Park and Hoover high schools. At Hoover, he served as the director of the school's Cardinal Connect Academy in collaboration with Able-Disabled Advocacy, a nationally recognized dropout-prevention program.
He founded the free low-income student MTS pass program (Safe Passages), which later was adopted by the city for all low-income students.
In 2011, Grossman was named the NFL's National Educator of the Year. In 2012, he was featured in an ESPN "Outside the Lines" segment profiling community difference makers.
In 2013, he received the San Diego County High School Sports Association's annual community service award.
Grossman has been very active as a board member for the Southwest Sports Wellness Foundation, an agency that provides more than 5,000 South Bay student-athletes with free medical care.
Grossman also founded the Sweetwater Union High School District's Heads Up Football safety program as the first district on the West Coast to implement this player safety concussion program in conjunction with the NFL.
From 2013-15, Grossman served as the NFL's Heads-Up Youth Sports Safety Ambassador for Southern California and in 2013 received San Diego's South County Youth Football Volunteer of the Year Award.
In 2014, Grossman helped arrange the donation of new uniforms for the Sweetwater High School football team and in 2015 helped secure new helmets for the Imperial Beach Chiefs youth football organization.
Also, over a four-year stretch (2012-15), Grossman helped secure more than $85,000 in NFL-funded charity grants for the City Heights and Mount Hope neighborhoods of San Diego.
San Diego's special needs community also has benefitted greatly from Grossman's benevolence.
From 2013-14, he served as the director for Career-Smart, a program that provides vocational training, support services and job placement assistance to special education students in the Sweetwater District through funding provided by the Workforce Partnership. During that time, he helped place 30 special education students into jobs and post-secondary education.
In 2015, he served as an honorary captain for Special Olympics' Los Angeles World Games flag football competition.
A father of two boys, Grossman is currently the program director and mentoring coordinator for the Able-Disabled Advocacy in San Diego.
He also serves on the board of directors for Meals on Wheels and is the executive director of the San Diego Adaptive Sports and Recreation Association.
On the side, Grossman does television and radio work with KUSI-TV and the Mighty 1090 and he has won two Emmy awards for his broadcast work.