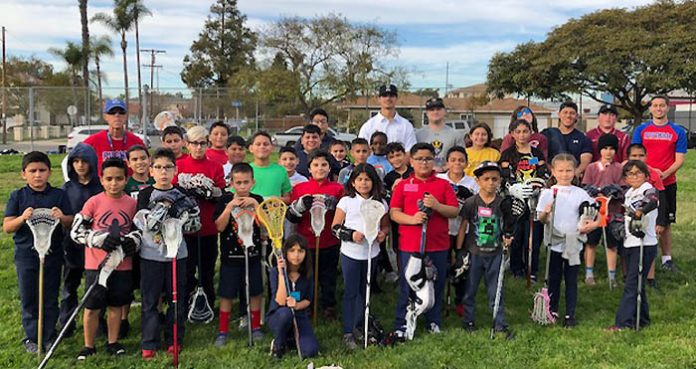 Eastlake resident Keith Quigley stands out as South County's youth hockey and lacrosse guru, which might be the best way to describe his involvement in introducing younger generations to both sports.
Quigley, who worked for the city of Chula Vista for 10 years in its Educational Services Department, has operated the non-profit PUCKidz since 2012. The acronym stands for Positive Understandable Coaching for Kidz.
The program, which was created to give local youths a positive, fun and safe sports environment while at the same time teach life-long values, has received national recognition and grants to help further the effort at the grassroots level, often with underrepresented and disadvantaged youths.
His LAX619 program is a more recent development and is included under the PUCKidz umbrella. The program has grown to also include age-group club teams that compete in league play against other teams in San Diego County.
Youngsters often get their introduction to hockey through Quigley's Sunday morning hockey clinics (sneaker and roller hockey) at Sunset View Park in Eastlake.
The youth hockey and lacrosse clinics and camps are an outgrowth of Quigley's upbringing on the East Coast, where both sports are staples at the youth, high school, college and professional levels.
Quigley, who has been involved in the areas of sports, recreation, enrichment and education for more than 25 years, is helping change the youth sports culture locally.
Besides his involvement in PUCKidz and LAX619 he serves as the head roller hockey coach at Bonita Vista High School and the head boys lacrosse coach at Olympian High School.
He founded both long-running programs. The BVHS roller hockey program, which is coed, first faced off in 1998.
More recently, Quigley has helped foster the development of a series of after-school youth lacrosse clinics and camps and now a full-blown youth lacrosse league at several area elementary schools.
He is currently hosting after-school lacrosse clinics Mondays at Hedenkamp Elementary School, Tuesdays at Hilltop Elementary School, Thursdays at Feaster Charter School, Fridays at CV Hills Elementary School and coming soon to Arroyo Vista Charter School.
The after-school elementary school lacrosse league features two games each Friday afternoon at Feaster Charter School. The league, which includes Chula Vista Hills, Hilltop, Hedenkamp and Feaster, features six regular season games. Playoffs are scheduled on March 14.
Quigley's efforts at teaching and promoting the game of lacrosse, in particular, have not gone unnoticed.
Two members of the San Diego Seals professional National Lacrosse League team attended Quigley's regular Thursday after-school lacrosse clinic at Feaster Charter School on Jan. 24.
It didn't take long for Connor Kearnan and Jules Heningburg to don protective equipment and play alongside the kids while helping teach techniques and otherwise just having fun.
"It was definitely a special treat for the kids in my Feaster Charter School after-school lacrosse program to get a visit from the San Diego Seals during their regular Thursday lacrosse clinic," Quigley explained.
"The kids were really excited to have a couple of professional lacrosse players there. It's really nice to see how supportive the Seals are of local community lacrosse programs. I'm sure it will help grow the game of lacrosse in the South Bay."
Kearnan and Heninburg were both more than willing to give up a couple hours of their time to help spread the gospel of lacrosse to South County children.
"I love it," Kearnan said. "Back home I coach one of the youth programs. It's fun to teach the kids and grow the sport. It's heading in the right direction."
"When I was growing up, I looked up at the coaches who helped teach us," Heningburg said. "I know how much it meant to me to have those coaches come out and inspire us."
Quigley attended the Seals' inaugural home game on Jan. 12, a 12-10 win over the Rochester Knighthawks in front of a near-capacity crowd of 11,323.
"I had a blast at the home opener," Quigley offered. "It was an action-packed game."
The Seals defeated the visiting Calgary Roughnecks, 15-9, on Jan. 18 and recorded a key 11-10 road victory at Vancouver on Jan. 19 to improve to 5-2 on the season.
The Seals host the same Vancouver Warriors (2-6) on Friday, Feb. 8, at 7 p.m. at Pechanga Arena San Diego.
Austin Staats, the Seal's current scoring leader with 18 goals, and teammates Connor Fields and Garrett Epple attended Quigley's winter break youth lacrosse clinics in December and January at Sunset View Park.
"It was such an amazing day to have professional players from the San Diego Seals visit my lacrosse camps," Quigley said. "The campers were thrilled. The kids got to hang out with them and learn some new lacrosse skills. The three players were so nice and great with the kids. The Seals have been really supportive of what I'm trying to do as far as growing the game with my PUCKidz/LAX619 programs."
The Seals, who will play 18 regular season games, including nine home games, have started to develop a winning attitude both on the field and throughout the community.
"I think they love it," Heningburg said of the reaction he has received from the kids. "The community involvement has paid off. We've been really well received here."
"I'm really psyched that we now have a professional lacrosse team in town," Quigley said. "Growing up back east there was always lacrosse everywhere. Now it's starting to seem like the West Coast is catching up. With the Seals being here I really think it will do so much for the growth of the sport. Families are going to attend a game and see how action-packed it is and run out and purchase lacrosse sticks.
"I'm looking forward to attending games with kids and families from my PUCKidz program and also my Olympian High lacrosse team families."
The Seals will honor Quigley and PUCKIdz during the second quarter of Friday's game as part of the team's Ambassador of the Game community recognition.
As the team's slogan screams: Dive in!
For more information about PUCKidz/LAX619 programs visit www.puckidz.net or (619) 573-7115.