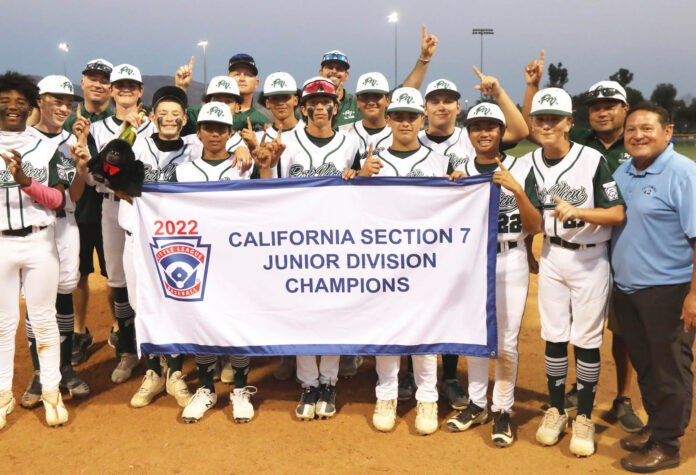 The Road to the Junior League World Series Aug. 14-21 in Taylor, Mich., continued for California District 42 champion Park View Little League after sweeping through this year's California Section 7 championship tournament at Spring Valley Little League.
Park View defeated District 22 champion Holtville, 16-1, in opening round action last Friday. Park View then rocked District 41 champion West Hills, 23-0, in Sunday's winners bracket final to advance to Monday's championship game against Holtville.
Park View won the rematch, 24-0, after leading 12-0 through two innings, to improve to 5-0 in all-star tournament play.
"It's a very good group of boys, they look very competitive," Park View president Johnny Fuentes said. "It looks like they're starting to jell."
The newly minted Section 7 champions advance to the Southern California regional tournament hosted by Murrieta Little League. Park View plays the Section 8 champion in its opening game on Friday.
West Hills opened tourney play July 14 with a 16-2 win over District 66 champion Spring Valley.
Spring Valley met Holtville in an elimination game on Saturday while West Hills met Holtville in another elimination game on Sunday.
Holtville defeated Spring Valley, 12-4, on Saturday and West Hills, 6-1, on Sunday.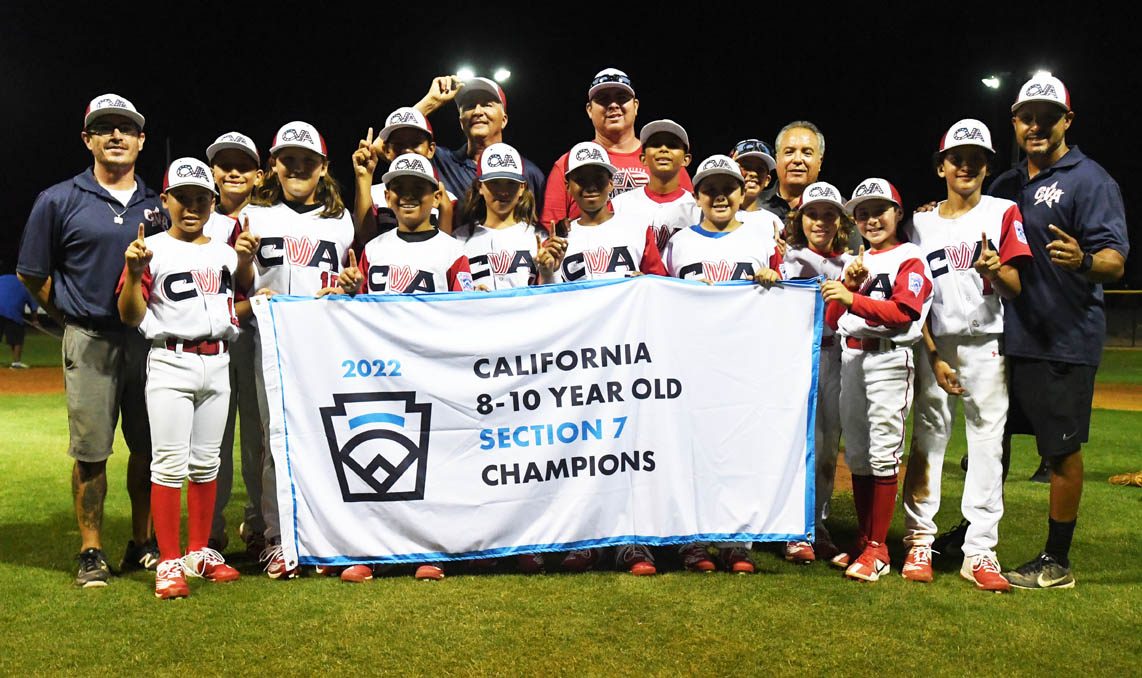 10U Division
District 42 champion Chula Vista American and District 66 champion Las Palmas opened play last weekend along with Yuma (District 22) and Lakeside National (District 41) at Fletcher Hills Little League.
CVA blasted Yuma, 18-0, while Lakeside National topped Las Palmas, 13-1, to advance from Saturday's openers.
Las Palmas eliminated Yuma on Sunday, 9-7, while Chula Vista American defeated Lakeside National, 5-3, to advance to Tuesday's championship game.
Lakeside National eliminated Las Palmas, 19-2, on Monday to advance to meet CVA in Tuesday's rematch.
The District 42 champs recorded a clutch 1-0 win as Manny Dorado scored on a RBI triple by Javier Rios in the first inning and the pitching combo of Dorado and Sonny Garcia shut the door on the District 41 champs from there.
"Pitching and defense have carried us from the beginning," CVA manager Sergio Feria said.
Chula Vista American, which improved to 7-0, loaded the bases with one out but could not plate an insurance run and had another runner thrown out at the plate to set up the tense final inning when Lakeside National placed two runners on base with one out.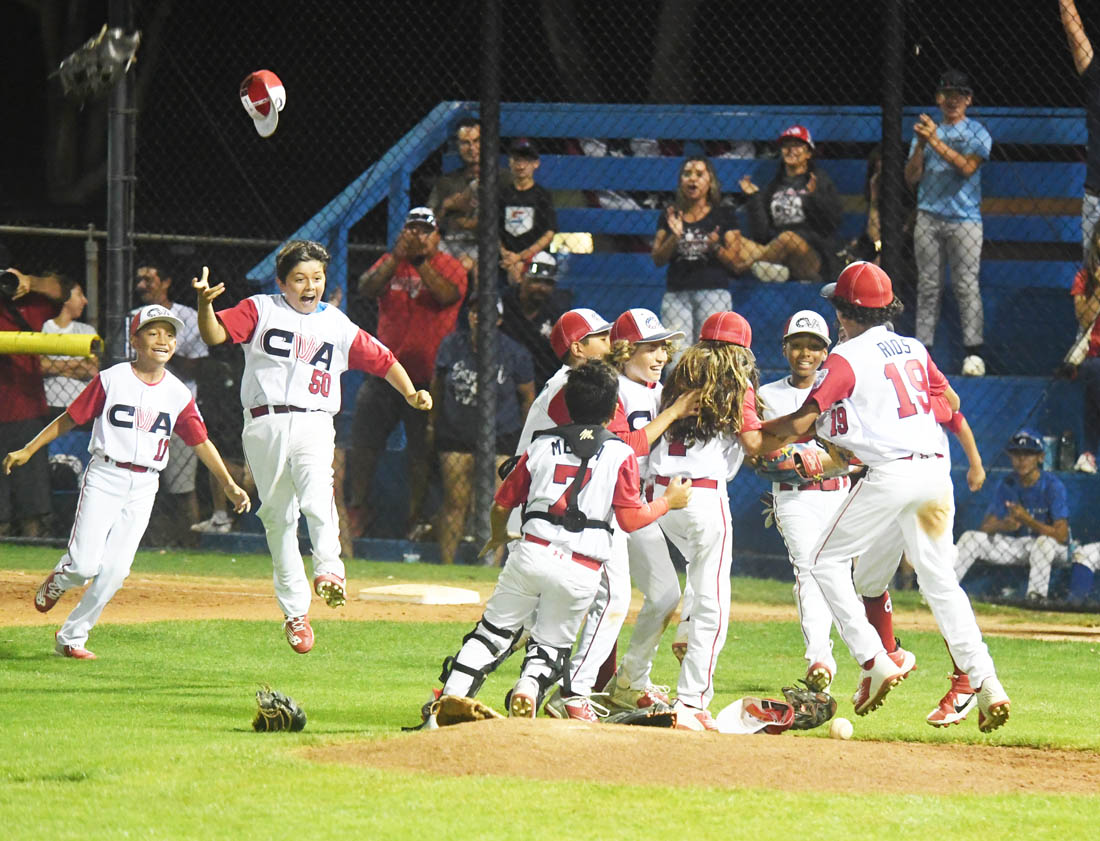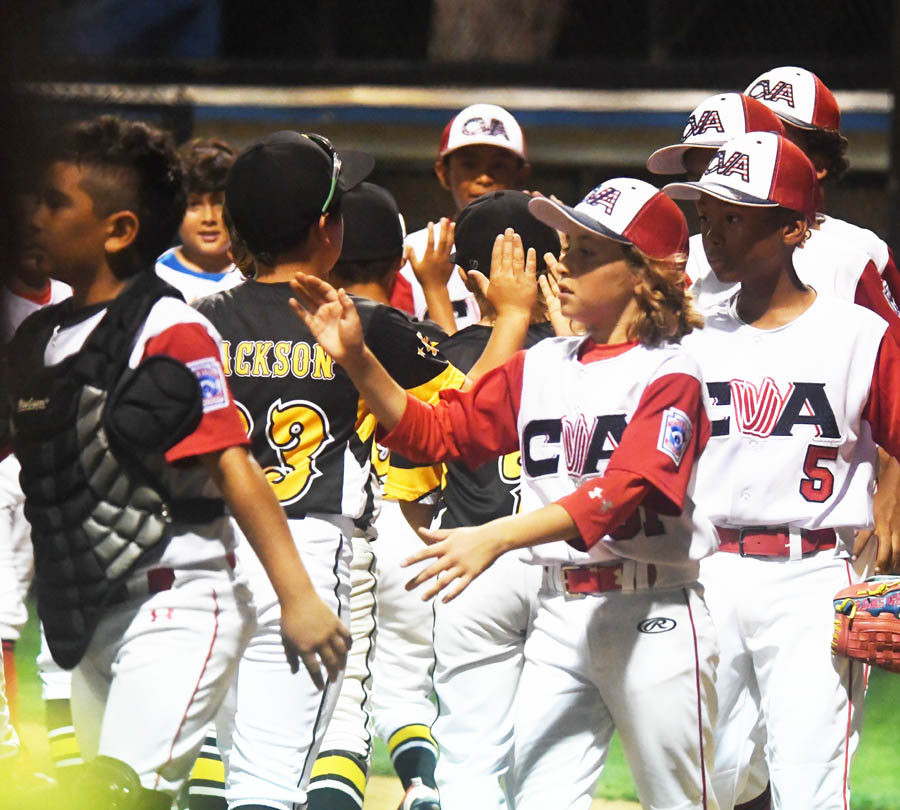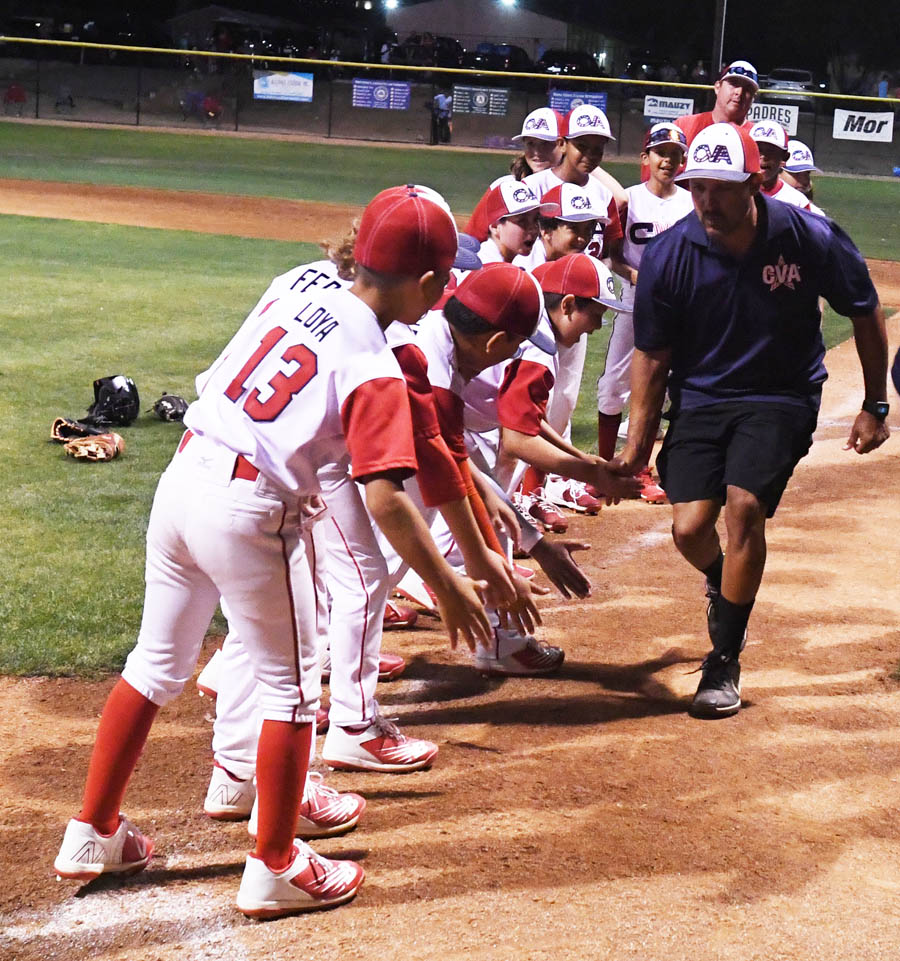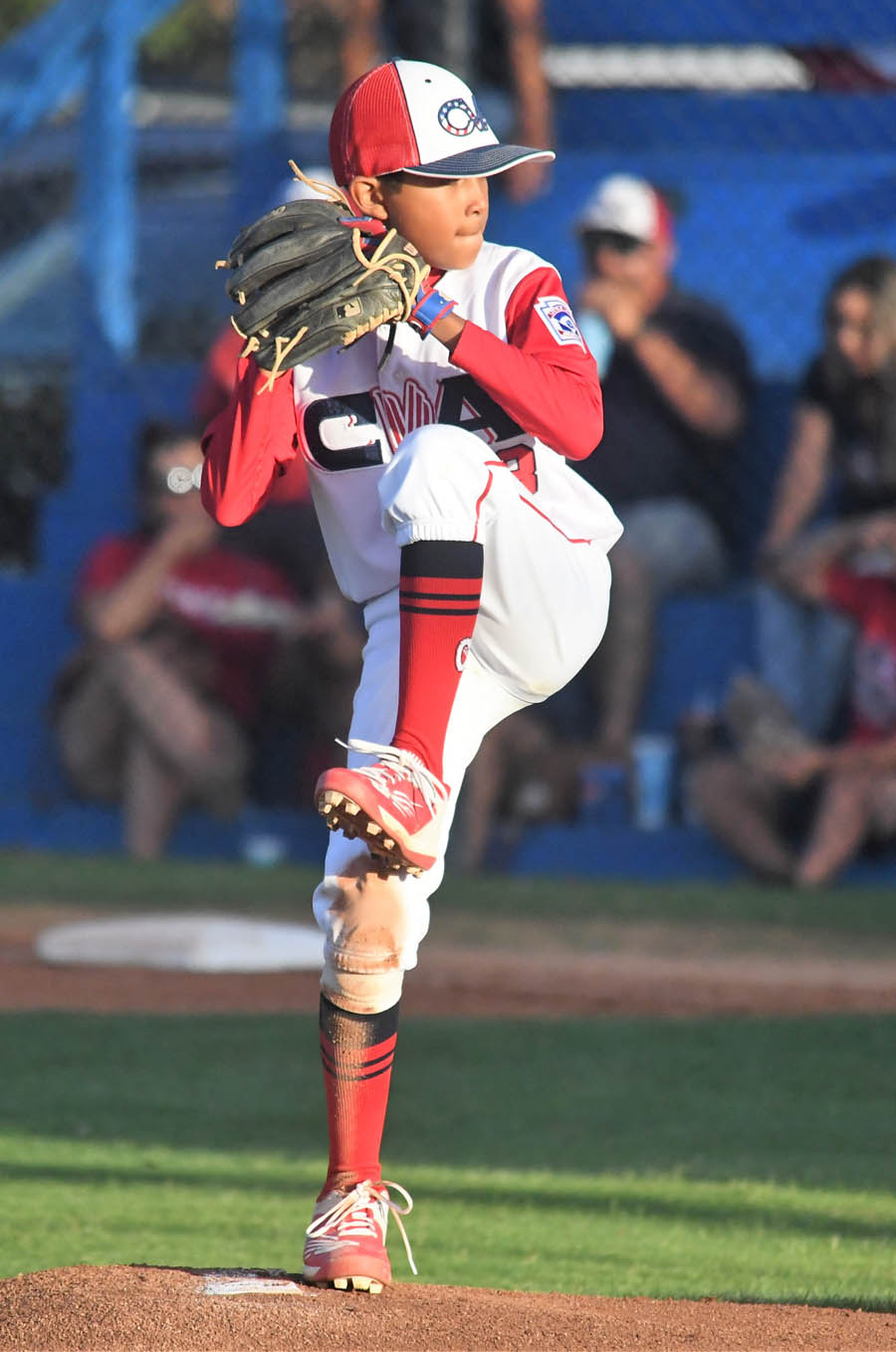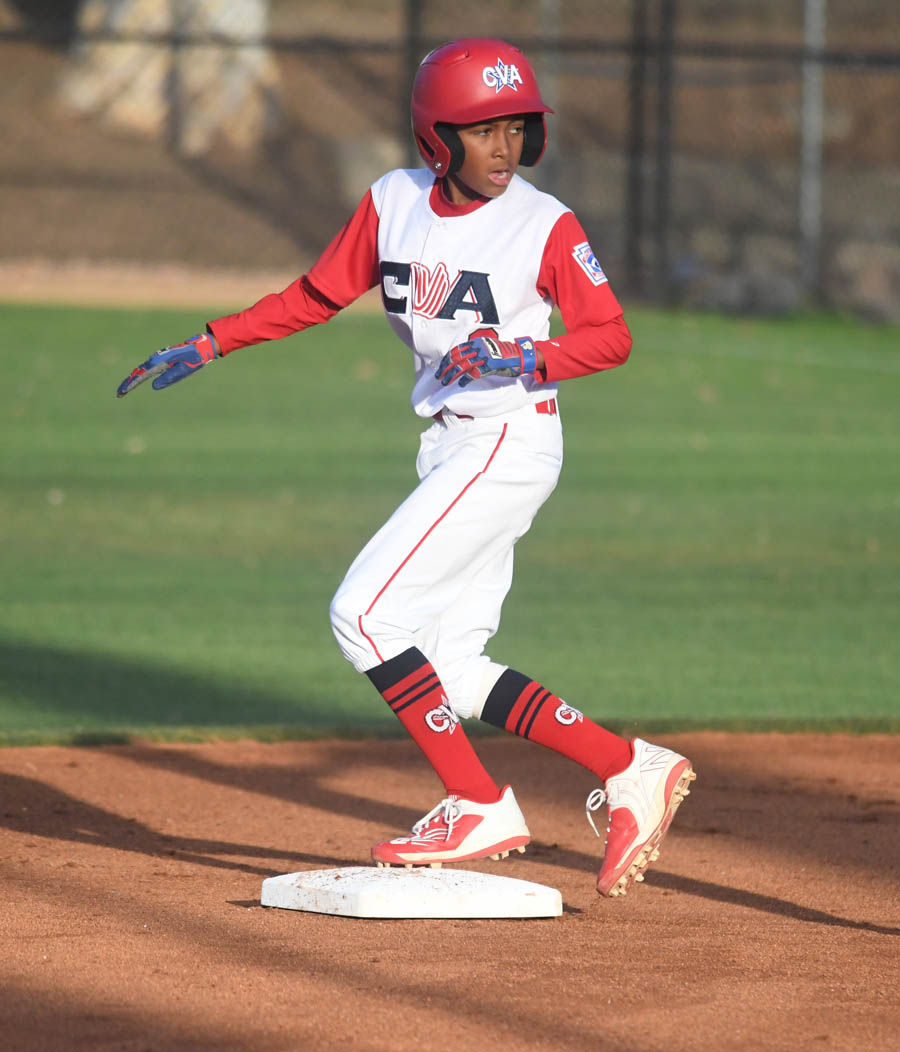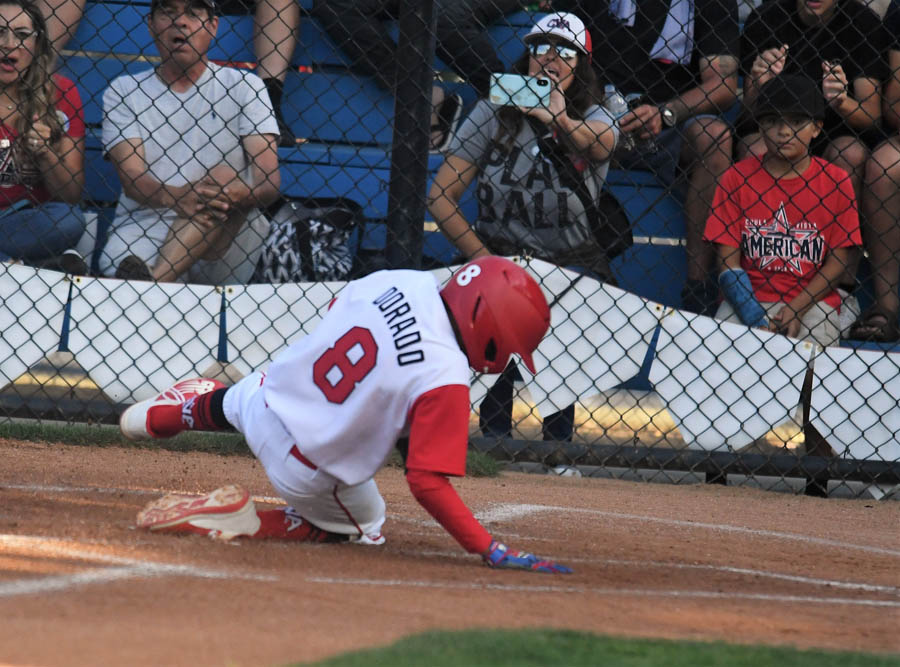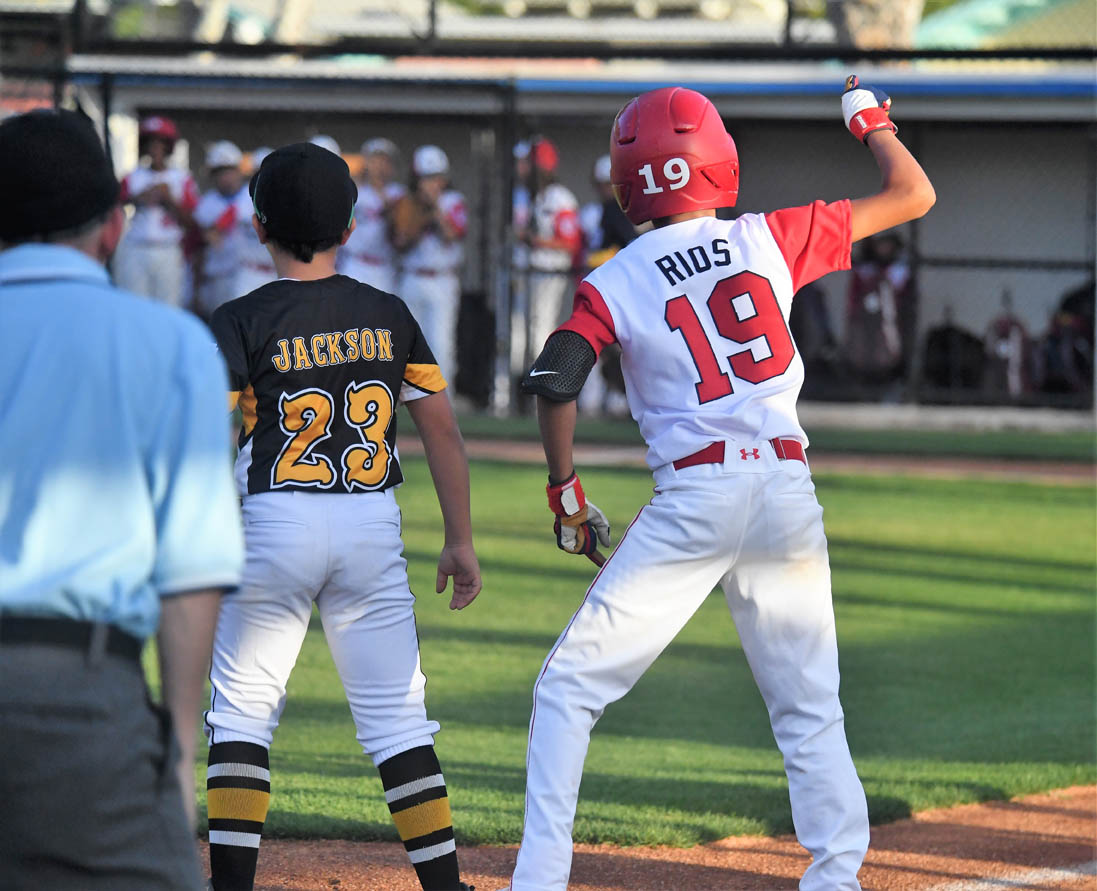 11U Division
District 41 champion Rancho de Oro dropped District 42 Eastlake into the elimination bracket with a 4-2 win in Saturday's opener at Spring Valley Little League, then topped District 66 champion Lemon Grove, 10-0, on Sunday.
Eastlake defeated Lemon Grove, 15-0, on Monday to draw a championship rematch against Rancho de Oro.
Eastlake, coming out of the losers bracket, needs two wins against Rancho de Oro to claim this year's section title. The District 42 champs forced Thursday's championship game following a clutch 15-2 win on Tuesday to avoid elimination.
Thursday's banner game starts at 4 p.m.
In another series played at Spring Valley Little League:
Sweetwater Valley's 12U all-star team had to put its championship game celebration on hold — at least for another day — after coughing up a grand slam in Sunday's 11-7 loss to District 41 champion Lakeside National.
Lakeside National advanced to Wednesday's Section 7 championship game awaiting the winner of Monday's elimination game between District 66 champion Spring Valley and Sweetwater Valley.
Sweetwater Valley won, 19-0, to get a second crack at Lakeside National and made the most of the opportunity with an 18-0 win on Wednesday to force a double-elimination replay on Thursday.
Game time is 7 p.m.
Thursday's winner advances to the Southern California regional tournament and a step closer to the hallowed Little League World Series.
Sweetwater Valley opened the tournament with an 11-0 win over Spring Valley on Saturday while Lakeside National edged Calexico 1-0. Spring Valley eliminated Calexico from the tournament with a 2-0 win on Sunday.
Ethan Orozco pitched a no-hitter in the four-inning run-rule game on Saturday while Sweetwater Valley rapped out 13 hits. Multiple hits came from Niko Duncan (2-for-4), Kenson Johnson (2-for-3 with two RBI), Lucas Yriqui (2-for-2), Brandon Hirsch (2-for-2 with four RBI) and Niko Villa (2-for-2).
Joel Vargas went three-for-four with a home run and two RBI while Johnson went two-for-three with three RBI in Sunday's game while Joe Waters went two-for-three. But the big blow was delivered by Lakeside National's Gavin Kelly.
"We out-hit Lakeside with 13 hits, however, the ball did not have eyes as we left runners on base multiple innings," SVLL manager Ward Lannom said. "We had an off night, so hopefully that is out of our system."
Sweetwater Valley roared back from the setback with 16 hits on Monday. Multiple hits came from Duncan (3-for-4), Vargas (2-for-3 with two RBI), Johnson (4-for-5 with a home run and four RBI) and Hirsch (3-for-4 with three RBI).
SVLL made a statement on Wednesday with 20 hits in 40 at-bats. "We were firing on all cylinders tonight — this is the team we know we have," Lannom said.
SWEETWATER VALLEY 18, LAKESIDE NATIONAL 0
Joe Waters led Sweetwater Valley in Wednesday's must-win game at Spring Valley Little League with four hits, including a home run, three RBI and eight total bases.
Niko Duncan had two doubles and three RBI in the game while Ethan Orozco had two hits and three RBI. Joel Vargas allowed two hits and struck out seven batters in five innings while also hitting one home run. Kenson Johnson had a triple and two RBI.
Photos by Steve Wood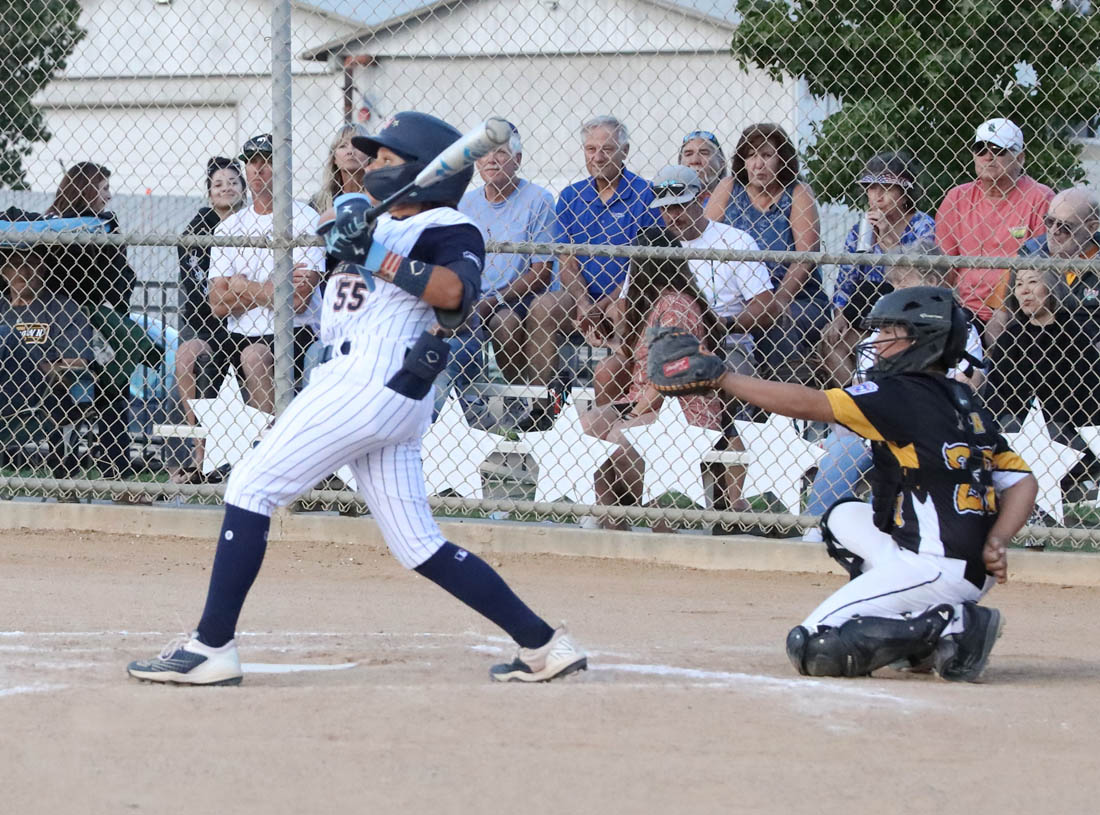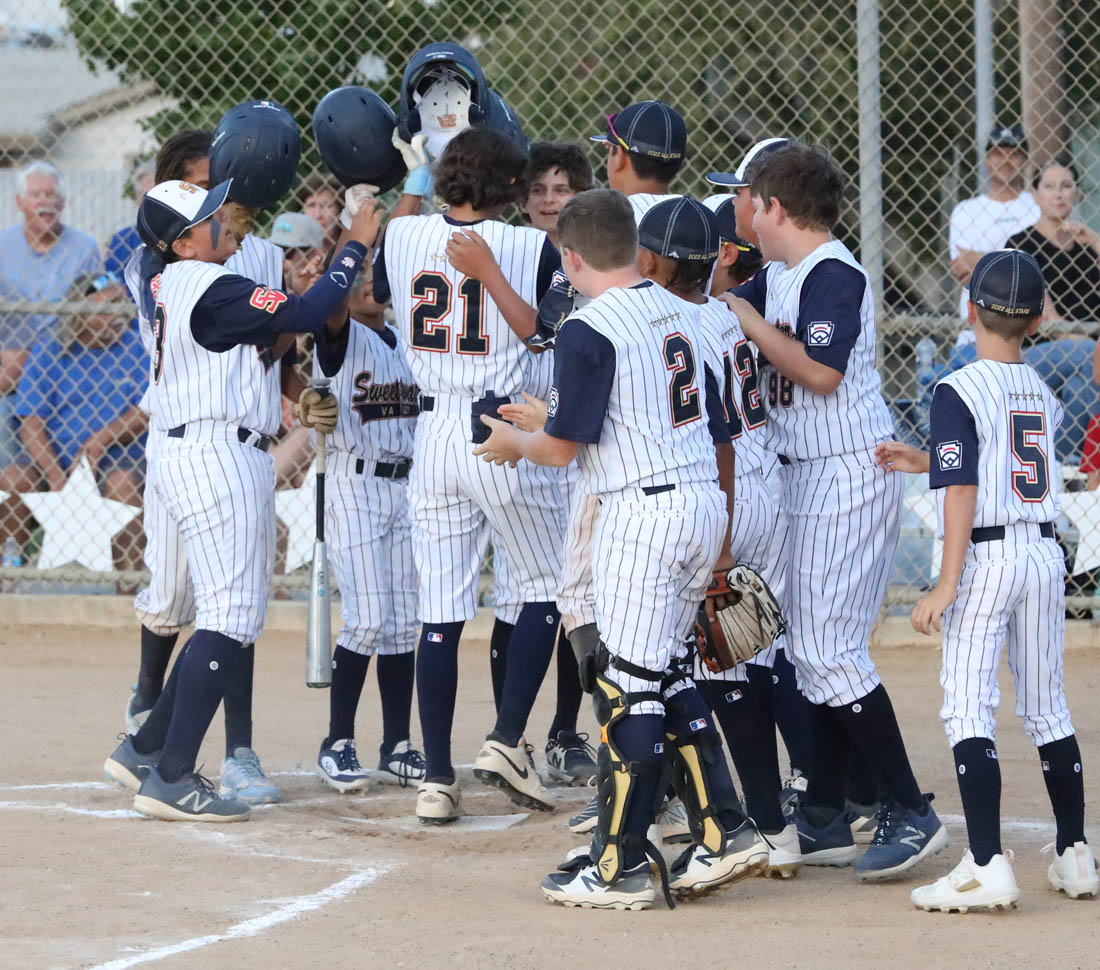 California District 42
Little League All-Star Tournaments
10U Division
Saturday, July 2
Eastlake Little League
Chula Vista American 13, Imperial Beach 0
Eastlake 13, South Bay 3
Sweetwater Valley Little League
Park View 18, Chula Vista National 0
Sweetwater Valley 11, Luckie Waller 1
Sunday, July 3
Eastlake Little League
South Bay 10, Imperial Beach 3
Sweetwater Valley Little League
Luckie Waller 14, Chula Vista National 13
Tuesday, July 5
Eastlake Little League
Chula Vista American 16, Eastlake 2
Sweetwater Valley Little League
Sweetwater Valley 8, Park View 7
Wednesday, July 6
Eastlake Little League
Park View 14, South Bay 3
Sweetwater Valley Little League
Eastlake 22, Luckie Waller 0
Thursday, July 7
Park View Little League
Winners bracket final: Chula Vista American 10, Sweetwater Valley 2
Sweetwater Valley Little League
Elimination game: Park View 10 Eastlake 0
Friday, July 8
Sweetwater Valley Little League
Elimination bracket final: Park View 18, Sweetwater Valley 4
Saturday, July 9
Park View Little League
Championship game: Chula Vista American 5, Park View 3
Note: winner advances to Section 7 tournament hosted by District 41
11U Division
Saturday, July 2
Sweetwater Valley Little League
Eastlake 10, Park View 0
Sweetwater Valley 5, Chula Vista American 0
Sunday, July 3
Sweetwater Valley Little League
Eastlake 12, Imperial Beach 0
Tuesday, July 5
Sweetwater Valley Little League
Chula Vista American 6, Park View 5
Wednesday, July 6
Sweetwater Valley Little League
Chula Vista American 19, Imperial Beach 1
Thursday, July 7
Sweetwater Valley Little League
Winners bracket final: Eastlake 13, Sweetwater Valley 1
Friday, July 8
Sweetwater Valley Little League
Elimination bracket final: Sweetwater Valley 7, Chula Vista American 0
Saturday, July 9
Park View Little League
Championship game: Eastlake 11, Sweetwater Valley 0
Note: winner advances to Section 7 tournament hosted by District 66
12U Division
Saturday, July 2
Sweetwater Valley Little League
South Bay 3, Imperial Beach 2
Sweetwater Valley 26, Luckie Waller 0
Eastlake Little League
Park View 9, Chula Vista American 7
Eastlake 21, Southwest 0
Sunday, July 3
Sweetwater Valley Little League
Luckie Waller 4, Imperial Beach 3
Eastlake Little League
Chula Vista American 18, Southwest 0
Tuesday, July 5
Sweetwater Valley Little League
Sweetwater Valley 15, South Bay 0
Eastlake Little League
Park View 7, Eastlake 1
Wednesday, July 6
Sweetwater Valley Little League
Eastlake 11, Luckie Waller 7
Eastlake Little League
Chula Vista American 14, South Bay 8
Thursday, July 7
Park View Little League
Winners bracket final: Sweetwater Valley 4, Park View 1
Sweetwater Valley Little League
Elimination game: Chula Vista American 10, Eastlake 0
Friday, July 8
Park View Little League
Elimination bracket final: Chula Vista American 5, Park View 2
Saturday, July 9
Park View Little League
Championship game: Sweetwater Valley 6, Chula Vista American 1
Note: winner advances to Section 7 tournament hosted by District 66
JUNIOR DIVISION
Sweetwater Valley Little League
Wednesday, July 6
Eastlake 8, Sweetwater Valley 1
Thursday, July 7
Park View Little League
Park View 17, Eastlake0
Friday, July 8
Park View Little League
Eastlake 11, Sweetwater Valley 2
Saturday, July 9
Park View Little League
Championship game: Park View 12, Eastlake 0
SENIOR DIVISION
Sweetwater Valley Little League
Saturday, June 25
Sweetwater Valley 9, Imperial Beach 5
Sunday, June 26
Imperial Beach 5, Sweetwater Valley 4
Monday, June 27
Championship game: Sweetwater Valley 5, Imperial Beach 4