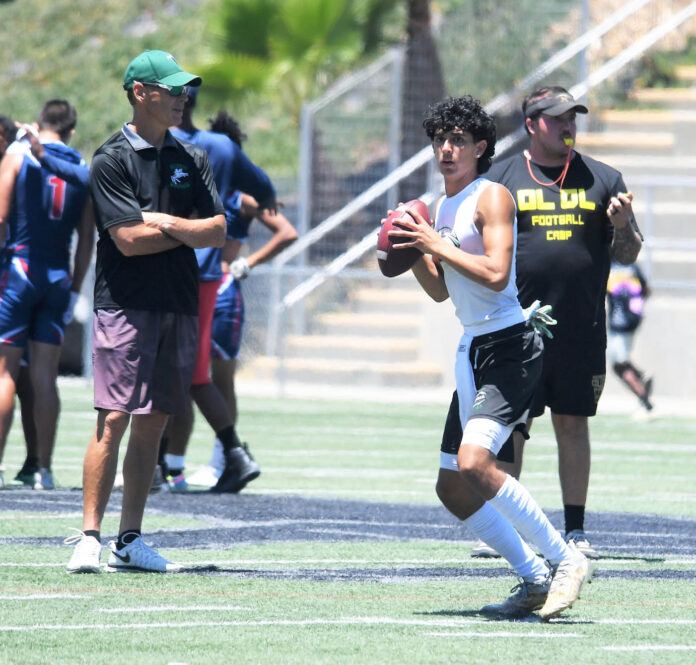 The 2022 high school football season is a month away from officially kicking off, though players will report to training camps beginning at the first of August, followed by daily practices and scrimmages.
The Hilltop Lancers will host the Valhalla Norsemen on Aug. 19. The 7 p.m. non-league clash against Division IV opponents already looms large in the division rankings.
The Lancers have been busy during the summer in preparation of the upcoming season under head coach Bryan Wagner, a Hilltop alumnus and former Super Bowl participant with the hometown San Diego Chargers.
The Lancers finished 2-8 last season, 1-4 in the Mesa League, but get a fresh start in a new league as the Metro Conference has switched back to a three-league format from last season's two-league split.
Hilltop drops to the Metro-South Bay League alongside Montgomery, Sweetwater and Olympian. Sweetwater defeated Montgomery, 26-19, to win last year's South Bay League title while Olympian drops from the Mesa League along with Hilltop.
The Lancers also drop from Division III to Division IV in the new San Diego Section playoff tiers, which should make for a more competitive playoff race.
Hilltop looks to be competitive after advancing to the championship semifinals of Southwestern College's high school seven-on-seven passing tournament July 8-9. The Lancers went 1-1-1 the first day, then 2-1 on the second day with wins over Bonita Vista's second team, Morse's varsity team and a loss to reigning Division 2-AA state champion Mater Dei Catholic, likely the best team in the Metro Conference this season and among the best in the section.
"We were a little slow the first day, a little work to do yet, but we finished the day against Otay Ranch, which was a good win for us," Wagner said. "We started the second day a little slow but wound up beating Bonita Vista 2. We had a scrappy game against Morse and pulled it out.
"We played against a very good team in Mater Dei in matching up against the defending state champions. We competed. We came back at them. I'm proud how we competed up with them."
Players being counted on this season for leadership on the field include senior quarterback Jorge Garcia, senior running back Joshua Bernardo, senior receiver Angelo Zapata, junior receiver Nick Moore and senior running back Tyeron Washington.
Garcia passed for 675 yards in nine games last season while rushing for 327 yards.
Zapata had 23 catches for 287 yards while Bernardo had 22 catches for 209 yards.
Coaches corner
The 16 teams performed under the watchful eye of new Southwestern College head coach Dionicio Monarrez over the seven-on-seven weekend.
"It was great to see all the teams coming back and competing," said Monarrez, who takes over the reins of the Jaguars program from retired coaching legend Ed Carberry. "I saw a lot of kids for the weekend; it was good to see them. It looks good to see some of these guys performing well. It looks promising.
"We're coming to the end of the summer and there aren't many more passing tournaments to compete in and coaches are entering their dead periods until training camps open.
"It will be exciting to see them perform on Friday Night Lights. Mater Dei looks like they're going to have another solid year. Bonita Vista and Montgomery both did well. Castle Park and Chula Vista also look like they're going to be competitive."
Who's hot
Mater Dei Catholic's perfect 13-0 season in 2021 included a 37-10 victory over Ramona in the Division III championship game and a subsequent 24-21 win over section Division I champion Helix Charter in the state regional playoff game before toppling Modesto Central Catholic, 34-25, in the state final.
MDC and Montgomery met in the championship final at this year's SWC seven-on-seven event with the Crusaders up 48-7 when the game was called. Mater Dei Catholic finished 6-0 in the two-day tournament.
"It was great," Crusader head coach John Joyner said. "Coach Monarrez and his staff do a good job. Southwestern College has been a good friend to the high school teams from the South Bay."
Mater Dei Catholic looks to be the top team in the Metro-Mesa League this season and a likely Open Division contender as the team jumps to Division I for postseason play.
Besides Mater Dei Catholic, the tweaked Metro-Mesa League includes Eastlake, Otay Ranch and Bonita Vista as it compresses to four teams.
"With a lot of returners, we should have a lot of leadership from the senior guys," Joyner said. "We have a tough early season schedule, and that senior leadership will help carry us in those early games.
"It's a tough situation (moving to Division I) but it's what we play for."
"Winning a state championship was big," UCLA commit Tre Edwards admitted. "We're looking to do it again even though they moved us up a couple divisions. It's the same challenge. If we do it with the same level of mentality, we'll have the same results."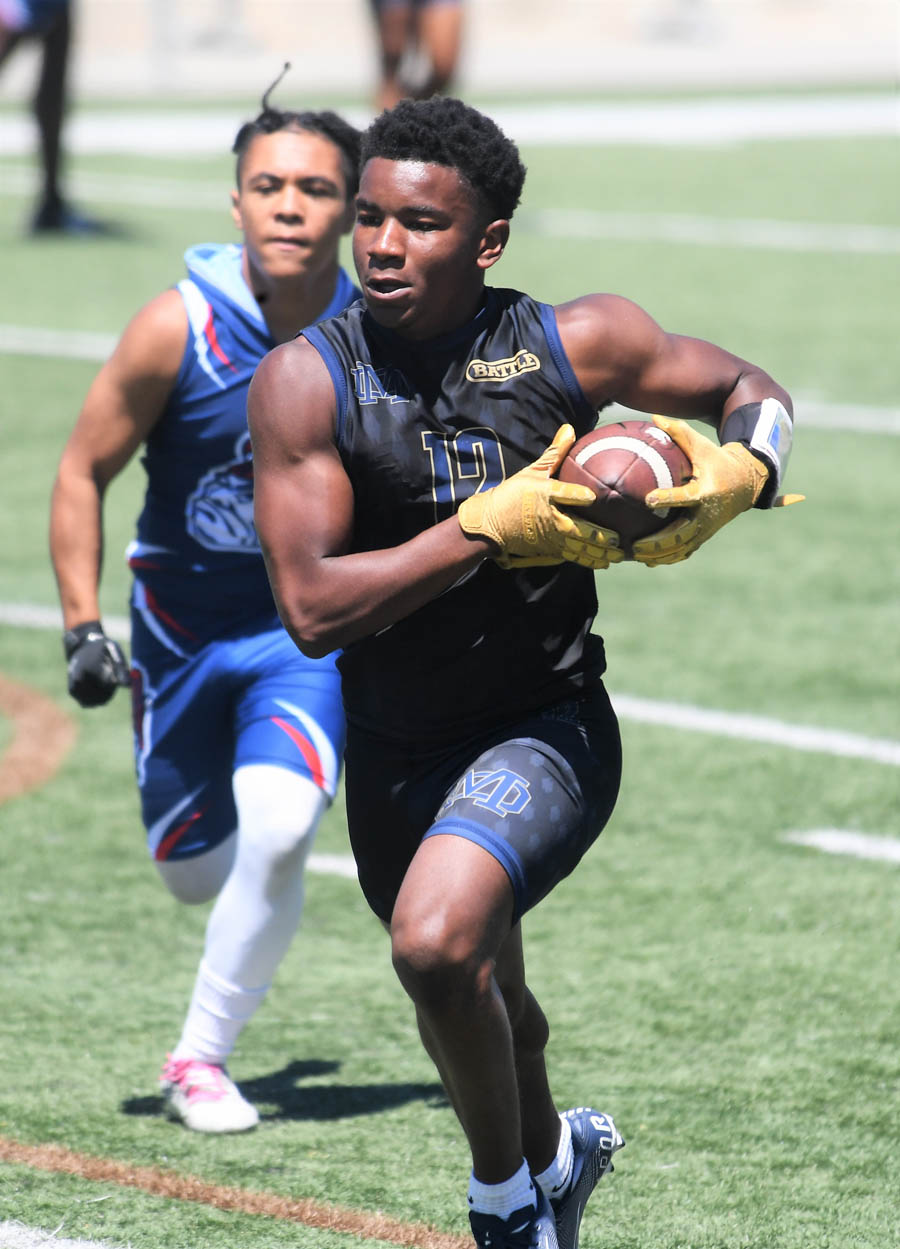 Catch me if you can. Photos by Phillip Brents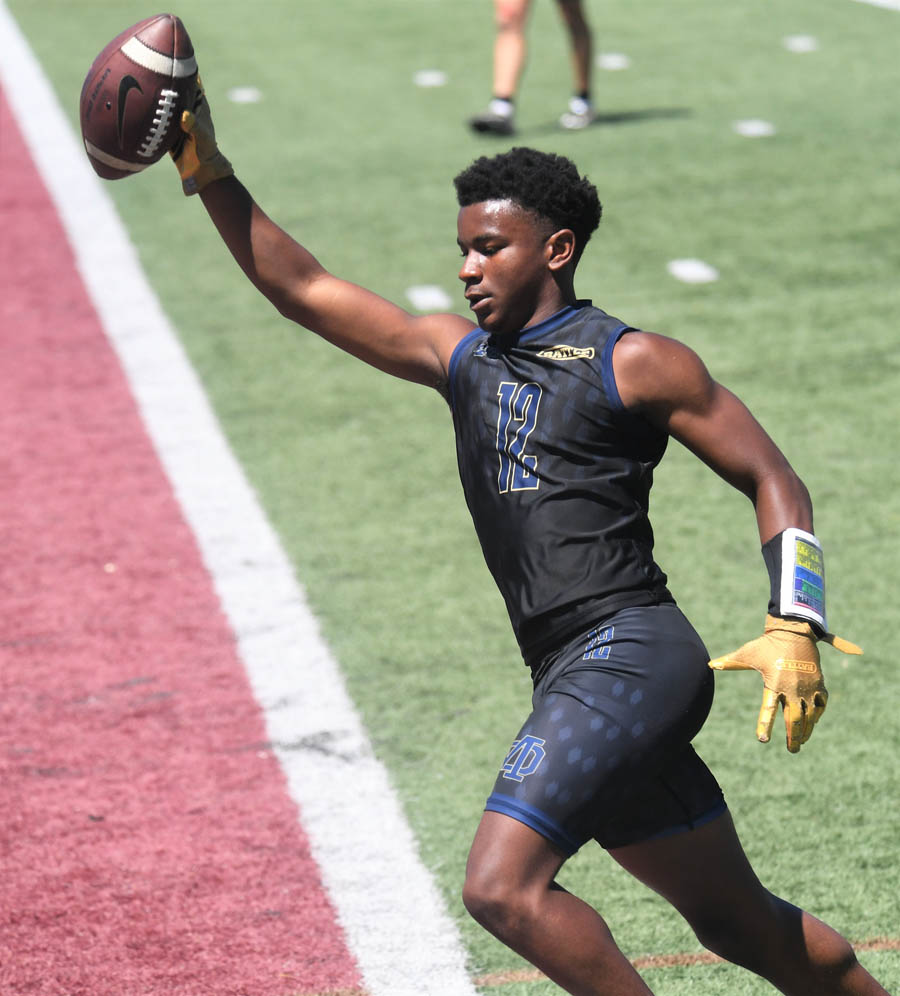 The revived Metro-Pacific League could be especially competitive this season with Castle Park and Chula Vista vying for supremacy against Mar Vista, San Ysidro and Southwest high schools.
Chula Vista dueled San Ysidro in the consolation final at the SWC event, winning 32-15.
Both coaches were complimentary of their teams as well as the sportsmanship exhibited by both squads.
"We had so many freshmen play, everyone did their part," CVHS head coach Howard Bannister III said. "We had five freshmen play who had only been with us for five weeks. Our goal is to stay healthy and get better each week."
"We played a lot of ninth-graders and they stepped up in a big way.," SYHS head coach Keith Aguon said. "We played a young group. I think we only had two seniors in the tournament. They got some good experience. Chula Vista did a great job, a great finish."
Sophomore Elijah Gillespie helped the Spartans finish strong with four touchdowns in the consolation final.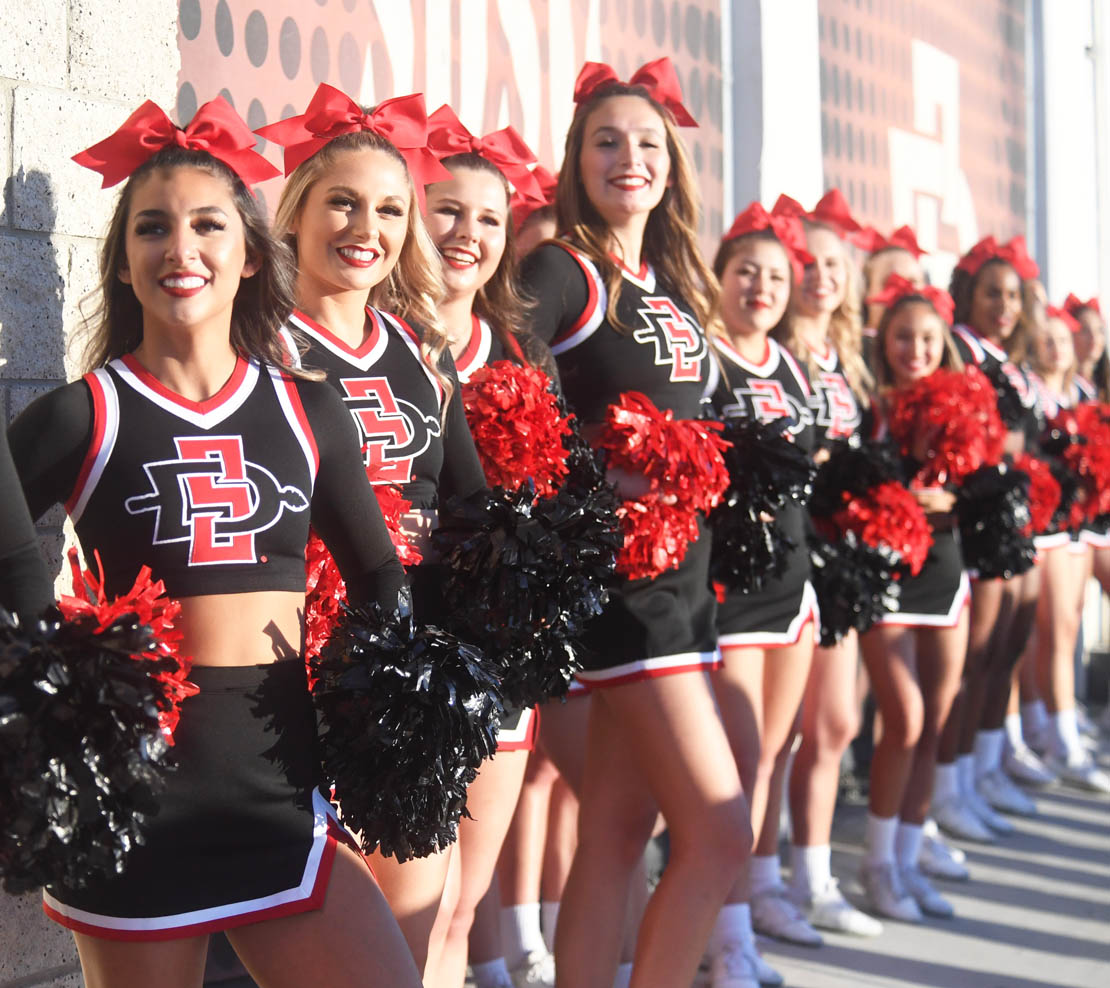 Aztecs getting antsy to play at new Snapdragon Stadium
The San Diego State University football program has been looking forward to this date for two years — the date players and coaches could finally play a real home game.
Vanquished from their Mission Valley playing site for two complete seasons while their new 35,000-seat stadium was under construction, the Aztecs will finally take the field at Snapdragon Stadium on Sept. 3 in a high-profile non-conference matchup against the University of Arizona.
Kick-off is 12:30 p.m. on CBS-TV.
The impending media blitz should be something to behold.
SDSU will play a total of seven home games at Snapdragon Stadium this season before the San Diego Wave of the National Women's Soccer League grabs some of the spotlight by completing their season in the new venue.
Snapdragon Stadium will also host concerts besides sporting events. Jimmy Buffet will grace the stage at the stadium for an Oct. 22 concert. The venue capacity will be expanded to 55,000 for this special event.
The Aztecs' next home game is Sept. 10 against Idaho State, followed by a third home game in September against Toledo on Sept. 24.
SDSU will play eight Mountain West Conference games, starting Sept. 30 at Boise State and concluding Nov. 26 at Snapdragon Stadium against the Air Force Academy.
The conference championship game is scheduled Dec. 3. If the Aztecs fare well, they could conceivably host it in their spanking new digs.
But that's putting the cart before the horse.
Several milestones have been reached during construction.
The stadium held its topping off event on July 14, 2021, when the final beam was put into place to complete the structural steel operations.
From there, completion of the facility has included seating, scoreboards, concessions, luxury boxes and field installation, among many other items to check off on the construction list, including a parking lot.
SDSU has announced that more than 90 percent of premium seating has been sold to date and the season-ticket base from the last full season has doubled. Tickets to individual games are to go on sale in August.
As a perk, season-ticket holders can purchase single-game tickets on Aug. 8, while all remaining Aztec Club members can purchase on Aug. 12. Tickets for the general public will be available on Aug. 15.
Locals only
The 2022 Aztec fall roster lists 16 San Diego region high school alumni, including five from East County schools: junior kicker/punter Jack Browning (West Hills), redshirt freshman Jaden Brown (Helix Charter), senior receiver Jesse Matthews (Christian), senior linebacker Michael Shawcroft (Helix Charter) and redshirt-freshman offensive lineman Josh Simmons (Helix Charter).
Matthews and Shawcroft both have three years of experience while Browning has one year of experience on the team.
Headliners among other county locals include senior transfer Braxton Burmeister (La Jolla Country Day) at quarterback and junior cornerback Noah Tumblin (Mira Mesa) and senior receiver T.J. Sullivan (Mt. Carmel), both with two years of experience.
SDSU 2022 FOOTBALL SCHEDULE
September
3: Arizona at SDSU, 12:30 p.m. PT
10: Idaho State at SDSU, TBA
17: SDSU at Utah, 8 p.m. MT
24: Toledo at SDSU, TBA
30: SDSU at Boise State, 6 p.m. MT
October
8: Hawaii at SDSU, 7:30 p.m. PT
22: SDSU at Nevada, 7:30 p.m. PT
29: SDSU at Fresno State, TBA
November
5: UNLV at SDSU, 4 p.m. PT
12: San Jose State at SDSU, TBA
18: SDSU at New Mexico, TBA
26: Air Force at SDSU, 6 p.m. PT
December
3: Mountain West championship game, TBA