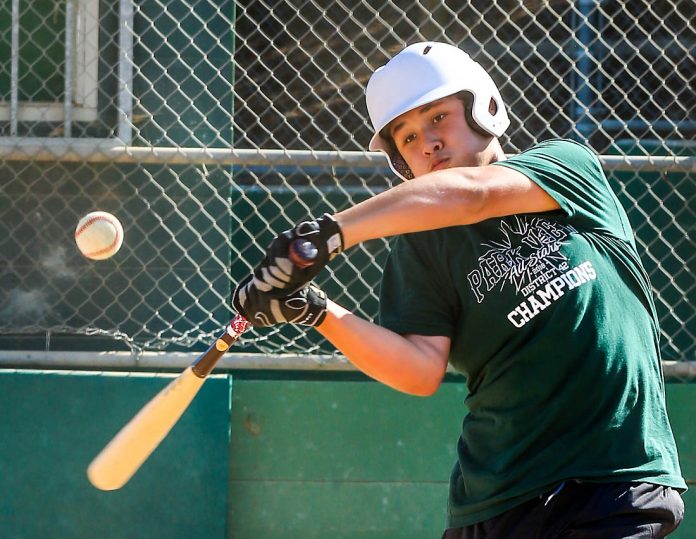 Park View Little League's 12U all-star team faced all the other teams that qualified for this year's Little League World Series Western Regional tournament except two: Utah's Dixie Little League and Hawaii's Honolulu Little League.
The Southern California champions finished 2-2 at the six-team regional gathering Aug. 5-11 in San Bernardino. The Green Monsters defeated Tri-City Little League from Rocklin, the Northern California champion, and Tucson's Sunnyside Little League, the Arizona state champions.
Park View suffered elimination from the tournament following losses to Nevada state champion Silverado West Little League from Las Vegas and in a rematch against Tri-City.
Utah dropped both its games to finish 0-2 in the tournament along with Arizona. Park View, with its 2-2 record, finished fourth while Nevada (1-2) finished third.
Hawaii topped Northern California, 11-2, to win the regional championship and punch its ticket to the Little League World Series in South Williamsport, Pa.
While Park View and the teams it played in San Bernardino were known commodities, Hawaii remained somewhat of a mystery.
It turned out the Honolulu team defeated the tournament's two weakest teams to advance to the winners bracket semifinal, and then topped a Rocklin team in the final that had played four games in six days, including the night before in the elimination bracket semifinal game.
The Hawaii team took the shortest route to Pennsylvania by playing just four games in seven days. In fact, Honolulu had two days off before defeating Nevada in the semifinals and another day's rest before meeting Tri-City in the championship game.
So just how good are this year's West region champions? Well, pretty good it turns out.
Hawaii will test Southeast region champion Peachtree City Little League from Georgia in Saturday's United States Division championship game.
Game time is 12:30 p.m. PT on ABC-TV.
Meanwhile, Asia-Pacific champion South Korea (South Seoul Little League) will meet Japan (Kawaguchi Little League) in the International Division championship game at 9:30 a.m. PT, also on Saturday on ABC-TV.
The winners of Saturday's games will meet in the winner-take-all LLWS championship game on Sunday (noon PT telecast on ABC-TV).
"Hawaii possesses all of the qualities needed to win the Little League World Series," explained Will Bleisch, who guided Park View's fortunes through the opening eight games of their summer all-star journey as the team's manager before ceding the position to Jorge Camarillo for the duration of the summer. "They have good coaching, solid defense, great pitching, power at the plate and phenomenal team chemistry.
"Their coaches are very positive and it reflects in Hawaii's ability to overcome obstacles and win close games.  Their team motto says it all:  "WE is > than ME."
"Their manager (Gerald Oda) paid Park View the ultimate compliment when he told Jorge Camarillo he was glad Hawaii didn't play us in the regional because he knew how talented we were and it would've been an epic battle with both sides capable of winning."
Certainly, Park View appeared to be a formidable opponent entering the regional tournament, improving to 12-0 after topping Tri-City, the Northern California champion, 16-8, in the opening game.
But fortunes quickly changed following that grand debut.
"We were so close," Bleisch noted. "Our defense, which was solid all tournament, wasn't as sharp in the regional and our bats went silent. The latter could be attributed to the quality of our opponents and good scouting/in-game adjustments, for instance walking Jose 'Guero' Mendoza with the bases loaded (two walk in a run in the team's final regional game, a 7-5 loss to Tri-City).
"In the end, I was extremely proud of our boys. They played hard and left everything they had on the field which, as a coach, is all you could ask for. This will always be a summer to remember for our boys, parents/families, and the coaches."
Best of the best
Saturday's U.S. title contest is a rematch of last Friday's opening-round matchup between the teams that resulted in the longest game in LLWS history – an 11-inning affair in which Hawaii emerged victorious by a score of 2-0 on a two-run walk-off home run by Aukai Kea.
Kea and Georgia's Jansen Kenty hooked up in a masterful pitcher's duel that saw Kenty strike out 12 batters before he was forced out of the game with one out in the sixth inning after reaching the maximum pitch count.
Kea struck out 10 batters during his 6.1 innings on the mound.
In fact, pitchers from both teams combined for an eye-popping 34 strikeouts in the marathon contest – 18 by Georgia and 16 by Hawaii.
Hawaii went on to top Great Lakes champion Michigan, 8-3, in its next game on Sunday and battered Mid-Atlantic champion New York, 10-0, in Wednesday's winners bracket semifinal.
Georgia, meanwhile, battled back to win four consecutive elimination games to earn the rematch with Honolulu. The Southeast champs blanked Northwest champion Idaho, 3-0, on Saturday, then edged Southwest champion Texas, 7-6, on Monday before dealing Michigan a 4-3 loss on Wednesday and ousting New York on Thursday by a 7-3 score.
Georgia has played five games in the tournament with a 4-1 record while Hawaii is 3-0 and is once again well rested for a championship contest.
Hawaii received two RBI from Hunter Nishina and four strikeouts in 3.1 inning on the hill from Ka'olu Holt in its win over Great Lakes
Sean Yamaguchi drove in five runs in three hits while Kea struck out six batters in 4.1 innings for Hawaii in its win over New York.
Chase Fralick, Bo Walker and James Hooper each drove in a run to highlight Georgia's shutout win over Idaho to keep its championship hopes alive in the elimination game victory against Idaho.
Facing Texas in its second elimination game, Kenty collected two RBI and teammate Connor Riggs-Soper struck out seven batters in 5.2 innings as the Southeast regional champions won a sacrifice fly by Ben Traxler in a nine-inning contest.
Georgia sent the game against the Southwest regional champions into extra innings with a dramatic three-run rally in the bottom of the sixth inning that featured a two-run blast by Kenty to tie the game at five runs apiece. Both teams scored in the eighth inning before Wills Maginnis scored the game-winning run in the next frame.
Kenty came back to strike out nine batters in six innings as Peachtree City eliminated Great Lakes champion Michigan in its third elimination game. Jack Ryan drove in two runs for Southeast.
Georgia defied the odds by winning its fourth consecutive elimination game with a comeback win over New York. Trailing 3-0 early, Southeast battled back to score two runs in each of the opening three innings and added another run in the fourth inning while Peachtree City pitchers struck out 14 of the final 16 batters they faced to capture the victory.
Tai Peete earned the win on the mound by scattering seven hits, while allowing three runs and collecting five strikeouts in five innings to brace the Georgia team.
South Korea defeated Japan, 10-0, on Wednesday to reach Saturday's International final while Japan came back to edge Caribbean champion Puerto Rico by a tenuous 1-0 score in Thursday's elimination game.
Yeong Hyeon Kim struck out 10 Japan batters in four innings while also delivering five RBI in South Seoul's 10-run mercy rule win over Japan. South Korea out-hit Japan 11-1 in the winners bracket semifinal contest.
Japan quickly bounced back from the loss to South Korea, however, as Masaumi Ikeuchi scored on a wild pitch in the third inning to stand up as the winning run against Puetro Rico.
In order to defend its 2017 LLWS championship, Japan must defeat South Korea in Saturday's International championship game and then top the U.S. champion in Sunday's championship final.
Hometown heroes:
Park View Green Monsters at the plate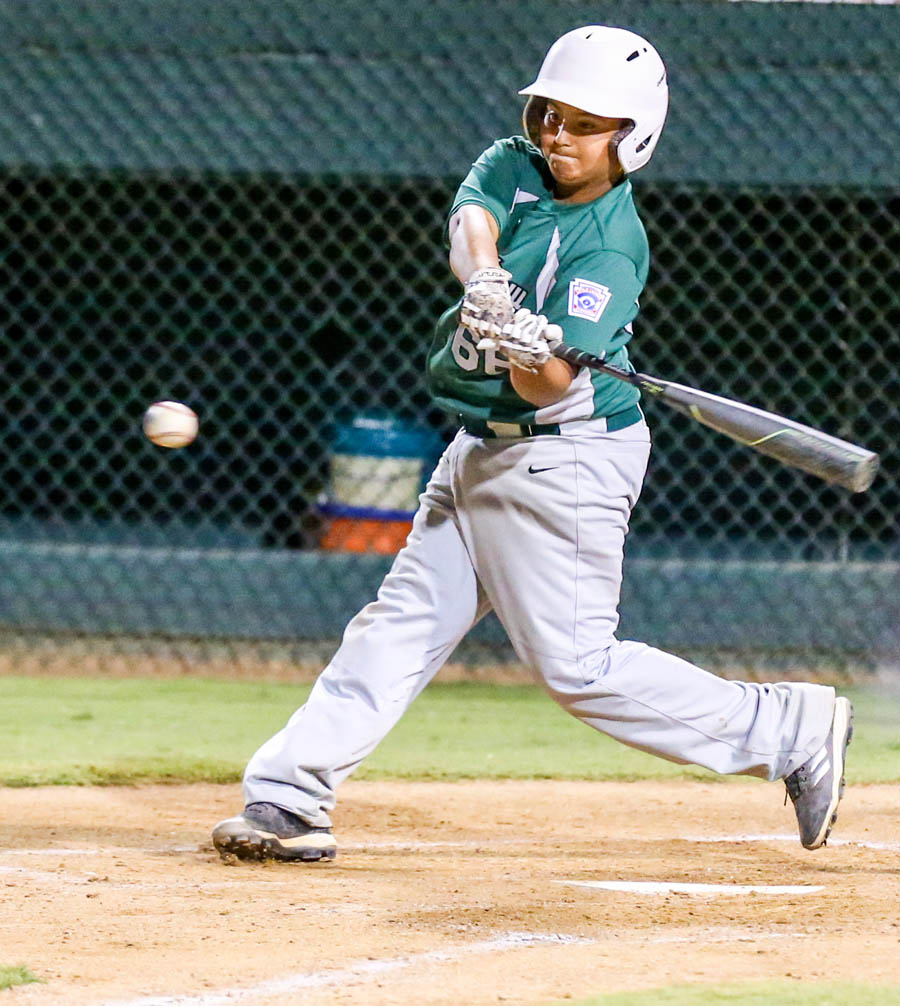 Batter up!
Park View finished 13-2 in summer all-star tournament play. The Green Monsters collected 107 hits, including 17 doubles and 22 home runs, and scored 99 runs in the 15 games.
Top hitters on the Chula Vista team included Conner Alonzo with a .536 batting average, followed by Ivan Rodriguez (.455), Michael Rodriguez (.419), Anthony Leyva (.400), Jordan Bleisch (.400), Jose Mendoza (.361), Allan Camarillo (.324), Joseph Anderson (.273), Aidan Skinner (.227), Matt Bjornstad (.176), Kainoa Baptista (.130), Makai Corpuz (.125) and Atticus Gates (.100).
Ivan Rodriguez led the team with 20 hits while Alonzo ranked next with 15 safeties.
Michael Rodriguez paced the team with 25 RBI, followed by Mendoza and Ivan Rodriguez each with 15 RBI.
Michael Rodriguez also led the team with 10 home runs and 16 walks and scored a team-high 18 runs. He topped the team with a 1.452 slugging percentage and .617 on-base percentage.
Leyva ranked second on the team with a .577 on-base percentage, followed by Ivan Rodriguez (.540), Alonzo (.529), Bjornstad (.462), Mendoza (.455), Bleisch (.438) and Anderson (.400).
Mendoza, who ranked second on the team with five home runs, recorded a .861 slugging percentage to rank second on the team, followed by Ivan Rodriguez (.727), Skinner (.545) and Alonzo (.536).
Ivan Rodriguez, who led the team with six doubles, ranked second on the team with 14 runs scored, followed by Mendoza with 13 runs scored, Camarillo with 12 runs scored and Levya with 10 runs scored.
All 13 Park View players recorded at least one hit, reached base with at least one walk and scored at least one run. Twelve of the 13 players drove in at least one run.
The Green Monsters, who won their first 12 games, collectively hit .326 as a team with a .444 on-base percentage and .585 slugging percentage.
They became the fifth team from California District 42, and the third Park View team, to reach the LLWS Western Regional tournament since 2009.
Home run leaders: Michael Rodriguez 10, Jose Mendoza 5, Kainoa Baptista 2, Aidan Skinner 2, Ivan Rodriguez 2, Makai Corpuz 2
Overall hits: Ivan Rodriguez 20, Conner Alonzo 15, Michael Rodriguez 13, Jose Mendoza 13, Allan Camarillo 11; Anthony Leyva 8, Joseph Anderson 6, Jordan Bleisch 6, Aidan Skinner 5
Doubles: Ivan Rodriguez 6, Jose Mendoza 3, Michael Rodriguez 2
RBI: Michael Rodriguez 25, Jose Mendoza 15, Ivan Rodriguez 15, Joseph Anderson 7, Aidan Skinner 7, Allan Camarillo 6, Conner Alonzo 6, Kainoa Baptista 6
Runs scored: Michael Rodriguez 18, Ivan Rodriguez 14, Jose Mendoza 13, Allan Camarillo 12, Anthony Leyva 10, Jordan Bleisch 7, Conner Alonzo 6, Atticus Gates 4, Joseph Anderson 4, Kainoa Baptista 4, Matt Bjornstad 4
PITCHING STATISTICS
District 42 Tournament
Kainoa Baptista (1-0) defeated Imperial Beach 15-0
Guero-Jose Mendoza (1-0) defeated Eastlake 6-0
Matt Bjornstad (1-0) defeated Chula Vista American 2-1
Jose Mendoza (2-0) defeated Sweetwater 6-4 in championship game
Section 7 Tournament
Matt Bjornstad (2-0) defeated Calexico 9-5
Jose Mendoza (3-0) defeated Cajon de Oro 7-0
Kainoa Baptista (2-0) defeated Cajon de Oro 17-2 in championship Game
California Division III Tournament
Jose Mendoza (4-0) defeated San Carlos 3-1
Kainoa Baptista (3-0) defeated El Segundo 6-0
Matt Bjornstad (3-0) defeated Temple city 5-2
Conner Alonzo (1-0) relieved Michael Rodriguez and defeated Huntington Valley 5-2 in championship Game
Western Regional Tournament
Matt Bjornstad (4-0) relieved Kainoa Baptista and defeated Northern California 16-8
Jose Mendoza (4-1) took the loss against Nevada 5-3
Kainoa Baptista (4-0) defeated Tuscon 9-5
Matt Bjornstad (4-1) took the loss against Northern California 7-5
Park View Green Monsters
2018 Pictorial Parade

Photos by Jon Bigornia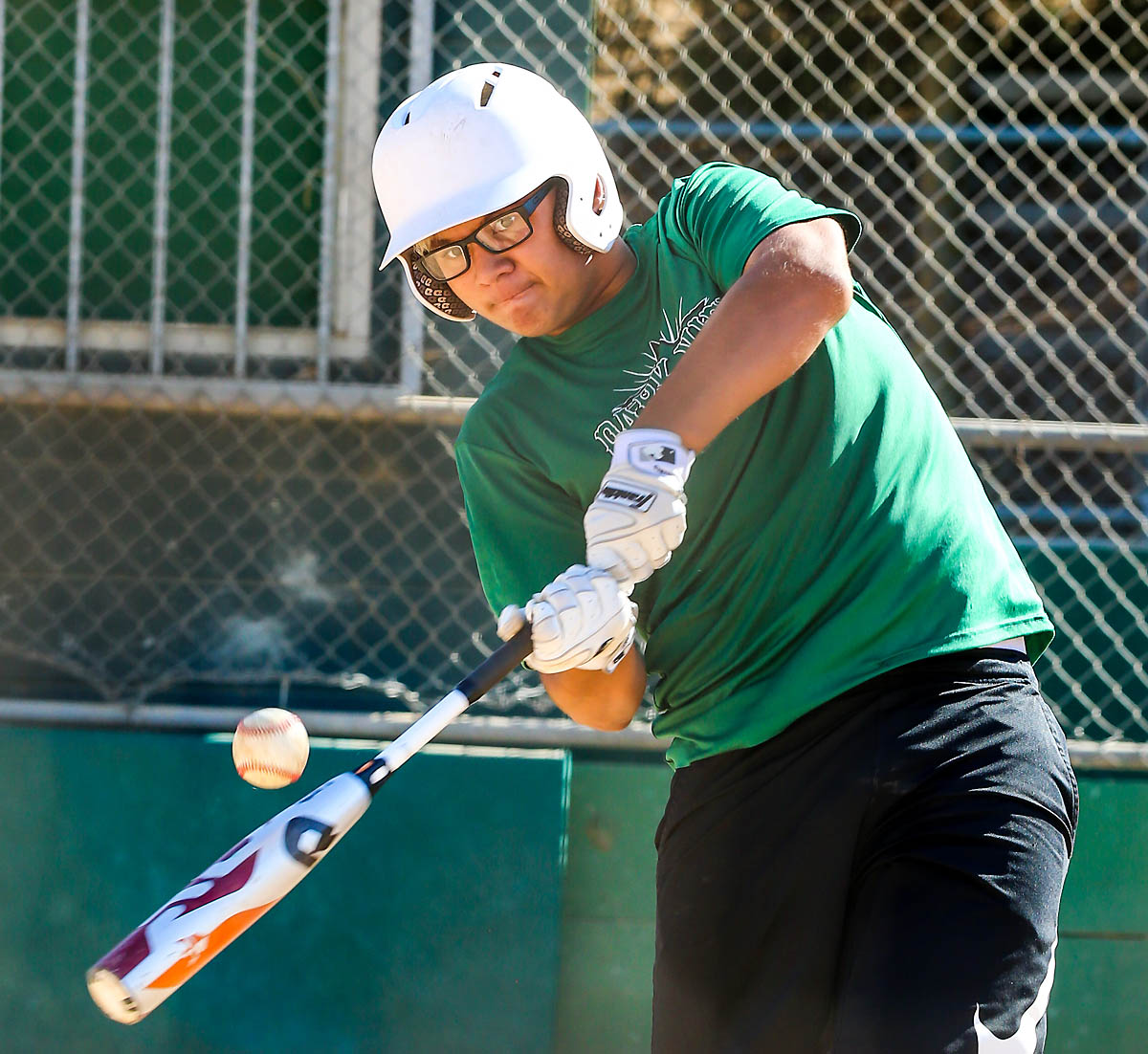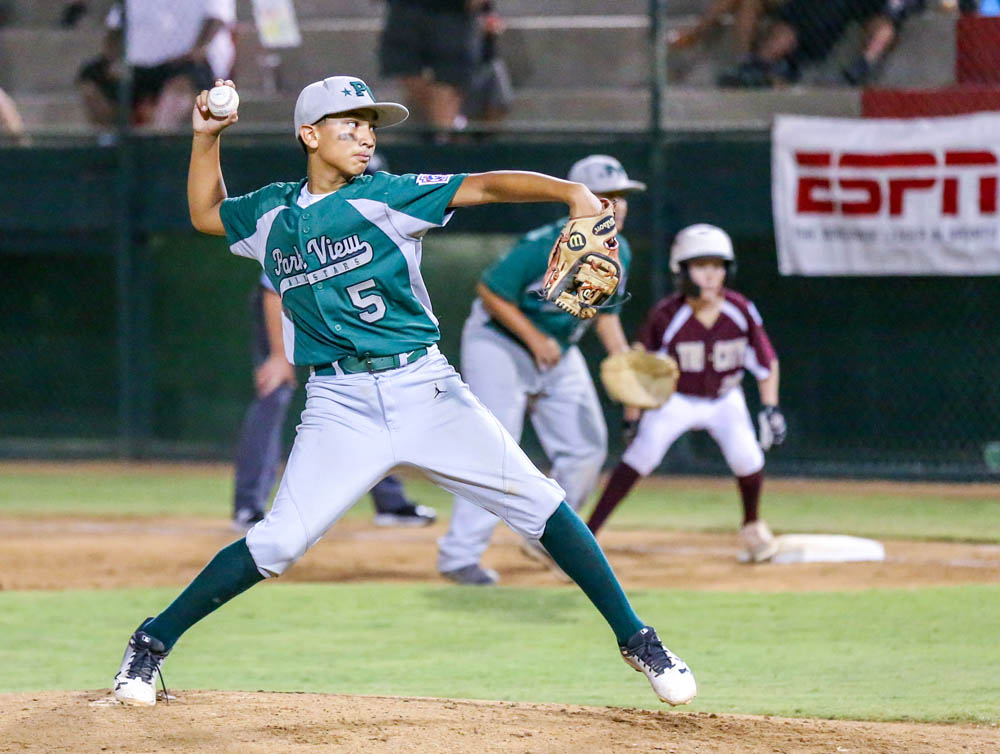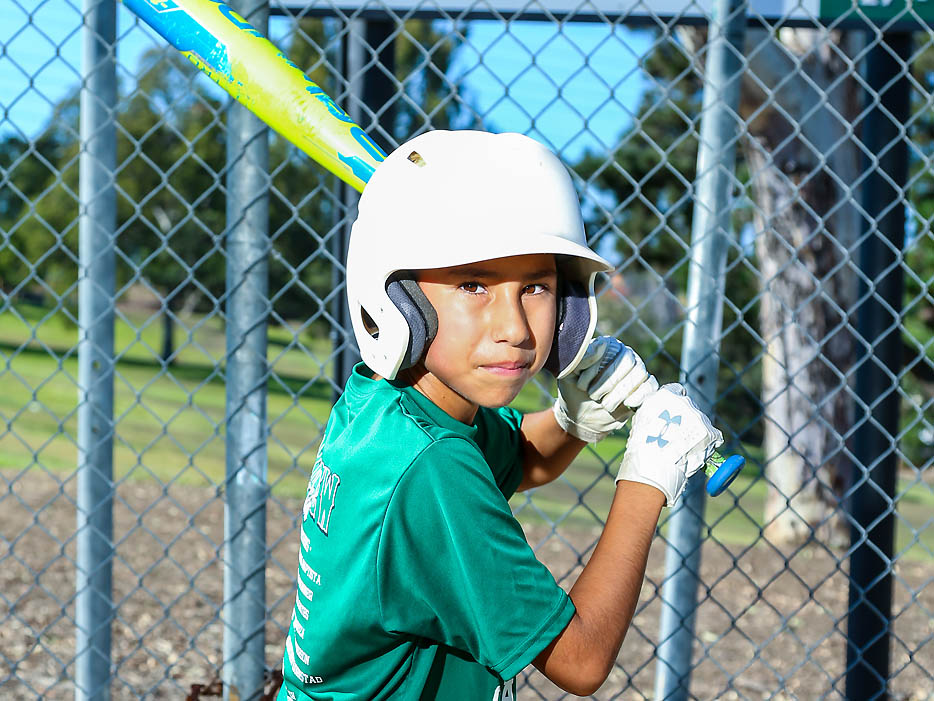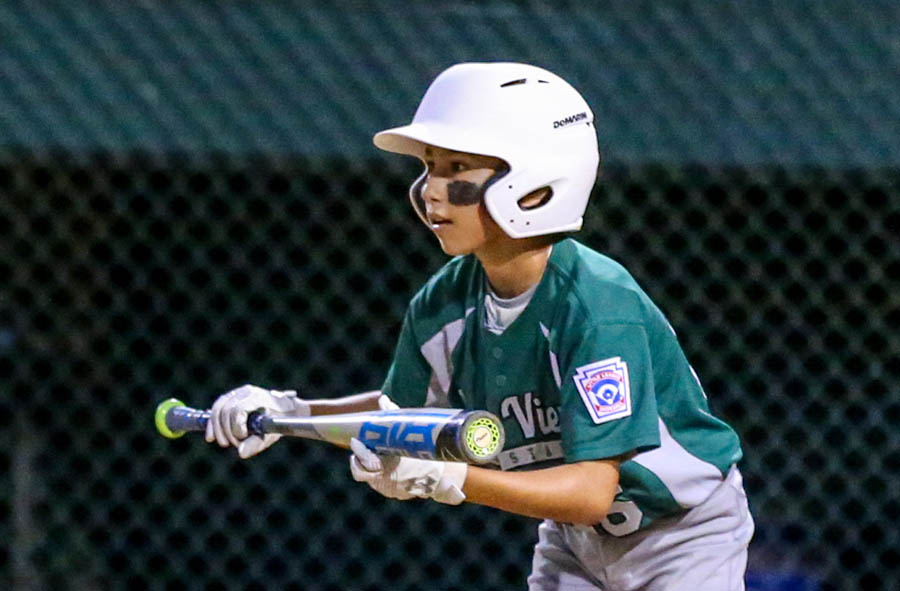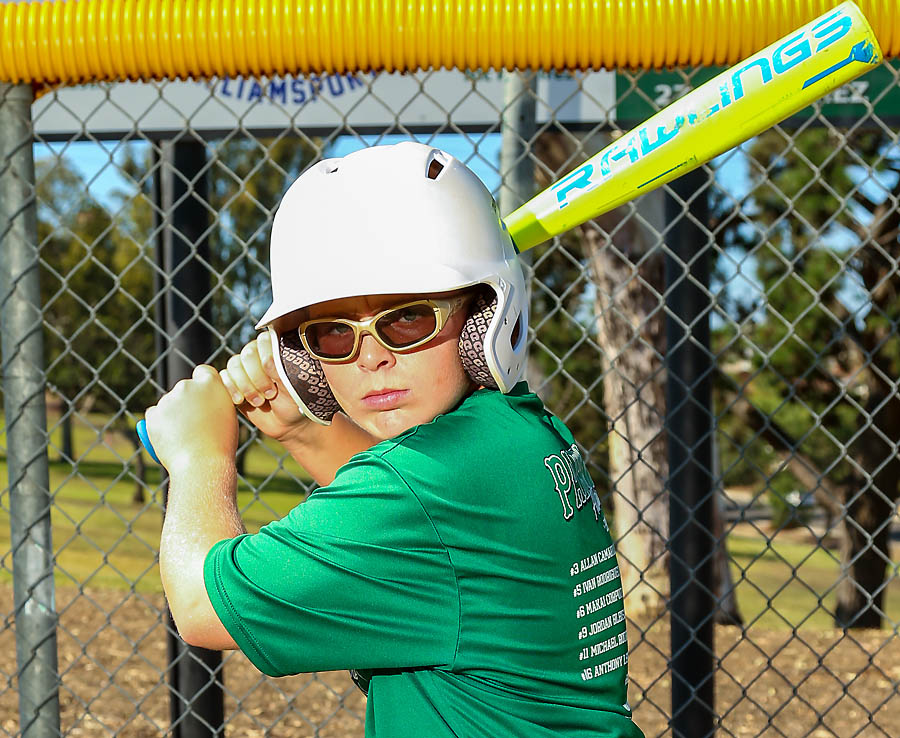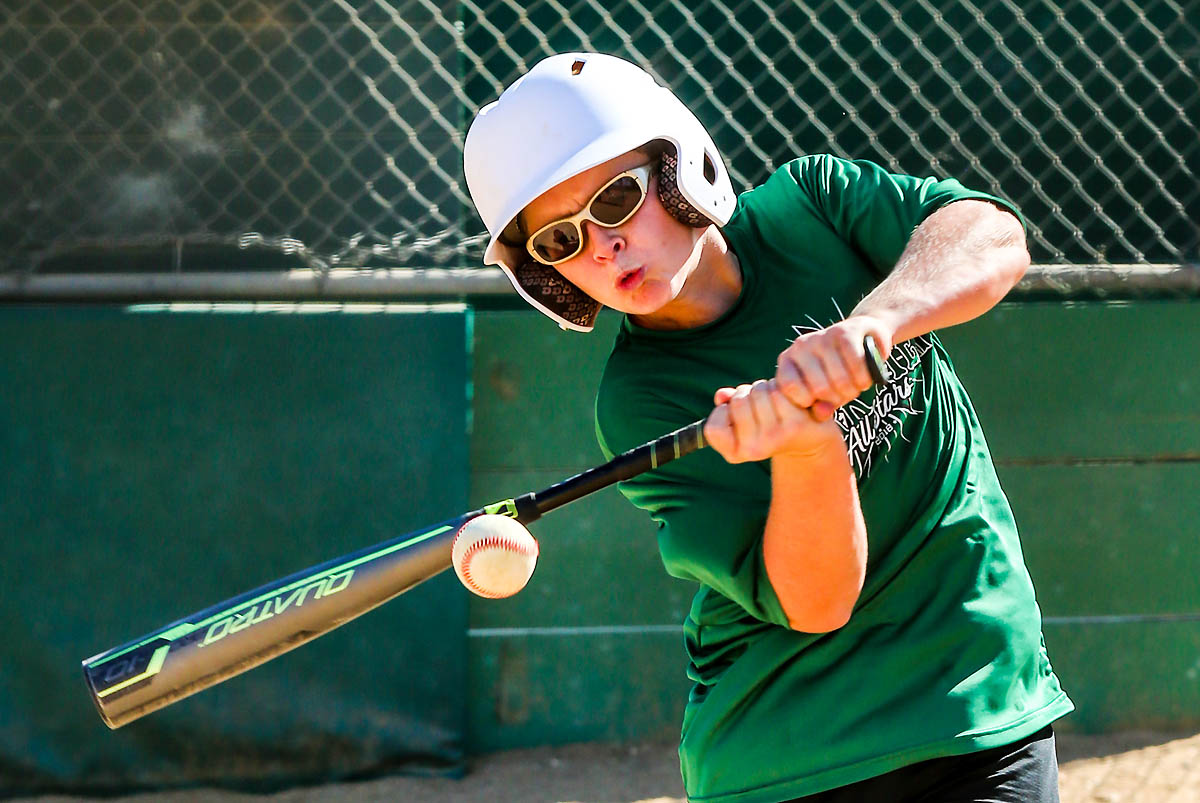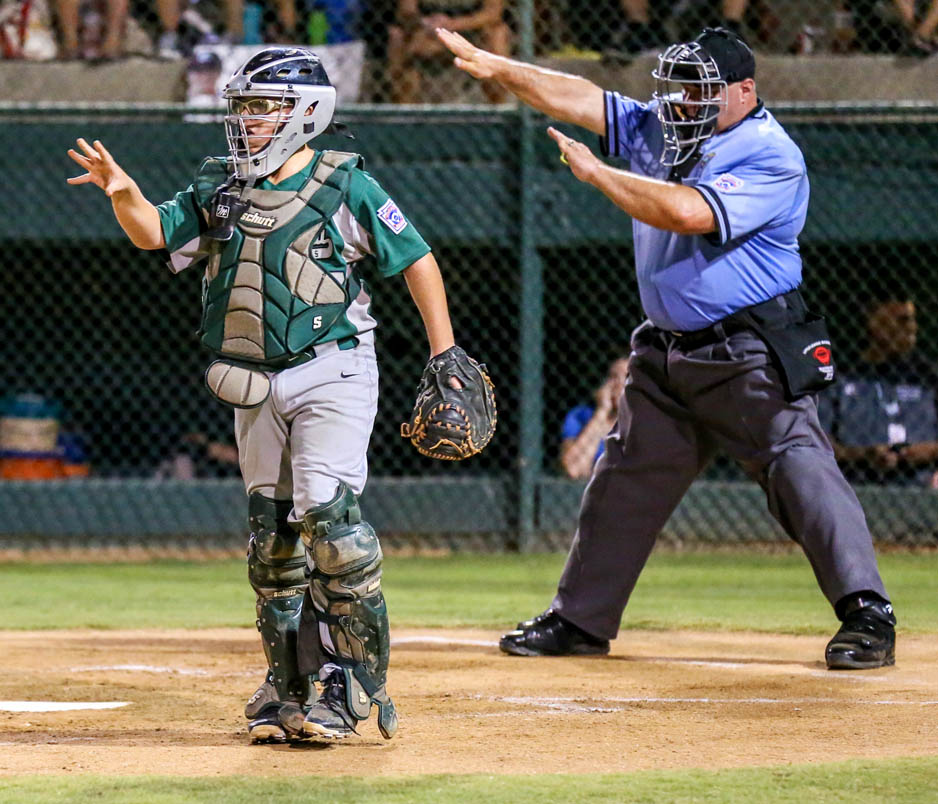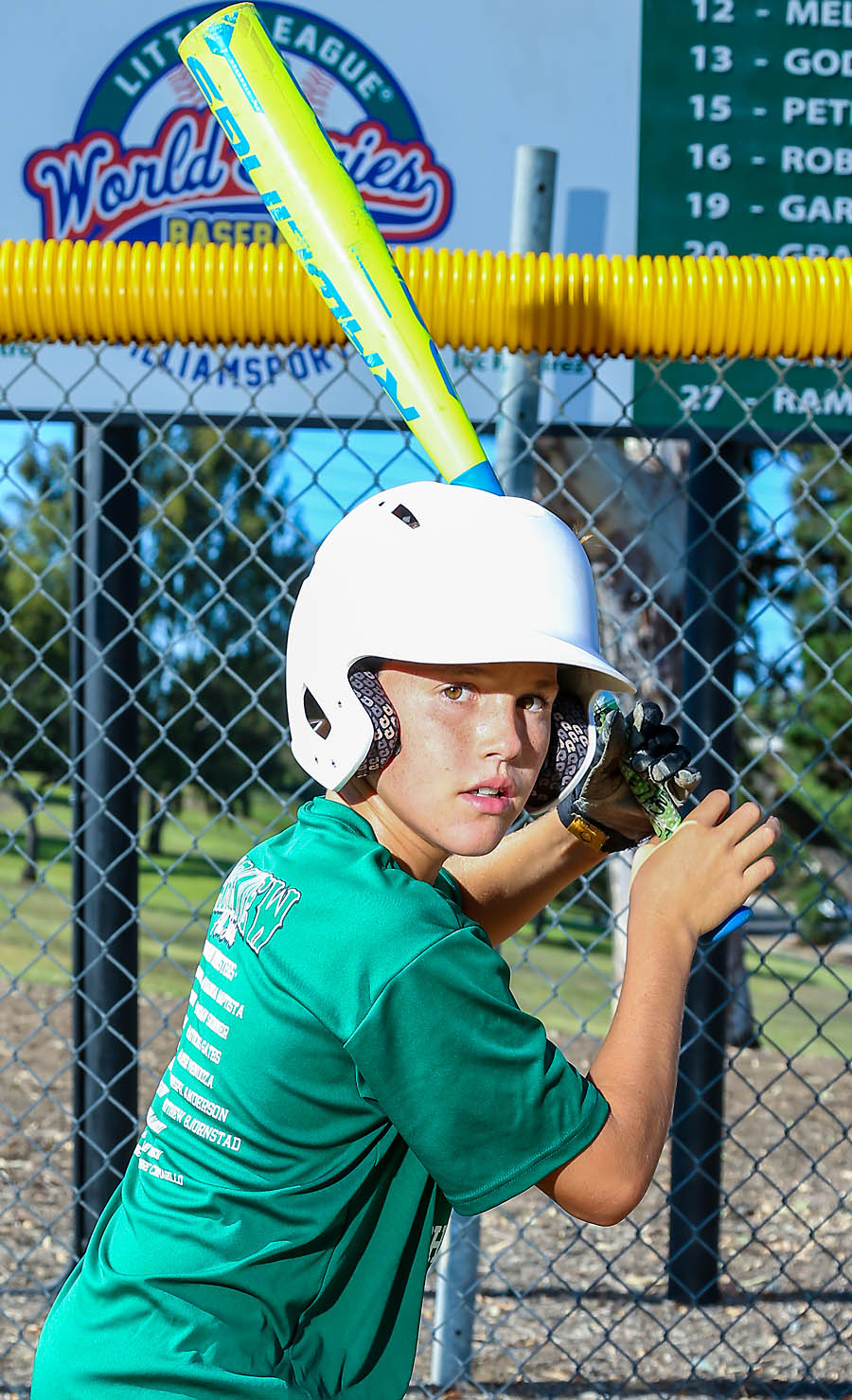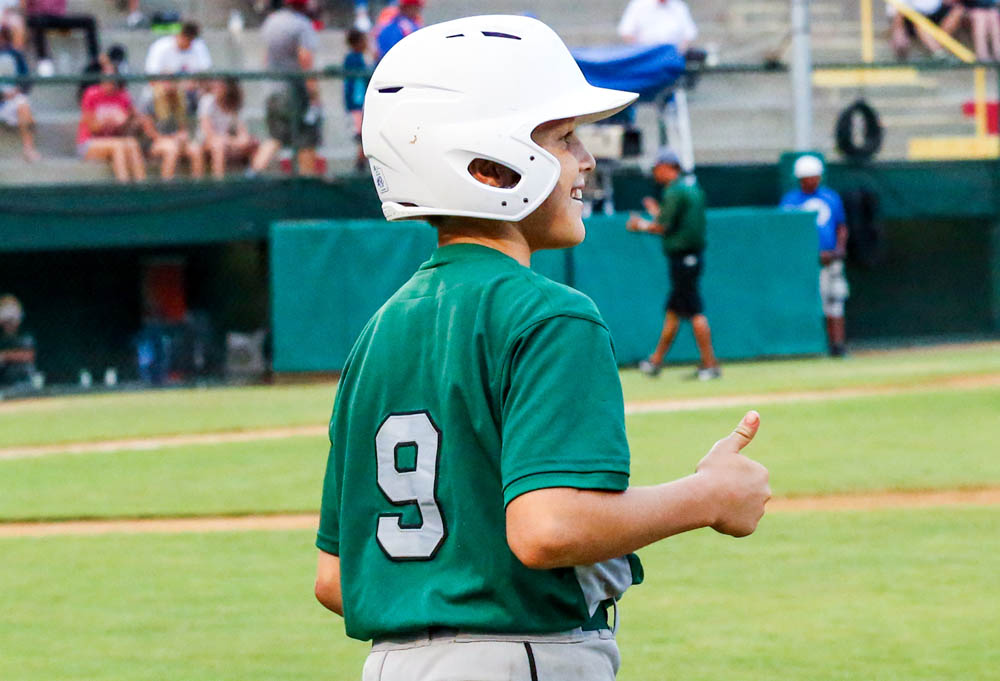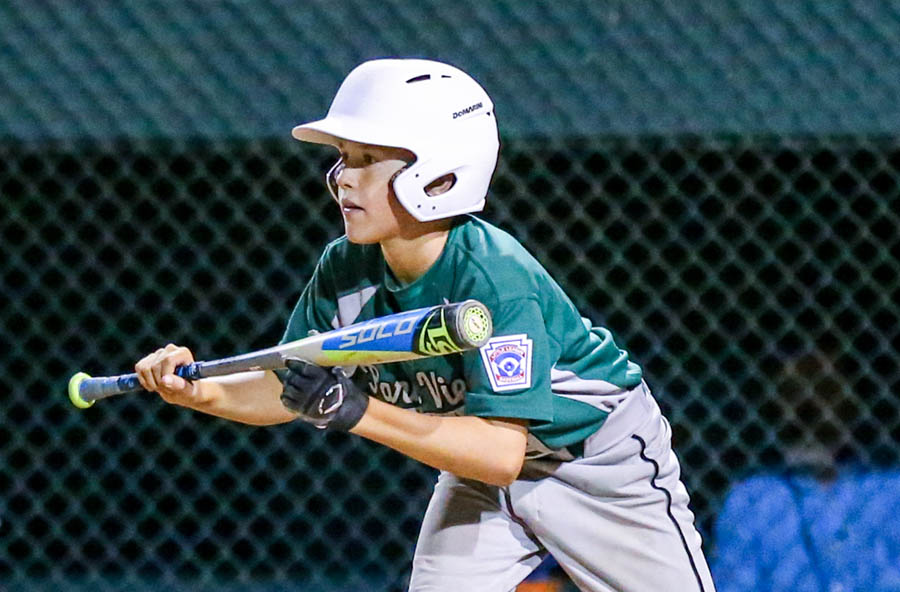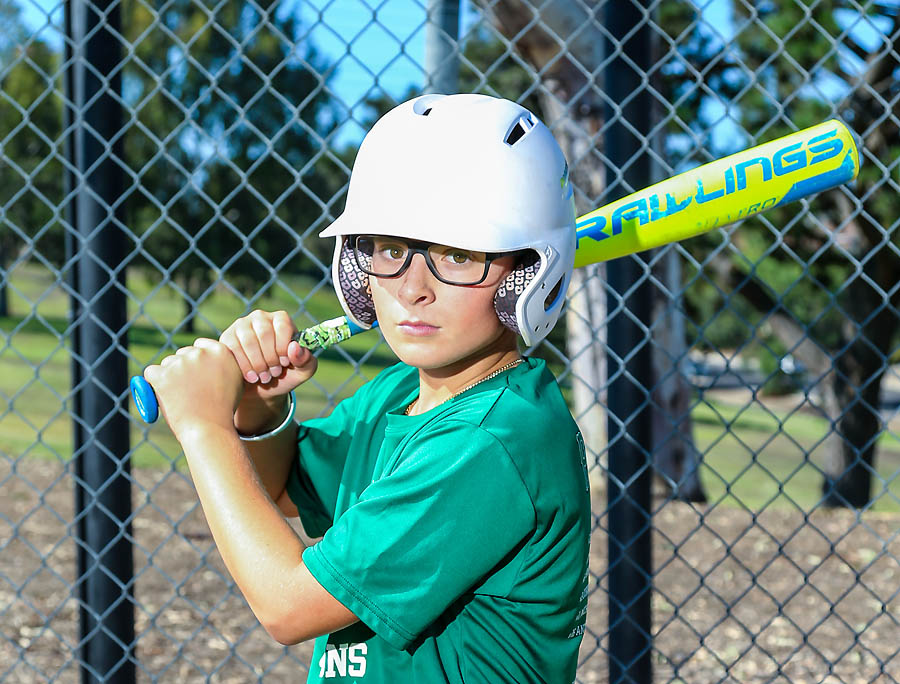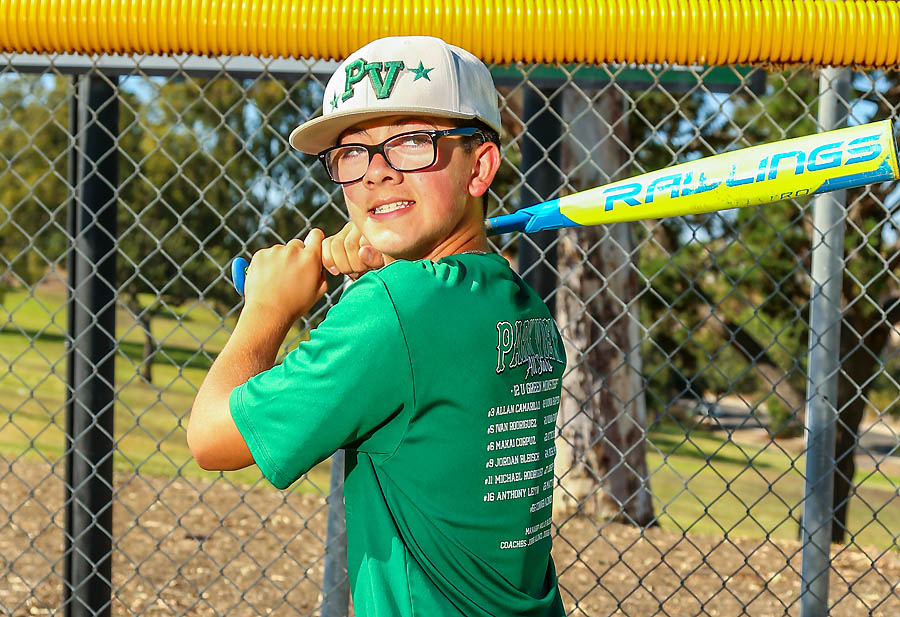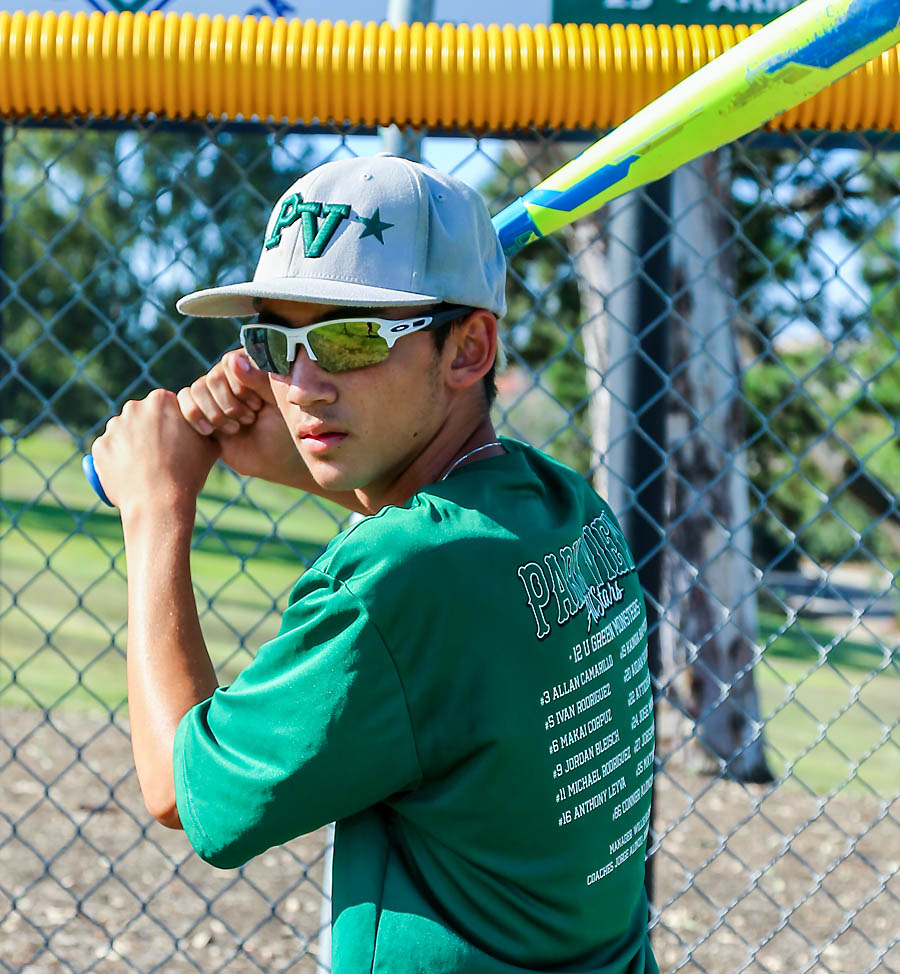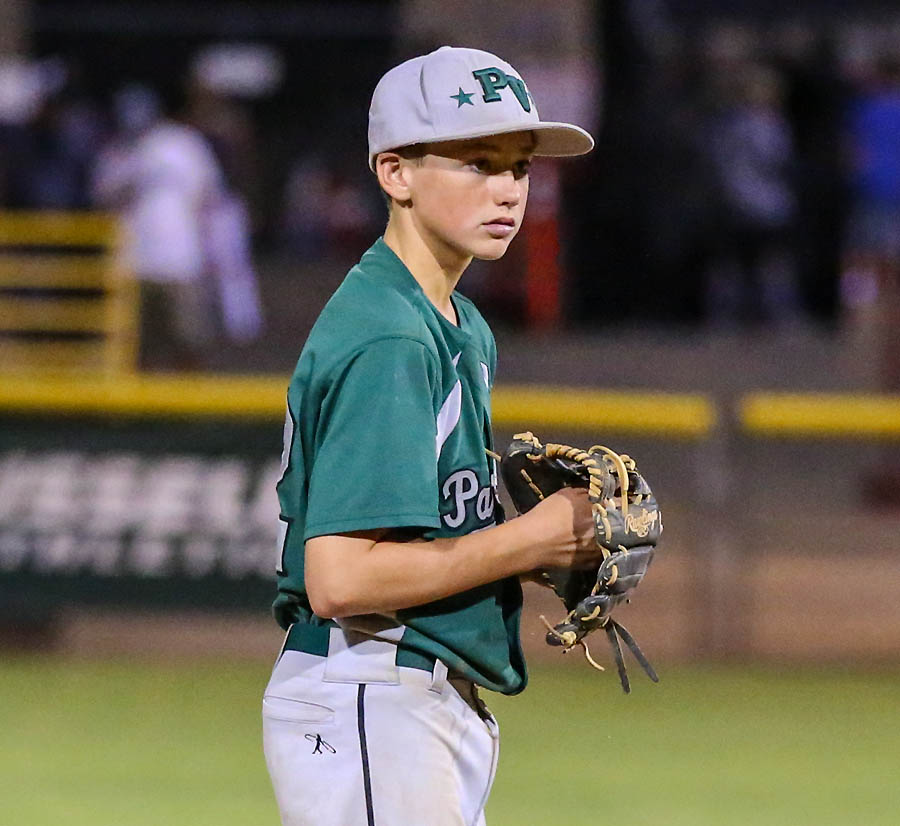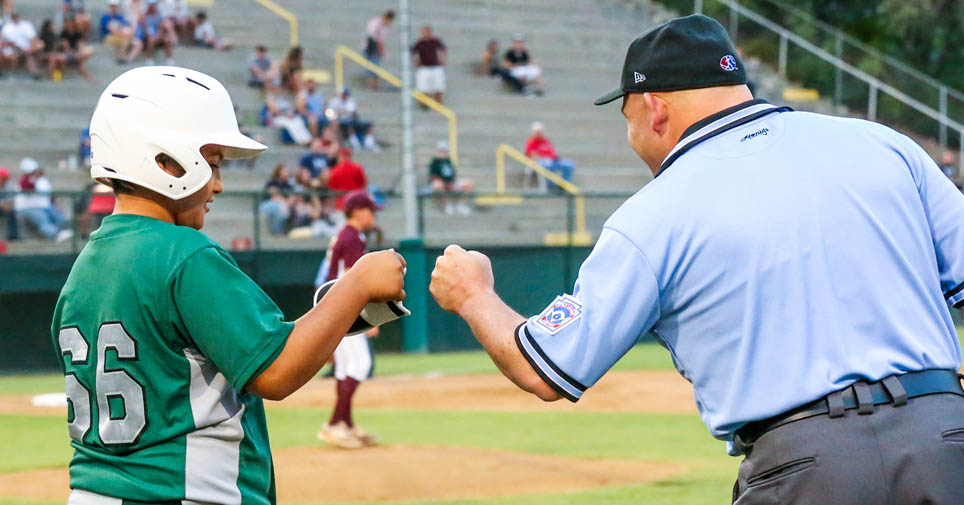 2018-LLBWS-Bracket-flat-28
Full-size bracket click on link:
Park View president gives praise where it is deserved: West champion Hawaii tops South Korea to win 2018 Little League World Series championship
Park View Little League President Johnny Fuentes was among those who watched this year's 72nd Little League Baseball World Series championship game on television. Like many viewers, he was impressed by what he saw.
Honolulu Little League, in winning its first LLWS championship (and the third for the state of Hawaii in four appearances in the title game), plowed through this year's 16-team field in South Williamsport unscathed, winning all five games it played while representing the West region.
Hawaii defeated teams from Georgia (Southeast region), Michigan (Great Lakes region) and New York (Mid-Atlantic region) to reach last Saturday's United States Division championship, defeating Georgia's Peachtree City Little League, 3-0, in a rematch.
Honolulu topped a powerful South Korea team, 3-0, the following day to secure its place in Little League history.
"I had been following them since the Western Region tournament in San Bernardino," Fuentes explained. "They are definitely a phenomenal team on more than one level! Congratulations to Honolulu and their outstanding accomplishments!
"All of us here at Park View Little League are very proud to have this team represent not only the Western Region and the United States but also the entire world in Little League. The positive energy, humbleness and love this team has for the game of baseball and each other is what we all strive for … as you can see it's all the right qualities a team needs to make their dreams come true!
"Hats off to the coaching staff, and their hard work in keeping the boys' dreams alive! And hats off to the boys who put into the game everything they had and, most importantly, time and time again we could all see the love for the sport and the genuine good time they were having along the way. This is truly a special team. Thank you for allowing us to all watch what baseball is really about. Congratulations Hawaii!"
Park View finished 2-2 at the Little League World Series Western Regional tournament but did not face Hawaii in its four games in San Bernardino.
Aloha state
Aauki Kea continued his mastery of the pitching mound by striking out 15 Georgia batters in the U.S. final while allowing three hits and one walk. He recorded 64 strikes in 81 pitches to post the complete game victory.
Pitching was strong on the side of the Southeast region champions as well. Connor Riggs-Soper pitched 4.2 innings for Georgia, notching 13 first-pitch strikes and fanning five batters.
The game was scoreless until Hawaii broke through with one run in the bottom of the fourth inning on a two-out single by John De la Cruz that scored Hunter Nishina, who had reached base on a double.
The West region champs tacked on two more runs in the next frame to lead 3-0. Bruce Boucher tripled home another teammate Sean Yamaguchi, who had been issued an intentional pass with two outs. Boucher scored the final run for the U.S. champions on a base hit by Jace Souza.
Winning the U.S. championship turned out to be just the beginning of a championship sweep over the weekend for Hawaii.
Ka'olu Holt struck out eight batters in six innings while allowing just two hits to lead his team to victory while teammate Mana Lau Kong accounted for the game's opening run on a home run while leading off the bottom half of the first inning.
Hawaii, which finished the game with seven hits, added two more runs in the bottom of the third inning as Taylin Oana and Zachary Won both scored on a wild pitch. The three runs proved enough behind the complete game pitching of Holt, who threw 79 pitches and walked just one batter.
South Korea's Yeong Hyeon Kim, who pitched four innings, matched Holt with 14 first-pitch strikes and eight strikeouts.
In the third place game on Sunday, Japan defeated Georgia, 8-2, by out-hitting the Southeast region U.S. team 9-6.
Japan broke the game open early with seven runs in the bottom of the second inning against Georgia starter Chase Fralick.
Kai Nogami and Masato Igarashi each drove in two runs for Japan. Masato (surnames are written first in Japanese) also pitched four innings, recording 12 first-pitch strikes and five strikeouts. Kai and teammate Shisei Fujimoto led all players in the game with two hits each.
Jansen Kenty capped an otherwise superlative LLWS with two RBI to lead Georgia in the loss.
Hawaii held Georgia scoreless in 17 innings, winning the teams' initial encounter, 2-0, in an 11-inning marathon contest that set a LLWS record for longest game played. Kea settled the score with a walk-off two-run home run.
Hawaii entered Sunday's LLWS championship game with a tournament best 0.43 ERA after recording three shutouts in five games in the U.S. Division bracket.
The Honolulu team finished the tournament with four shutouts after blanking South Korea in the grand final at Howard J. Lamade Stadium.
The win had to be uplifting for all Hawaii residents who had suffered from Hurricane Lane.
Kea said he played his heart out for the team's fans back home. He wasn't the only one on the team to do so, as family has been a key word all along for this team on its history-making journey.
South Korea blasted Japan, 10-0, to win this year's International Division championship. Yeong Hyeon (like Japanese, Korean surnames are written first) pitched four innings, striking out 10 while allowing just one hit. He also led his team with five RBI in the game, including a bases-clearing triple in the first inning.
In consolation games played between teams that lost their opening two games in bracket play, Rhode Island (New England regional champion) defeated Australia, 15-0, while Idaho (Northwest regional champion) shut out Spain 5-0.
Little League Baseball chatter
Honolulu Little League and Peachtree City Little League were named co-recipients of the 2018 Jack Losch Little League Baseball® World Series Team Sportsmanship Award. This year marks the first time in the award's 15-year history that there have been two teams presented with the award.
"The amount of sportsmanship, character, and respect that these two teams have displayed throughout this World Series has truly been remarkable and fully exemplifies the values and spirit that the award represents," Little League President and CEO Stephen D. Keener said. "We are honored to present this award to both teams and hope their display of sportsmanship will continue to inspire local Little League programs around the world."
2018 Little League World Series Team Records

United State Division
West (Honolulu Little League, Hawaii) 5-0
Southeast (Peachtree City Little League, Georgia) 4-3
Great Lakes (Grosse Pointe Woods-Shores Little League, Mich.) 2-2
Mid-Atlantic (Mid Island Little League, Staten Island, N.Y.) 2-2
Midwest (Grandview Little League, Des Moines, Iowa) 1-2
New England (Coventry Little League, Coventry, R.I.) 1-2
Northwest (Coeur d'Alene Little League, Couer d'Alene, Idaho) 1-2
Southwest (Post Oak Little League, Houston, Texas) 1-2
International Division
Asia-Pacific (South Seoul Little League, Seoul, South Korea) 4-1
Japan (Kawaguchi Little League, Kawaguchi, Japan) 4-2
Caribbean (Redames Lopez Little League, Guayama, Puerto Rico) 3-2
Canada (Whalley Little League, Surrey, British Columbia) 2-2
Latin America (Vacamonte Little League, Arraijan, Panama) 1-2
Mexico (Matamoros Little League, Matamoros, Tamaulipas) 1-2
Australia (Gold Coast Baseball Association Little League, Gold Coast, Queensland) 0-3
Europe-Africa (Catalunya Little League, Barcelona, Spain) 0-3
Little League International Championship Tournament Season
Little League Baseball (South Williamsport, Pa.):
Honolulu Little League (Hawaii) defeated South Seoul Little League (South Korea/Asia-Pacific) 3-0
Intermediate League Baseball (Livermore, Calif):
West Seoul Little League (South Korea/Asia-Pacific region) defeated host region Livermore/Granada Little League 10-0
Junior League Baseball (Taylor, Mich.):
Sing-Ming Junior Little League (Yaoyuan, Taiwan/Asia Pacific region) defeated Lufkin (Texas) 2-0
Senior League Baseball (Eastly, S.C.):
Pariba Little League (Willemsted, Cuacao/Caribbean region) defeated Wilmington (Del.) 7-2
Little League Softball (Portland, Ore.):
Wheelerburg (Ohio) defeated Tubnkhannnock (Pa.) 3-0
Junior League Softball (Kirkland, Wash.):
Snow Canyon Little League (Santa Clara, Utah) defeated Smithville (Texas) 9-3
Senior League Softball (Lower Sussex, Del.):
Tanauank (Batanagas, Phiippines/Asia-Pacific region) defeated Texas District 9 Little League (Waco) 7-0