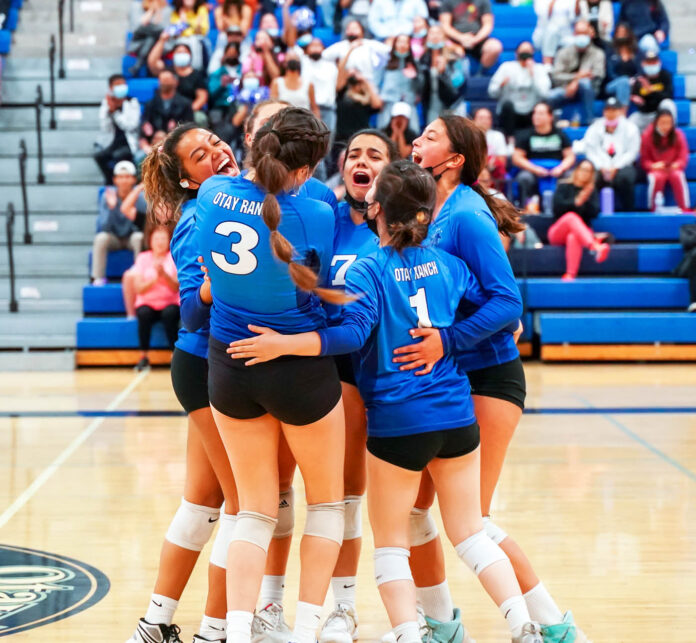 When the Otay Ranch and Olympian high school girls volleyball teams both won their respective quarterfinal-round playoff matches last Friday, it guaranteed that a Mesa League team would advance to this Saturday's San Diego Section Division II championship game at Cathedral Catholic High School.
Second-seeded Otay Ranch defeated seventh-seeded Classical Academy (20-10) in four games 30-28, 22-25, 25-1, 25-20 to advance to Tuesday's semifinal match-up against third-seeded Olympian — a 25-18, 25-17, 25-19 winner over sixth-seeded Rancho Buena Vista (16-10) in last weekend's quarterfinals.
Otay Ranch (34-7) won on Tuesday to meet top-seeded Francis Parker (18-10) in Saturday's championship final. Game time is scheduled for 1:30 p.m. at the North County site.
Olympian ended an otherwise stellar season 23-6.
This will be the Lady Mustangs' second trip to the CIF finals after placing runner-up in the 2014 Division II championship game.
Olympian won the Division III championship in 2014 and three-repeated as CIF champions at the Division II level in 2015 and 2016.
Francis Parker should present a challenging opponent for Otay Ranch in Saturday's upcoming Division II final after the Lady Lancers rolled past 16th-seeded Brawley (25-9, 25-9, 25-11) in the first round, eighth-seeded Ramona (25-23, 26-24, 25-22) in the quarterfinals and fourth-seeded San Dieguito Academy (16-25, 25-21, 25-19, 25-17) in Tuesday's semifinals.
But the Lady Mustangs like challenges, especially like the one the neighborhood rival Lady Eagles presented on Tuesday.
"I reminded them during a timeout what was at hand and how hard they had worked all season to get here, how bad they needed this," explained Otay Ranch coach Michael Pandaan after Olympian had shocked the hosts with a 25-19 victory in the opening game. "We needed to get the energy going and catch the momentum in the next three sets.
"They took those words to heart. We needed to dig down defensively. It was all about staying focused and making sure everybody did their job.
"It feels great to get the win."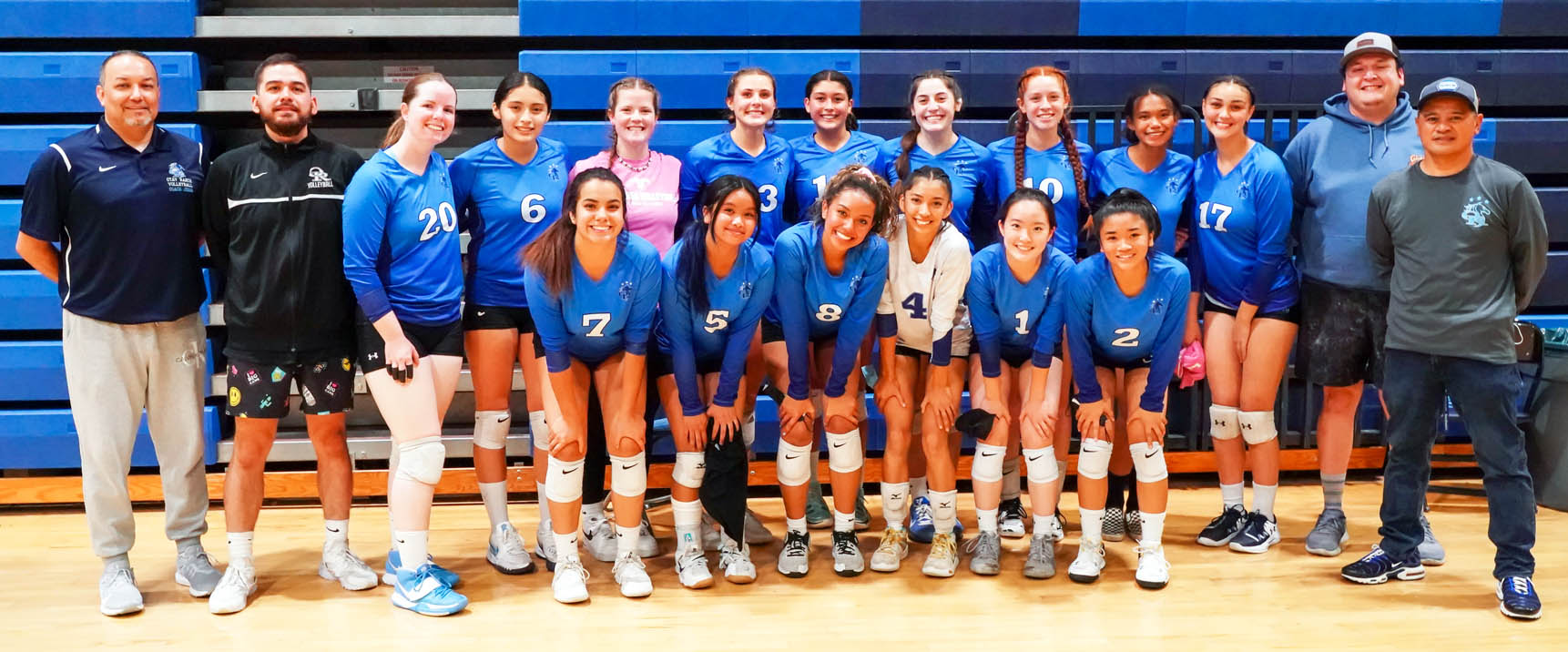 The visiting Eagles dared to dream after winning the first game but the host Mustangs would have none of that by sweeping the next three games — 25-18, 25-25-16, 25-16 — to advance to the CIF promised land.
The hosts took a commanding 15-5 lead in the fourth game that got the home crowd airing out its lungs in grand approval.
"It feels amazing," junior Zoe Rachow said. "We played really hard out there. We were able to pick it up, get squared away and dial up our mentalities."
Athletic director Judd Rachow echoed his daughter's sentiments.
"As far as the team goes, it's a great bunch of girls who work hard and have great attitudes," the elder Rachow said. "Coach Pandaan has done a great job putting these girls in situations to be successful."
Indeed.
Zoe Rachow collected 30 assists in Tuesday's comeback win while adding 15 digs. Kills leaders included senior Arramis Gonzalez (16), sophomore Ximena Cordero (15) and sophomore Andrea Torres (14). Senior Madeline Caro also tacked on 14 digs.
Cordero led Otay Ranch with 18 kills and 16 digs in last Friday's quarterfinal win while Gonzalez tallied 17 kills and two aces. Torres logged 13 kills while Rachow had five kills, six blocks, 14 digs and 40 assists.
Caro contributed 15 digs while Torres tacked on 12 digs and two aces.
Cordero enters Saturday's division championship game as the team's kill leader (459), Caro as the team's leader in digs (388) and Rachow in assists (914), aces (80) and blocks (49).
The teams met twice in league play with Otay Ranch winning in three-game sweeps both times.
The third time did not prove to be the charm for the Lady Eagles but the visitors certainly made it interesting at the start.
Olympian narrowed the score to 10-9 in the second game and 9-8 in the third game but could not maintain momentum to go over the top.
New head coach Marissa Davis was otherwise complementary of her team, which won the Mission Bay Bucs tournament earlier this season. The Lady Eagles placed third in the Mesa League standings behind league champion Eastlake, which earned the No. 2 seed in the Open Division playoffs, and league runner-up Otay Ranch (8-2 in league).
"We have two players on the Metro All-League Second Team this season and have made incredible strides," said Davis, whose team finished 6-4 in league play.
Senior Kristiana Borrowman keyed Olympian with nine kills in last Friday's quarterfinal victory while senior Viktoria Dickson served four aces and collected 13 digs, seniors Renee Cooper and Kathryn Steinmetz each logged five blocks, and sophomore Kaitlyn Johnson had 16 assists.
Entering Tuesday's semifinals, Dickson paced the team with 181 kills, Borrowman with 53 aces and 365 digs, Cooper with 24 blocks and Johnson with 280 assists.
Pandaan said his team does not intend to stop one step short of its goal.
"It's been amazing," Pandaan said of his team's 2021 campaign. "We've competed with very competitive teams this season. If we weren't in Division II, we'd be up there in Division I.
"We have a good team. The girls have taken care of business. The girls are going after everything."
Bonita Vista spikers sweep Mt. Carmel, advance to Division III championship game
Bonita Vista High School's girls volleyball team finished 2-8 in Mesa League play but showed just how competitive this year's league lineup was after sweeping past Mt. Carmel in Wednesday's Division III semifinals to advance to Saturday's Division III championship game.
The second-seeded Lady Barons (24-12) won 25-12, 25-21, 25-23 to eliminate the third-seeded Lady Sundevils (24-10), the Valley League champion.
Bonita Vista will meet fourth-seeded Fallbrook (21-11) in Saturday's final at 11 a.m. at Cathedral Catholic High School.
The Lady Barons will be seeking their first CIF title since 2000. They also won titles in 1974, 1975, 1977 and 1978.
It's been a great season," BV senior Keely Larson said. "We've grown after every game. We kept pushing through as the opponents got tougher."
Kill leaders in Wednesday's semifinal included Larson and junior Alina Inzunza while sophomore Hayley Frushon and Maria Coronado paced the team in digs. Junior Jaiden Mojica led in assists.
Bonita Vista swept seventh-seeded Coronado in last Saturday's Division III quarterfinals 25-16, 25-15, 25-19.
The Lady Barons opened the playoffs with a four-game victory against 15th-seeded Canyon Hills 25-12, 24-26, 25-10, 25-6 on Oct. 27.
"A lot of hard work, a lot of time and effort and the humbleness of them working as a team, growing as a team with each match, a great group," BV head coach Ahmad Rice summed up.
Larson paced the hosts with 11 kills, four serving aces and 15 digs in the quarterfinal win, while Frushon had four serving aces, senior Maya Michaud added four blocks and Mojica contributed 26 assists.
In the first-round win, Inzunza had 14 kills, Coronado blasted 11 aces, Frushon collected 17 digs and Mojica turned in 30 assists.
Bonita Vista athletic director Tyler Arciaga termed it a great opportunity for the team.
"Their season was really short last year and it's great to see them build momentum off such a short season," Arciaga said. "Coach Rice has been working hard with them in the offseason and there is a lot of energy from the team during the games. They are an exciting squad to watch."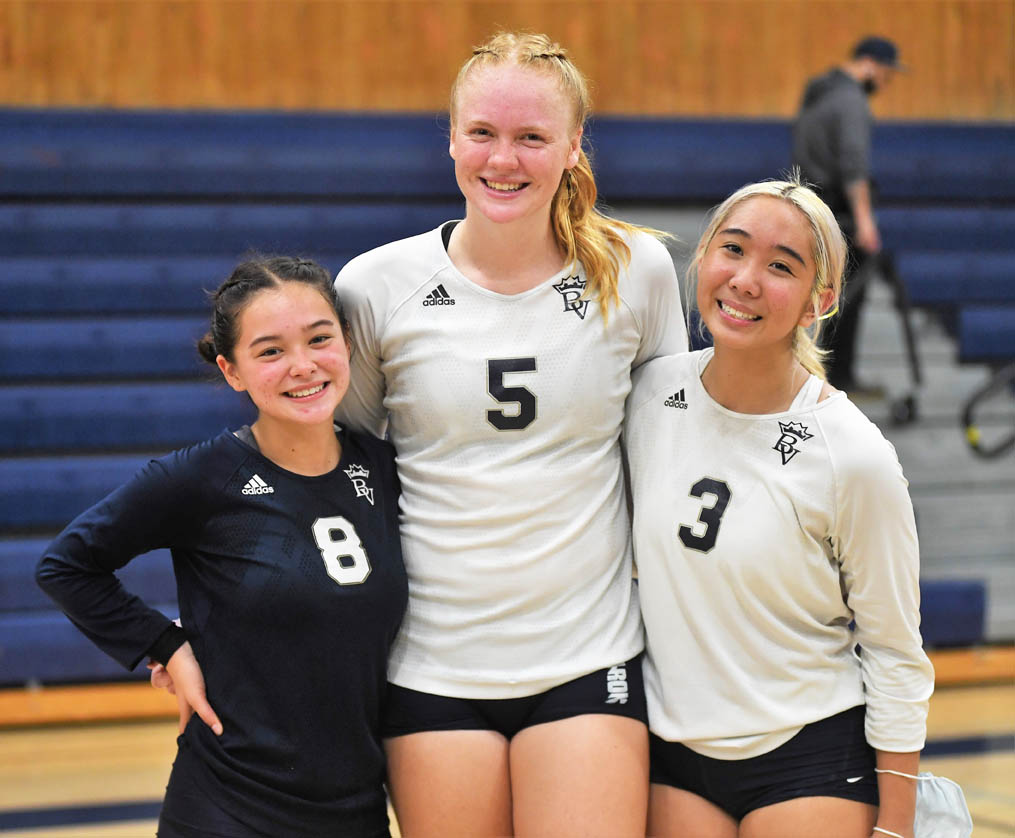 Open Division
Mesa League champion Eastlake finished 10-0 in league play while racking up a 32-8 regular season record to earn the No. 2 seed in this year's girls vollebyall Open Division playoffs. It was a lofty honor and the Lady Titans made it stand up after topping seventh-seeded Westview in last Saturday's quarterfinals.
Eastlake dispatched the Lady Wolverines 25-14, 21-25, 25-17, 25-16 in winning three of the four games.
The win advanced the reigning Mesa League champions to Wednesday's semifinal matchup against third-seeded La Costa Canyon. The Lady Titans' title quest ended, however, following a 25-21, 25-21, 25-22 loss. Eastlake (32-9) played hard, but the Lady Mavs (30-11) held a height advantage.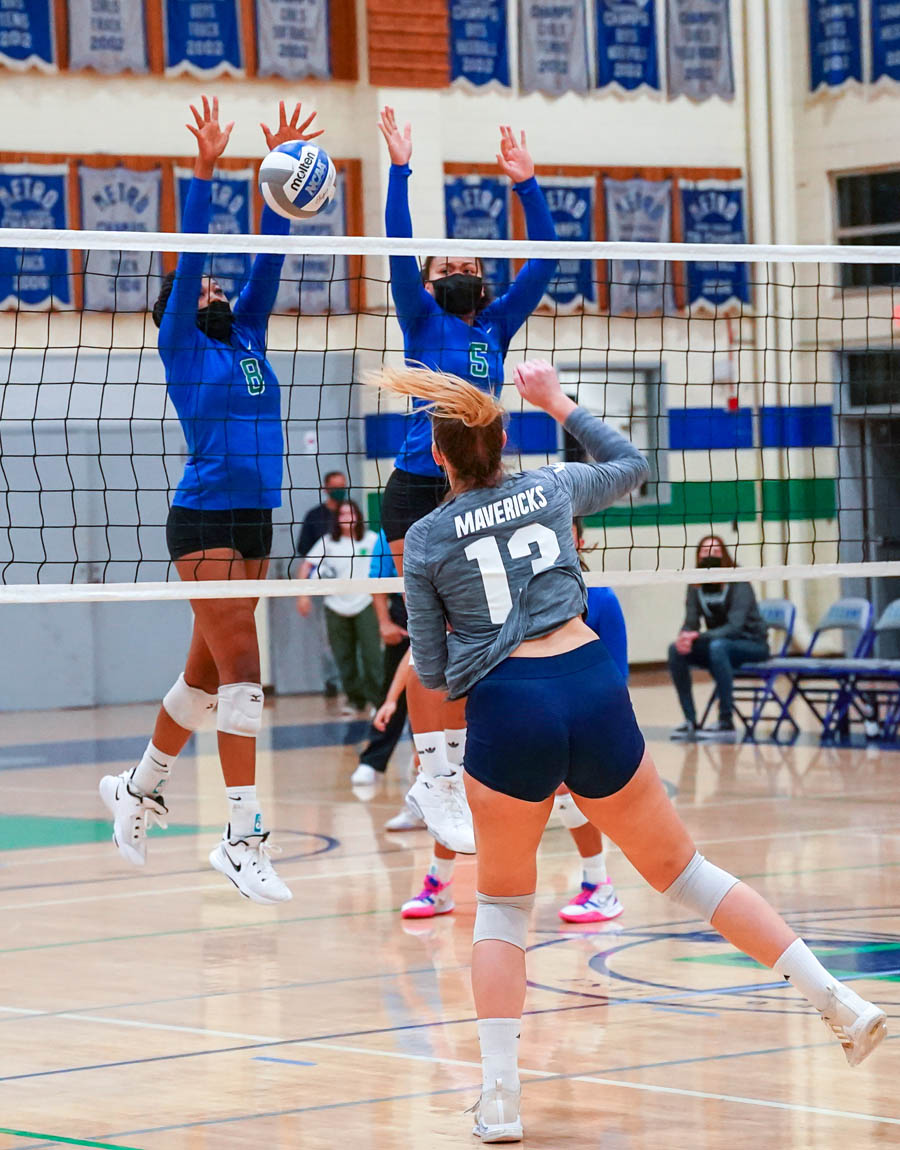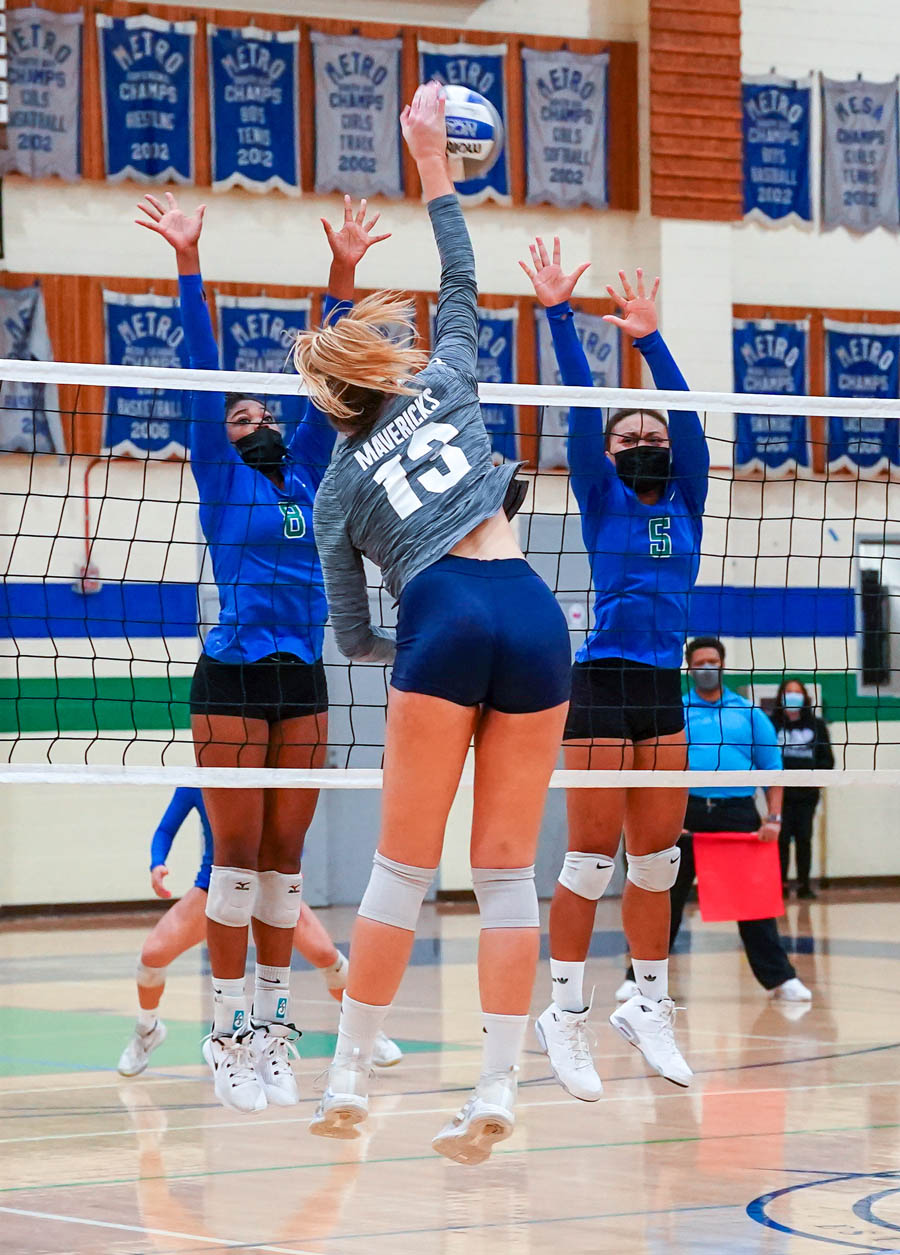 CIF BOYS WATER POLO SCOREBOARD
DIVISION I:
(1) Mar Vista (23-5) vs. (8) Helix (11-18), quarterfinals, Nov. 6
DIVISION II:
Eastlake 16, Scripps Ranch 8, play-in, Nov. 2; (11) Eastlake (14-13) vs. (6) Mission Hills (16-10), first-round, Nov. 4
(9) Hilltop 12, (8) Oceanside 11, Nov. 4, first round. Records: Hilltop 17-5, Oeanside 15-8
DIVISION III:
(8) High Tech San Diego 16, (9) Otay Ranch 9, first-round, Nov. 2
(7) Valley Center 13, (10) Bonita Vista 1, first-round, Nov. 2
(3) Castle Park (22-6) vs. (6) Canyon Hills (17-12), quarterfinals, Nov. 5