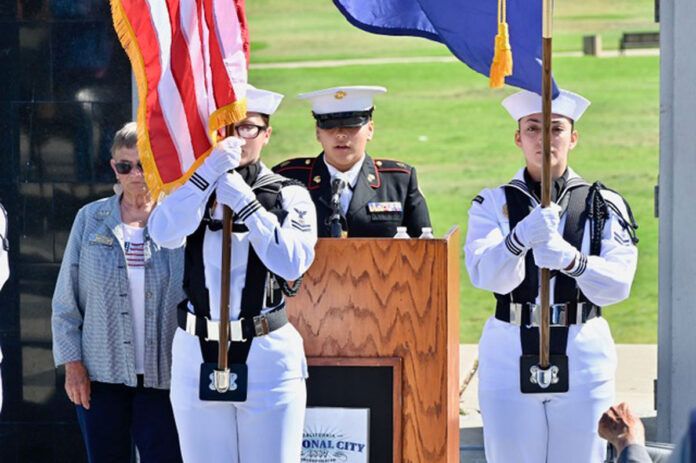 A second annual Memorial Day ceremony was held at the National City Veteran's Wall of Honor at the War Memorial on May 30, this time in person.
Unlike the virtual 2021 presentation which was not an official city event, this year's ceremony, emceed by Navy veteran Shirley Ferrill, was attended by some city staff members and elected officials as well as National City American Legion post 255 leaders and military officials from Naval Base San Diego.
The sunny afternoon ceremony opened with students from the Sweetwater High School Marine Corps Junior Reserve Officer Training Cadets program and the Naval Base San Diego Color Guard presenting colors and Cadet Gunnery Sergeant Alexis Garcia singing the national anthem. American Legion post 255 Commander Aquiles Eddie Ortiz led the pledge of allegiance.
In his speech, Marine Corps veteran and National City veterans committee representative Armando Telles said the day was not "a happy Veterans day" but a day for memorializing those who gave their lives.
"Who are we revering? Today is for our brothers, sisters, fathers, mothers who gave their all," Telles said.
The national holiday was originally dubbed Decoration Day and dated back to American Civil War-era spouses cleaning and decorating the graves of those they had lost in combat, but was officially renamed Memorial Day when it became a national holiday in 1971 and dedicated to all who had lost their lives in any American conflict.
Naval Base San Diego Commanding Officer Captain Ted Carlson told the crowd of about 150 attendees that he overheard a family chatting on the beach during his morning walk and realized they did not know the meaning behind Memorial Day.
"Today is not a celebration or the unofficial start to summer, but a day to honor freedom and democracy," Carlson said.
Those who lost their lives for the country were fighting for "the simple belief that we have self-evident truths like equality, liberty and the pursuit of happiness" within our grasp, Carlson said, paraphrasing the Declaration of Independence.
Naval Base San Diego Command Master Chief Jerry Cantorna quoted Tamra Bolton, said the day is one to pay homage to all those who didn't come home, a day of solemn contemplation over the cost of freedom.
"Let us not forget the people we honor," Mayor Alejandra Sotelo-Solis said, gesturing to WWII veteran Rudolph Garcia who turned 95 on Memorial Day.
Citing more recent losses including 5,400 lives lost in Iraq and 2,300 lost in Afghanistan, City Councilmember Ron Morrison said he thinks it is important to recognize there were lives behind those numbers.
"These were husbands and wives, community members who had other commitments in life but put us, our country first," Morrison said.