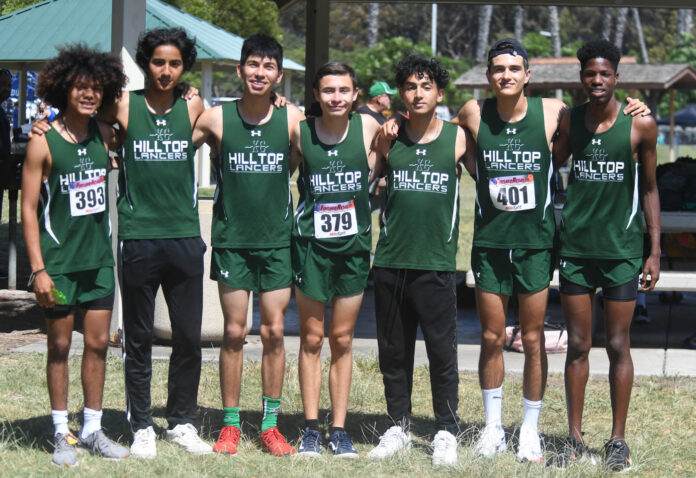 Metro Conference cross country teams put their best foot forward last Friday as league dual meet competition stepped off.
Among the highlight matchups was Hilltop at Otay Ranch, two of the preseason favorites in the Mesa League.
Otay Ranch won 31-26 but the meet was close.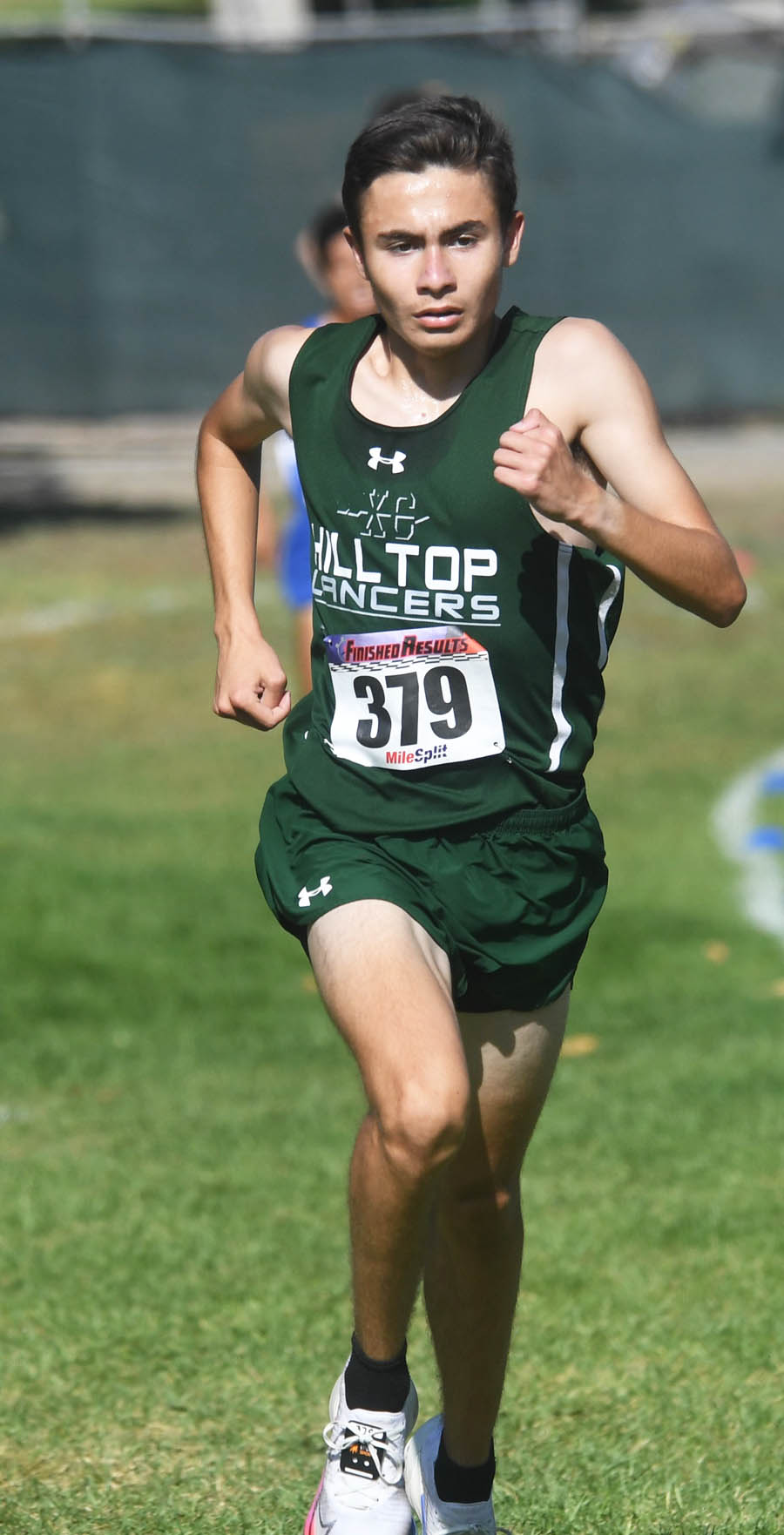 Hilltop senior Jimmy Byland earned medalist honors with a time of 16:38.09 on the 3.1-mile course but two Mustangs followed him across the finish line to break up any chance of a one-two Lancer finish. Senior Diego Vizcarra timed 16:42.81 in second place while senior Ruben Baza Carrillo timed 16:43.72 in third place.
Hilltop senior Miguel Tisnado placed fourth in 16:45.58 to knot the teams in an early 5-5 standoff in the scoring column. But host Otay Ranch kept breaking up the Lancers' scoring run as junior Jake Shorey (fifth, 16:52.19) finished ahead of Hilltop senior Eddie Castaneda (sixth, 16:54.89) and Mustang senior Aydan Wohlford (seventh, 17:05.87) finished ahead of Hilltop senior Sebastian Vieyra-Gomez (eighth, 17:14.60).
With four runners each crossing the finish line for each team, Otay Ranch held a tenuous 17-19 scoring edge.
The final two runners for each team would decide the final score. The Mustangs sealed the victory by placing eight runners in front of the Lancers' fifth scorer.
Senior Daniel Kim finished ninth for Otay Ranch in 17:22.24. Junior Malachi McCoy finished 17th in the field of 21 runners to round out scoring for Hilltop.
The Mustangs finished with six of the top 10 place-finishers.
"We knew coming into the Hilltop dual meet that we were going to have to fight to compete against these guys," Otay Ranch coach Julian Valdez said. "They are a top 10 team in the county, and a top team in Division III. Jimmy, Miguel and Eddie have been a constant challenge to compete against and are real talents.
"When the gun went off it was 92 degrees, so that played a factor, too. Luckily, our pack ran strong, and our sixth man Daniel Kim ran a strong race (to finish fifth). We give tons of props to Hilltop and know they will be tough to beat at league finals."
Otay Ranch won the girls varsity race 15-48 as the Lady Mustangs placed all five of their scorers in the lead. Senior Lauren Medina led the stampede in first place with a time of 17:14.49 on the 4,087-meter course, followed by senior Leila Fuerte (second, 17:15.83), freshman Aviva DeVore (third, 17:16.09). senior Elicia Arredondo (fourth, 17:25.32) and sophomore Vivian Medina (fifth, 18:39.94).
Junior Tamara Cornejo paced Hilltop with a sixth-place individual finish in 18:45.41. Otay Ranch placed seven of the top 10 runners.
The host Mustangs won the boys junior varsity race 15-50 by placing the top 12 runners across the finish line. Otay Ranch junior Neil Griffin paced the group with a time of 19:09.28 on the 3.1-mile course.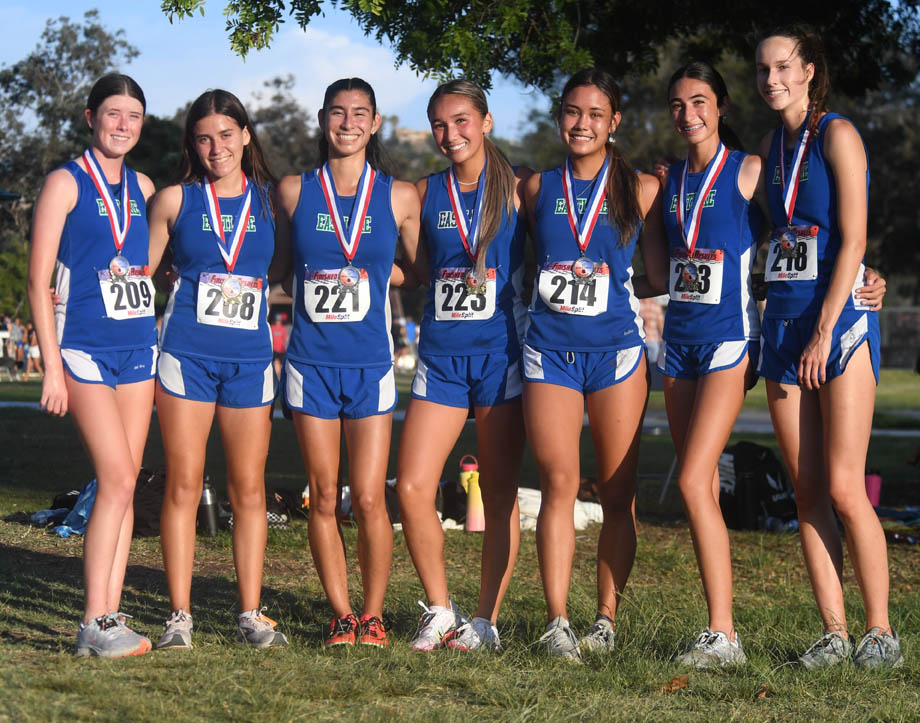 In other Metro cross country dual meet openers:
Eastlake swept Bonita Vista in all three races last Friday at Rohr Park, winning the boys varsity race 21-40, the girls varsity race 15-48 and the boys junior varsity race 18-39.
Senior Anthony Martinez (16:32) captured medalist honors on the boys varsity 3.1-mile course by a whopping margin of one minute, 29 seconds over Bonita Vista senior Enrique Aranda (18:01). The Titans placed seven of the top nine runners.
On the girls side, Eastlake placed the top five runners in the 2.5-mile race: junior Amanda Challburg (first, 16:11), sophomore Vanessa Vuong (second, 16:15), senior Melissa Mekitarian (third, 17:01), freshman Alex Borba (fourth, 17:40) and senior Katherine Robinson (fifth, 17:43).
Senior Diandra Jara paced Bonita Vista in sixth place in 17:51 but Eastlake responded with eight of the top 10 finishers in the race.
Eastlake placed the top four runners in the 32-deep boys JV race, led by junior Isaac Blanco in 20:22 and followed by sophomore Charles Leon (20:28), William Wimbish (20:30) and Caleb Kipp (20:31).
Olympian defeated Mater Dei Catholic in boys varsity action 21-37. Mater Dei Catholic sophomore Joshua Dunphy paced the 34-deep field with a time of 18:05 on the 3.04-mile course at the Olympian campus.
The host Eagles placed six of the top 10 finishers in the boys varsity race while Mater Dei Catholic placed six of the top 10 finishers in the girls varsity race.
Junior Victoria Ames (17:07) and senior Maya Galvan (17:56) gave Olympian a one-two punch in the girls race while Mater Dei Crusaders followed with the next two runners: freshman Sofia Feree (18:03) and senior Jane Clark (18:10).
Prior to last Friday's dual meet, the Mustangs competed at the Mt. Carmel Invitational Sept. 18 at Morley Field and the Dana Hills Invitational on Sept. 25.
Hilltop's Byland finished second in the 134-deep Division II senior boys race at the Mt. Carmel Invitational with a time of 15:57.4 on the 2.95-mile course. The Lancers finished third as a team.
High Tech High junior Aidan Stirk placed fifth in the 146-deep Division II junior boys race in 17:19.7.
Otay Ranch won the Division I boys junior race while Bonita Vista finished third in the Division I freshman boys race. Olympian was fourth in the Division I sophomore boys race.
Eastlake's Trevor Santiago finished fourth among individuals in the Division I boys junior race in 17:29.7 while Otay Ranch's Christopher Harvie was eighth in 17:44.7.
Otay Ranch finished runner-up to Loyola in the Division I boys senior race, though Eastlake's Martinez was the Metro's top individual in the 178-deep field in third place (16:11.3).
Eastlake's Vuong won the 95-deep Division I girls sophomore race in 17:14.8, supported by teammate Gailia Salazar (17:32.7) in fifth place.
Eastlake's Borba (18:05.3) finished third among individuals in the 108-deep Division I girls freshman race while classmate Alexis Sepulveda (18:18.8) was fifth.
Eastlake's Challburg placed fifth in the 78-deep Division I girls junior race in 17:50.8.
Otay Ranch finished third in the Division I girls senior race team standings, led by DeVore with an 11th-place individual finish in 17:29.2.
"The kids ran very well at Mt. Carmel Invitational," Valdez said. "We ran in the afternoon session, so got to compete with the heat and national powerhouse Loyola. To come in second to only them was pretty awesome. Mt. Carmel puts on a great meet, and for our program to compete well on both sides is always a positive."
Otay Ranch finished fourth in the Division I boys senior invitational and eighth in the Division I boys junior invitational at Dana Hills. Eastlake, paced by Mekitarian's runner-up individual finish, won the Division I girls senior race by a 45-point margin over runner-up Santa Monica.
Bonita Vista finished third in the Division II boys freshman race at Dana Hills.