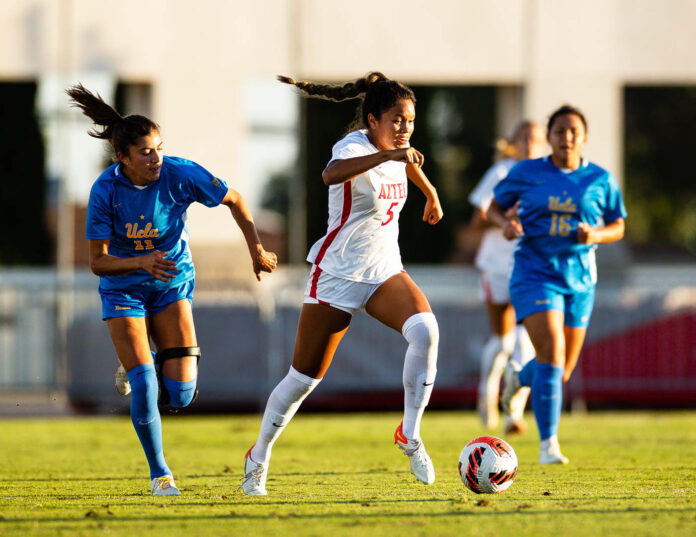 Sophomore forward Emma Gaines-Ramos is among an impressive six South County players on this year's San Diego State University women's soccer team.
Gaines-Ramos, who helped lead Otay Ranch High School to the San Diego Section Division III championship to cap the 2019-20 season, has started 11 of the Aztecs' 12 games to date. She has logged one goal and one assist, and the one goal was a big one — standing up as the game-winning tally in a 2-0 Mountain West Conference victory against Utah State Sunday at the Aztec Sports Deck.
The former Lady Mustang scored her first collegiate goal 13 minutes into the second half from a sharp angle after beating Aggies goalkeeper Diera Walton.
Gaines-Ramos appeared in all 11 games during SDSU's shortened 2020-21 spring season with three assists, the second most by an Aztec true freshman in the last five years.
She earned First-Team All-Mountain West, Mountain West Scholar-Athlete and Academic All-Mountain West in her debut freshman season.
She was a member of the Bonita Rebels' 2018 U18 USYS national championship squad.
Other South County alumni on this year's SDSU women's soccer team include freshman midfielder/forward Denise Castro (San Ysidro), freshman midfielder Daniela Chavira (Eastlake), freshman midfielder Alyza Eckhardt (Bonita Vista), freshman forward Dori Savage (Mater Dei Catholic) and sophomore midfielder/forward Olivia Sekimoto (Eastlake).
Castro, who has started 10 of SDSU's 11 matches, leads the team in scoring with six goals and one assist for 13 points.
SDSU WOMEN'S SOCCER SCHEDULE
October
8: SDSU at UNLV, 6:30 p.m. PT
10: SDSU at Nevada, 1 p.m.
14: SDSU at Fresno State, 7 p.m.
17: SDSU at San Jose State, noon PT
21: Air Force at SDSU, 7 p.m.
24: Colorado College at SDSU, noon PT
28: New Mexico at SDSU, 7 p.m. (Senior Night)
November
1-6: Mountain West championship tournament at Boise State, TBA
SD Loyal keeps focus on playoff berth
Saturday's USL Championship home match for the San Diego Loyal against Sacramento Republic (7:30 p.m., USD's Torero Stadium) is very important for the home side as it closes in on securing both a playoff berth and home-field advantage in the first round.
The second-year Loyal (13-10-4, 43 points) has a magic number of eight to clinch Pacific Division playoff berth. It can clinch a home playoff match with a second-place finish in the division standings.
The Loyal is currently in second place behind the division leader Phoenix Rising (18-4-5, 59 points). Last Saturday's 3-0 win at the L.A. Galaxy II helped separate the Loyal from the teams beneath them in the standings.
Orange County (10-9-7) is in third place in the division standings with 37 points, followed by the Galaxy II (9-12-5) and Republic (8-10-8) both with 32 points.
The Loyal has five regular season matches remaining: three at home (Oct. 9, 17 and 24) and two more on the road (Oct. 20, and 30).
Several noteworthy honors were recorded in the team's latest victory.
Goalkeeper Austin Guerrero, an alumnus of Otay Ranch High School, recorded his fifth shutout of the season.
Defender Josh Yaro earned recognition by being named to the USL Championship Team of the Week with his second goal of the season.
Elijah Martin scored his first goal with SD Loyal against LA Galaxy II.
The Loyal prepares for its matches at the Chula Vista Elite Athlete Training Center.