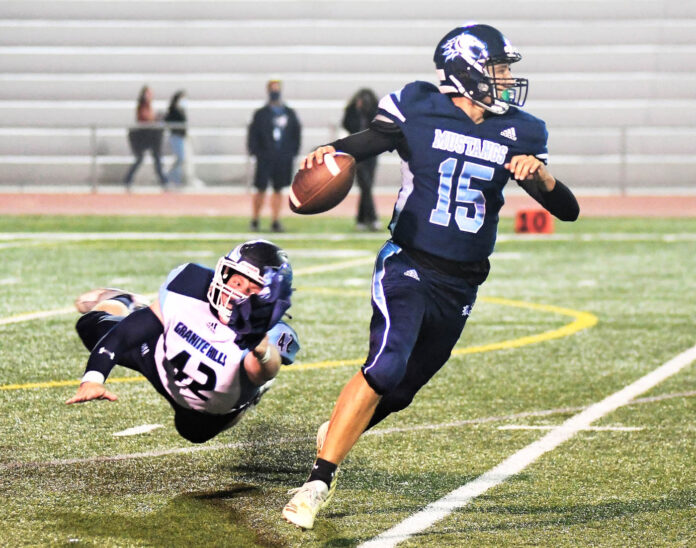 Granite Hills High School football coach Kellan Cobbs readily admits his team has been through its "highs and lows" so far this season.
Otay Ranch head coach Lance Christensen might also have the same thing to say about his team.
The Eagles definitely caught an up draft last Friday by defeating the Otay Ranch Mustangs, 31-14, at Hilltop High School.
The non-league victory snapped a two-game losing streak for Granite Hills (3-2) – the team's "low" through its opening five games.
The loss was the second consecutive for the Mustangs (1-2) against an opponent from the Grossmont Hills League.
"There's a lot of football left in the season," Cobbs said.
Christensen would certainly echo that.
The win over Otay Ranch moved the Eagles up to No. 13 in the weekly section rankings, 10th among Division I teams.
Otay Ranch dropped to No. 15 following last weekend's loss but ranks third among Division II teams.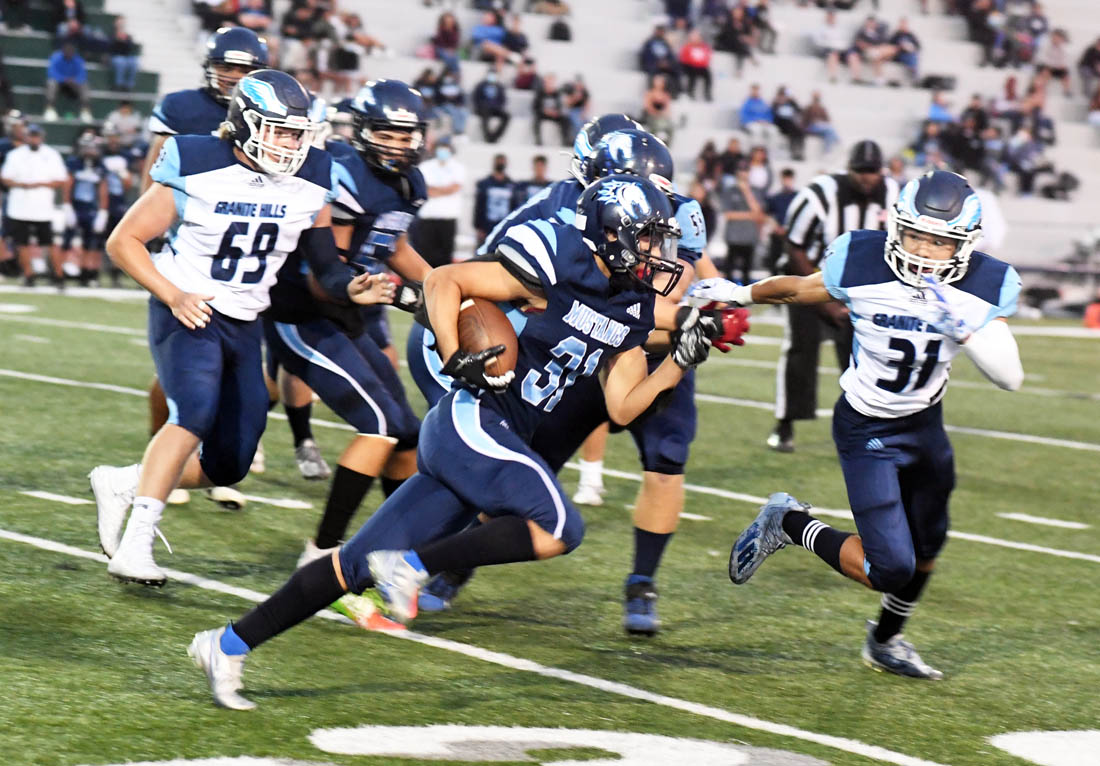 Cathedral Catholic (3-2) remains No. 1 in the section, followed by Carlsbad (5-0) at No. 2, Lincoln (3-1) at No. 3, Mission Hills (3-2) at No. 4 and Torrey Pines (3-1) at No. 5.
Mater Dei Catholic (3-0) is the top-ranked Metro Conference team at No. 6 section-wide, followed by Helix (3-1) at No. 7 as the top-ranked East County team.
Scripps Ranch (4-0) is ranked eighth overall, followed by Eastlake (3-1) at No. 9 and El Camino (1-2) at No. 10.
Mater Dei Catholic is ranked No. 1 among the section's Division III teams while Scripps Ranch tops the Division II rankings.
Helix is ranked sixth among Division I teams while Eastlake is ranked seventh and El Camino is ranked eighth.
A rankings shakeup could occur this Friday when El Camino hosts Eastlake.
Indeed, there's a lot of football left in the season.
Granite Hills benefitted from the much-improved play of junior quarterback Lance Rodgers in the win over the Mustangs. Rodgers was thrust into the primary role following an injury to starter Nico Tomasello in the opening series of what would turn out to be a 31-0 loss to then 10th-ranked Eastlake two weeks ago.
The Eagles didn't play well against the Titans with three lost fumbles and two interceptions.
Granite Hills was the dominant team for three quarters last Friday but needed a 94-yard interception return by junior Easton Peterson with two minutes to play to stave off a late Otay Ranch rally.
Peterson finished the game with two interceptions.
But the story of the game was the poise displayed by Rodgers in guiding the offense down field.
"He had a whole week of practice and that helped boost his confidence level," Cobbs said. "Our receivers also went up to grab some 50-50 balls and that helped his confidence even more."
With Tomasello, a senior, still on the sideline, Rodgers passed for 161 yards with one touchdown.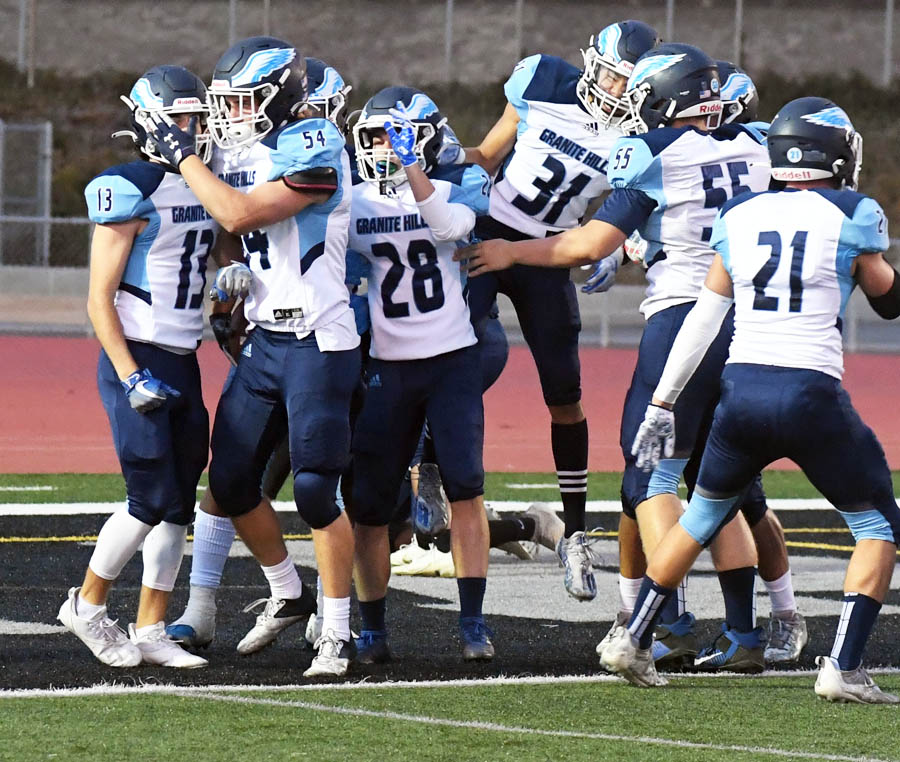 The Eagles built a 28-0 lead to round up the Mustangs.
It took just 12 seconds to get on the scoreboard when senior linebacker Brandon Kleist fell on a loose ball in the end zone after an errant snap sailed over the head of Otay Ranch junior signal-caller Brian Rudden.
"It was huge," Cobbs said of the defensive score. "That got our energy sparked. We were able to feed off that the first half."
Junior Zak Darling broke through the line of scrimmage to score on a 33-yard run with 2:26 to play in the first quarter to double the score to 14-0 following another successful point-after-touchdown conversion by junior Brett Carpenter.
Granite Hills made it 21-0 with 5:43 remaining in the second quarter when senior Jaquayle Hodges scored on a five-run run.
The Eagles jumped ahead 28-0 when Rodgers connected with senior Chandler Boyer on a 10-yard scoring pass midway through the third quarter.
Otay Ranch got its fans roaring with a pair of fourth-quarter scoring drives, one of which was set up by a Granite Hills turnover.
Rudden (140 passing yards, 36 rushing yards) completed a 35-yard touchdown pass to senior Jake Baca (five catches, 94 yards) to avert a shutout with 9:29 left in the game to make the score 28-7.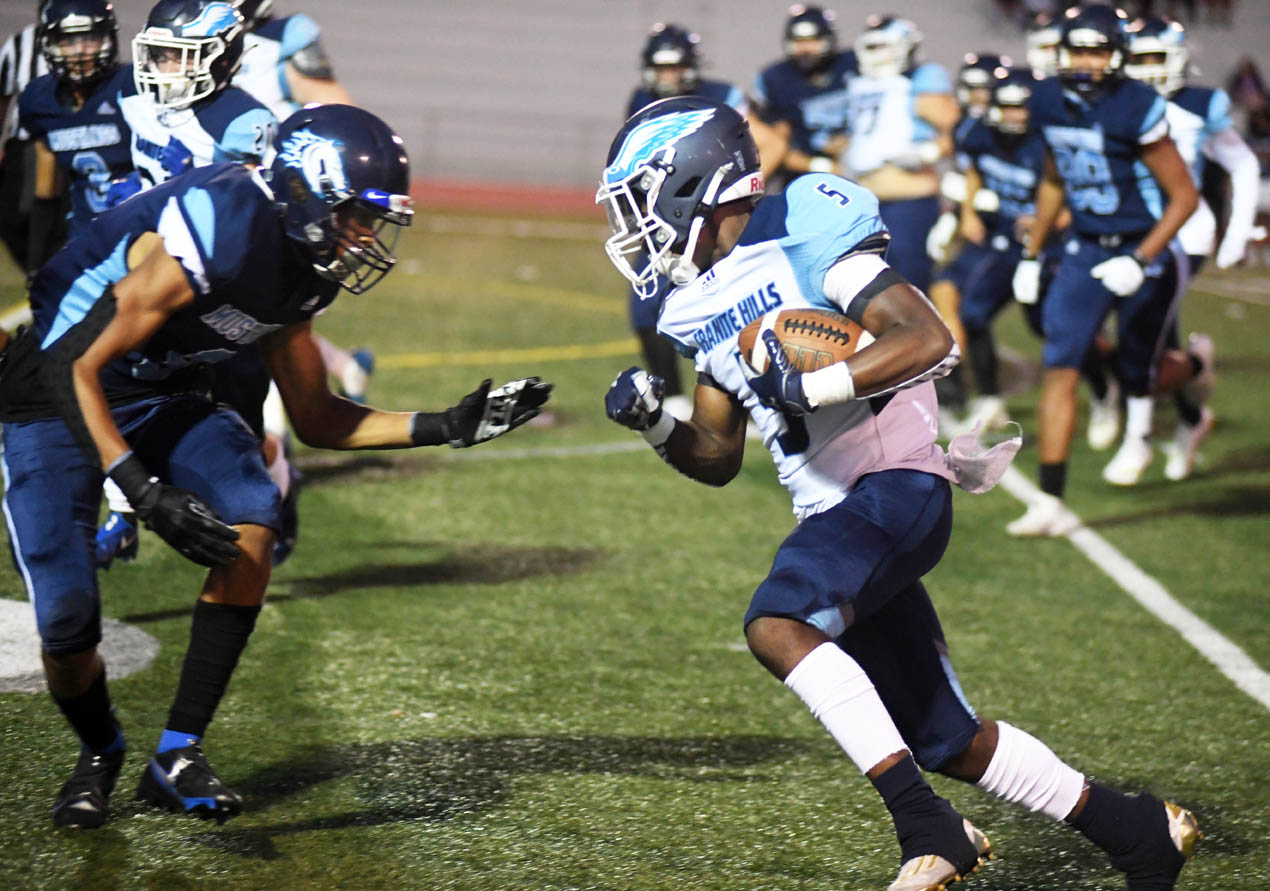 The Mustangs halved the deficit when Rudden, evading two tackles in the backfield, changed direction and rushed 22 yards down the home sideline into the endzone.
At that point, 4:30 remained in the game. It appeared Otay Ranch might draw even closer after fielding the ball on the Eagle 33-yard line on a punt from the end zone.
But Granite Hills senior Zach Burton sacked Rudden for an eight-yard loss and an ensuing penalty brought up fourth-and-23 for the Mustangs with 2:14 left on the clock.
Enter Peterson with the biggest play of the fourth quarter when he intercepted Rudden's pass at the six-yard line and returned the ball the length of the field, racing down the Eagles sideline to cheers, to put the game away.
"I was getting tired (during the runback)," Peterson confessed to a teammate on the sideline.
Otay Ranch generated 327 all-purpose yards in the loss, including 92 yards on kick returns.
Rudden has passed for 657 yards with four touchdowns and four interceptions in three games while Baca leads the team receivers with 16 catches for 265 yards and two scores.
The Mustangs' schedule certainly doesn't get any easier as they visit Lincoln this Friday.
Granite Hills, meanwhile, travels to Tucson for a non-league game.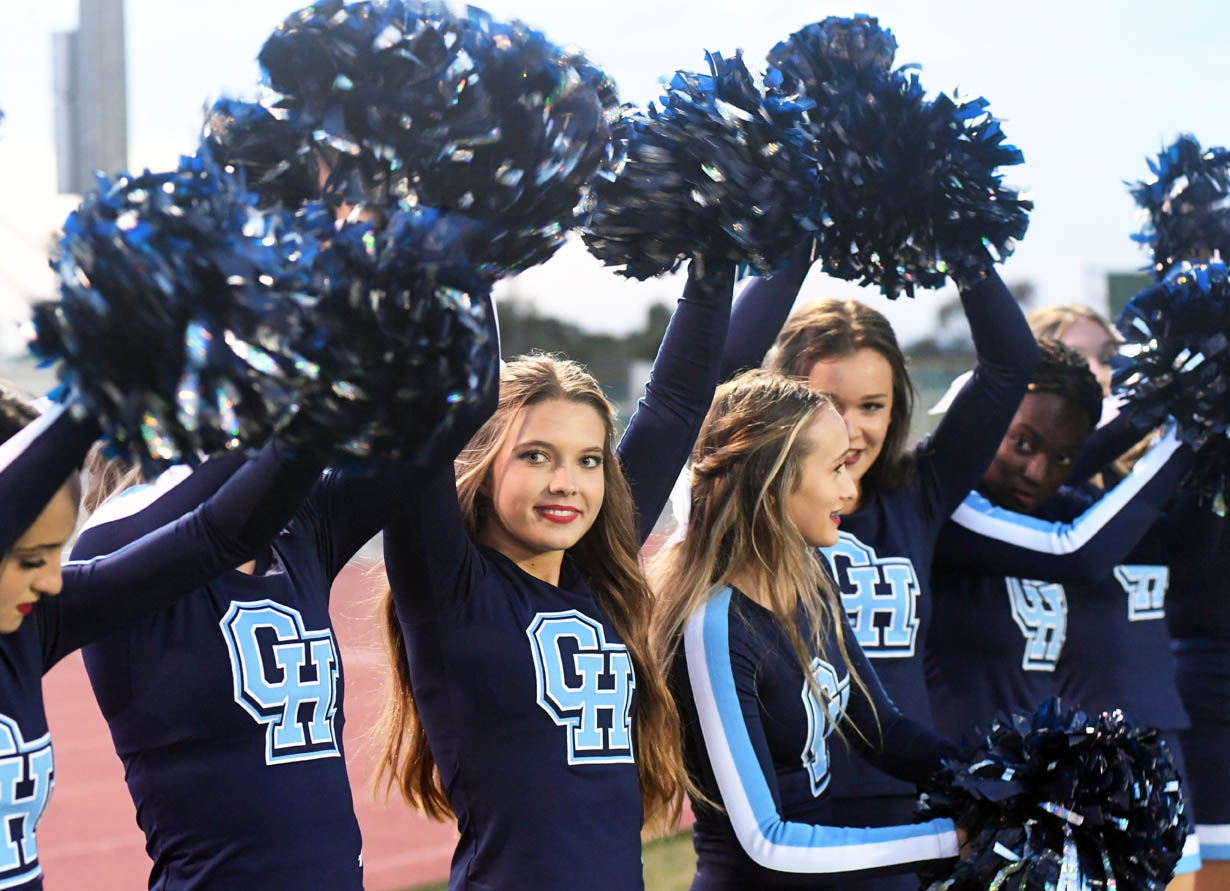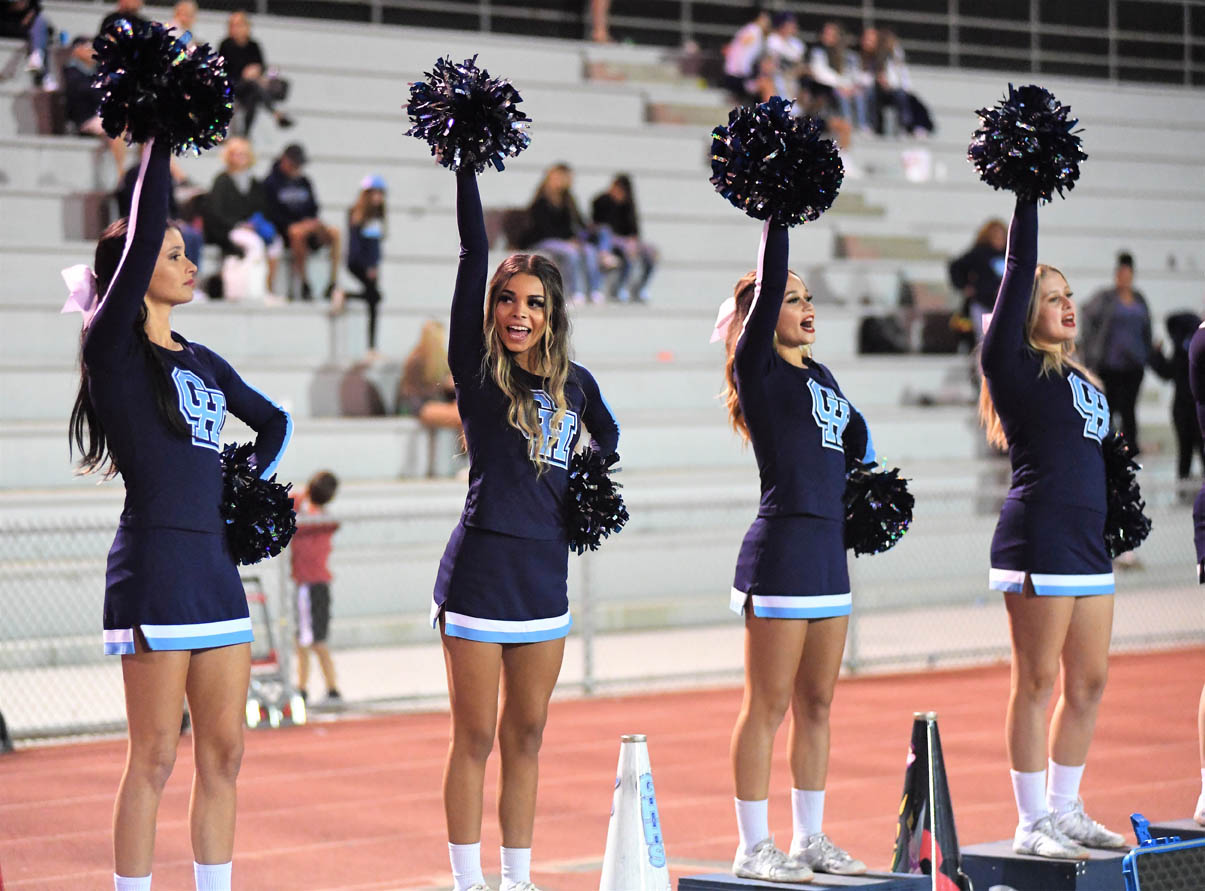 Lancers keep knocking at the door in 16-10 loss to Morse
The Hilltop High School football team is getting there despite possessing a 1-3 record to kick off the 2021 fall season.
The Lancers played their best game to date in the young season last Friday while dropping a 16-10 non-league decision at Morse High School.
The host Tigers (3-1) out-gained Hilltop 360-166 in total offensive yards and held a decisive 173-38 edge in rushing yards. But the Lancers were able to hang close with an opportunity to win the game.
Junior quarterback Jorge Garcia completed 12 of 21 passing attempts for 128 yards with one touchdown while junior Salvador Vidrios drilled a 33-yard field goal.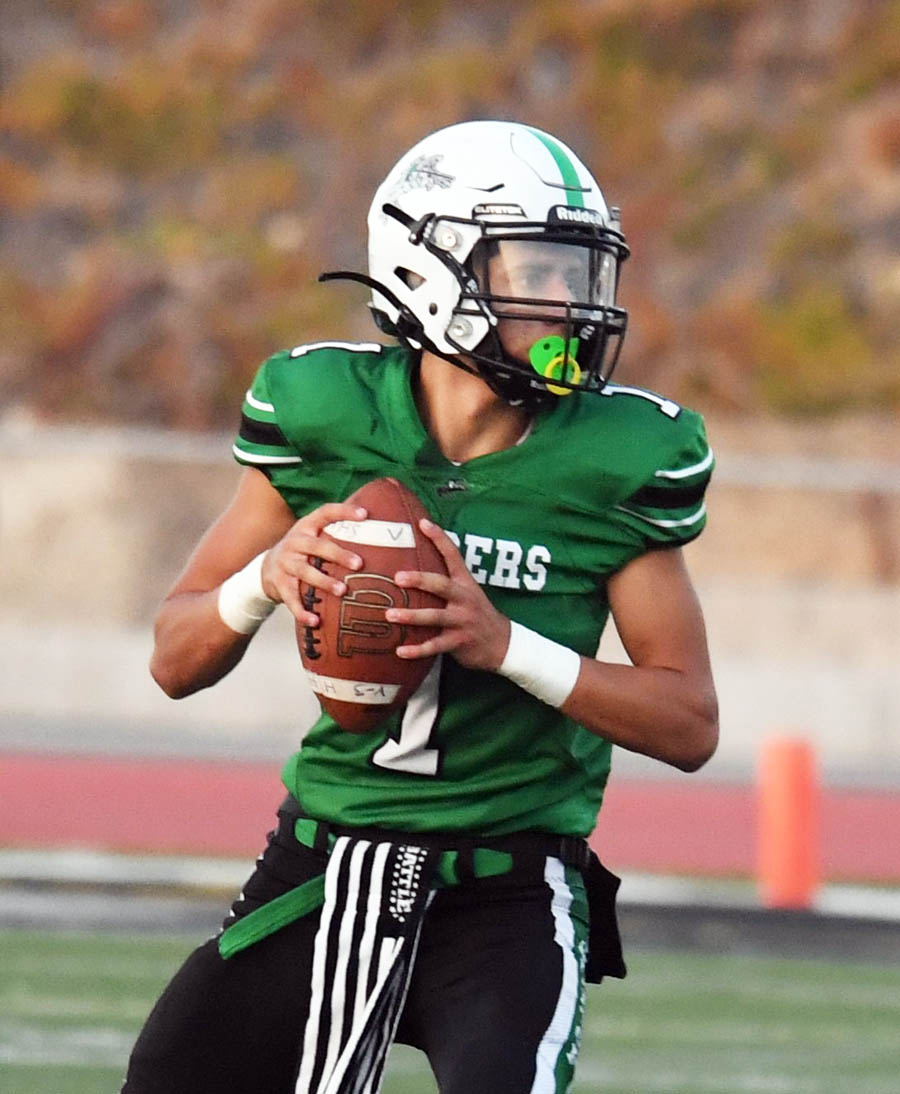 While the Lancers were unable to extend their win streak to two games following the team's 24-0 Kiwanis Bowl victory against west side rival Chula Vista on Sept. 3, they did challenge the Tigers for a win.
"The kids are playing much better and starting to come together as a team," Hilltop head coach Bryan Wagner said. "This was the best game we have played so far this year. We almost had them at the end — we just ran out of time."
Junior Damarion Wright (13 carries, 62 yards) scored on a two-yard run to open scoring for the hosts to cap an 80-yard drive. Vidrios cut the Morse lead to 8-3 late in the second quarter but the Tigers responded with a one-yard scoring run by Josephate Jordan (nine carries, 50 yards) just before halftime.
Hilltop made the score 16-10 when Garcia connected on a 20-yard strike to junior Angelo Zapata (five catches, 38 yards) on fourth down to cap the visitors' opening drive of the second half.
The Lancers advanced the ball to the Morse 15-yard line very late in the contest but turned the ball over on downs.
Morse, usually a run-oriented team, displayed more balance last Friday by passing for 187 yards on the arm of junior Johnny Mosti, who completed 12 of 15 aerials. Senior Ashaun Duncan led the Tigers with three catches for 43 receiving yards.
Senior Enrique Nunez led the Lancers with 57 receiving yards while junior Joshua Bernardo had three catches for 35 yards.
Morse defeated Bonita Vista, 38-13, to kick off the season.
Hilltop will host Escondido (2-3) in another non-league encounter this Friday. Kick-off is 6:30 p.m.
The Cougars are coming off a 27-6 setback to Rancho Buena Vista (4-1) last Friday.
Section power rankings are out, some big differences from MaxPreps weekly ratings
The San Diego Section power rankings are back and while computer rankings compiled by the MaxPreps website have been used for playoff seeding purposes in recent seasons, the section is moving back to its own ratings system.
Football power rankings were posted through the opening five weeks of the season. While the new section power rankings generally follow those from MaxPreps, there are striking differences in some divisions.
There are 20 Division I football teams. The top four teams in the power rankings advance to the Open Division playoffs. The remaining 16 teams comprise the Division I playoff field. All 20 teams in the division are guaranteed a playoff berth as opposed to other divisions.
Divisions are based on team performance rather than student enrollment.
Under the section's power rankings system, the Division I rankings are as follows: 1. Cathedral Catholic (3-2), 2. Carlsbad (5-0), 3. Mission Hills (3-2), 4. Torrey Pines (3-1), 5. Helix (3-1), 6. Lincoln (3-1), 7. Eastlake (3-1), 8. Madison (3-1), 9. Granite Hills (3-2), 10. Grossmont (2-3), 11. Oceanside (2-2), 12. St. Augustine (1-2), 13. Steele Canyon (1-4), 14. La Costa Canyon (2-3), 15. El Camino (2-2), 16. San Marcos (0-5).
Lincoln is third in the MaxPreps ratings algorithm while Helix is sixth, Granite Hills 10th, Grossmont 14th and Steele Canyon 15th.
Eastlake was seventh in both rankings systems. The biggest difference between the two ratings systems was having El Camino ranked eighth by MaxPreps but 15th by the section. That's a big swing in playoff seeding, potentially dropping the Wildcats out of hosting a first-round game.
St. Augustine was also ranked 12th in both ratings systems.
The top 12 teams in the Division II, Division III, Division IV and Division V power rankings qualify for postseason play.
The section power rankings for Division II rate the 16 teams as follows: 1. Scripps Ranch (4-0), 2. Poway (3-2), 3. Otay Ranch (1-2), 4. Christian (4-1), 5. Rancho Bernardo (3-2), 6. Valley Center (2-3), 7. La Jolla (2-3), 8. Mira Mesa (1-2), 9. Morse (3-0), 10. San Pasqual (4-1), 11. San Diego (4-1), 12. Central Union (1-4), 13. Bishop's (4-1), 14. Vista (2-3), 15. Olympian (1-3), 16. Point Loma (1-3).
Scripps Ranch, Poway and Otay Ranch are ranked in that order by both systems used. There are significant difference after that.
MaxPreps rankings feature Mira Mesa at No. 4, Christian at No. 6. Point Loma at No. 11 Morse at No. 15.
Christian and Morse get a big boost in the section power rankings while Point Loma suffers the most.
Point Loma was scheduled to play at Olympian on Sept. 17, but the game was cancelled because of COVID-19 protocols within the Point Loma program.
Olympian is ranked last in the division by MaxPreps.
There are some big flips at the top of the section's Division III power rankings that will likely cause a stir among coaches.
The section power rankings list Santa Fe Christian (5-0) at No. 1, West Hills (5-0) at No. 2, Mater Dei Catholic (3-0) at No. 3, Ramona (3-2) at No. 4, Mt. Carmel (4-0) at No. 5, Santana (5-0) at No. 6, El Capitan (4-1) at No. 7, Westview (1-4) at No. 8, Bonita Vista (1-2) at No. 9, Canyon Hills (1-3) at No. 10, Orange Glen (3-0) at No. 11, Brawley (3-2) at No. 12, Escondido (2-3) at No. 13, Imperial (2-2) at No. 14, Monte Vista (0-4) at No. 15, Hilltop (1-3) at No. 16 and Kearny (0-3) at No. 17.
The MaxPreps algorithm doesn't agree with that at all. Mater Dei Catholic is No. 1 in the MaxPreps computer rankings, followed by Santa Fe Christian at No. 2, Mt. Carmel at No. 3, Ramona at No. 4, West Hills at No. 5, Orange Glen (3-0) at No. 6, Santana at No. 7. El Capitan at No. 8, Brawley at No. 9 and Imperial at No. 10.
Orange Glen is ranked 11th in the ratings system used by the section while the MaxPreps algorithm has Westview ranked 12th, Bonita Vista ranked 13th and Canyon Hills ranked 16th among the 17 teams in the division.
Oh, my.
There are similar differences in the Division IV rankings.
The section ratings list University City (3-2) at No. 1, Coronado (4-1) at No. 2, Rancho Buena Vista (4-1) at No. 3, Francis Parker (2-2) at No. 4, Valhalla (1-4) at No. 5, Del Norte (3-2-1) at No. 6, Patrick Henry (3-2) at No. 7, La Jolla Country Day (3-1) at No. 8, Southwest El Centro (2-3) at No. 9, Montgomery (2-2) at No. 10, Sweetwater (0-3) at No. 11, Mount Miguel (0-2) at No. 12, Vincent Memorial (3-2) at No. 13, Castle Park (0-5) at No. 14, Mar Vista (2-3) at No. 15, Chula Vista (1-2) at No. 16 and Classical Academy (0-3) at No. 17.
That is a jaw-dropper when compared to what MaxPreps has to say.
MaxPreps has University City at No. 1, Del Norte at No. 2, Patrick Henry at No. 3. Rancho Buena Vista at No. 4, Coronado at No. 5, LJCD at No. 6, Francis Parker at No. 7, Sweetwater (0-3) at No. 8, Montgomery at No. 9 and Mount Miguel (1-2) at No. 10.
MaxPreps lists Valhalla at No. 11 and Southwest El Centro at No. 12.
There isn't agreement at the Division V level, either.
The section power rankings list, in order: 1. Palo Verde Valley (2-2), 2. Holtville (5-0), 3. Mission Bay (3-1), 4. O'Farrell Charter (1-3), 5. Fallbrook (2-3), 6. Army-Navy Academy (4-1), 7. Escondido Charter (4-0), 8. Foothills Christian (2-3), 9. Calexico (3-2), 10. Maranatha Christian (1-3), 11. San Ysidro (3-1), 12. Crawford (1-4), 13. Hoover (2-3), 14. El Cajon Valley (1-4), 15. Calipatria (1-2), 16. Tri-City Christian (0-4), 17. Mountain Empire (1-3) and 18. Clairemont (0-5).
Mission Bay is No. 1 in the MaxPreps rankings, followed by Palo Verde Valley at No. 2, Fallbrook at No. 3, Holtville at No. 4, Escondido Charter at No. 5, Calexico at No. 6, San Ysidro at No. 7, Army-Navy Academy at No. 8. Tri-City Christian at No. 9 and Mountain Empire at No. 10.
MaxPreps ranks O'Farrell Charter 11th, Foothills Christian 15th and Maranatha Christian 17th.
The section power rankings are a first issue. Not all teams have played a full schedule to date because of health protocols and other issues and, thus, could be affecting the ratings order.
Rankings in both systems are likely to change each week and hopefully will become more defined as the season progresses.
But regardless of what system is used, there's always grumbling following the section seeding meeting.
That doesn't seem to change from year-to-year.