The Mater Dei Catholic High School football team returned to gridiron action last Friday after two weeks off because of COVID-19 protocols. The Crusaders seemed to pick up right where they left off by trouncing the visiting La Jolla Vikings 56-18.
The Crusaders enter this week ranked sixth among San Diego Section teams, first in Division III, and certainly do not look to dip down in the rankings any time soon based on their performance to kick off the 2021 fall season.
Mater Dei Catholic's clean 3-0 slate features a rather imposing 162-45 scoring differential.
If anything, head coach John Joyner's team will be looking to climb higher in the rankings.
"It felt really great to be back out after two weeks off and the guys were really excited to play a game and play against a great program like La Jolla," Joyner said. "I think our guys were a little too excited early in the game. but we calmed down and I thought we played a very good team game all around."
The Crusaders logged 576 all-purpose yards, including 356 passing yards. Junior Dominic Nankil completed eight of 10 attempts for 156 yards with one touchdown before suffering an injury to his non-throwing hand in the second quarter. Junior Rollin George finished the contest by completing eight of 11 attempts for 200 yards with one touchdown.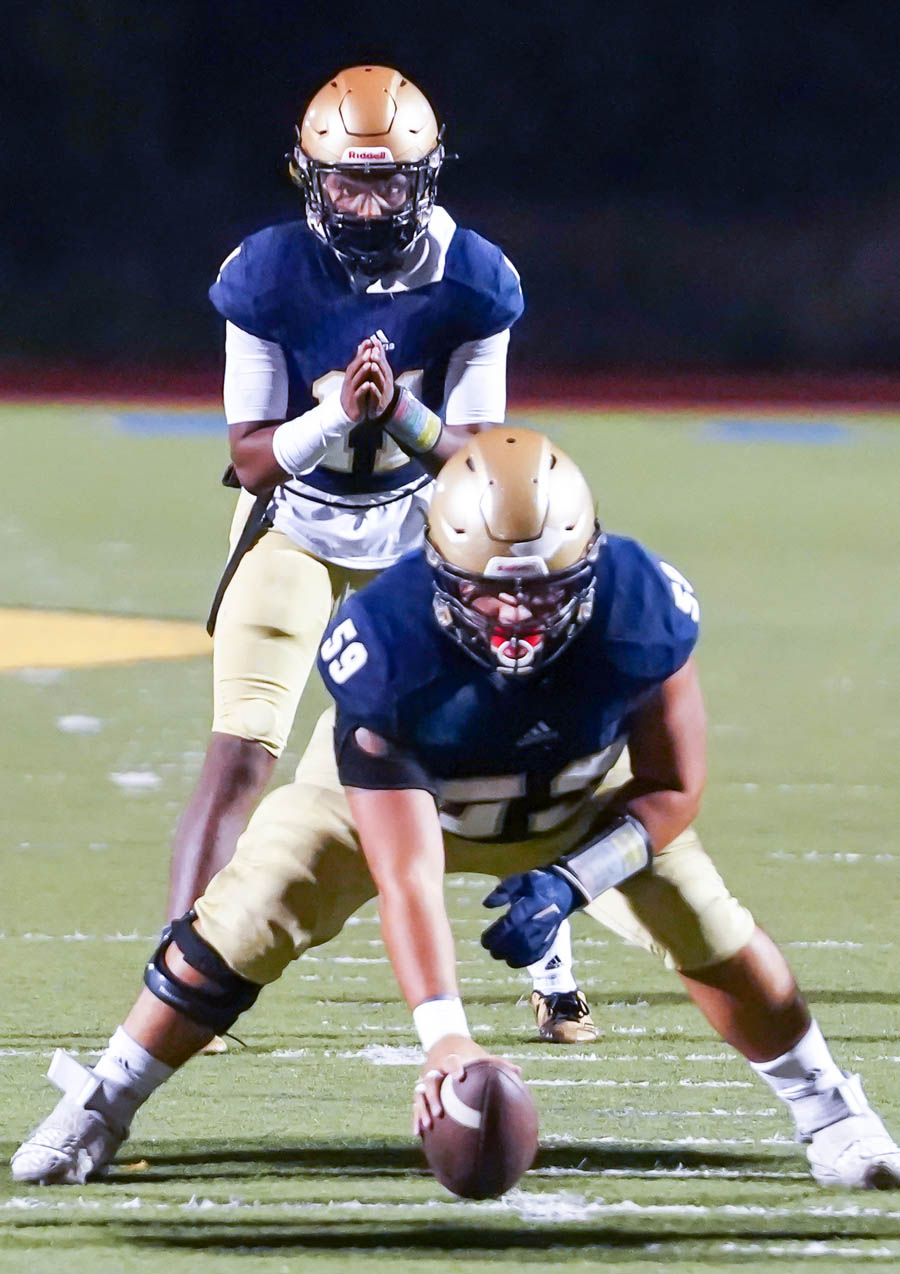 Neither signal-caller was intercepted in the non-league contest.
Listed as a wide receiver, George regularly practices at quarterback just in case his services are needed in a game. They were last Friday.
There wasn't much of a drop-off when he entered the game.
"Rollin George did a great job stepping in for Dominic," Joyner said. "He was prepared and very composed. I thought he did a terrific job spreading the ball around and using his legs to keep the chains moving. We have full faith in Rollin whether he is at wide receiver or at quarterback."
Mater Dei Catholic tallied seven touchdowns in the game, including five rushing scores.
Sophomore Anthony McMillian led the hosts on the ground with eight carries for 85 yards, scoring two touchdowns, while junior Nico Mosley rushed 10 times for 81 yards with one touchdown. George gained 14 yards on four carries, scoring once, while junior Jaylen Hall had one carry for a five-yard touchdown.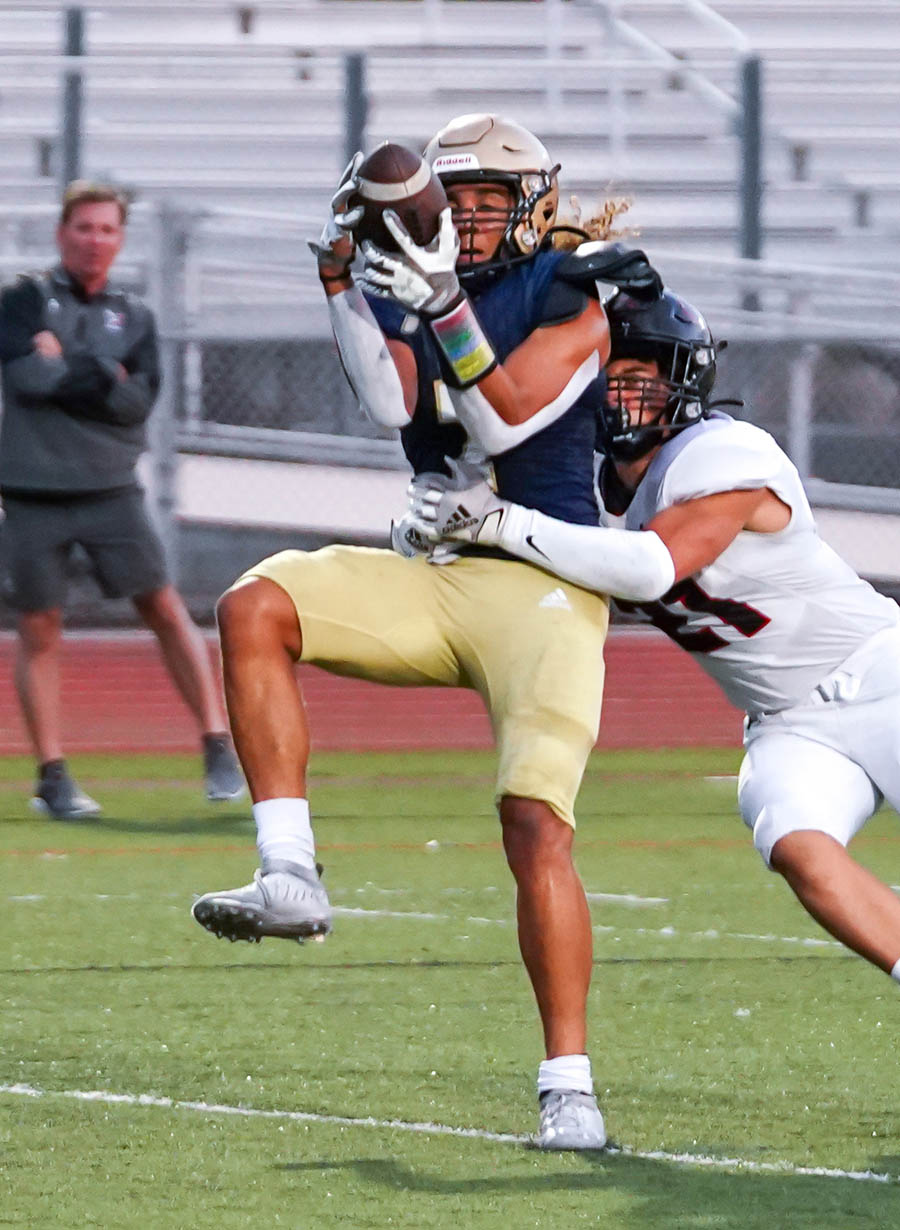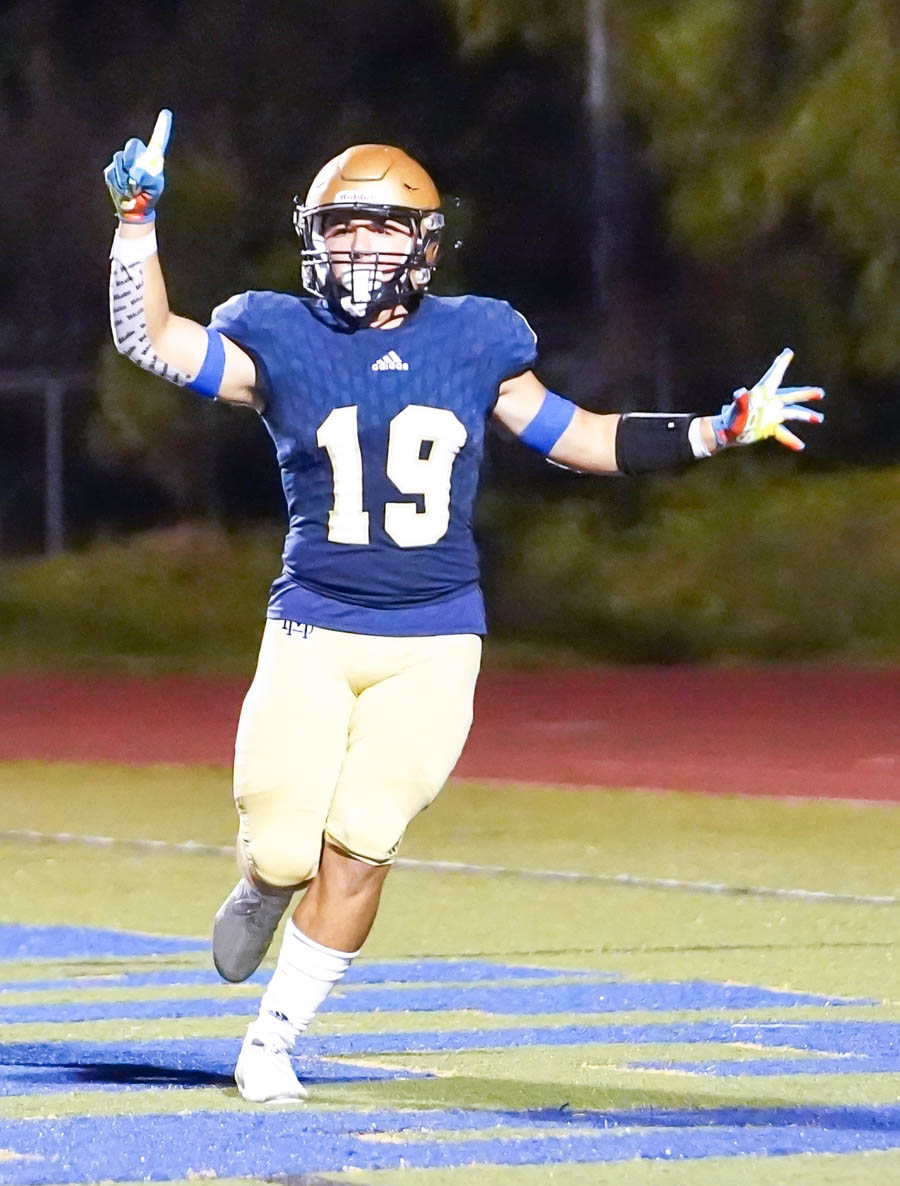 Juniors Cruz Estrada (three catches, 95 yards) and Chris Snyder (four catches, 50 yards) both caught touchdown passes. Hall had two catches for 84 yards while junior Jerry McClure had two catches for 73 yards. Before moving behind center, George had two catches for 21 yards.
George keyed the victors on the field with 235 total yards — 200 passing, 21 receiving and 14 rushing.
La Jolla, playing without its starting quarterback, generated 509 all-purpose yards. Mater Dei Catholic's defense held the Vikings to negative-two rushing yards but allowed 294 passing yards and 213 kick-return yards.
Junior Tre Edwards keyed the Crusader defense with eight unassisted tackles while junior Kenyon Lepisi had seven tackles. Senior Taylor Lepisi had six tackles while Junior Vincent Freund registered five tackles.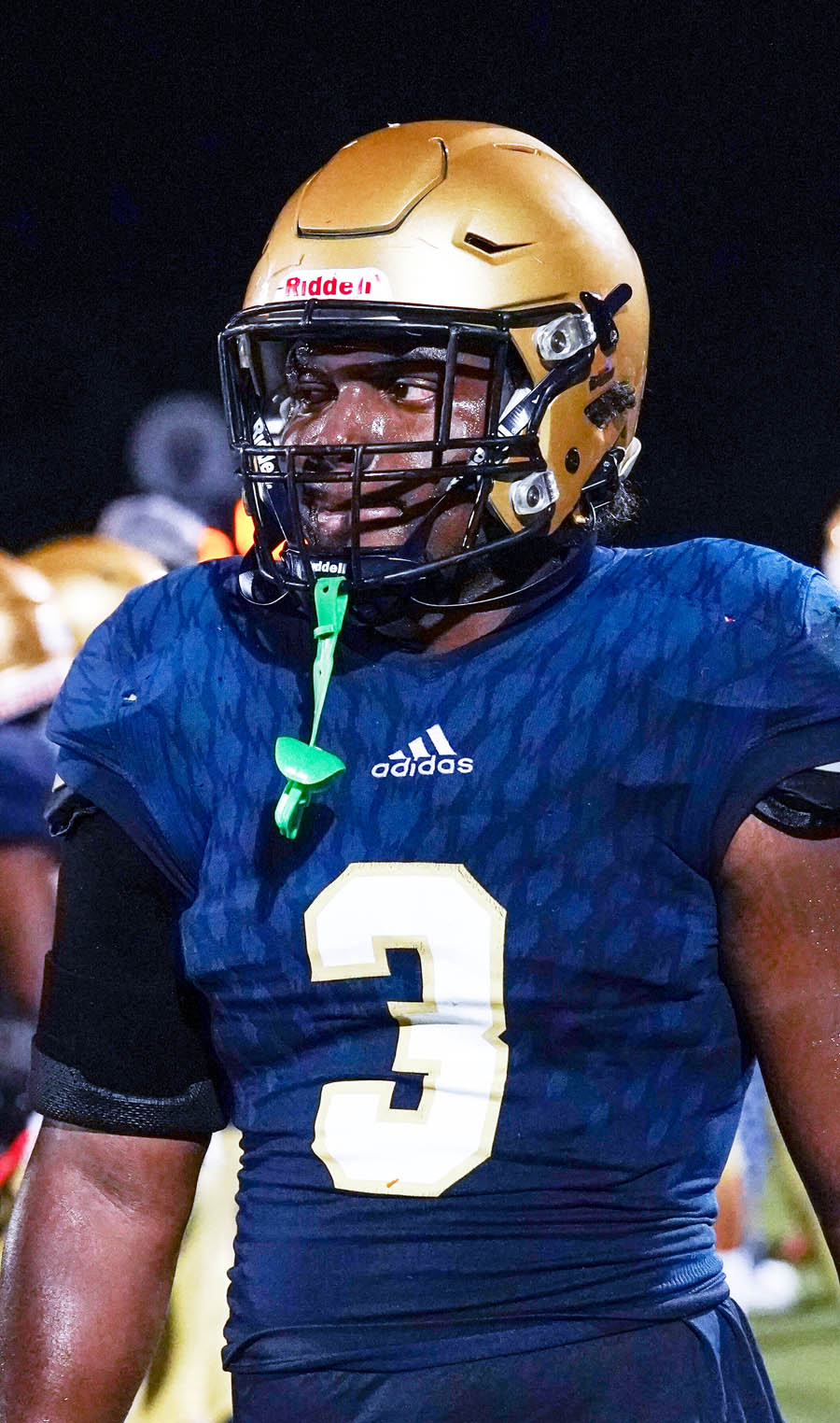 Edwards had one sack along with senior Jason Harden while junior Anthony Lopez had one interception.
"Our defense is turning out to be very special," Joyner said. "We have great team speed but really our defensive line, led by Jason Harden, Luke Teskey, Joey Hiner and Taylor Lepisi, have been dominant. Tre played his best game so far this year; he was fast and physical and did a great job of getting us lined up. He was a menace all over the field like usual."
Senior Makai Smith (eight catches, 182 yards) paced La Jolla (2-3) with a pair of receiving touchdowns while accumulating 171 yards on kick-returns. Viking senior QB Kevin Steel threw for 294 yards with two touchdowns and one interception in the loss.
The Crusaders host No. 16th-ranked St. Augustine (1-4) in this Friday's homecoming clash. The Saints' record is misleading in that they have played some of the top teams in the region to kick off the season.
"Saints is a very big football team," Joyner said. "We have to match them physically. We have not faced an offensive and defensive line this big and they are well coached and very disciplined. It should be a fun and exciting matchup."
Senior Isaiah Pressley leads the Saints with five total touchdowns and 523 rushing yards.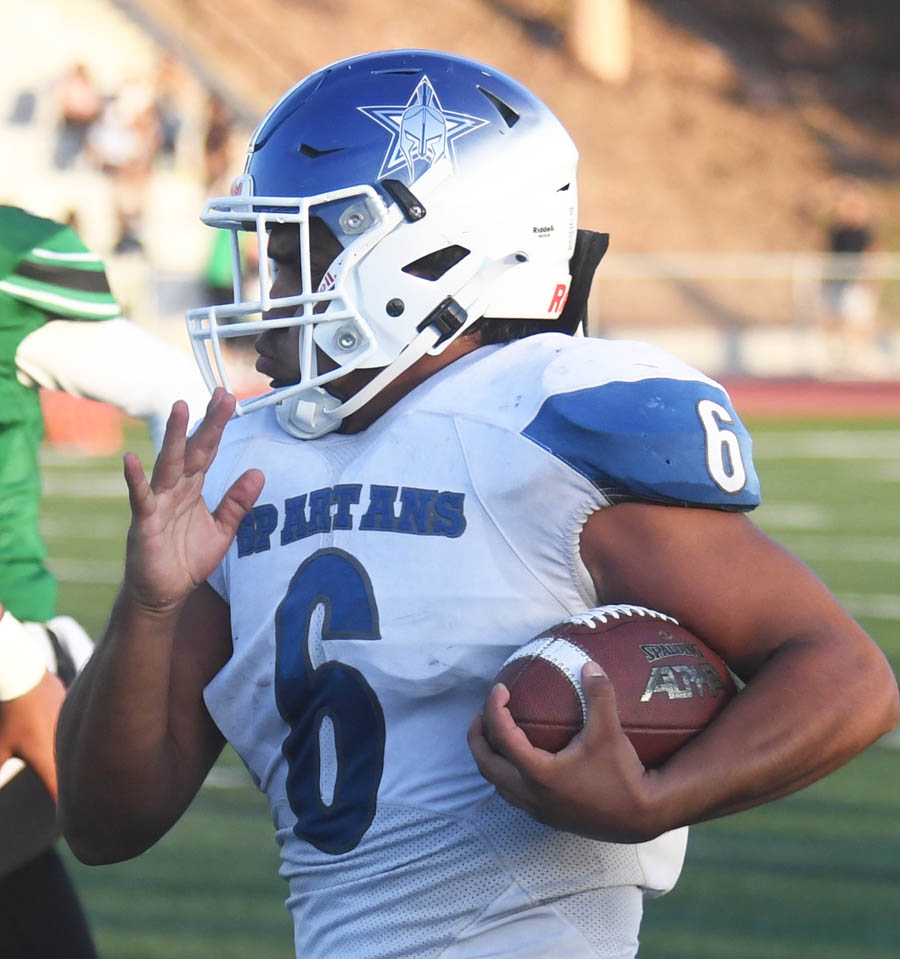 South Bay League kickoff: Chula Vista, San Ysidro both come up winners
The Chula Vista Spartans have obviously been forced to play catch-up after missing the opening two weeks of the season because of COVID-19 protocols.
The team's opening game of the season wasn't particularly pretty – a 24-0 non-league loss at Hilltop in the teams' annual Kiwanis Bowl rivalry matchup. The Spartans' second trip to the gridiron showed more promise, though it ended with a 28-13 non-league loss to visiting Canyon Hills.
Last Friday's South Bay League opener against visiting Mar Vista proved to finally be the charm as Chula Vista posted a 30-20 victory to record its first win of the 2021 fall season.
The timing of the clutch victory was just what the football doctor ordered.
"It was a great game," Spartan head coach Howard Bannister III said. "We had the legendary Gary Chapman speak to the team prior to the game and alumnus Thomas Tutogi fire them up at halftime."
The result was definitely a night to remember for the hosts.
"It was a total team effort against a very talented Mar Vista team," Bannister said. "We rushed for 188 yards with senior Anthony Venegas and junior Giovanni Barrios getting the bulk of the carries and each with a touchdown. Junior quarterback Jacob Pedroza hooked up with sophomore wideout Jacob Davidson twice for touchdowns as well.
"The defense played great. Junior defensive end Mathew Robertson had two sacks on the night and senior linebacker Raymond Cruz led the team with eight tackles and was crowned homecoming king at halftime."
The loss was the third consecutive for Mar Vista (2-3) after opening the season in grand style with a pair of lopsided victories.
Standout Jordan Mahan scored on touchdown receptions of 61 and 50 yards in a 49-18 non-league loss to Coronado on Sept. 10.
Bannister is hoping his team can carry the momentum of last Friday's victory into this Friday's game at San Ysidro, which defeated host Castle Park, 49-6, in its league opener last Friday.
Both the Spartans and Cougars are 1-0 in league play. San Ysidro is 3-1 overall while Chula Vista is 1-2.
"San Ysidro is 3-1 and will provide a very good challenge," Bannister said. "But we feel as though we grew as a team this week and look forward to seeing the impact that has on our performance this week."
Chula Vista and San Ysidro will rematch Oct. 8 in a non-league contest to make up games lost by both teams to COVID-19 protocols.
Mar Vista will host Army-Navy Academy (4-1) in a non-league game this Friday. Kick-off is 6:30 p.m.
Cougar country
San Ysidro received 121 all-purpose yards from senior McKai Jackson (112 rush, nine receiving) and 98 all-purpose yards from senior Matthew Jaime (42 rush, 32 receiving, 18 interception return) in leading the Cougars to their second consecutive win.
San Ysidro previously defeated host Hoover, 28-0, on Sept. 17.
The Cougars scored seven touchdowns in the win over Castle Park, including two rushing by Jackson and another on a fumble return. Jaime, junior quarterback Ja'Marcus Jiles (62 passing yards, 32 rushing yards) and senior Johan Gutierrez all scored one rushing touchdown.
On defense, Jaime had two interceptions while Jackson had one sack. Senior Santiago Luna also recovered a fumble. Senior Sal Samano keyed the visitors with 15 tackles, including 10 solo stops.
Senior David Saldivar amassed 70 yards in punt returns.
"Our 'MJ's' really showed up for the second consecutive week on both sides of the ball," San Ysidro head coach Keith Aguon said. "The defense turned in another standout game led by seniors Matthew Jaime with two interceptions and one for a touchdown and McKai Jackson with a sack, forced fumble, fumble recovery and a touchdown.
"Both seniors also contributed to the offensive scoring with a touchdown run for Jaime and two touchdown runs for Jackson, including a 48 yarder. Senior Johan Gutierrez also had a 67-yard TD run and junior QB Ja'Marcus Jiles with an 18-yard TD keeper."
SOUTH BAY LEAGUE STANDINGS
San Ysidro  Cougars 1-0, 3-1
Chula Vista Spartans 1-0, 1-2
Montgomery Aztecs 0-0, 2-2
Sweetwater Red Devils 0-0, 0-3
Mar Vista Mariners 0-1, 2-3
Castle Park Trojans 0-1, 0-5
Aztecs, Trojans to meet in Friday's annual Warrior Bowl rivalry game
Montgomery and Castle Park high schools will renew their football rivalry this Friday in the teams' annual Warrior Bowl. Kick-off is 6:30 p.m. at Montgomery High School.
The series resumes after Montgomery's 40-0 shutout victory at Castle Park during the 2021 spring season. The Aztecs defeated the Trojans, 34-10, in 2019 for the South Bay League banner, though Castle Park later advanced to the Division V CIF championship game.
The Aztecs piled up the yardage but not the points in last Friday's 34-14 non-league loss at Mission Bay.
Montgomery (2-2) amassed 320 all-purpose yards in the game while the host Bucs tallied 372 all-purpose yards. The big difference came in the turnover department as Mission Bay recorded one interception and two fumble recoveries.
Junior Ryan Vasquez completed 11 of 22 passing attempts for 110 yards with one touchdown and one interception while junior Victor Flores had 13 carries for 63 yards.
Senior Juan Estrada rushed six times for 27 yards and one touchdown. He also made 10 tackles to lead the team in that department.
Junior Jordan Benton (135 all-purpose yards) had three catches for 53 yards and one touchdown. He also racked up 82 return yards on two kickoffs, including one measuring 62 yards.
The Aztec defense recorded four sacks, including two by sophomore Mike Mohr and one each by sophomore Arath Leyva and Flores.
For Mission Bay, senior Clash Osborn scored two rushing touchdowns and passed for two touchdowns. Osborn was the game's impact player with 282 total offensive yards — 214 passing yards and 68 rushing yards.
Junior Jacob Sloan had 97 receiving yards and two touchdowns. He also collected 10 kicking points on four extra-point conversions and two field goals.
Castle Park, meanwhile, fell to its fifth consecutive loss to kick off the season following a 49-6 victory by visiting San Ysidro to open South Bay League play.
The Trojans have been outscored 219-38 but that doesn't mean the team isn't lacking its share of standouts.
Senior running back Davien Simler rushed for 127 yards and scored both Trojan touchdowns in a 33-13 non-league loss at Vincent Memorial on Sept.10.
Junior running back Sergio Cobos scored Castle Park's two touchdowns in a 45-13 non-league loss to visiting Orange Glen on Sept. 3.
Jaylen Sutton broke off a 70-yard scoring run in a 60-6 non-league loss at Calexico on Aug. 27.
But records may not be necessarily important where intense rivalry games are concerned.
Aztec attack
On the season …
Vasquez has thrown for 301 yards with four touchdowns and one interception.
Estrada has rushed for 132 yards and scored three rushing touchdowns while collecting 98 receiving yards and two additional touchdowns. He also leads the team with 30 tackles.
Benton has eight catches for 180 yards and two touchdowns.
Flores has rushed for 161 yards.
Mohr has 22 tackles while Leyva has three sacks.
Sophomore Dalaias Garcia has two interceptions.
Metro Conference Football Scoreboard
Friday, Sept. 17
South Bay League
Chula Vista 30, Mar Vista 20
San Ysidro 49, Castle Park 6
Non-League
Mater Dei Catholic 56, La Jolla 18
Granite Hills 35, Otay Ranch 14
Morse 16, Hilltop 10
Mission Bay 34, Montgomery 14
Patrick Henry 47, Bonita Vista 0
Friday, Sept. 24
South Bay League
Castle Park at Montgomery, 6:30 p.m.
Chula Vista at San Ysidro, 6:30 p.m.
Non-League
St. Augustine at Mater Dei Catholic, 7 p.m.
Escondido at Hilltop, 7 p.m.
Otay Ranch at Lincoln, 7 p.m.
Bonita Vista at Classical Academy, 7 p.m.
Olympian at Oceanside, 7 p.m.
Eastlake at El Camino, 7:15 p.m.
San Diego Section Football Rankings
Through Sept. 21/MaxPreps
Top 25 teams: 1. Cathedral Catholic (3-2), 2. Carlsbad (5-0), 3. Lincoln (3-1), 4. Mission Hills (3-2), 5. Torrey Pines (3-1), 6. Mater Dei Catholic (3-0), 7. Helix (3-1), 8. Scripps Ranch (4-0), 9. Eastlake (3-1), 10. El Camino (1-2), 11. Poway (3-2), 12. Madison (3-1), 13. Granite Hills (3-2), 14. Oceanside (2-2), 15. Otay Ranch (1-2), 16. St. Augustine (1-4), 17. Santa Fe Christian (5-0), 18. Mt. Carmel (4-0), 19. Mira Mesa (1-2), 20. Rancho Bernardo (3-2), 21. Ramona (3-2), 22. La Costa Canyon (2-3), 23. Christian (4-1), 24. San Pasqual (4-1), 25. La Jolla (2-3)
Division I: 1. Cathedral Catholic (3-2), 2. Carlsbad (5-0), 3. Lincoln (3-1), 4. Mission Hills (3-2), 5. Torrey Pines (3-1), 6. Helix (3-1), 7. Eastlake (3-1), 8. El Camino (1-2), 9. Madison (3-1), 10. Granite Hills (3-2), 11. Oceanside (2-2), 12. St. Augustine (1-4), 13. La Costa Canyon (2-3), 14. Grossmont (2-3), 15. Steele Canyon (1-4), 16. San Marcos (0-5)
Division II: 1. Scripps Ranch (4-0), 2. Poway (3-2), 3. Otay Ranch (1-2), 4. Mira Mesa (1-2), 5. Rancho Bernardo (3-2), 6. Christian (4-1), 7. San Pasqual (4-1), 8. La Jolla (2-3), 9. Valley Center (2-3), 10.  San Diego (4-1), 11. Point Loma (1-3), 12. Bishop's (4-1), 13. Vista (2-3), 14. Central Union (1-4), 15. Morse (3-1), 16. Olympian (0-3)
Division III: 1. Mater Dei Catholic (3-0), 2. Santa Fe Christian (5-0) , 3. Mt. Carmel (4-0), 4. Ramona (3-2), 5. West Hills (5-0), 6. Orange Glen (3-0), 7. Santana (5-0), 8. El Capitan (4-1), 9. Brawley (3-2), 10. Imperial (2-2), 11. Escondido (2-3), 12. Westview (1-3), 13. Bonita Vista (1-2), 14. Monte Vista (0-4), 15. Hilltop (1-3), 16. Canyon Hills (1-3), 17. Kearny (0-3)
Division IV: 1.  University City (3-1), 2. Del Norte (3-2), 3. Patrick Henry (3-2), 3. 4. Rancho Buena Vista (4-1), 5. Coronado (4-1), 6. La Jolla Country Day (3-1), 7. Francis Parker (2-2), 8. Sweetwater (0-3), 9. Montgomery (2-2), 10. Mount Miguel (1-2), 11. Valhalla (1-4), 12. Southwest El Centro (2-3), 13. Vincent Memorial (3-2), 14. Mar Vista (2-3), 15. Classical Academy (0-4), 16. Chula Vista (1-2), 17. Castle Park (0-5)
Division V: 1.  Mission Bay (3-1), 2. Palo Verde Valley (2-2), 3. Fallbrook (2-3), 4. Holtville (5-0), 5. Escondido Charter (3-0), 6. Calexico (3-2), 7. San Ysidro (3-1), 8. Army-Navy Academy (4-1), 9. Tri-City Christian (0-4), 10. Mountain Empire (1-3), 11. O'Farrell Charter (1-3), 12. Crawford (1-4), 13. Calipatria (1-2), 14. El Cajon Valley (1-4), 15. Foothills Christian (1-3), 16. Hoover (1-3), 17. Maranatha Christian (1-3), 18. Clairemont (0-5)
COMMUNITY COLLEGE FOOTBALL
Southwestern College: The Jaguars have kicked off the 2021 season with a 1-2 record following a last-minute clutch 10-7 victory against Grossmont College on Sept. 4 and consecutive home field losses to No. 7-ranked College of the Canyons (52-10 on Sept. 11) and Palomar College (26-7 last Saturday). Albert Robinson (seven carries, 16 yards) scored the Jags' lone touchdown in last Saturday's game. SWC plays at Cerritos (1-2) this Saturday.