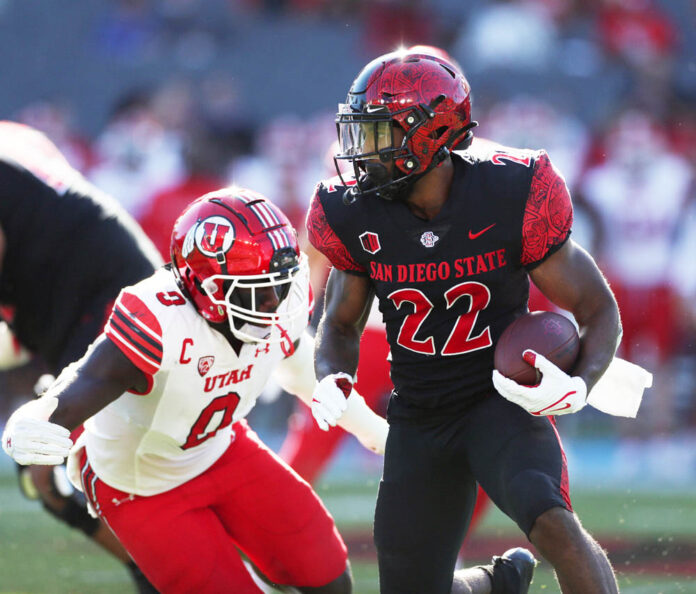 The San Diego State University football team is off to a mercurial 3-0 start to the 2021 season and Bonita Vista High School alumnus Greg Bell has played a leading role.
Bell has rushed for a team-high 405 net yards and scored four touchdowns, averaging 5.7 yards per carry and 135.0 yards per game.
As a team, the Aztecs are averaging 246.0 rushing yards per game while outscoring opponents 99-55.
SDSU has racked up some impressive victories in the early going of the new season, including a pair of head-turning wins over Pac-12 teams — 38-14 at the University of Arizona in Tucson on Sept. 11 and 33-31 in triple overtime last Saturday against the University of Utah at Health Dignity Sports Park in Carson.
Bell rushed for 161 net yards and scored on a 28-yard run to help the Aztecs kick off the season with a 28-10 come-from-behind non-conference victory against New Mexico State on Sept. 4 in Carson.
The former Baron standout gained 125 net yards and scored on a 55-yard run for the first touchdown of the game in the win over Arizona. He scored on a pair of seven-yard runs in the team's latest win while collecting 119 net rushing yards.
Otay Ranch High School alumnus Devin Lloyd led Utah with 13 tackles, including seven unassisted tackles, 2.5 tackles for a loss and one fumble recovery in last Saturday's overtime thriller.
SDSU hosts Towson (1-2) this Saturday at 12:30 p.m. in Carson in a bid to continue its unbeaten season.
Team leaders include quarterback Jordon Brookshire (259 passing yards, two touchdowns, 128.35 quarterback rating), senior tight end Daniel Bellinger (138 receiving yards, one touchdown) and senior linebacker Segun Olubi (17 tackles, two forced fumbles).
Junior punter/place-kicker Matt Araiza (Rancho Bernardo) has notched a 53.84 punting average (long of 77 yards) and made two of five field goal attempts, including one from 51 yards.
Keeping it local, junior linebacker Michael Shawcroft (Helix) has recorded seven tackles, one interception and one quarterback hit in two games.
Jordan Byrd scored on a 100-yard kickoff return to enable the Aztecs to tie the Utes, 10-10, early on in last Saturday's non-conference game. SDSU took a 24-10 lead on Bell's pair of touchdowns to start the third quarter.
Utah responded with a pair of touchdowns to tie the score 24-24 to send the game into overtime.
Jay Rudolf scored on a two-yard pass from quarterback Lucas Johnson (Mt. Carmel) to put the hosts ahead 31-24 in the overtime tie-breaker. The Utes tied the score, 31-31, when Jaylen Dixon caught a 25-yard scoring pass from Cameron Rising (153 passing yards).
The second overtime procedure was scoreless. The Aztecs won the game on a successful two-point conversion in the third overtime in front of 11,090 fans.
SDSU scored the opening 21 points in the win at Arizona as Bell and Brookshire both scored rushing touchdowns and Tyrell Shavers tacked on a 27-yard punt return.
Brookshire connected with Bellinger (25 yards) and Ethan Dedeaux (40 yards) on a pair of touchdowns and Araiza kicked a 32-yard field goal to boost the Aztec lead to 38-7 in the second half in front of 39,097 fans.
New Mexico State opened up a 10-0 halftime lead in the season opener before the Aztecs closed out the non-conference game with four unanswered touchdowns — runs by Bell (23 yards) and Brookshire (18 yards), a 25-yard interception return by Andrew Aleki and a 43-yard scoring run by Byrd in front of 10,116 fans.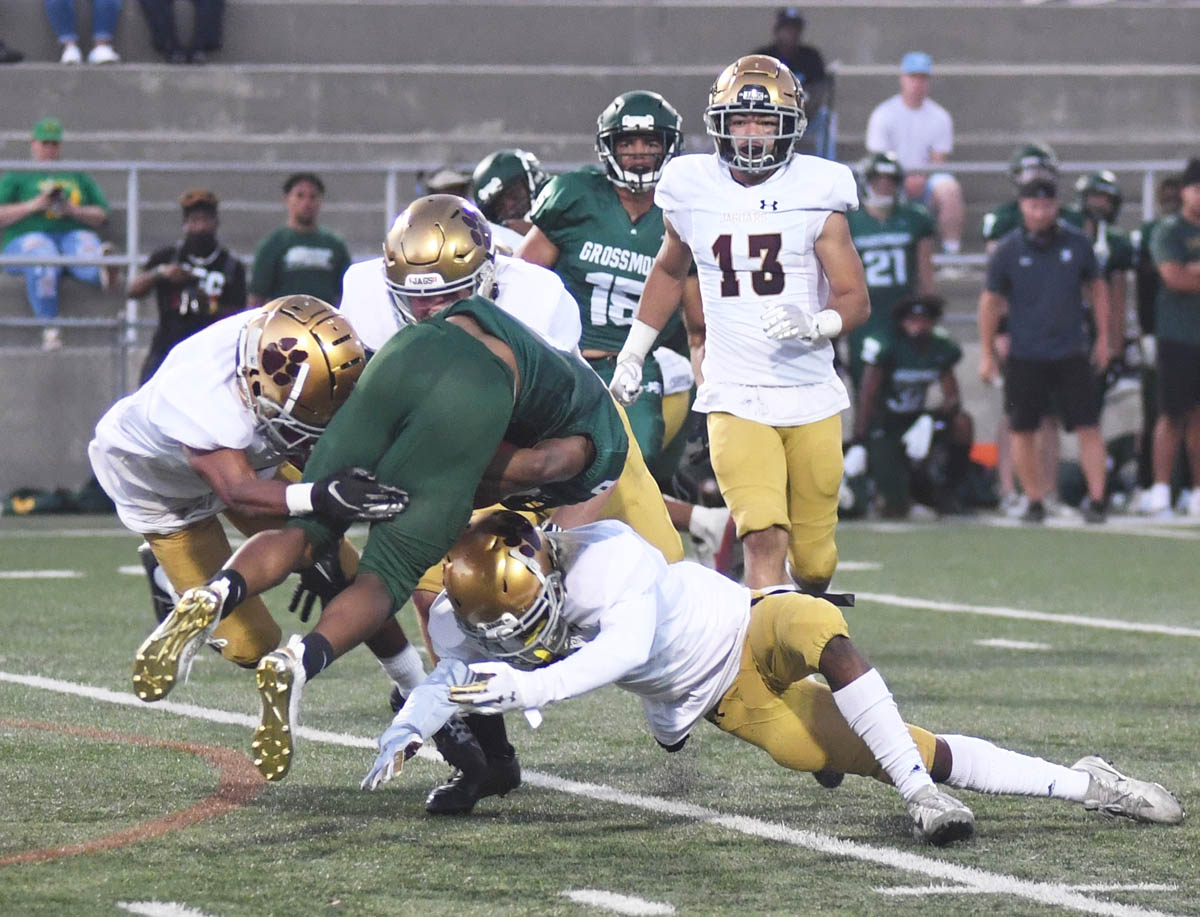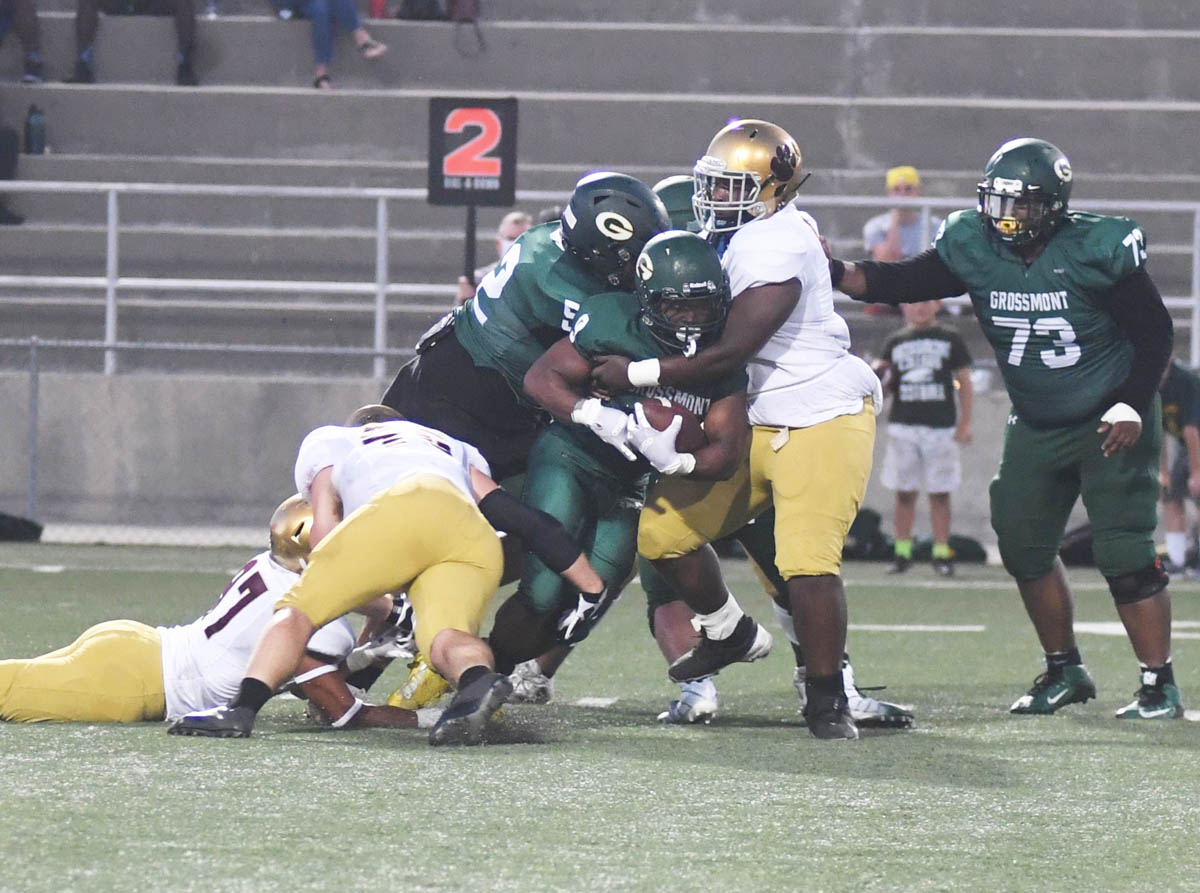 COMMUNITY COLLEGE FOOTBALL
Southwestern College: The Jaguars have kicked off the 2021 season with a 1-2 record following a last-minute clutch 10-7 victory against Grossmont College on Sept. 4 and consecutive home field losses to No. 7-ranked College of the Canyons (52-10 on Sept. 11) and Palomar College (26-7 last Saturday). Albert Robinson (seven carries, 16 yards) scored the Jags' lone touchdown in last Saturday's game. SWC plays at Cerritos (1-2) this Saturday.
Palomar 26, Southwestern 7
The visiting Comets piled up 406 yards in net total yards compared to 236 for the Jaguars. The big difference was in the ground game as Palomar rushed for 236 net yards compared to 81 for Southwestern. The passing yards were similar for both teams – 170 for the Comets and 155 for the Jags.
Another item that separated the teams was in the turnover/defensive departments as Palomar recorded two interceptions and five sacks.
Individually, Tawee Walker rushed for 154 yards with two touchdowns for the Comets while Zeke Payne completed 12 of 28 passing attempts for 170 yards with one touchdown.
Alex Hill led Palomar with two catches for 62 yards while Brandon Johnson had three catches for 48 yards and one touchdown.
The teams were tied 7-7 after the first period, with the Comets holding a 9-7 lead before out-scoring the hosts 10-0 in the second half.
Southwestern used two quarterbacks in the game. Neither passed for a touchdown and both signal-callers threw an interception. Jimmy Inman completed six of 16 passing attempts for 83 yards while Brandon Smith completed nine of 18 attempts for 72 yards.
James Coleman led the Jags with 31 rushing yards on 10 carries while Albert Robinson had seven carries for 16 yards with one touchdown. Smith rushed five times for 15 yards while Inman had four carries for seven yards.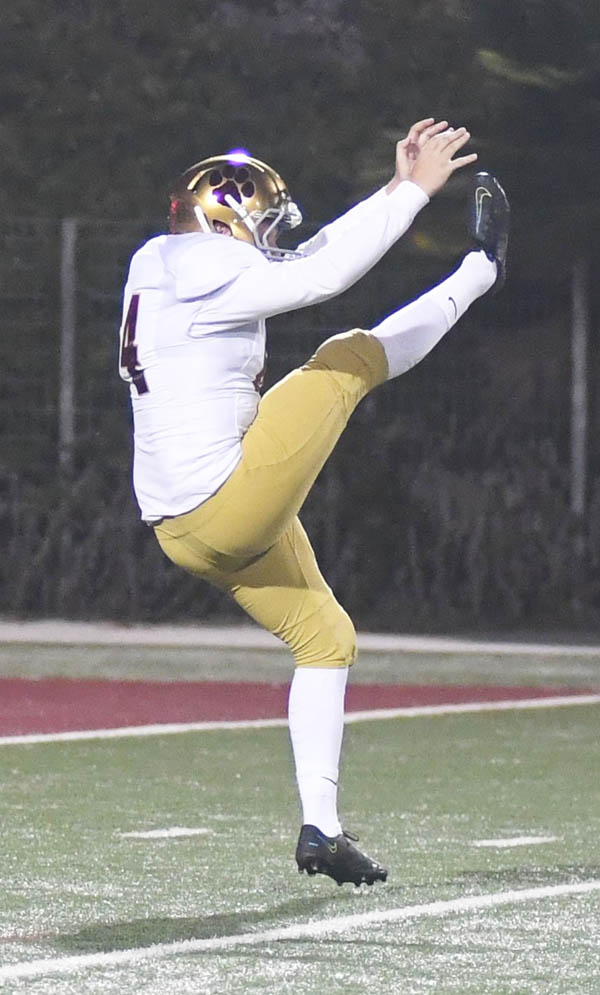 Christian Jourdain, who caught the game-winning touchdown in the season opening win over Grossmont, led SWC receivers against Palomar with four catches for 50 yards while JeQuan Dorsey had two catches for 20 yards. Jalen Posten caught one pass for 18 yards while Timothy Christopher had two catches for 16 yards.
Asher Booth kicked one extra point while missing a field goal attempt. Boothe kicked a 50-yard field goal in the victory against the Griffins.
Jourdain had three kickoff returns for 70 yards.
On the defensive ledger, Michael Harrington and Jace Fuamatu both keyed the Jaguars with five tackles while Jaheem Williams logged four unassisted tackles. Matthew Elliot recorded the team's lone sack.
Khalid Walker led Palomar with nine tackles, including seven unassisted stops. He had one sack along with teammates Cullen Shea, Emmit Vaiese, Lance DeSorbo and Sid Weddington. Luke Manos registered three tackles for a loss. Kris Sanchez and Rickey Davis Jr. both recorded interceptions.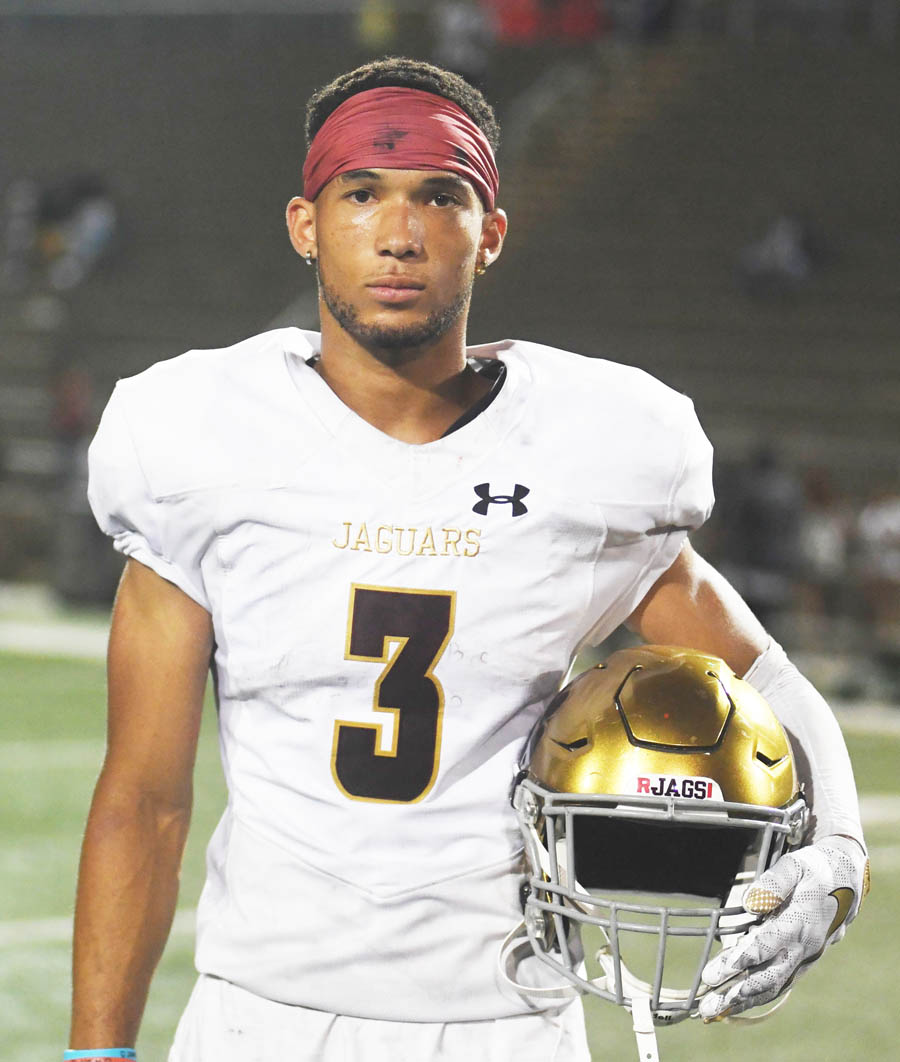 Canyons 52, Southwestern 10
Both teams racked up yards but the visitors tallied many more in scoring the lop-sided win. Canyon racked up 506 total offensive yards while Southwestern had 265 total yards.
Canyons collected 268 net passing yards and 238 net rushing yards in a balance performance while Southwestern had 164 passing yards and 101 rushing yards.
Canyons enjoyed a wide disparity on defense with seven sacks.
Colton Doyle led Canyons with 222 passing yards and four touchdowns while Tooni Ikahihlfo completed one of five attempts for a 40-yard touchdown.
TD receptions went to Andre Hunt (four catches, 74 yards), Akil Andrews (one catch, 40 yards), Zyon Slade (two catches, 20 yards), Tiquan Gilmore (one catch, 19 yards) and Calvin Littles (three catches, 17 yards).
Nine players caught at least one pass for the high-powered visitors.
The Jaguars employed the services of three signal-callers in the game. Stevie Orr completed nine of 18 attempts for 96 yards while Inman had 49 passing yards and Smith had 19 passing yards.
Coleman rushed 13 times for 42 yards while David Jazo gained 37 yards on five carries. Terry Wright caught four passes for 64 yards while Jourdain had six catches for 49 yards. Dorsey had three receptions for 31 yards.
Boothe kicked a 23-yard field goal while tacking on one extra-point conversion. McElligott averaged 34.9 yards on 10 punts.
Sean Bryant reeled in 102 yards on four kickoff returns. Arnold Escano had one punt return for 20 yards.
Jacob Buchanan had one sack on defense for the Jags, who recorded seven pass break-ups in the game.
Henry Ikahihifo keyed Canyons defensively with three sacks.
Canyons led 17-3 after the first quarter and 38-10 at halftime.