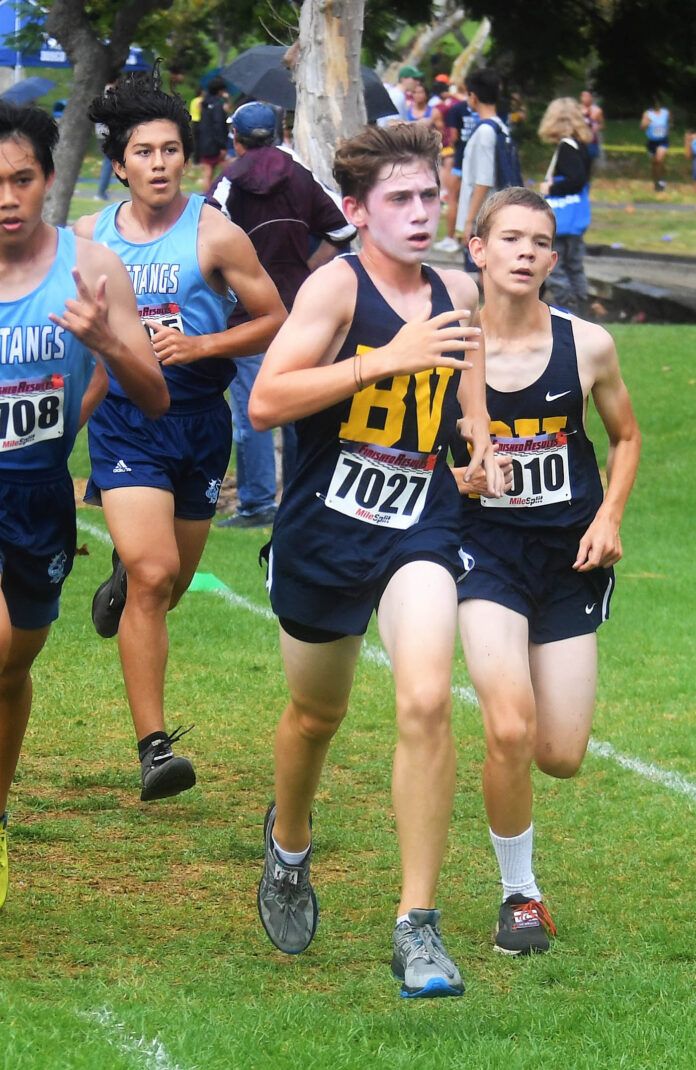 Friday's Metro Conference cross country championship meet at Rohr Park will obviously showcase the current top runners in South County. It will also serve as a springboard for future standouts.
The Bonita Vista Barons appear to have their share of the latter, and that's just fine with coach Dan Kettlehake.
"Our best runners are sophomores and freshmen," Kettlehake said. "If they stay together, they'll be strong by the time they're seniors."
In other words, they're doing all right for themselves at present.
Bonita Vista sophomore Alex Callihan earned a share of the spotlight at the Ian Cumming/Tim Latham Invitational back in the first month of the season by scoring a runner-up finish in the boys junior varsity Mustangs Division race. His time of 1457.3 for 2.5 miles placed him two seconds behind race winner Toby Feiler, a junior from Point Loma, and 11 seconds ahead of third-place finisher Ramon Ramirez, a junior from Otay Ranch.
Overall, the Barons placed fourth among the eight scoring teams in the division, tailing runner-up Eastlake by seven points and third place Point Loma by five points.
Freshman Mason Markham was seventh in the 84-deep field in 15:15.2 as Bonita Vista's No. 2 runner while freshman Sage Treba was 24th in 16:25.3. Senior Eduardo Hurtado (29th, 16:40.2) and junior Ethen Triplett (30th, 16:43.2) rounded out Bonita Vista's five person scoring contingent.
Otay Ranch won the division with a low score of 43 points, followed by Eastlake with 83 points and Point Loma with 85 points .
The division champion Mustangs placed three runners among the top 10 finishers and all five scorers in the top 15. For Otay Ranch, junior Enzo Timple was fifth in 15:11.3, senior Sinjin Torga-Eide was ninth in 15:21.4 to join Ramirez as top 10 place-finishers.
Eastlake had two runners in the top 10 (freshmen Kaden Williams and Brady Albright) and three in the top 15. Williams was fourth in 15:09.1 while Albright was 10th in 15:21.6.
Southwest senior Andres Silva was eighth in 15:15.4 to give the Metro Conference eight top 10 place-finishers.
Chula Vista finished second among the seven scoring teams in the Red Devils Division, edging third place Mission Bay by six points. Senior Emiliano Ricardo paced the Spartans with a ninth-place individual finish in 17:24.0.
Castle Park sophomore Ernesto Zepeda was second overall in the 72-deep field in 16:31.3, finishing well behind race-winner Braxton Pingleton, a junior from Christian, in 16:01.2.
Overall, four South County runners cracked the top 10 place-finishers as San Ysidro senior Salvador Alvarez was sixth in 17:18.7 and San Ysidro senior Sebastian Gomez was eighth in 17:22.4.
Point Loma dominated the boys frosh/soph Mustangs Division race with three of the top four individuals, led by sophomore Maximus Kelly in 14:32.4.
Otay Ranch sophomore Zachary Salamida was the top South County finisher in fifth place in 15:02.7 while sophomore Aiden Sparks was eighth in 15:15.6 to give the Mustangs two top 10 finishers.
Otay Ranch finished third among the ninth scoring teams – four points arrears of runner-up Scripps Ranch. Point Loma, with five top 10 finishers, won with a runaway low score of 26 points.
Mater Dei Catholic was third among the 13 scoring teams in the Red Devils Division.
Chula Vista freshman Isaac Noriega was the top Metro Conference runner in the 110-deep field in fourth place in 15:05.8.
Sophomore Andrew Cox was Mater Dei Catholic's top finisher in 15th place in 15:45.6.
Eastlake was third in the girls JV Mustangs Division. Freshman Solana Kitamura was the runner-up finisher in 13:14.9 in the two-mile race. The Lady Titans placed two runners in the top five in the massive 126-deep field as junior Aloha Espiritu was fifth in 13:43.4.
Mater Dei Catholic, Chula Vista and Sweetwater were second, third and fourth, respectively, in the Red Devils Division, Sweetwater had the second-place individual in the race: freshman Alexi Montoya (13:53.7). Mater Dei Catholic freshman Keiran Benoit was right behind in third place in 13:58.9, followed by High Tech High Chula Vista freshman Isabella Nazario (14:01.6).
Sophomore Cassidy Muroaka was Chula Vista's top place-finisher in 14:22.3.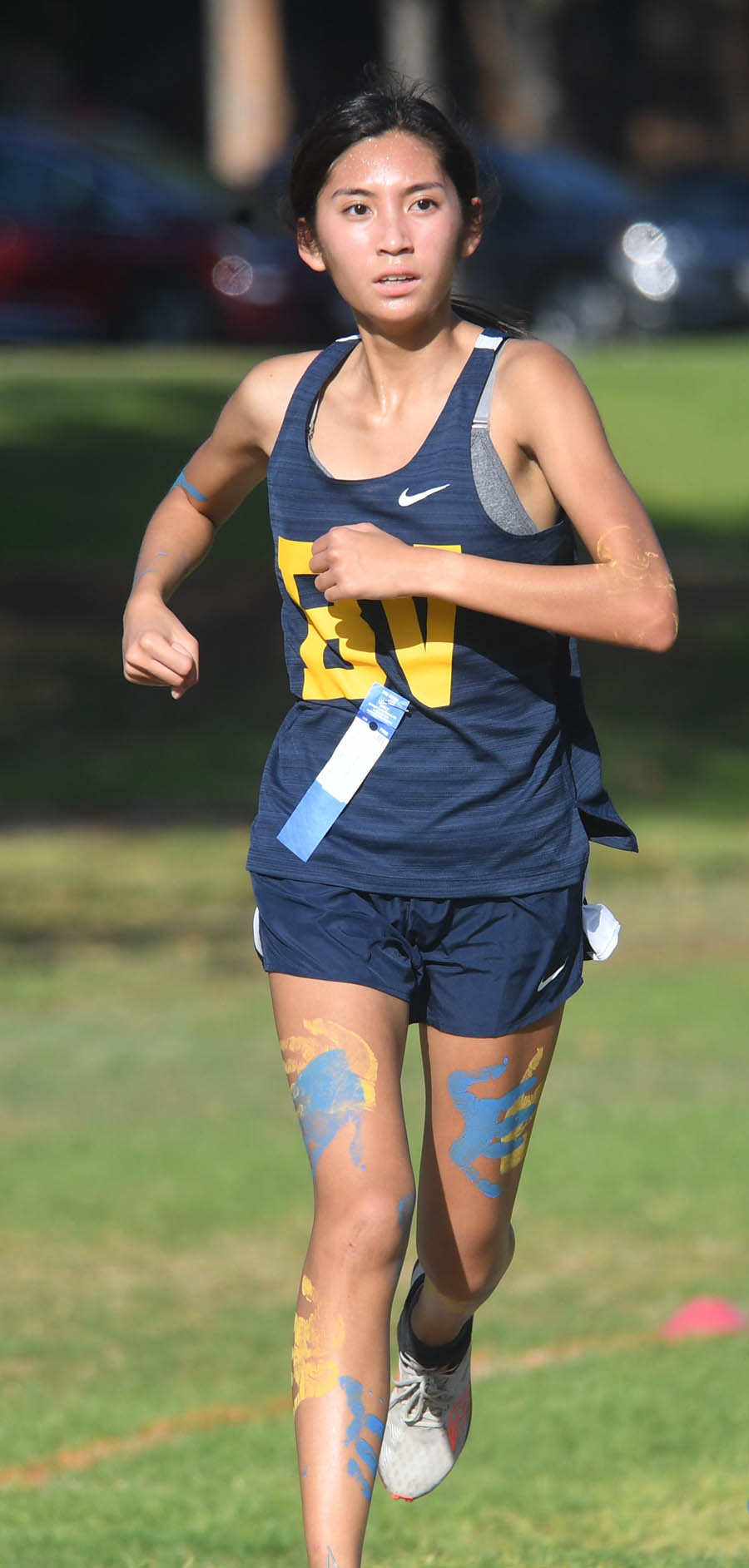 Varsity spotlight
Friday's league finals will feature four faces: boys and girls varsity and boys and girls junior varsity.
Racing starts at 1 p.m. with girls varsity, followed at 1:30 p.m. by boys varsity, 2 p.m. by girls JV and 2;30 p.m. by boys JV.
The earlier start time should help in getting awards completed before darkness falls,
Top teams at the varsity level include Otay Ranch (Metro-Mesa League boys), Sweetwater (Metro-South Bay League boys), Eastlake (Metro-Mesa League girls) and Hilltop (Metro-South Bay League girls).
In duals last Friday:
Otay Ranch won a close 27-30 battle for supremacy in the Mesa League boys standings over Eastlake at Eastlake Community Park while the Eastlake girls team remained unbeaten in league duals with an 18-37 win over Otay Ranch.
Senior Trevor Santiago was the medalist in the boys meet with a time of 17:09.44. However, he was followed by a pair of Mustangs (senior Christopher Harvie in 17:30,96 and senior Neil Griffin in 17:37.68. The Titans scored the next two runners in the 3.1-mile race: junior Diego Navarrete Ocampo in 17:42.40 and freshman Brady Albright in 17:44.11.
Otay Ranch scored three of the next four finishers to prevail on the scoreboard.
Junior Zachary Shorey finished sixth in 18:22.57, followed by senior teammate Sinjin Torga-Eide in 18:22.85. Eastlake senior Darin Halverson finished eighth in 18:23.30 ahead of two Mustangs: senior Rodolfo Baza in ninth in 18:25.37 and sophomore Aidan Sparks in 18:20.10.
Otay Ranch finished with six of the top 10 finishers.
Eastlake scored the top three placers in the girls dual: freshman Jaelyn Williams in 13:42.41, senior Amanda Challburg in 14:36.67 and sophomore Thalia Stach in 15:13.14. Overall, the Lady Titans placed five of the top seven finishers.
Williams is believed to have set a Rohr Park course record with her time of 14:49.4 for 2.5 miles in an Oct. 14 dual meet against Bonita Vista.
Bonita Vista defeated Olympian, 26-33, on the boys side last Friday at Rohr Park as the Barons scored three of the top five runners in the race. Olympian junior Angel Cordero was first across the finish line in 17:02.79, followed by Bonita Vista sophomore Sebastian Aranda in 17:16.78, Olympian junior Andrew Campbell in 17:25.79, Bonita Vista junior Jose Godinez in 17:45.05 and Bonita Vista sophomore Joshua Hoffman in 17:50.58.
Bonita Vista scored the top three finishers in the girls varsity race: senior Rei Fulinara (17:00.00), sophomore Olympia Jara (17:12.52) and freshman Renee Khuong (17:15.79).
Sweetwater defeated Chula Vista 16-46, in the boys dual last Friday at Rohr Park as the Red Devils scored the top four runners to remain unbeaten in league competition: senior David Castillo (17:21), sophomore Matteo Garcia (17:22), junior Domenico Kelley (17:25) and sophomore Adrian Orozco (17:54).
In the girls dual, Chula Vista nipped Sweetwater by a score of 26-30. The Lady Devils recorded the top two finishers – freshman Alexi Montoya (18:07) and junior Melanie Arzola (18:25) – but the Lady Spartans cam back with the next three placers (sophomore Izabella Vargas in 18:53, senior Glennis Lopez in 19:50 and junior Dubhe Motta in 20:00).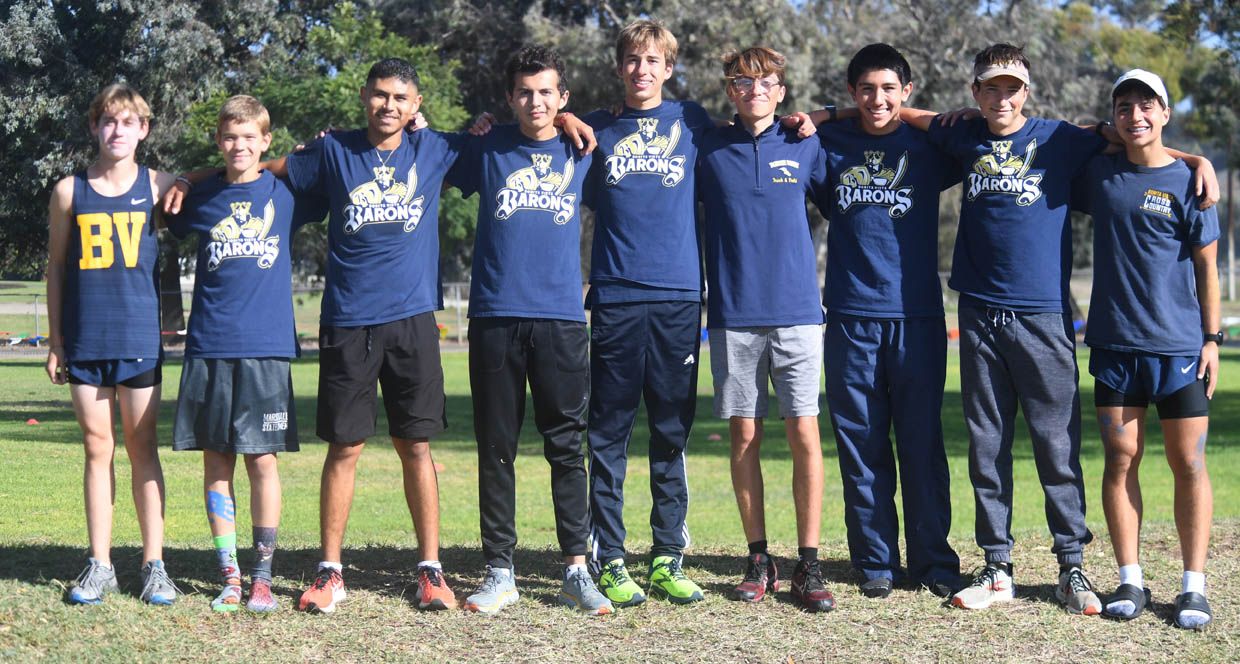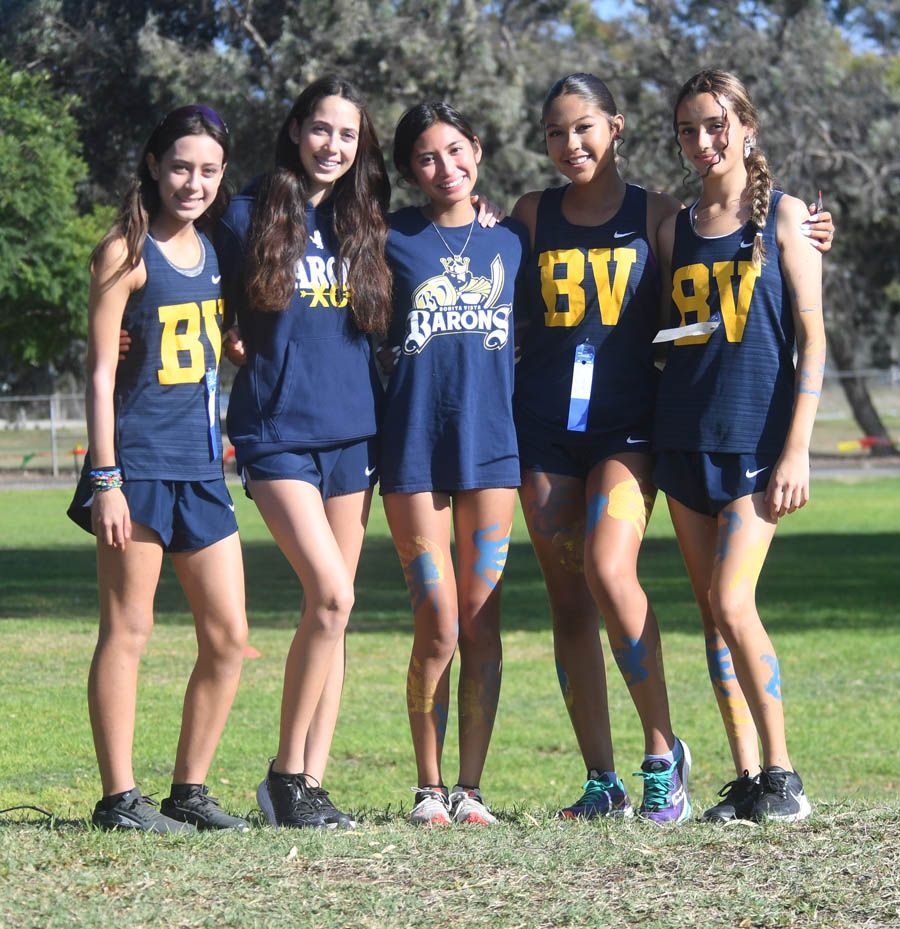 Metro-Mesa League Varsity Dual Meet Scoreboard
Oct. 7 at Rohr Park
Boys result: Otay Ranch 17, Bonita Vista 40
Top individuals (5K): 1. Jake Shorey (OR) 17:14.06, 2. Neil Griffin (OR) 17:24.07, 3. Jacob Juden (OR) 17:34.40; 4. Rodolfo Baza (OR) 17:43,71, 5. Sebastian Aranda (BV) 17:45.63; 6. Jose Godinez (BV) 17:50.75; 7. Christopher Harvie (OR) 17:52.00, 8. Julian Valdivia (BV) 18:07.42, 9. Joshua Hoffman (BV) 18:18.46; 10. Ramon Ramirez (OR) 18:33.21
Girls result: Bonita Vista 24, Otay Ranch 32
Top individuals (2.5 miles): 1. Aviva DeVore (OR) 16:38.67, 2. Rei Fulinara (BV) 16:57.62; 3. Alicia Parise (OR) 17:27.50; 4. Leilana Wilson (BV) 17:54.80, 5. Olympia Jara (BV) 18.03.61, 6. Renee Khuong (BV) 18:24.00; 7. Paulina Hornedo (BV) 18:29.94, 8. Giselle Guillen (OR) 18:57.59; 9.02 Serena Villapando (OR) 19:03.16; 10. Morgan Murphy (BV) 19:07.02
Oct. 14 at Rohr Park
Boys result: Eastlake 27, Bonita Vista 28
Top individuals (5K): 1. Trevor Santiago (EL) 16:54.16, 2. Sebastian Aranda (BV) 17:16.58; 3. Jose Godinez (BV) 17:20.27; 4. Diego Navarette Ocampo (EL) 17:25.61; 5. Brady Albright (EL) 17:48.73; 6. Julian Valdivia (BV) 17:51.69; 7. Joshua Hoffman (BV) 17:54.46; 8. Darin Halverson (EL) 18:02.23; 9. Charles Leon (EL) 18:07.12; 10. Alex Callihan (BV) 18:11.38
Girls result: Eastlake 18, Bonita Vista 40