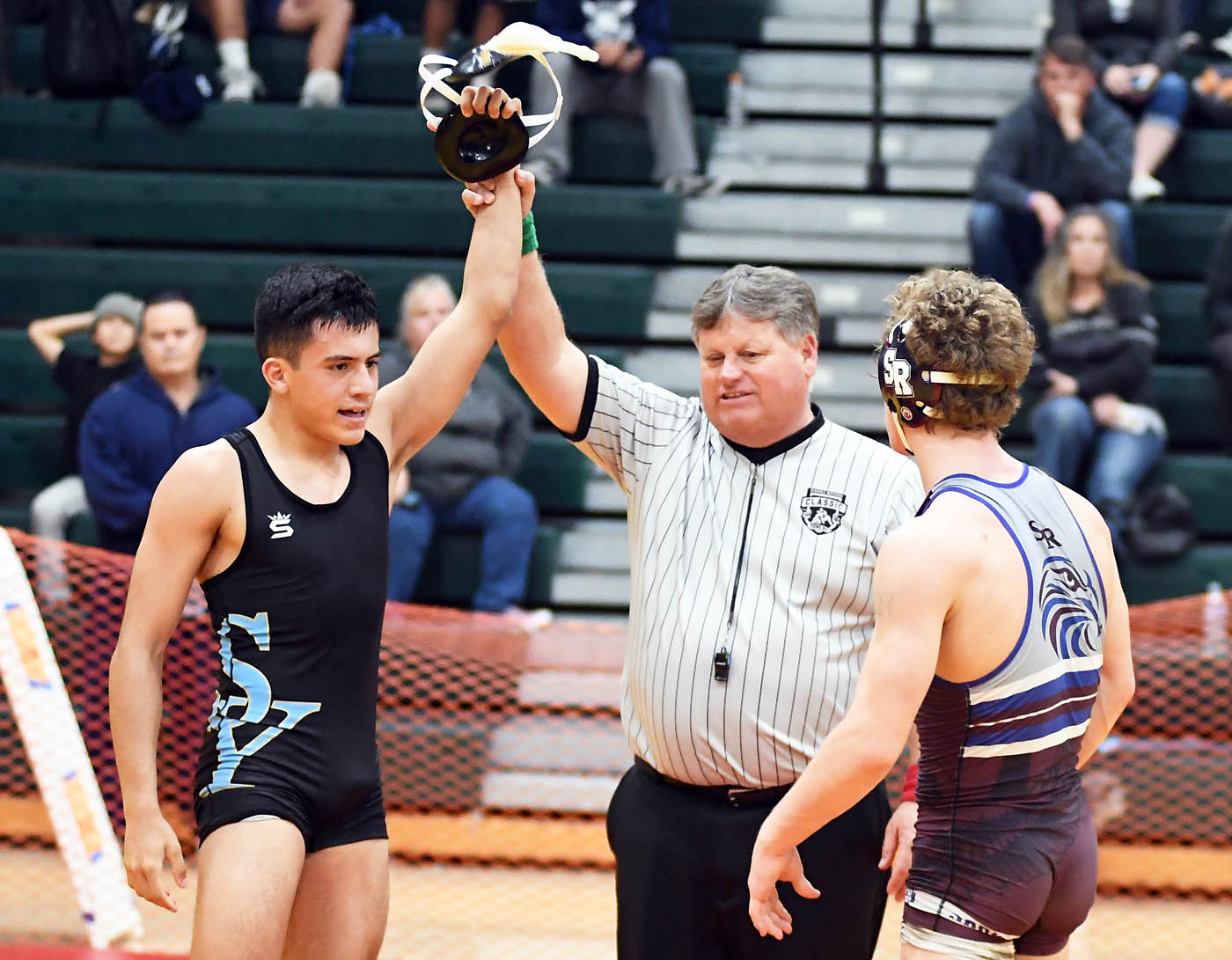 The high school boys wrestling season is picking up momentum. The Metro Conference championship tournament is scheduled Feb. 8 at Southwest High School, followed by the San Diego Section divisional championships on Feb. 15.
The annual San Diego Masters state-qualifying tournament is scheduled Feb. 21-22, followed by the state championship tournament in Bakersfield Feb. 27-29.
It should be an exciting finish to the season, particularly for Olympian High School's high-flying Eagles.
Olympian topped the field to win the team championship at last Saturday's San Pasqual Invitational. The Eagles racked up 202 points to best runner-up Mira Mesa, which finished as the top challenger with 194 points.
Brawley finished third wi9th 137 points, followed by Patrick Henry with 135 points and West Hills with 130 points.
"Our last tournament was in Los Angeles and it was at the national level," said first-year Eagles head coach Jordan Griffin, whose team carried a 4-0 Mesa League dual meet into Thursday's match-up against visiting Hilltop. "Our guys learned a lot of what they need to work on. They're picking it up again."
Olympian netted 10 place-winners in the 20-team fray, including four individual weight class champions: Zachary Ramos (115), Ryan Magsino (128), Mico Gonzalez (140) and Michael Esquer (162).
Ralph Magsino (122) and John Johnson (172) both recorded second-place finishes for the Eagles while Alejandro Llarena (154) finished third.
Wyatt Costa (108) and Brandon Susana (184) both finished fifth in their weight classes while Jacob Neiman (147) placed sixth.
Overall, Olympian advanced six wrestlers to the finals in an impressive showing.
Ramos won his finals match by a 5:23 fall against Mira Mesa's Calel Velasco while Magsino captured a 6-5 decision over Mira Mesa's Andy Nguyen. Gonzalez recorded a 12-4 major decision over Grossmont's Sebastian Coates while Esquer claimed a 5-0 decision from Clairemont's Erik Hofer.
Griffin said the goal for his team is to peak at the upcoming CIF finals.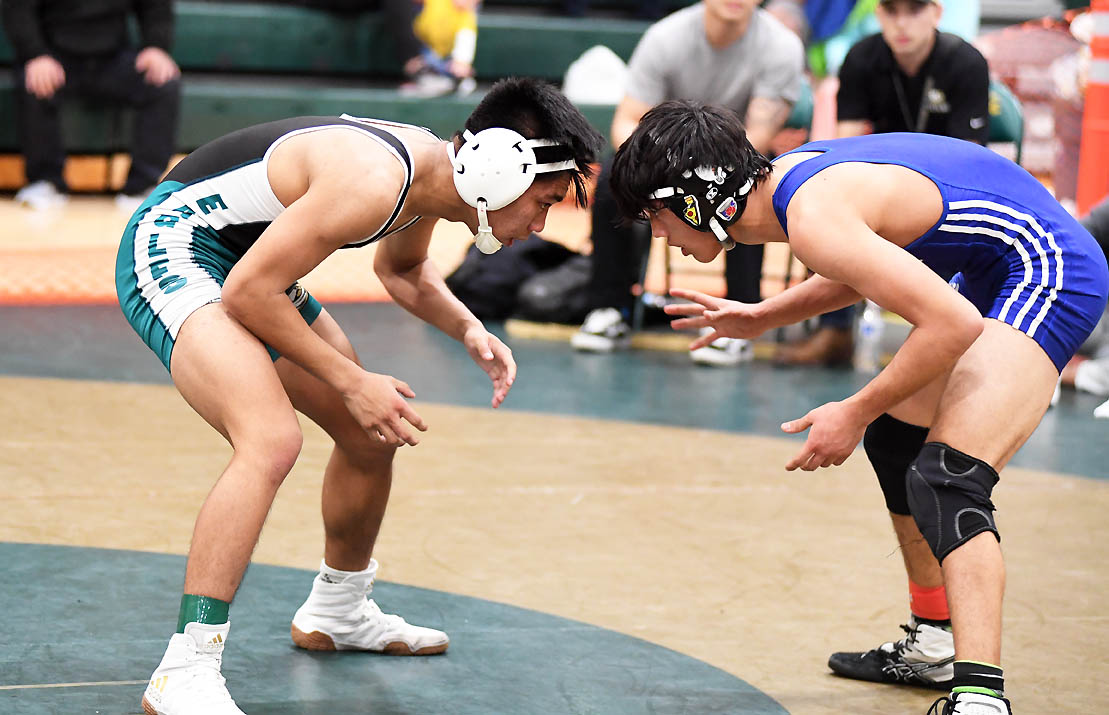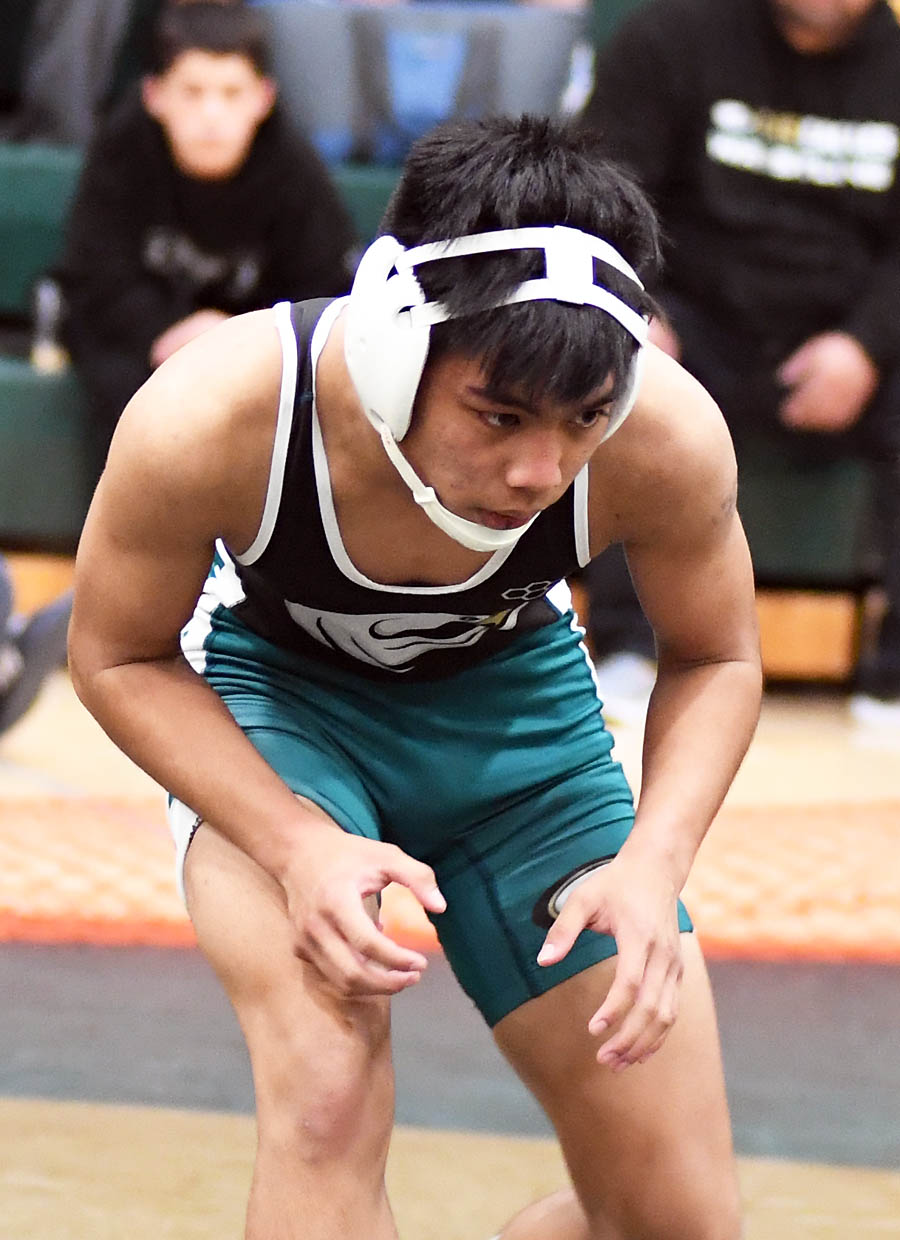 The Eagles look to have both the depth and talent to compete against the top teams at the Division I tournament.
Olympian sent a split squad to last Saturday's Battle by the Beach tournament at Mar Vista High School and finished in fifth place out of 35 varsity teams, the highest place-finish among the 10 participating Metro Conference teams.
Place-finishers included Nathan Ramos (second, 122), Brandon Dequito (third, 115), Lyric Talplacido (fourth, 134) and Jace Watson (fifth, 287).
The Imperial Beach tournament, which is dedicated to the memory of the late Bud Harbin, served as a preview for the upcoming postseason tournaments.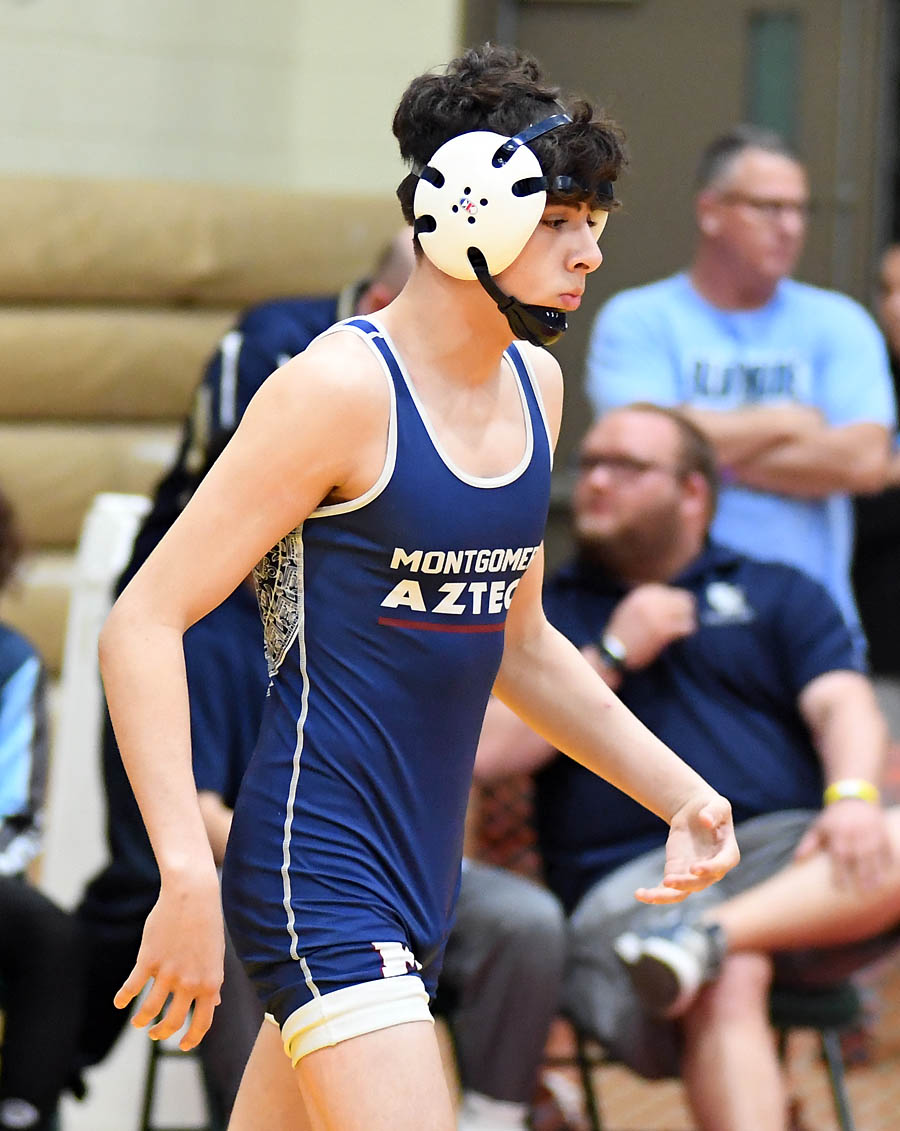 Montgomery finished 17th in the team standings, second among local squads. The Aztecs advanced one wrestler to the championship round as Ruben Rodriguez finished second at 134 pounds following a 10-3 setback to Granite Hills' Justin Carroll.
San Ysidro, braced by Israel Ramirez's individual championship at 128 pounds, finished 19th in the team standings while Otay Ranch finished 20th, Mater Dei Catholic finished 22nd, Sweetwater finished 24th, Southwest finished 26th, Chula Vista finished 27th, Castle Park finished 31st and Mar Vista finished 32nd.
Ramirez finished 4-0 with three pins and a tight 3-0 decision over Scripps Ranch's Ryan Bethel in the championship round.
The Cougars' Adrian Plascencia finished third at 122 pounds after capturing a 6-4 decision from Chula Vista's Efrain Montoya Mancisidor.
Plascencia record a pin and two major decisions in five trips to the mat while Mancisidor recorded one pin, one technical fall and one major decision in five matches.
Otay Ranch's Tyler Krecklow secured third place in his 147-pound division with four pins and a 5-3 overtime loss to Torrey Pines' Mazen Idriss, the eventual runner-up in the weight class.
Mater Dei Catholic had two place-winners. Jacob Gilbert placed fifth in his 122-pound weight class with three pins on the day while Daniel Moreno finished sixth at 128 pounds.
Chula Vista heavyweight Andrew Marquez recorded pins of eight and 17 seconds in winning a pair of consolation round matches.
Mat attack
Eastlake finished 13th at the San Pasqual Invitational. Jesus Plasencia (115) placed third at 115 pounds while Tomas Jacobo (122) and Richard Covarrubias (197) both placed sixth.
Castle Park (12th), Mater Dei Catholic (14th) and Mar Vista (tied for 22nd) participated at the Monte Vista Invitational on Jan. 11.
Mater Dei Catholic's Javi Salas won the 126-pound individual title while Keith Moreno finished runner-up in his 106-pound division. Also for the Crusaders, Daniel Gilbert placed sixth at 113 pounds.
Castle Park had four place-winners: Andrew Ramirez (seventh, 152), Ivan Vasquez (seventh, 195), Johnathan Soto (seventh, 220) and Rodrigo Parra (eighth, 138).
Mar Vista's Lyle Nacua placed sixth at 195 pounds.
West Hills captured the team title with 200 points. Mira Mesa finished second with 187 points while Granite Hills was third with 155.5 points.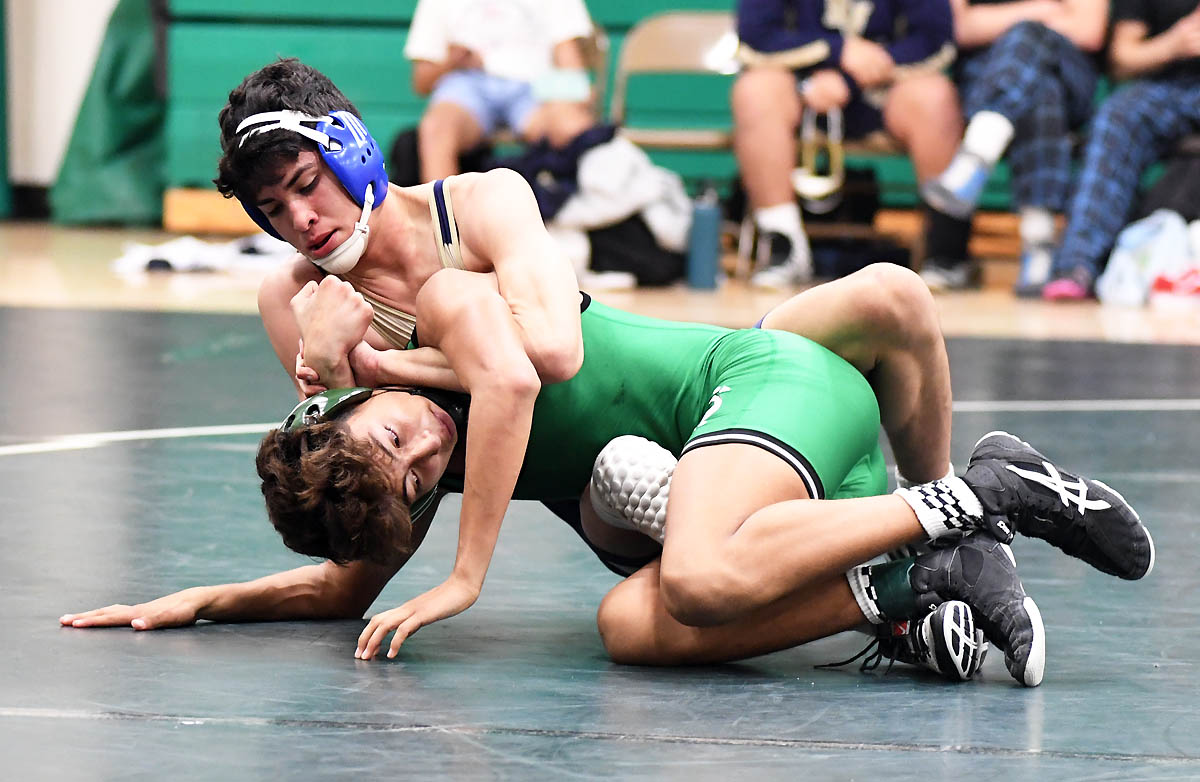 Barons pin Lancers, 66-13, in Mesa League dual
Bonita Vista defeated host Hilltop, 66-13, in a Mesa League dual meet Jan. 23. The Barons lost the first match by forfeit and the last match by injury default but won all 11 intervening matches, including eight by pin, to roar on the mat.
Bonita Vista recorded four first-period pins, two second-period pins, two third-period pins, one technical fall and two wins by forfeit to account for the 11 wins — 10 by maximum points.
Cameron Alanis (115), Isaac Romero (147), Leonardo Zepeda (154) and Cale Merton (162) all scored first-period falls.  Joel Lopez (122) and Ayodele Ogundeji (222) both scored second-period falls while Ian Nicholson (134) and Nathan Merghart (172) both recorded third-period falls.
Ricardo Castillo (140) won by a 17-2 technical fall while Joe Santos (128) received a forfeit win.
Neither team fielded a wrestler in the 197-pound weight class.
Joaquin Angulo won by forfeit at 108 pounds for Hilltop while Bonita Vista heavyweight Alex Alcala conceded his match by injury default to Hilltop's Seth Rodriguez.
The Barons had three place-winners at December's 49th annual El Cajon Invitational: Lopez (third, 120), Miller (fifth, 195) and Castillo (sixth, 138).