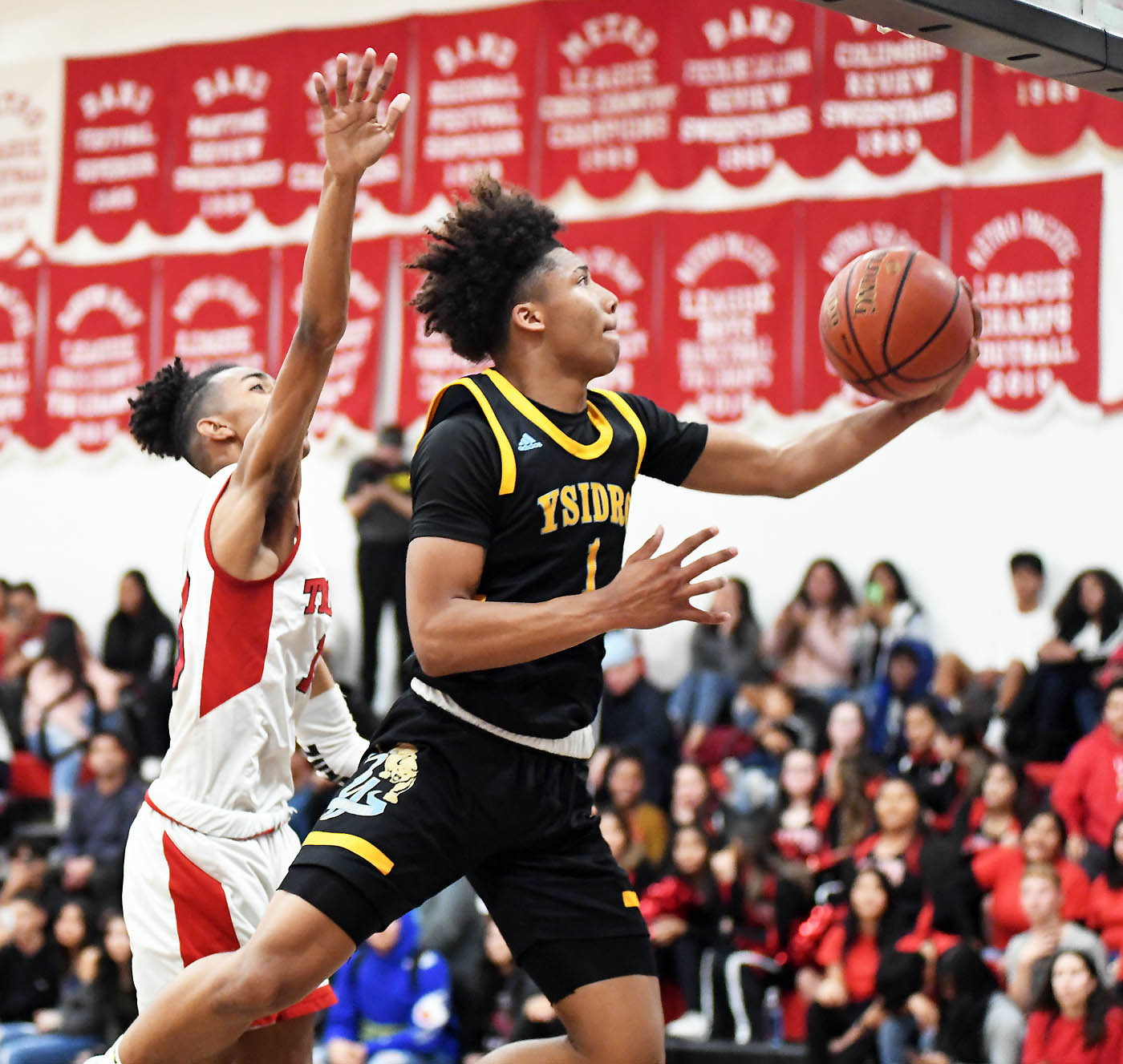 For those who haven't seen San Ysidro High School freshman Mikey Williams play, he's the real deal.
"He can shoot from NBA range," Cougar head coach Terry Tucker said with obvious pride in regard to the frosh standout.
Williams set a new San Diego Section single-game scoring record with 77 points in a 116-42 non-league win against Kearny in a tournament game on Dec. 13 to cement his rock status on the playing court.
There was a media presence — as well as a packed house — at Castle Park High School on Wednesday as San Ysidro topped the host Trojans, 95-30, in a South Bay League game.
The same teams met on Monday at San Ysidro High School, with the Cougars posting a 106-30 victory.
Williams was, of course, the star attraction for fans. But he's not all what makes his team go.
CP fans delivered cheers whenever Williams or one of his teammates missed a shot. But the Cougars didn't miss many shots.
San Ysidro built an early 21-3 lead en route to a 30-7 first quarter lead. The visitors led 55-9 at halftime.
Williams scored a total of 27 points in the game — eight in the second half.
But Williams, who combines his developing skill with athleticism, doesn't have to post NBA-type numbers every game for San Ysidro to win.
"Mikey doesn't care if another guy on the team scores more," Tucker said. "He can do other things, such as assists or rebounds. What I like about this team is that they love each other. They just want to go out and win. There are no egos."
The Cougars (16-8 overall, 8-0 in league play) have hit triple figures eight times so far this season. Tucker said this is likely the best team he's coached at the school.
Williams entered Wednesday's game leading the team in scoring with a 32.4 points per game average. Freshmen Jurian Dixon follows him on the scoresheet with a 23.8 ppg average while senior Kailen Rains ranks third with a 20.6 ppg average.
San Ysidro is averaging 87.4 points.
Tucker is hoping the numbers add up to something more tangible, such as a CIF championship.
"We've been to the semis," Tucker said. "Our problem is that when we had a good team we were in a division with other really good teams. That's the reason we never got there."
The Cougars are the top-ranked Division III team this season ahead of No. 2 Coronado (13-9), third-ranked Eastlake (12-9) and fourth-ranked Grossmont (11-8).
Williams remains refreshingly humble about his accomplishments – and the media attention.
"I'm kind of used to it," the six-foot-three point guard said. "It's been happening for a few years now (since the sixth grade at a USBA national tournament in North Carolina). It doesn't bother me anymore. I just go out and play my game."
Williams agrees team chemistry is the Cougars' biggest asset.
"We're on the same page," Williams said. "We have a brotherhood here. We're like brothers. We can be there for each other, talking about anything. Two of us are always together, three of us are always together."
Williams admitted he is looking forward to postseason play with his teammates.
"This is what I wanted when I came to high school – winning a championship, a banner and a ring. I'm looking forward to it."
So are his brothers in arms.
Rains led SY with 28 points Wednesday game while Dixon dropped in 21 points.
photo/phillip brents
San Ysidro freshman Mikey Williams flies toward the basket in Wednesday's South Bay League game at Castle Park.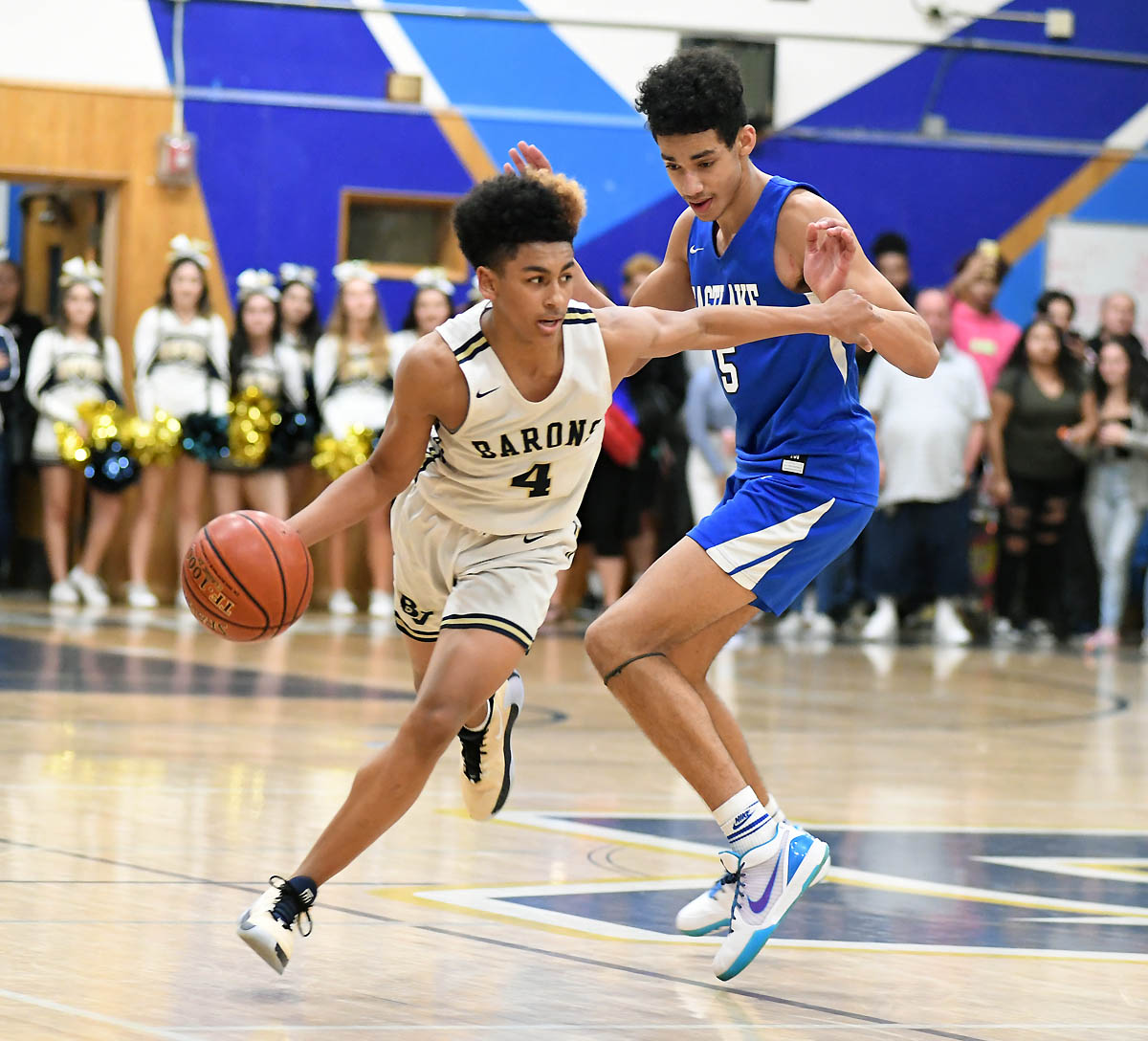 Frantic finish leaves Barons with 68-66 Mesa League win
There are 32 minutes in a high school boys basketball game.
The outcome of last Friday's Mesa League rivalry game between the host Bonita Vista Barons and arch Eastlake wasn't decided until the last second, however.
That's when Eastlake's Alex Crawford heaved a desperate three-point attempt from midcourt just prior to the final buzzer. The ball floated toward the basket halfway down the playing court as fans on both sides of the sold-out gym watched in anticipation.
The ball hit the backboard and began falling due to gravity. But the impact sent the ball outward and it fell just over the rim.
Barons 68, Titans 66.
None more relieved was Bonita Vista junior Mo Mo Stokes, whose pair of free-throws with 1.7 seconds to play had snapped a 66-all tie.
"It felt amazing," Stokes said. "I had to make up for the two shots I missed a few minutes earlier. had to put the crowd noise out of my mind. When I made them, I felt relief, I felt excited."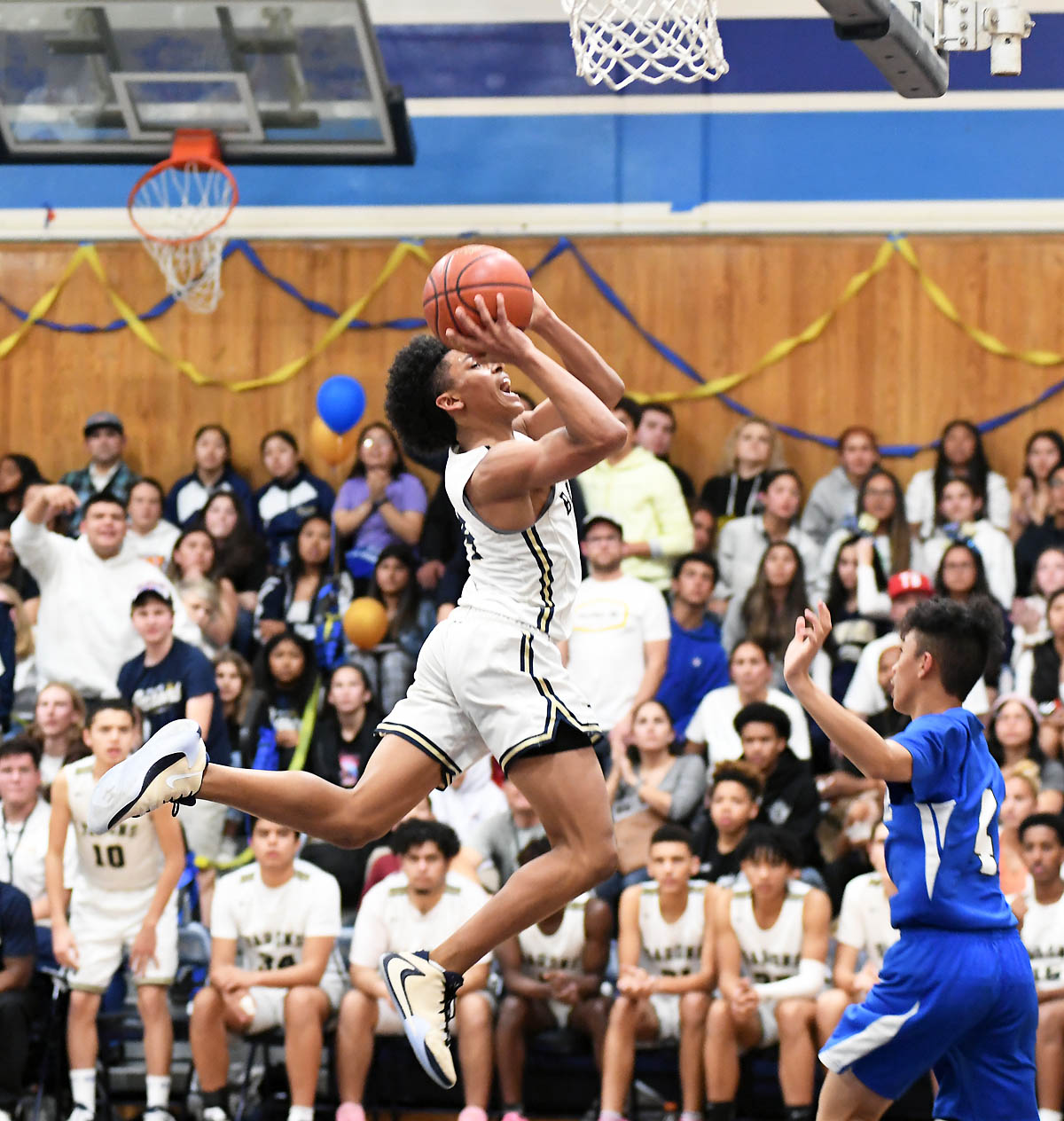 Both head coaches agreed the ending to the game was a magical moment.
"It's one of the most under-rated rivalries in San Diego," Eastlake coach Marlon King said. "Eastlake-Bonita is a great rivalry. It's a small gym. It's totally packed. It's just like it was when I played at Eastlake.
"We've lost two league games by a total of three points. You want to play in these type of challenging games. These kind of games prepare you for the playoffs."
These kinds of games can also prompt a heart attack.
The Barons entered last Friday's game ranked first among the section's Division II teams while the visiting Titans were ranked third among Division III teams. However, both shared the same turf in the Mesa League, which has already turned into a meat-grinder for member teams.
After topping highly-touted Otay Ranch in its opener, Bonita Vista promptly fell upset victim at Olympian by 10 points. Eastlake which had dropped a one-point match-up to visiting Montgomery prior to topping Otay Ranch by four points.
Olympian has since lost two league games, leaving Mater Dei Catholic at the top of the six-team league with a 5-0 record to conclude first-round play.
"It played out as expected — a really hard-fought game," Bonita Vista coach Don Dumas said. "It would come down to the last possession."
The light remains at the end of the tunnel.
"I told the guys there's a lot of things that have to go our way," Dumas said. "Winning in this league has been ugly."
D.J. Sanders topped the host Barons with 30 points while Strokes dropped in 24 points in the win.