There's just something about the roar of a crowd that gets the adrenaline pumping — something that's been sorely missed at Southwestern College's DeVore Stadium for two community college football seasons.
But the cheers — and jeers — were on full display Saturday as the Jaguars met the rival Grossmont College Griffins in front of a decidedly vocal gathering of fans. Though the stadium was less than half full, spectators aired out their lungs to make it seem like a sellout crowd.
Southwestern College fans got to cheer the loudest as the Jaguars pulled out a somewhat improbable 10-7 victory that left veteran Jags head coach Ed Carberry scratching his head afterward.
"Wow!" Carberry simply uttered with an understandable loss for words. "Just wow!"
He wasn't the only one in the stadium left wondering how Southwestern won despite trailing in nearly every offensive category during the game.
The Griffins out-gained the Jaguars in total offensive yards and led until the final 4:36 of the contest.
Grossmont opened scoring in the first quarter as sophomore quarterback Brady Abt (Northland Christian) hit sophomore receiver Payton Monson (Kennewick, Wash.) for a 32-yard passing touchdown.
The Griffins (0-1) led 7-3 at halftime following a 50-yard field goal from 24-year-old freshman Asher Booth to put Southwestern on the scoreboard.
A 30-minute delay caused by failure of the stadium lights may have contributed somewhat to a momentum shift. The Jags certainly performed better under sophomore quarterback Stevie Orr (Davenport, Okla.) in the second half of the non-conference contest.
Orr connected with sophomore receiver Christian Jourdain (New Orleans, La.) on a 26-yard pass play that stood up as the game-winning touchdown.
Carberry said the play was called in from the field.
"I told coach I was open," Jourdain said. "We had to make a big play because we needed to score. We needed to take the chance. When I saw the ball up in the air, I knew it was for me, I just needed to focus. When I caught it, it was time to celebrate."
The Jags also benefited from some luck as Grossmont missed two field goals in the game, including a 45-yard attempt to tie game with less than a minute remaining in the contest.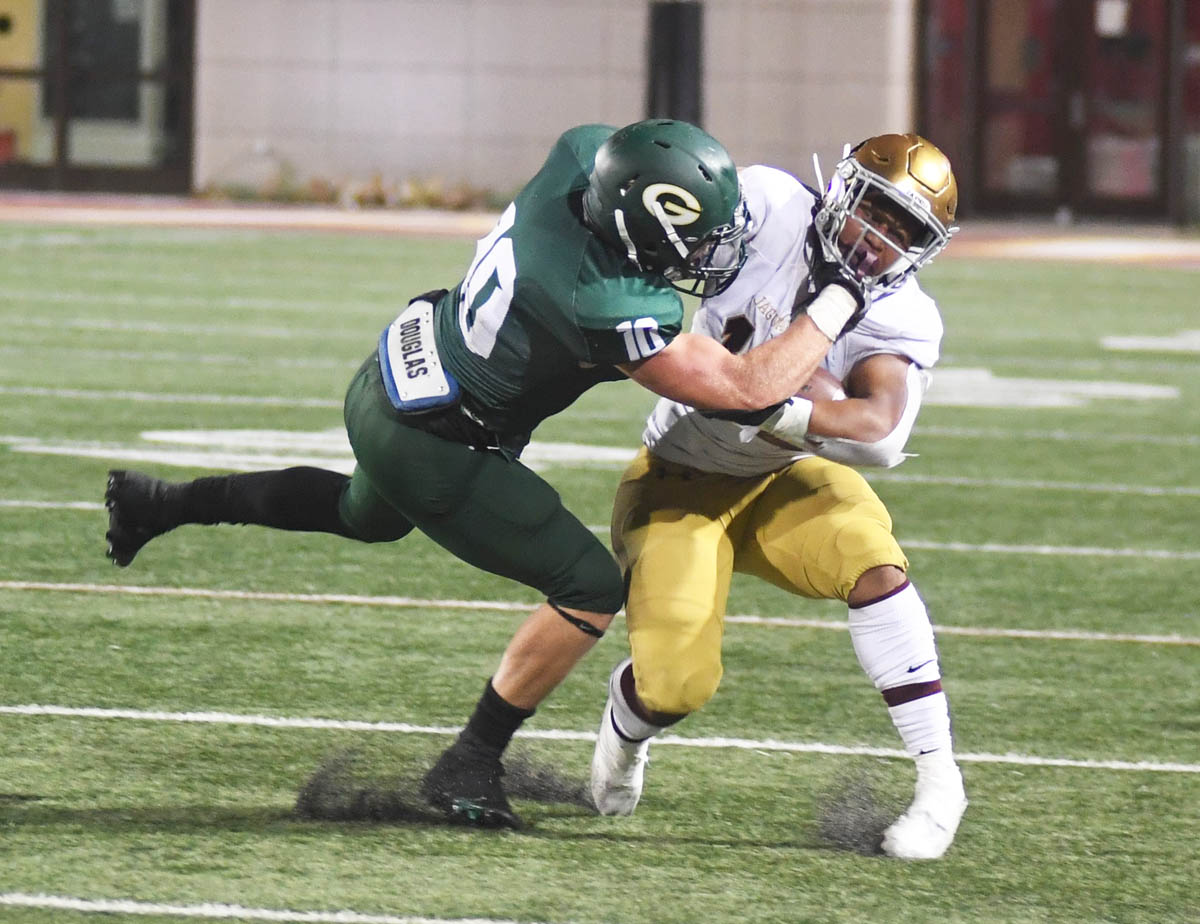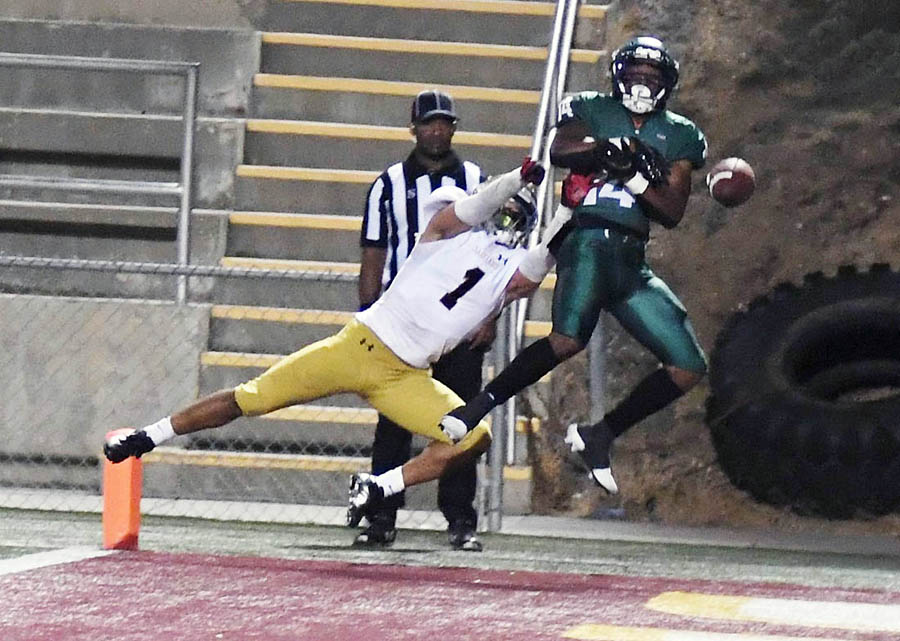 Montgomery High School alumnus Jaheem Williams, the 2021 South Bay League defensive player of the year, keyed the SWC defense with eight tackles, two sacks and had two tackles for a loss.
Andrew Kirk (Chandler, Ariz.) tacked on five tackles for the Jaguars while sophomore Arnold Escano (Olympian) had three tackles and a pass-break-up on the goal line to save a potential game-winning score by the Griffins in the waning stages of the game.
Southwestern recorded five sacks, including one each by Jeriah Jackson (San Diego), Gabe Acosta (Eastlake) and Jace Fuamatu (Fresno State).
Southwestern received an interception from freshman Tre Trylor (Honolulu, Hawaii) while freshman Michael Harrington Jr. (Mater Dei Catholic) also recovered a fumble.
Grossmont head coach Michael Jordan was visibly disappointed by the loss, though he mixed in some optimism into his post-game comments.
In this case, he was likely left wondering how his team lost.
"We're a better team than we showed," Jordan said. "But it was the first game and it happens sometimes. We have a lot more wins in our future. I think we have a lot better team than last year."
The 2019 Griffins finished just 1-9 — a huge motivational tool for this year's rebuilding squad.
Robert Whitehead (Steele Canyon) and Ajani Shelton (Mt. Carmel) both had interceptions for Grossmont, which also received a sack, forced fumble, four sacks and two quarterback hurries from Madison alumnus Demanual Talauati.
Colton Guerrero (Steele Canyon) had two fumble recoveries while Rock Gonzalez (Olympian) added a pair of sacks. Chance Lovato (El Capitan) recorded 11 tackles, including six unassisted stops.
Abt passed for 155 yards — 88 of those which went to Monson.
The teams have played each other every year with few exceptions since 1962.
The game was originally scheduled at Grossmont College, but a faulty scoreboard necessitated the venue switch to Southwestern College.
The Jaguars host College of the Canyons (2-0) in their official home opener this Saturday at 6 p.m. Canyons defeated Antelope Valley, 47-7, on Saturday.
Go Aztecs
Bonita Vista High School alumnus Greg Bell rushed for a career-high 165 yards (161 net yards) and scored one touchdown in San Diego State University's 28-10 come-from-behind victory against New Mexico State Saturday at Dignity Health Sports Park in Carson.
Bell scored on a 23-yard run in the third quarter to erase a 10-0 halftime deficit.
The Aztec defense collected three interceptions, including one by former Helix standout Michael Shawcroft.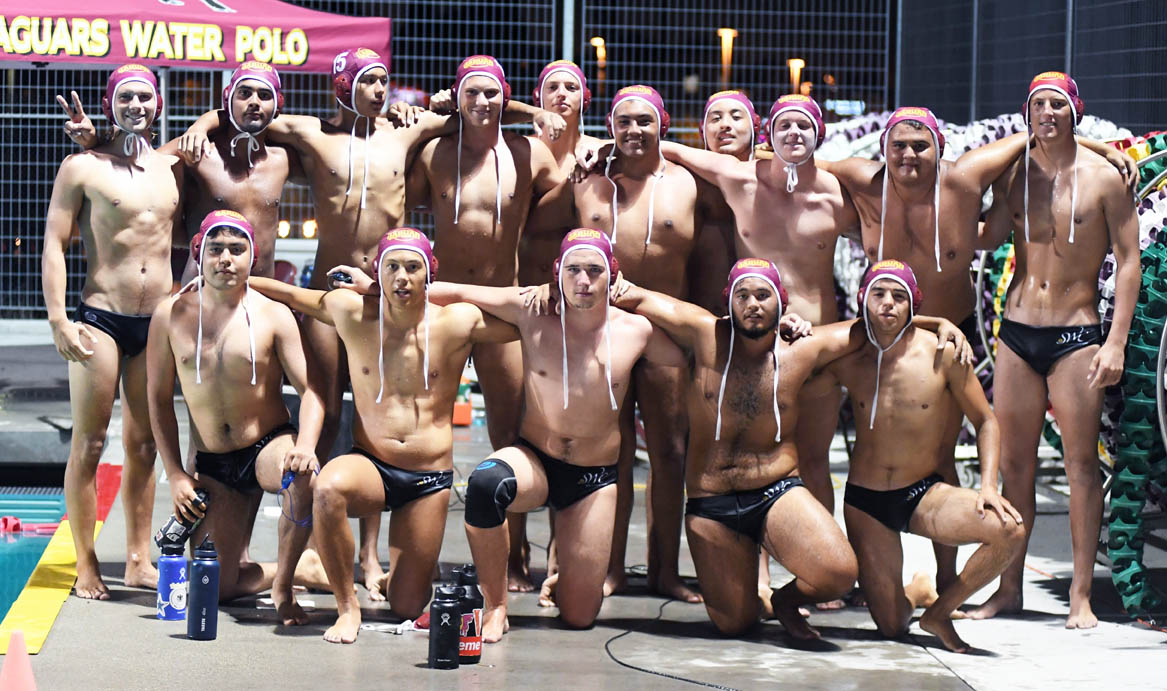 Making a splash
Southwestern College's men's water polo team faced off the season by hosting a Labor Day Weekend mini-tournament on campus last Friday and Saturday. The six-team field included Cerritos, Citrus and Cuesta colleges from Orange County and Grossmont, Miramar and SWC among local teams.
The San Diego teams all finished 0-3 but competition against traditionally stronger programs was important, according to Jaguars head coach Jorge Perez.
Southwestern inaugurated its 2021 season with a clutch 17-16 Pacific Coast Athletic Conference win over visiting San Diego Mesa College on Sept. 1. Mesa is the defending PCAC champion.
"It's a big win for us, any time you can beat the conference champion is a big win," Perez said.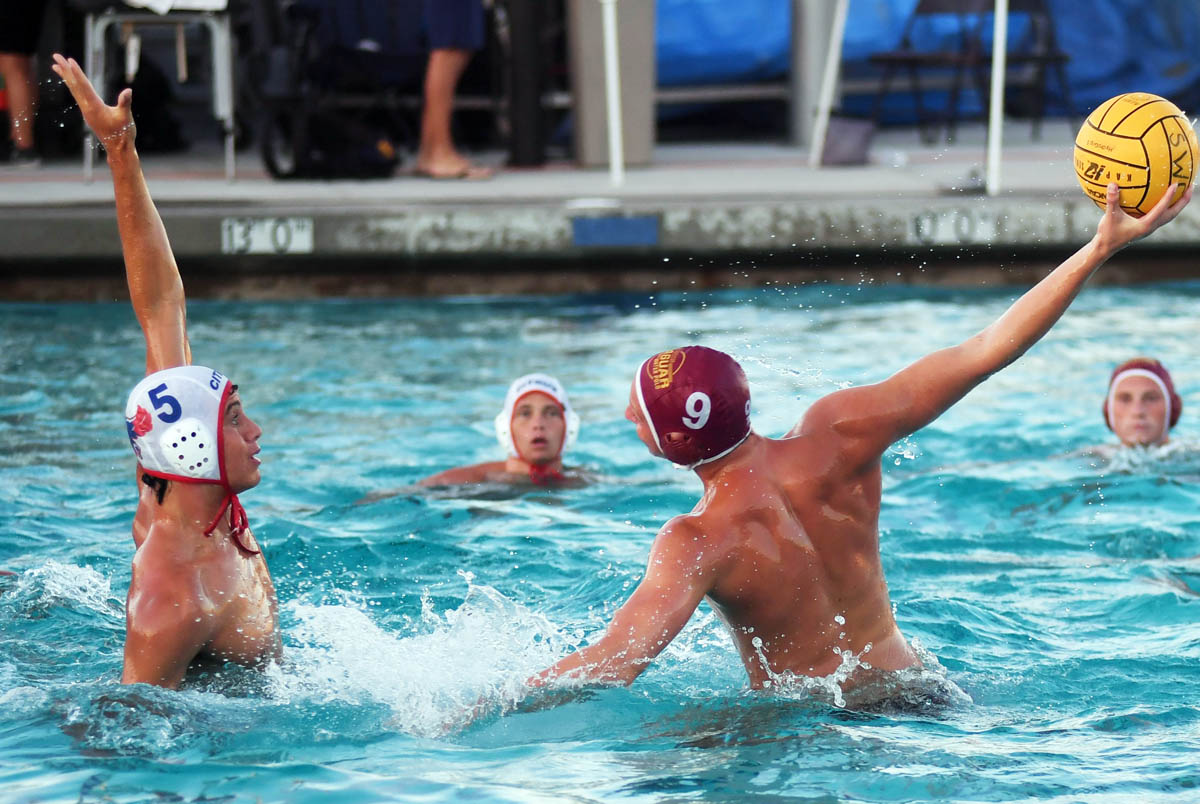 Pacing the SWC returners are first-team all-conference selections Bryce Heber and Jeremy Longworth, both from Mar Vista.
"It's hard to get back in the water to get back into water polo shape," Heber said. "But I'm totally happy to be back, elated. It feels unreal. We were all fish out of water for the last year and a half."
"Physically, obviously we're not there being out of the water so long," Longworth added. "But you can't deny it's so good to be back, seeing new faces, old faces, coaches."
Longworth keyed SWC with six goals and four assists in the win over the Olympians while Heber tallied four goals and four assists. Heber leads the Jags (1-3) in scoring with 15 goals and 10 assists through four games.
Perez said his team should not get overconfident following the win over Mesa.
"It's going to be a tough conference," the SWC coach said. "Miramar is improved, Grossmont has a good team. This is only the first round."
Grossmont defeated Crafton Hills, 27-7, in its conference opener on Sept. 1 and followed that up with a 23-15 non-conference win at Cypress.
Brock Kammerer, a USA Water Polo All-American at San Diego Shores, led the Griffins in the win over Crafton Hills with six goals and two assists while Garrett Durado chipped in with five goals and one assist.
Ryan Beery, Austin Gaeir and Elijah Hough each scored three goals while Liam Lawadzki collected six assist and Anson Rasmussen had four assists.
Eric Bates (six saves) and Parker George (eight saves) split time in the cage.
"We have a solid group of guys but we're extremely out of shape as far as polo goes," said Grossmont head coach Ty Lackey, who was named to the California Community College Athletic Association Hall of Fame Class for 2021 for outstanding achievement as a player at both Grossmont College and later at UC San Diego.
"We're struggling right now. We weren't able to practice until just recently and it will take time to get where we want to be. We'll likely have a slow start but we'll have a good team by the end of the season."
Tournament scoreboard
Cerritos 20, Southwestern 7
Cuesta 17, Grossmont 9
Citrus 16, Miramar 10
Cerritos 18, Grossmont 14
Cuesta 21, Southwestern 4
Citrus 15, Grossmont 9
Cerritors 18, Miramar 10
Citrus 23, Southwestern 13